15 Best Neck Massagers For Relaxed Muscles, According To Reviews
Relax after a stressful work day with portable, durable, and ultra-compact devices.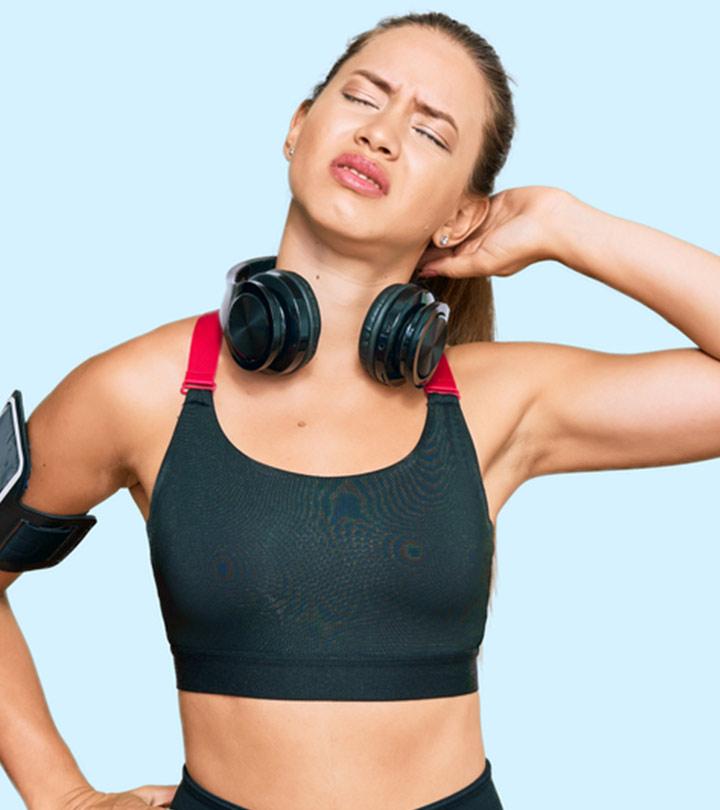 Straining your back and neck from sleeping in a weird position or overworking or from bad posture can be annoying and painful. You could go in for a back and neck massage to alleviate this pain. However, given the lack of time, it is impossible to visit the spa that frequently. Instead, you can get the best neck massager that is portable and convenient to use, and you don't really need to leave your house. Compared to a nice relaxing Swedish massage, these portable massagers cost a ton of a lot lesser. However, you don't get that personal touch and ambiance of a Swedish massage. Essentially you are trading off portability and convenience for ambiance. If only you could take a masseuse wherever you go. Since you can't, here is the next best thing! For more details on the best models and their pros and cons, go check out our list below!

15 Best Neck Massagers For Instant Stress Relief In 2023
Bid farewell to chronic neck pain, once and for all, with this cordless neck and shoulder massager composed of high-quality ABS plastic. The powerful motor works on 3600 pulses per minute and has a long-lasting Li-ion battery that comes together to help you tackle aches and pains in your shoulders, neck, back, and feet. Ideal for a relaxing experience, this percussion massager has a round-ball and 1-point head that can be used for a deep tissue massage and help you speed up muscle recovery. The in-built battery allows this portable neck massager to reduce stress and discomfort even when you're on the go. Watch this YouTuber's honest review to get a better idea about the product and its features.
Pros
Has 5 different massage heads
Simple control panel with 4 buttons
Ergonomic design with a long handle
Safety auto-shutdown mode
5 strength and speed modes
Cons
Some may find the machine to be a bit bulky
Price at the time of publication: $41.99
The Mirakel Massager helps battle backaches, soreness, and tired muscles. It is powered by eight powerful 3D massage nodes that penetrate the tissue to relieve muscle soreness. The ergonomic design allows the device to sit perfectly around your neck and is portable as it comes with an AC and car adapter. It is convenient for use as it comes with four modes and has a built-in heat function of 45ºC to target muscles and improve blood circulation to ease the pain. The additional features such as adjustable speed levels, long handle straps, built-in settable timer with 15 minutes auto-shutoff function make this perfect for pain relief.
Pros
Ergonomic design
Long handle straps
Adjustable speed levels
15 minutes auto-shutoff
8 powerful 3D massage nodes
4 modes with a built-in heat function
Cons
Price at the time of publication: $43.99
Fight aching neck and body muscles effortlessly with this Shiatsu neck massager that comes equipped with a heating function. The muscle-soothing intensity feature not only enhances blood circulation and comes with the 4 deep-kneading Shiatsu massage nodes that reverse directions every minute for maximum coverage. For neck relaxation and stress reduction, this is one of the best neck massagers out there. Made from top-quality leather that is durable, soft, and easy to clean, this massager incorporates an ultra-compact and slim design. The no-fuss adjustable arm straps let you secure the massager in place as the massager works up to its maximum working temperature for your optimum preference. This video will give you a better insight into the product.
Pros
Durable
Ergonomic and effective design
100% vegan leather
FDA-listed
Comes with a 1-year warranty
20-minute auto shutdown feature
Compact-size
Has a UL-approved power adapter and DC car adapter
Cons
You may find it slightly difficult to adapt to the heat settings.
Price at the time of publication: $69.95
The Resteck Shiatsu Neck and Back Massager is perfect for alleviating sore muscles. This kit will help you eliminate stiff necks, muscle aches, and improve blood circulation with its heat and simulation massage technique. It helps in tension relief in the muscles and improves neck mobility. Reduce fatigue on the go with this electric neck massager that is portable and comes with a leather pouch for hassle-free storage. With 4 buttons to help you regulate the heat and stimulation mode, this device uses clever bidirectional kneading for maximum comfort and muscle relaxation. You can also use this multipurpose massager to stimulate blood circulation on your shoulder, back, and legs.
Pros
Leather pouch for hassle-free storage
Heat regulator
Multiple simulation modes
Bidirectional kneading nodes
Portable
Cons
You may find this massager to be rather loud.
Price at the time of publication: $64.95
The LiBa Back and Neck Massager is a must-have if you are looking for a tool to help you alleviate muscle knots, pressure areas, or myofascial pain syndrome in the neck, shoulder, or back area. For maximum relief and relaxation, this ergonomic and hypoallergenic design offers maximum comfort and easy usage right from the comfort of your home. It provides good neck and back support and relieves stress. Reach even the most hard-to-access areas using the node and spoke design to relieve any muscle discomfort. Made from BPA-free and eco-friendly components, this handheld neck massager can be used in water too.
Pros
Easy to use
Multipurpose
Intuitive and ergonomic design
Eco-friendly and BPA-free
Hypoallergenic
Comes with a user manual
User-friendly
Cons
Some may find it slightly heavy and awkward to use.
Price at the time of publication: $21.99
The VOYOR Neck Massager relieves pain and muscle tension in the neck and shoulders. It uses Shiatsu simulation and deep tissue massage to target the trigger points that cause the most pain and helps relax you. This portable massager improves blood circulation, sleep quality, and fatigue with an ergonomic handle and two soft silicone balls. It is lightweight, simple to use, and works in just five minutes.
Pros
Double trigger massage
Easy to adjust intensity
Can be used on various body parts
Easy to use
Ergonomic handle
Lightweight
Cons
None
Price at the time of publication: $16.99
When it comes to a deep tissue massage that can relieve back, shoulder, and neck pain, nothing beats the InvoSpa Shiatsu Back Shoulder and Neck Massager. It employs a deep-kneading Shiatsu massage technique to relieve tired and sore muscles. The ergonomic design of this versatile massager includes adjustable straps. The heat function improves your massage experience and offers deep relaxation. You can plug it into your car and use it at the comfort of your home.
Pros
Ergonomic design
8 massage roller balls
Auto-shutdown feature
Shiatsu simulation
Cons
None
Price at the time of publication: $39.97
Not a fan of bulky and ineffective neck massagers? Give this self-neck massager from Voyor a try! Inclusive of 2 soft and firm silicone balls, it will help you relax your muscles and acupressure points. Easy to use and suitable for people of all ages, this ergonomic and flexible design has a handle with a comfortable grip for ease of use. For improved sleep and pain management, this is the ideal device to use. The lightweight and portable handheld massager can be carried around for a deep tissue massage whenever you may need it. The dual trigger point massager balls give you a simulation massage experience that will help revive tired muscles, giving you pain relief while improving the quality of your sleep cycle.
Pros
Ergonomic design
Flexible handle
Durable
Lightweight and portable
Controllable massage intensity
Cons
May not work effectively for very stiff muscles
Price at the time of publication: $16.99
The Snailax Shiatsu Neck and Shoulder Massager helps relax your neck, shoulders, and back. This electric massage pillow with eight rotating nodes provides deep-kneading Shiatsu massage to relieve muscle stress and tension. The advanced heating and vibration functions promote blood circulation and soothe soreness. The U-shaped ergonomic design with a convenient strap enables a comfortable and personalized massage experience.
Pros
Soothing heat
Multi-purpose use
Easy to detach and dustproof cover
Armrest design
Lightweight
Portable
Automatic shutoff
Cons
None
The Medcursor Neck and Shoulder Massager with eight bi-directional rotation kneading massage heads simulate a deep shiatsu massage. You can relax with this lightweight neck massager whenever you want, whether at home, the office, or in the car. The advanced soothing heat function and a breathable mesh fabric soothe tired muscles and reduce stress. With three different strength levels, you do not have to limit yourself to using this massager on your neck; you can use it from head to toe. This long-lasting massager is made of soft PU leather that is gentle on your skin.
Pros
Portable
Ergonomic design
Adjustable intensity
Easy to use control panel
Low noise
Easy to clean
Cons
None
Price at the time of publication: $31.99
Perfectly sized for an effective self-massage, next on our list of the 15 best neck massagers of 2023 is the Vive Massage Ball Roller. It is a handheld device with an ergonomic design, which allows you to control the pressure applied for light or deep tissue massage. Get relief from tired and sore neck muscles wherever you are with this convenient and portable massager that is also easy to store. The non-friction massage balls glide smoothly over your skin as you apply minimal pressure. You can also use the durable and hypoallergenic massager with massage oils or lotions of your choice.
Pros
Non-irritating and safe to use
Made from high-quality resin
Resistant to cracking or splitting
Ergonomic design for self-massage
Cons
Some may find it slightly ticklish when using this massager.
Price at the time of publication: $14.99
Take a deep breath and relax into utter bliss with this cordless neck and back massager from Etekcity. It is the ultimate muscle pain relief and relaxation solution. This device features two heating levels and adjustable infrared heating to improve blood circulation. The eight deep kneading rollers enable you to enjoy a comfortable massage in the targeted areas. This neck massager has three speed settings and can run for up to three hours on one charge.
Pros
Lightweight
Travel-friendly
Long battery life
Comes with various intensity levels
Includes 8 bi-directional rollers
Comfortable
Durable
Cons
None
Price at the time of publication: $64.99
The Cotsoco Shiatsu Back Neck and Shoulder Massager is the ideal stress reliever. Whether you are experiencing muscle pain or simply want to unwind after a long and exhausting day, this massager has you covered. It features 16 powerful 3D massage nodes with three massage speeds to provide a deep tissue massage that relaxes both the body and the mind. The control panel is simple to use and allows you to personalize your experience.
Pros
Lightweight
Easy to use
Various control settings
15-minute auto-shutoff feature
Overheat protection
Highly durable
Mesh, dust-free material
Cons
None
Price at the time of publication: $45.99
Don't miss out on this smart device that uses low-frequency electric pulses, magnetic effects, and 3-synchronous loop traction therapy to give you a high-performance massage effect. With 3 modes of acupuncture, massage, and rhythmic beating, you can adjust the settings based on your needs and tackle all types of muscle soreness. With a constant heat temperature of 107.6° F, this neck massager has an innovative 3D suspension design and is wireless, lightweight, and portable. Find everything you are looking for with this portable neck massager with an ergonomic design and fits all neck sizes.
Pros
9 different intensity settings
3 modes including kneading, tapping, and scraping
Multipurpose
Uses low-frequency electric pulse technology for a quadruple effect
Adjustable heating function
Cons
You may have to take extra care while charging the massager.
The Homedics Pro Therapy Vibration Neck Massager has a soft foam design that provides maximum comfort. The soothing heat feature is ideal for people who have painful and stiff neck muscles. The energetic vibration massage relieves stress and pain in the neck area. You can get a deeper massage with flex handles that you can tighten to increase intensity. This easy-to-use massager features two speed settings and is made of skin-friendly material.
Pros
Intensity controlling flex handles
Various speed settings
Good for neck stiffness
Relaxing vibrations
Easy to use
Cons
None
Price at the time of publication: $23.99
Many things we do on a daily basis put our necks and shoulders under stress, and since getting neck massages often isn't always possible, buying an at-home neck massager is the perfect way to get the relaxation you need, whenever you need it. Neck massagers come in a variety of shapes and sizes, as well as a variety of features that can cater to your specific health condition. We've done the homework with our buying guide to help you find one that best fits your needs and improve your relaxation techniques.
How To Choose The Best Neck Massager
Make sure you understand how your massager works, whether you're working from home or need a pick-me-up during long travels. The ideal neck massager is not just ergonomic, but also battery-powered, which is easier to transport, or a plug-in option that allows for more prolonged usage. Lightweight massagers are also suitable for those looking for something they can easily carry around.
When suffering from neck aches and discomfort, your muscles are often tensed and need focused attention on these pressure points. The use of heating or cooling remedies to relieve pain is still a point of contention. Icing can help with problems that are just below the surface, but heat is also the best option for deeper tissue issues like neck pain. Make sure to choose a massager that comes with a controllable heating function that you can use to your benefit.
Make sure to pay attention to the kind of technology that the massager uses. Not all designs may suit your needs. For some, a deep-kneading Shiatsu massage will help you alleviate any discomfort, but for some others, maybe a more mild massager will help. Ideally, you will want to choose massagers with skin-friendly materials like a foam collar or leather straps that are safe to use on your skin.
Another important factor to consider when choosing a neck massager is whether or not it comes with an attached wire. Cordless massagers are easier to use and can be moved around more efficiently. These types of wireless designs also make them suitable to use when you are constantly on the go.
How To Use A Neck Massager
Step 1 – Comfortable clothing
Start by wearing comfortable clothing. Choose something that is neither too tight nor too close-fitted for optimum comfort.
Step 2 – Gentle stretching
Gently stretch your body before you begin plugging in the massager.
Step 3 – Turn the device on
To get started, place the massager comfortably on your neck and turn on the device.
Step 4 – Set heat and mode settings
Adjust the heat and mode settings according to your preference. You may want to begin with the lowest intensity settings and gradually build your way up.
Step 5 – Use on problem areas and pressure points
Use it on pressure points on your neck and back to get relief from stiff muscles and pain.
What Are The Benefits Of Massaging Your Neck
An increase in blood flow for improved circulation leading to a rise in oxygen levels
Recovery from sore and strained muscles
Releases endorphins that act as natural pain relievers
Helps tackle back issues, and eye-related stress
Provides migraine relief
Strengthens the overall immune system
Improves mood and relieves stress
Why Trust StyleCraze?
The author, Shreya Vishwanathan, is a health and fitness enthusiast. She has curated this list of the best neck massagers to help the readers make the best choice. The list features budget-friendly portable massagers that may help you get rid of the pain in your muscles. These massagers comprise strong massage heads that are equipped to manage the aches and pains in your shoulders, neck, back, and feet. The massagers were selected after extensive research. The author checked user reviews and feedback to shortlist the best products for the list.
Frequently Asked Questions
Is the neck massager safe?
Yes, using a neck massager from the comfort of your home is not only easy but also safe provided that you follow the instructions carefully. It can provide you with stress relief, as well as help you tackle aches and pains.
How often can you use a neck massager?
You can use a neck massager depending on your needs. For some of you, it is recommended to use the neck massager at least twice a week to relieve any stubborn stress. Some others may only need to use a neck massager once every fortnight.
Can I use a neck massager while pregnant?
While neck massagers are safe to use for people of all age groups, you may want to consult your doctor in case of any complications.
Can the massager help you sleep better?
Yes, neck massagers help alleviate muscle tension, help you relax, and release endorphins. All of these features, ensure that your sleep cycle is also improved.
How long should you use a neck massager?
Use a neck massager for 15 to 20 minutes at a time. Do not use it more to prevent aggravating the pain.
Can a neck massager cure a migraine?
Yes. Neck massagers reduce the tension in your neck, head, and shoulder muscles and improve the blood flow in your brain. Thus, the massagers are effective in reducing migraine pains.