15 Best Neck Massagers For Relaxed Muscles In 2021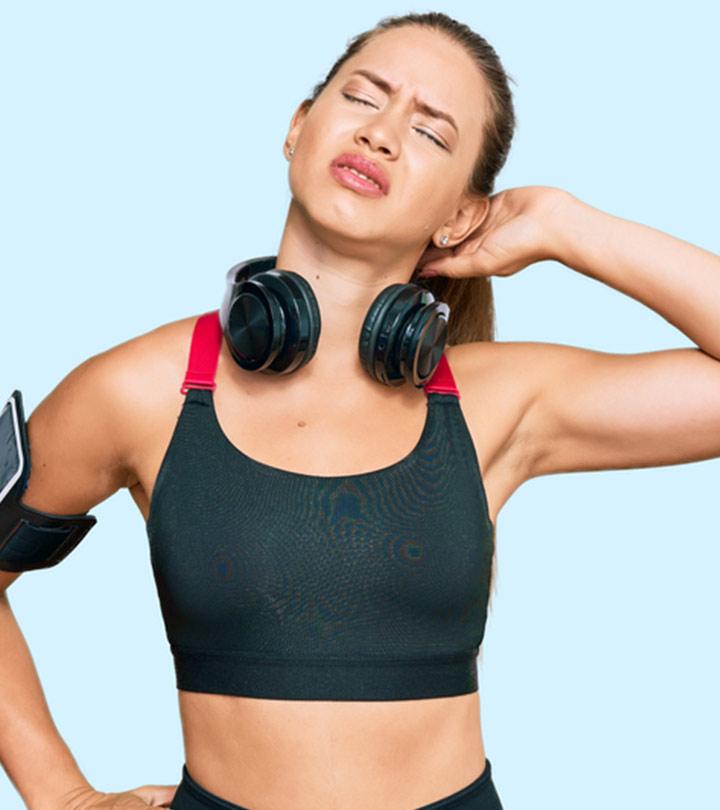 Whether you've been sleeping strangely, working out too much, or sitting hunched over a desk for hours, massage therapy is one of the most effective ways to relieve neck aches and tight muscles. While visiting a massage therapist can be a pleasurable experience, it may also be heavy on your pocket and time-consuming. This is where professional massage machines come in. These portable alternatives are helpful in quickly kneading out tight knots and melting all the tension away, right at home! Not only are these wonder gadgets available in a variety of styles, including handheld versions, wrap-around devices, and even manual massager neck rollers, but they also have other unique features.
We've compiled a list of the 15 best neck massagers, so you can spend less time worrying about your strained neck muscles! When combined with lubricating oils, these electronic neck massagers will help you quickly knead out knots while also providing instant stress relief.
15 Best Neck Massagers For Instant Stress Relief In 2021
Bid farewell to chronic neck pain, once and for all, with this cordless neck and shoulder massager composed of high-quality ABS plastic. The powerful motor works on 3600 pulses per minute and has a long-lasting Li-ion battery that comes together to help you tackle aches and pains in your shoulders, neck, back, and feet. Ideal for a relaxing experience, this percussion massager has a round-ball and 1-point head that can be used for a deep tissue massage and help you speed up muscle recovery. The in-built battery allows this portable neck massager to reduce stress and discomfort even when you're on the go.
Pros:
Has 5 different massage heads
Simple control panel with 4 buttons
Ergonomic design with a long handle
Safety auto-shutdown mode
5 strength and speed modes
Cons:
Some may find the machine to be a bit bulky
If you've had no luck in finding the ideal heated neck massager, look no further than this Naipo Neck, Back, And Shoulder Massager With Heat. It houses a simulation massage system that battles pressure points in your neck, back, calf, and waist. The deep kneading massager comes with adjustable intensity settings and 3 different speeds, including low, medium, and high, for your convenience. With up to 8 different Shiatsu massage nodes, this bi-directional massager will help you soothe and relieve tired neck muscles. The in-built advanced heating function also transfers a comfortable heat to your muscles to alleviate tightness. With soft, breathable, and skin-friendly PU leather and dual auto-heat protection, you can use this Shiatsu neck massager at home or in the comfort of your car.
Pros:
Corded electric power source and UL-approved power adapter
Ergonomic U-design
3D rotational kneading massage rollers
Low noise below 40 dB
20-minute auto-shutdown feature
Adjustable intensity levels
Home and car compatible
Cons:
You may have to wait for the motor to cool down between uses.
Fight aching neck and body muscles effortlessly with this Shiatsu neck massager that comes equipped with a heating function. The muscle-soothing intensity feature not only enhances blood circulation and comes with the 4 deep-kneading Shiatsu massage nodes that reverse directions every minute for maximum coverage. Made from top-quality leather that is durable, soft, and easy to clean, this massager incorporates an ultra-compact and slim design. The no-fuss adjustable arm straps let you secure the massager in place as the massager works up to its maximum working temperature for your optimum preference.
Pros:
Durable
Ergonomic and effective design
100% vegan leather
FDA-listed
Comes with a 1-year warranty
20-minute auto shutdown feature
Has a UL-approved power adapter and DC car adapter
Cons:
You may find it slightly difficult to adapt to the heat settings.
The Resteck Shiatsu Neck and Back Massager is perfect for alleviating sore muscles. This kit will help you eliminate stiff necks, muscle aches, and improve blood circulation with its heat and simulation massage technique. Reduce fatigue on the go with this electric neck massager that is portable and comes with a leather pouch for hassle-free storage. With 4 buttons to help you regulate the heat and stimulation mode, this device uses clever bidirectional kneading for maximum comfort and relaxation. You can also use this multipurpose massager to stimulate blood circulation on your shoulder, back, and legs.
Pros:
Leather pouch for hassle-free storage
Heat regulator
Multiple simulation modes
Bidirectional kneading nodes
Portable
Cons:
You may find this massager to be rather loud.
The LiBa Back and Neck Massager is a must-have if you are looking for a tool to help you alleviate muscle knots, pressure areas, or myofascial pain syndrome in the neck, shoulder, or back area. For maximum relief and relaxation, this ergonomic and hypoallergenic design offers maximum comfort and easy usage right from the comfort of your home. Reach even the most hard-to-access areas using the node and spoke design to relieve any muscle discomfort. Made from BPA-free and eco-friendly components, this handheld neck massager can be used in water too.
Pros:
Easy to use
Multipurpose
Intuitive and ergonomic design
Eco-friendly and BPA-free
Hypoallergenic
Comes with a user manual
Cons:
Some may find it slightly heavy and awkward to use.
The Naipo oCuddle delivers an upgraded massage experience with its one-size-for-all neck massagers. The adjustable and customizable fit allows you to utilize the directional rotation of the 4-node massage heads fully. Convenient to carry and use, this Shiatsu simulating massager holds and loosens muscles to reduce tension and provide relaxation. With adjustable shoulder bands, you can ensure that this cordless neck massager fits right. The 2 levels of focal heat are designed to keep you comfortable and relieve any neck muscle tension. The skin-friendly elastic band between the massage nodes and your skin eliminates any possibility of unwanted friction.
Pros:
Lightweight
Quiet functioning
Silky and skin-friendly
Washable and removable
Stain-resistant
Hygienic, multi-person usability
Cons:
Some may find the massager larger than expected.
When it comes to relieving stress and providing relief to aching muscles, The MagicMakers Neck Massager with a U-shaped design takes the crown. The compact and ergonomic design fits perfectly to ensure that the neck massager reaches all the problem areas. Not only does this heated neck massager come with 8 massage nodes for a deep kneading experience, but it also helps you battle backaches, fatigue and improves blood circulation. With a heating function and a settable timer that automatically shuts off after 15 minutes, this deep tissue neck massager gently heats your skin and stimulates surrounding areas to eliminate all sores and aches.
Pros:
Ergonomic U-shaped design
8 massage nodes
Comes with a timer
Heating function
Shiatsu simulation
Cons:
Some may find that this massager is rather loud.
Not a fan of bulky and ineffective neck massagers? Give this self-neck massager from Voyor a try! Inclusive of 2 soft and firm silicone balls, it will help you relax your muscles and pressure points. Easy to use and suitable for people of all ages, this ergonomic and flexible design has a handle with a comfortable grip for ease of use. The lightweight and portable handheld massager can be carried around for a deep tissue massage whenever you may need it. The dual trigger point massager balls give you a simulation massage experience that will help revive tired muscles, giving you pain relief while improving the quality of your sleep cycle.
Pros:
Ergonomic design
Flexible handle
Durable
Lightweight and portable
Controllable massage intensity
Cons:
May not work effectively for very stiff muscles
The Cunmiso TENS Electric Pulse Neck Massager can save your neck and back muscles from any amount of stress and tension. This neck massager will relax muscle tissues and tackle any aches and pains for relief from cervical fatigue. The 6-mode massager comes with 15 different intensity settings for optimum massage options to choose from. Additionally, this cervical neck massager is equipped with a 4-point thermostatic hot compression technique that enhances the effectiveness of the massage. The wireless ergonomic U-design will give you a 15-minute therapeutic massage experience right from the comfort of your home.
Pros:
6 modes and 15 intensity levels
Ergonomic design
Comfortable to use
Wireless functioning
In-built high-capacity battery
15-minute auto-off function
Cons:
You may feel a slight shock which is normal.
With 16 different intensity levels, the Sw88dfb Smart Neck Massager With Heat will simulate a spa-like massage experience whenever and wherever you may need it. This lightweight neck massager has a 107° F constant temperature heating function that promotes blood circulation, relieves stress, and helps you feel relaxed. The ergonomic U-design comes with a multi-directional flexible electrode plate, high tenacity electric arm, and silicone pads for optimum reach. The wireless, lightweight, and portable neck massager can also be easily carried around according to your convenience.
Pros:
Relieves stiff neck
Wire-free device
Portable
Lightweight
Ergonomic U-shaped design
Heating function
Cons:
It may cause skin irritation if used for long periods
Perfectly sized for an effective self-massage, next on our list of the 15 best neck massagers of 2021 is the Vive Massage Ball Roller. It is a handheld device with an ergonomic design, which allows you to control the pressure applied for light or deep tissue massage. Get relief from tired and sore neck muscles wherever you are with this convenient and portable massager that is also easy to store. The non-friction massage balls glide smoothly over your skin as you apply minimal pressure. You can also use the durable and hypoallergenic massager with massage oils or lotions of your choice.
Pros:
Non-irritating and safe to use
Made from high-quality resin
Resistant to cracking or splitting
Ergonomic design for self-massage
Cons:
Some may find it slightly ticklish when using this massager.
Deep dive into a state of pure, relaxed bliss with this intelligent neck massager from Teme. It gives you the maximum effect of using an electric pulse function for deep tissue relaxation and improved blood circulation. Sit back and relax with this neck massager with 4 stainless steel contacts positioned for precise massaging. This lightweight and portable device is easy to charge with a simple USB cord and can be accessed wherever you want. With 3 modes and 15 intensity levels, including heat functions, this effective massager can also be used to relieve pain from your shoulder and back area. Made from authentic 304 stainless steel plates and soft silicone, this skin-friendly device is a grab.
Pros:
Deep tissue relaxation
Lightweight and portable
Multipurpose
Comes with 3 modes and 15 intensity levels
Attached remote control
Made of skin-friendly materials
Cons:
You may have trouble deciphering the instructions.
The Cunmiso LED Display Shiatsu Neck Massager will help you say goodbye to neck knots and aches forever. For instant relief from muscle tensions and cervical fatigue, this wireless neck massager with 8 massage rollers and 4 adjustable modes for the perfect relaxation you need. The massager also delivers thermostatic heat therapy for a gentle and effective technique. The stretchable handles allow you to use this massager that is also lightweight and portable conveniently. You can easily monitor the massager with its LED screen and recharge your neck when you're on the go.
Pros:
8 massage rollers
Thermostatic heat therapy
4 adjustable modes
15-minute auto shutoff feature
USB rechargeable
Low-noise feature
Lightweight and portable
Cons:
May be more suitable for narrow neck sizes
Don't miss out on this smart device that uses low-frequency electric pulses, magnetic effects, and 3-synchronous loop traction therapy to give you a high-performance massage effect. With 3 modes of acupuncture, massage, and rhythmic beating, you can adjust the settings based on your needs and tackle all types of muscle soreness. With a constant heat temperature of 107.6° F, this neck massager has an innovative 3D suspension design and is wireless, lightweight, and portable. Find everything you are looking for with this portable neck massager with an ergonomic design and fits all neck sizes.
Pros:
9 different intensity settings
3 modes including kneading, tapping, and scraping
Multipurpose
Uses low-frequency electric pulse technology for a quadruple effect
Adjustable heating function
Cons:
You may have to take extra care while charging the massager.
The Ihelol Smart Neck Massager is an ideal tool that will help you combat even the most chronic neck aches. The 3D intelligent design uses a TENS pulse technology to provide you with maximum pain relief and relaxation. The lightweight and portable neck massager also comes with a large capacity battery that lets you use it for longer time periods and is especially useful if you happen to travel a lot. The wireless U-shaped traction design is convenient to use for all neck sizes and is a great giftable option.
Pros:
Made of high elasticity and high-strength materials
Wireless remote control
Sweatproof
Flexible suspension electrodes
Soft silicone pads
Type-C fast charging
Cons:
This is not a waterproof design.
Many things we do on a daily basis put our necks and shoulders under stress, and since getting neck massages often isn't always possible, buying an at-home neck massager is the perfect way to get the relaxation you need, whenever you need it. Neck massagers come in a variety of shapes and sizes, as well as a variety of features that can cater to your specific health condition. We've done the homework with our buying guide to help you find one that best fits your needs.
How To Choose The Best Neck Massager
Make sure you understand how your massager works, whether you're working from home or need a pick-me-up during long travels. The ideal neck massager is not just ergonomic, but also battery-powered, which is easier to transport, or a plug-in option that allows for more prolonged usage. Lightweight massagers are also suitable for those looking for something they can easily carry around.
When suffering from neck aches and discomfort, your muscles are often tensed and need focused attention on these pressure points. The use of heating or cooling remedies to relieve pain is still a point of contention. Icing can help with problems that are just below the surface, but heat is also the best option for deeper tissue issues like neck pain. Make sure to choose a massager that comes with a controllable heating function that you can use to your benefit.
Make sure to pay attention to the kind of technology that the massager uses. Not all designs may suit your needs. For some, a deep-kneading Shiatsu massage will help you alleviate any discomfort, but for some others, maybe a more mild massager will help. Ideally, you will want to choose massagers with skin-friendly materials like a foam collar or leather straps that are safe to use on your skin.
Another important factor to consider when choosing a neck massager is whether or not it comes with an attached wire. Cordless massagers are easier to use and can be moved around more efficiently. These types of wireless designs also make them suitable to use when you are constantly on the go.
How To Use A Neck Massager
Step 1 – Comfortable clothing
Start by wearing comfortable clothing. Choose something that is neither too tight nor too close-fitted for optimum comfort.
Step 2 – Gentle stretching
Gently stretch your body before you begin plugging in the massager.
Step 3 – Turn the device on
To get started, place the massager comfortably on your neck and turn on the device.
Step 4 – Set heat and mode settings
Adjust the heat and mode settings according to your preference. You may want to begin with the lowest intensity settings and gradually build your way up.
Step 5 – Use on problem areas and pressure points
Use it on pressure points on your neck and back to get relief from stiff muscles and pain.
What Are The Benefits Of Massaging Your Neck
An increase in blood flow for improved circulation leading to a rise in oxygen levels
Recovery from sore and strained muscles
Releases endorphins that act as natural pain relievers
Helps tackle back issues, and eye-related stress
Provides migraine relief
Strengthens the overall immune system
Improves mood and relieves stress
If you experience stressed neck tissues or cervical aches, you should maintain a healthy level of hand, neck, shoulder, and back activity. The majority of causes of neck and back pain do not respond well to simple rest. When there is a healthy amount of blood circulation, the muscles tend to perform better. Walking or other physical activities are beneficial, but massagers and heat-involved therapies are also helpful in keeping the blood circulation going. Investing in the best neck massager can go a long way in targeting specific problem areas and alleviating aches and pains. Our list of the 15 best neck massagers of 2021 will help you find the perfect device to bring home, so you won't have to worry about aching backs anymore!
Frequently Asked Questions
Is the neck massager safe?
Yes, using a neck massager from the comfort of your home is not only easy but also safe provided that you follow the instructions carefully. It can provide you with stress relief, as well as help you tackle aches and pains.
How often can you use a neck massager?
You can use a neck massager depending on your needs. For some of you, it is recommended to use the neck massager at least twice a week to relieve any stubborn stress. Some others may only need to use a neck massager once every fortnight.
Can I use a neck massager while pregnant?
While neck massagers are safe to use for people of all age groups, you may want to consult your doctor in case of any complications.
Can the massager help you sleep better?
Yes, neck massagers help alleviate muscle tension, help you relax, and release endorphins. All of these features, ensure that your sleep cycle is also improved.