8 Best Neem Face Powders Available In India That Make Your DIYs A Success
Say goodbye to acne and blemishes and get ready for glowing and healthy skin.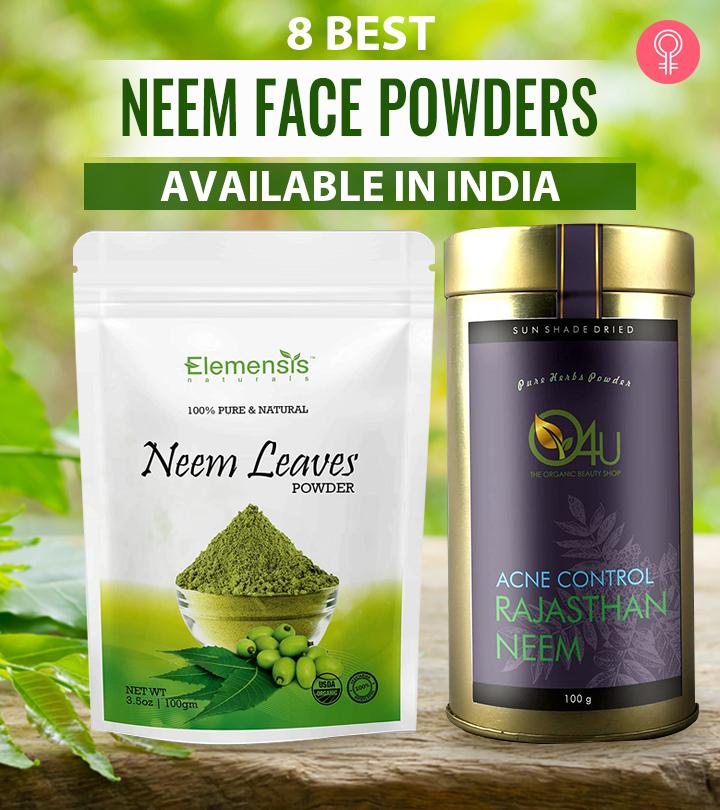 Who doesn't like flawless and acne-free skin? But it isn't that simple to acquire, is it? Radiant, smooth, and clear skin is the dream for many. It not only adds to one's confidence but also keeps them satisfied from within.
However, bringing this dream to reality is a challenge thanks to the chemical-infused cosmetic products available on the market. The solution? An all-natural neem face powder. This herb has been used for ages to exfoliate the skin. Here, we have listed the best neem powders available in India Add these to your skin care regime without any second thoughts.
8 Best Neem Face Powders Available In India
The Elemensis Naturals neem leaves powder is formulated with 100% pure neem extracts to fight acne and pimples. Neem leaves are rich in antibacterial, antifungal, and antiviral properties that heal the skin and enhance blood circulation. You can add a few spoons of this neem powder to your hair masks to also heal scalp infection and inflammation. Neem-infused hair masks add shine to hair as well.
Pros
 Clears pigmentation
 Tames acne flare
 Reduces pimples
 Can be used as a hair mask
 Ammonia-free
 PPD-free
Cons
Price at the time of publication: ₹149
Neem leaves are rich in vitamins C and E and antioxidants that add glow to your face and clear away impurities and blemishes. The Merlion Naturals organic neem leaves powder helps reduce acne scars and pigmentation. It also aids skin detoxification and boosts glow.
The neem leaves powder may also help reduce dandruff. Neem leaves can deal with mouth-related problems like bad breath, plaque, cavities, etc. This pack of neem leaves powder is edible. You can also drink it with water for blood purification and better skin health from within.
Pros
 All-natural ingredients
 Sustainably sourced
 Edible
 Synthetic additive-free
 Artificial fragrance-free
 Suits all skin types
Cons
Price at the time of publication: ₹199
The O4U Acne Control Rajasthan neem powder is an organic product that boosts blood circulation and improves skin tone. It cleanses the skin from the deep within, unclogs pores, and helps clear breakouts. The anti-inflammatory properties of neem reduce inflammation and brighten the skin. This powder also tightens pores and makes the skin healthy and flawless. This product also works great in stimulating the overall scalp health. You can use it as a face mask to add a hint of shine and glow to your skin.
Pros
 Chemical-free
 Preservative-free
 100% pure and natural
 Fine texture
 Fast absorbing
Cons
This budget-friendly Khadi Omrose organic neem powder is your best friend when it comes to skin care. This herbal powder becomes an elixir for healthy skin and scalp when mixed with rosewater. Antifungal and antibacterial properties of neem soothe skin irritation and reduce acne and pimple-causing bacteria.
This neem powder removes impurities and dirt from clogged pores and leaves your skin smooth and supple. The antioxidants, triglycerides, and vitamin C in neem promote cell regeneration and help reduce wrinkles. This neem powder is suitable for sensitive and oily skin.
Pros
 Reduces acne
 Detoxifies skin
 Delays premature aging
 Unclogs pores
 Promotes cell regeneration
 Antiaging benefits
Cons
Price at the time of publication: ₹150
The pure neem powder from Heilen Biopharm can boost the efficiency of your DIY routines and make them more effective and powerful. The powder can help you deal with skin-related issues such as blackheads, pigmentation, acne, and scars. It also leaves your skin blemish-free. Add it into your hair mask for luscious, gorgeous hair. It is a natural solution for lice treatment as well.
Prepare a thin paste of the neem powder and water and apply it either as a face mask or a hair mask. You may also add this powder to your morning toothpaste and keep your mouth healthy and germ-free. The powder even helps reduce itching and skin inflammation.
Pros
 Controls excess oil
 Suits acne-prone skin
 Affordable
Cons
None
Price at the time of publication: ₹149
This Herbal Hills neem powder consists of pure and all-natural neem herb that cleanses your skin deeply. This versatile product is great for both internal and external use. You can either apply it to your skin and scalp or consume a little quantity as advised by the physician. It serves as an Ayurvedic blood purifier and detoxifies blood to heal skin-related issues like acne and pimples. This product exhibits antibacterial and antiallergic properties that soothe skin inflammation.
Pros
 Chemical-free
 Purifies blood
 Improves immunity
 Helps maintain blood sugar level
Cons
Price at the time of publication: ₹320
The Carmel Organics 100% organic neem powder is ideal for both internal and external use. It helps deal with skin-related issues like dullness, pigmentation, pimples, and acne scars. Moreover, it is available in a resealable pouch for ease of use.
Pros
 Organic
 Delays premature aging
 Purifies blood
 Sustainably-sourced
 Non-GMO
Cons
None
Price at the time of publication: ₹259
Reduce dark spots, hyperpigmentation, tan, and blemishes with the HerbtoniQ 100% natural neem leaf powder. Its antibacterial and anti-inflammatory properties can help you deal with pimples, acne, and several other skin issues. This antioxidant- and vitamin E-infused powder fades spots and helps the skin regain its lost luster.
You can use this powder for hair care as well. It conditions your hair, strengthens the hair follicles, and adds shine and volume to the strands. You can mix this neem powder with lemon juice and apply it as a hair mask to promote scalp health.
Pros
 Gentle on skin
 Removes suntan
 Adds glow
 Controls excess oil
 Evens the skin tone
 Additive-free
 Paraben-free
Cons
None
Price at the time of publication: ₹217.55
These are the best neem face powders. Let us now understand the major benefits of neem face powder.
What Are The Benefits Of Using Neem Face Powder?
 It improves skin texture and brightens skin tone.
 It reduces premature aging signs like wrinkles and fine lines.
 It effectively deals with dark spots and redness.
 It reduces pimples, whiteheads, and blackheads.
 It fights skin infections and soothes skin irritation.
 It controls excess oil secretion and gives you a non-greasy appearance.
Are you looking forward to adding neem face powder to your skin care collection? There are several factors that you should consider before making a choice. Read on.
How To Choose The Best Neem Face Powder?
Consider the following factors before choosing a neem face powder.
 Determine Your Skin Type: It is important to choose neem face powder that suits your skin type to achieve better results. Choosing the wrong product for your skin type can cause complications. Choose the neem powder that suits maximum skin types and delivers effective results.
 Types Of Ingredients: You should only choose neem powder enriched with all-natural and pure ingredients. Several products on the market blend neem and other natural herbs with chemicals. Such products may cause skin itchiness and redness. Therefore, you are advised to read the ingredient list and select the product accordingly.
 Decide On Your Preferred Usage: Neem face powders are available for external and internal use. Therefore, you need to determine how you would like to use that product. You can either go for face masks or opt for food supplements.
 Set Your Budget: The price of the product varies from one brand to another. Hence, look for the ingredients and the brand value while making a choice. Moreover, deciding on a specific budget automatically narrows down your choices and makes it easy to pick the right option.
Here you have the compiled list of the best neem face powders available in India. We have created our guide by doing extensive product analysis and in-depth comparisons. We believe this post was informative. Our recommendation would be the HerbtoniQ 100% natural neem leaf powder. It contains no harsh chemicals and suits all skin types. Add this (or any other neem face powder listed here) to your skin care routine and get clear and shiny skin.
Frequently Asked Questions
How do you use neem powder on your face?
Neem powder can be used with different ingredients to prepare face masks based on the skin type. You can also add it to other skin care products like moisturizers, cleansers, or oils for added benefits.
Are there any potential side effects or precautions to consider when using Neem face powder?
Dryness and irritation of the skin are the prominent side effects of excessive neem face powder use. Over time it may lead to allergic dermatitis and even make the skin sensitive to neem powder. Always perform a patch test before buying a product to check for allergic reactions.
Can Neem face powder be used for treating other skin conditions like eczema or psoriasis?
While neem is very beneficial and may treat skin issues like eczema and psoriasis, you should always consult your dermatologist to know if a certain product will be good for your skin, especially if you have a skin condition.
What is the recommended frequency of using Neem face powder for best results?
The recommended usage is 2-3 times a week. Frequent or daily usage can alter the pH balance of the skin and strip the skin of its natural oils.
Can Neem face powder be used on the body, or is it specifically for the face?
Neem has antiseptic properties and is a natural cleansing agent. Neem powder can be used as an effective body scrub.
Recommended Articles