14 Best-Selling Neogen Dermalogy Products Of 2023
Include this Korean brand in your beauty regimen to tackle aging, pigmentation, and more.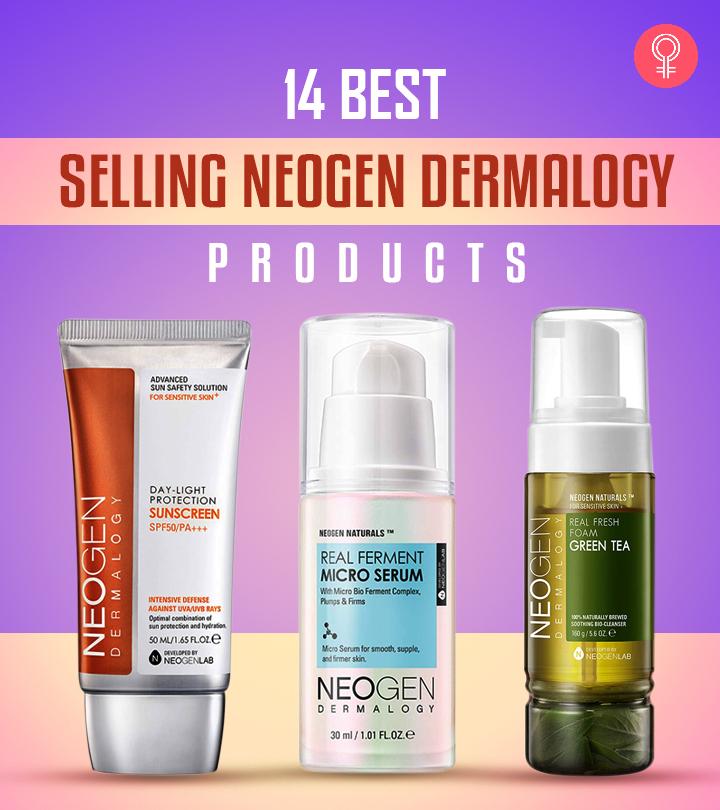 If you suffer from acne and want to get rid of them, you have come to the right place. The best Neogen Dermalogy products can help eliminate acne symptoms and nip the issue in the bud.
Products from this Korean beauty line target wrinkle reduction, skin hydration, dark circle reduction, and offer skin irritation relief. This brand, debuted in 2009, specializes in developing and innovating new skincare products for various skin types. What's more? All the items are manufactured with the least amount of processing possible. Keep scrolling to check out our list of the top offering from Neogen Dermalogy!

Top Picks
14 Best-Selling NeogenDermalogy Products Of 2023
These Bio-Peel+ Gauze Peeling Pads make skin exfoliation gentle, easy, and convenient. These are hypoallergenic cotton gauze pads with a triple-textured layer that removes dull and dead skin cells. The first layer is a 100% pure cotton mesh gauze pad. It gently removes impurities and dirt without irritating the skin. The second layer is a cushion pad that offers a plush feeling. It prevents skin agitation. The third layer is an embossed pad that arranges the skin texture to make it smoother.
You can remove all the excess sebum and impurities with just a swipe of this cotton pad. The pads are soaked in a wine serum containing potent antioxidants like resveratrol that leaves your skin smooth, bright, and healthy. The pads are safe for all skin types. These pads promote skin elasticity. They also tighten enlarged and sagging pores.
Key Ingredients: Resveratrol, blackberry and raspberry fruit extracts
Pros
Offer gentle exfoliation
Hypoallergenic
Triple-textured layer
Help brighten skin
Promote skin elasticity
Ideal for all skin types
Cons
Price at the time of publication: $27.0
Cleanse your face without any irritation with the help of the Real Fresh Foam Green Tea. This cleanser is ideal for oily, combination, or acne-prone skin. It is a gentle and hydrating facial cleanser infused with soothing, natural ingredients, and 100% real green tea that offers you the best cleansing experience. The green tea helps calm, brighten, and hydrate your skin without stripping off its natural oils.
The cleanser forms a hypoallergenic foamy lather that removes all dead skin cells, impurities, and traces of makeup without causing irritation. Use this cleanser twice daily to see visible results.
The cleanser is also free from harmful ingredients like ethanol, talc, BHA, mineral oil, petrolatum, artificial pigments, triclosan, and sulfates. It also contains no animal ingredients.
Key Ingredients: Green tea
Pros
Hypoallergenic
Clears dead skin cells
No mineral oil
No ethanol
No talc
No petrolatum
No artificial pigments
No triclosan
Sulfate-free
No animal ingredients
Lightweight
Cons
Not suitable for all skin types
Price at the time of publication: $19.0
The NeogenDermalogy Day-Light Protection Sunscreen is a lightweight product. Its broad spectrum SPF 50/PA+++ offers intensive protection against UVA and UVB rays. It has a silicone-free formula that soothes your damaged skin and protects it from environmental aggressors. The rose and raspberry extracts offer you an extra boost of hydration. This sunscreen works best for those with normal to oily skin.
The sunscreen works without leaving an oily finish. Its antioxidants prevent skin damage. The product is free of parabens, sulfates, petrolatum, talc, BHA, silicone, mineral oil, and ethyl alcohol.
Key Ingredients: Vitamin E derivatives, beta-glucan, gentiana extract, blueberry and rose extracts
Pros
Soothes damaged skin
Has calming and moisturizing effects
Quick-absorbent
Silicone-free
Paraben-free
Sulfate-free
No petrolatum
No talc
No BHA
No mineral oil
Cons
None
Price at the time of publication: $30.0
The NeogenDermalogy Real Ferment Micro Serum is crafted with 61% naturally fermented ingredients, three kinds of vitamins, and niacinamide. It is an intensive gel-type serum that contains active ingredients like panthenol, a compound that quickly absorbs into the skin and reinforces skin elasticity. Panthenol also delivers instant hydration and skin radiance. The vitamins C, E, and B5 moisturize your skin. The serum also contains Centella Asiatica Extract, a strong skin-soothing ingredient that protects your skin from external aggressors.
The betula alba juice in the serum has antioxidant properties. The rice ferment filtrate balances your skin tone and regulates sebum production. This micro serum improves your skin's natural texture. It makes your skin firmer and brighter.
Key Ingredients: Niacinamide, vitamins B5, C, and E, panthenol
Pros
Lightweight formula
Boosts skin elasticity
Improves natural skin texture
Controls excess oil production
Cons
None
The NeogenDermalogy Real Fresh Cleansing Stick was the Winner of the 2017 Teen Vogue Acne Awards. It was considered to be among the coolest creations to come out of Korea. This product is enriched with naturally derived ingredients, including green tea. It is a travel-compatible product that offers natural cleansing benefits. It has a powerful blend of 13 essential oils, crushed green tea leaves, and a low pH.
This skin-friendly cleansing stick effectively removes all traces of makeup and can be your secret to brighter-looking skin. The real green tea in the product gently exfoliates the skin.
Key Ingredients: Green tea, coconut oil, camellia oil, olive oil
Pros
Easy-to-use
Travel-friendly
Cons
None
Price at the time of publication: $19.0
This vitamin C serum by NeogenDermalogy is enriched with 22% sodium ascorbyl phosphate, niacinamide, five citrus fruit extracts, vitamin E, and vitamin B5 that provide nutritive benefits to your skin. The collagen and hyaluronic acid in the skin offer adequate moisturization.
These ingredients work in unison to boost skin elasticity, fade blemishes, and brighten the complexion. They also reduce the signs of photodamage and make your skin look radiant.
Key Ingredients: Vitamins B5, C and E, niacinamide, hyaluronic acid
Pros
Boosts collagen production
Protects skin from oxidative damage
Reduces blemishes
Brightens dull skin
Prevents further breakouts
Cons
None
Price at the time of publication: $38.0
The Real Cica Micellar Cleansing Foam is an innovative foaming cleanser infused with micellar technology that removes all the dirt and impurities in one go. It is enriched with skin-soothing ingredients like Centella Asiatica extract and Madecassoside that soothe skin inflammation and hydrate skin.
This formula has a moderate pH level. This cleansing foam leaves your skin with a dewy finish. The power-packed PHA formula offers you amazing exfoliating benefits.
Key Ingredients: Centella Asiatica extract, Madecassoside
Pros
Soothes skin
Does not dry skin out
Cons
May not suit sensitive skin
The A-Clear Soothing Foam Cleanser by NeogenDermalogy helps remove bacteria and controls excess sebum. It also effectively cleanses your skin. It is infused with hypoallergenic ingredients and natural exfoliating agents like salicylic acid. This acne-fighting cleanser contains micro-bubbles that remove the tough dirt and impurities with ease. The rich micro-bubbles remove excess skin oil and clarify clogged pores.
The formula is soothing for sensitive skin. It works as a protective barrier against all harmful environmental pollutants. The tea tree and licorice reduce inflammation and toxicity. The skin-calming ingredients like Centella Asiatica and Panthenol help soothe irritated skin.
Key Ingredients: Salicylic acid, tea tree, licorice, Centella Asiatica, panthenol
Pros
Removes bacteria and excess oil
Hypoallergenic ingredients
Soothes irritated skin
Protects skin from the outer environment
No artificial fragrances
Cons
Price at the time of publication: $19.0
This Collagen Lifting Cream is enriched with double collagen formula consisting of collagen and hydrolyzed collagen. It helps restore skin firmness and elasticity. Its peptide ingredients provide collagen energy and help you get firmer and bouncy skin. Its adenosine lifts your skin while reducing fine lines and wrinkles. The powerful formula offers intense hydration to dull, tired, and saggy skin.
Key Ingredients: Collagen, hydrolyzed collagen
Pros
Double collagen formula
Offers intense hydration
Increases skin moisture
Reduces signs of aging
Strengthens skin barrier
Cons
None
Price at the time of publication: $29.0
The Neogen Dermalogy Super Hydra Aqua Capsule Mask is the right pick for those with dehydrated skin. It is packed with nano-sized hyaluronic acid that offers intense hydration. This formula effortlessly gets absorbed and makes your skin feel plumped up and energized.
The patented fabric of this sheet mask maximizes absorption and fits right into the contours of your skin. The super nano-sized hyaluronic acid retains twice the moisture.
Key Ingredients: Hyaluronic acid
Pros
Suitable for dehydrated skin
Restores skin moisture
Offers long-lasting hydration
Plumps skin
Cons
None
Price at the time of publication: $25.0
The NeogenDermalogy O2 Energy Power Serum Spray contains 80% oxygen-infused water, hyaluronic acid, niacinamide, and seaweed extracts that lift your skin and make it tighter and healthier.
The serum spray does not contain any gas and is safe for use even on sensitive skin. Its fine-mist mechanism distributes the spray evenly over the skin. The spray is clinically proven not to irritate the skin. The fine particles of the mist absorb well into the skin. They do not smudge or bleed your makeup.
Key Ingredients: 80% oxygen-infused water, hyaluronic acid, niacinamide, seaweed extracts
Pros
Restores skin moisture
Tightens saggy skin
Improves skin elasticity
Suits sensitive skin
Fine-mist spray mechanism
Non-irritating
Does not smudge makeup
Cons
None
Price at the time of publication: $19.0
The Black Energy Cream is formulated with the 20-free concept – it contains none of the 20 most common skin irritants. This cream adds vitality to your skin. It contains 119 types of natural ingredients that restore skin moisture and elasticity, and soothe skin irritation. The cream also makes your skin soft and supple.
The thick, gel-like texture is filled with nutrients and naturally derived black complex ingredients. This cream reduces the signs of skin fatigue and offers you a fresh-looking and energized complexion.
This cream is hypoallergenic. It contains lactobacillus that protects skin against environmental aggressors. Its propolis extract creates a protective layer on the skin.
Key Ingredients: Hyaluronic acid, lactobacillus, green tea extract, aloe vera leaf extract
Pros
Protects skin against environmental pollutants
Soothes skin
Hypoallergenic
Boosts skin hydration
Promotes skin elasticity
Cons
None
Price at the time of publication: $38.0
The Probiotics Double Action Serum by NeogenDermalogy is a prebiotic- and probiotic-packed product. It also offers the intense hydrating effects of hyaluronic acid and glycerin, and the gentle exfoliating effects of lactic acid. The serum gets quickly absorbed into your skin and makes it look brighter and bouncier.
It also improves skin immunity and boosts your skin condition with an effective combination of super probiotics and barrier-protecting ingredients. It protects the skin's barrier with a moderate pH level of 5.5-6.5. It can be used both day and night after cleansing and toning.
Key Ingredients: Prebiotics, probiotics, key ingredients, glycerin, lactic acid
Pros
Improves skin immunity
Offers intense hydration
Silicone-free
No artificial fragrances or colors
Cons
None
Price at the time of publication: $42.0
The NeogenDermalogy Probiotics Relief Cream is a probiotic, peptide-packed, yogurt-textured, anti-aging cream that works best for people between 25 to 35 years of age. It helps minimize fine lines, wrinkles, and other signs of photoaging. The quick-absorbing formula has a balance of probiotics and skin-lifting ingredients. Its 11-type peptide, collagen, and adenosine help moisturize and firm the skin.
This cream is infused with nourishing ingredients like royal jelly, sunflower seed oil, jojoba oil, and shea butter. These ingredients make your skin smooth and supple.
Key Ingredients: Probiotics, collagen, adenosine, royal jelly, jojoba oil, shea butter
Pros
Minimizes fine lines and wrinkles
Quick-absorbing formula
Tightens your skin
Makes your skin smooth and supple
Cons
None
Price at the time of publication: $42.0
Conclusion
NeogenDermalogy products are made with minimal processing. They suit various skin types and help target specific skin issues. The brand has been positioned among the best in Korean skincare. We believe this list has given you enough information to make a wise purchase decision. Buy your favorite NeogenDermalogy product today.
Why Trust StyleCraze?
Oyendrila Kanjilal is an experienced product writer and certified skin care coach. She has compiled this list of the best Neogen Dermalogy skincare products based on their user reviews and several product listings. A buying guide has also been prepared to help you choose the right product from this Korean makeup line specializing in resolving several skin issues, including acne and dark circles.
Frequently Asked Questions
Is Neogen good for dry skin?
Yes, Neogen is great for dry skin. Some of their best products meant for long-lasting hydration are the NeogenDermalogy Super Hydra Aqua Capsule Mask, NeogenDermalogy Real Vitamin C Serum, and NeogenDermalogy Day-Light Protection Sunscreen.
Is NEOGEN good for sensitive skin?
Yes. Their soothing foaming cleanser is the best face wash for sensitive skin. It has natural exfoliating agents that remove dirt and bacteria. The ingredients are specially formulated for sensitive skin as they reduce redness and inflammation on the skin.
Is NEOGEN a mineral sunscreen?
The NeogenDermalogy Day-Light Protection Sunscreen is a hybrid sunscreen that has both mineral and chemical filters, meaning it has the best of both worlds. It reflects UV rays and ensures they do not get absorbed into the skin.
How often should you use Neogen skincare products?
The Neogen skincare products are safe and gentle enough to use on a daily basis. However, their exfoliating peeling pads need only be used 2-3 times a week.
Is NEOGEN a Korean brand?
Yes, Neogen is a very popular Korean skincare brand. Their products are widely used all across Korea.
Recommended Articles