The 10 Best Neti Pots For Sinusitis Allergies – 2023
Relieve your sinuses with these clinically-tested, affordable, and durable neti pots.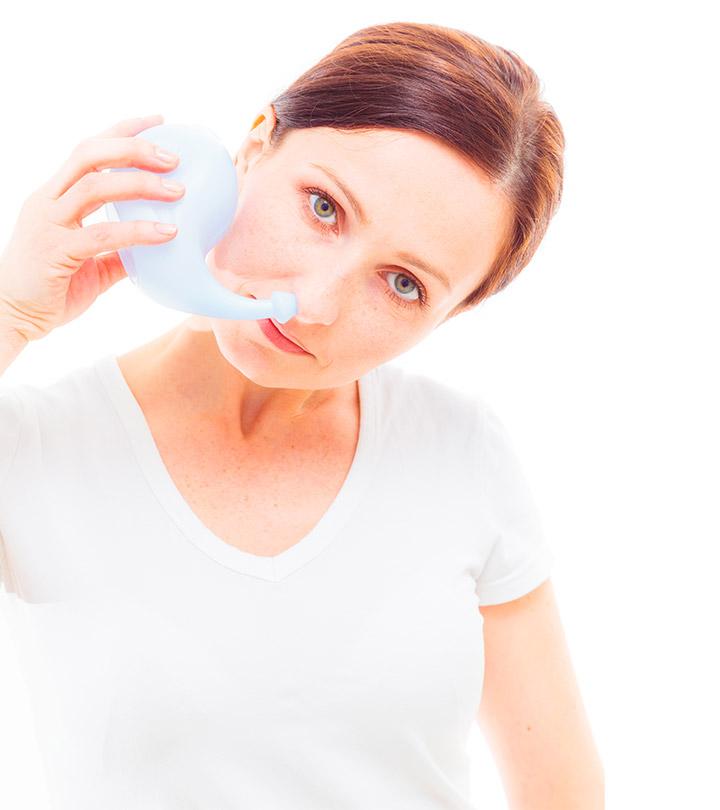 If you effectively want to clear mucus, debris, and allergens from your nasal passages, then it is a good idea to start using the best neti pots for nasal allergies. This drug-free nasal cleaner has been used in South East Asia for centuries. The term 'neti pot' means 'water cleansing.' It can instantly relieve symptoms like runny nose, allergies, nasal blockage, snoring issues, and even nasal dryness. Besides relieving the sinus, it also helps increase the sense of your taste and smell. So, if you are looking for a neti pot, do take a look at the 10 best options available online. Keep scrolling!
Top 10 Neti Pots For Nasal Allergies
SinuCleanse Soft Tip genie-style Neti Pot is a see-through pot with a soft tip. It provides great comfort and allows for the gentle flow of the solution. The design allows you to view the water level inside. The unique shape facilitates the controlled flow of the saline solution into the nasal passage. The kit contains 30 all-natural saline packets. Each packet contains preservative-free, salt granules. You can use this neti pot for allergies. In addition to that, this product helps ease the symptoms of nasal congestion, sinusitis, and rhinitis, sinus pressure, cold and flu, and nasal dryness.

Pros
Clinically proven and safe
Travel-friendly
Recyclable
Affordable
Cons
None
Price at the time of publication: $11.49
NeilMed Nasaflo Porcelain Neti Pot is a natural saline nasal wash. It helps treat nasal allergies, nasal dryness, and nasal stuffiness. The design allows the solution to flow smoothly without any mess. The pack contains 50 premixed packets of sodium chloride and sodium bicarbonate mix for effective cleansing. Before purchasing, check out the pros and cons of this neti pot in a detailed manner from this video.

Pros
Easy to clean
No burning
Travel-friendly
Hygienic
Cons
None
Price at the time of publication: $13.96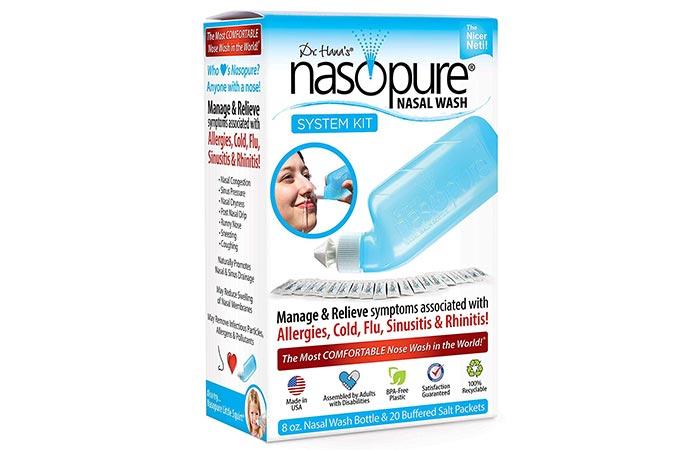 Dr. Hana's Nasopure Nasal Wash is a patented ergonomic design that allows you to wash your nasal passage without spilling, bending, or twisting your neck. The unique straight-back design enables you to look forward, holding your head up as the water flows into the nasal cavity without spilling. Another amazing feature is that this bottle can be squeezed to control the pressure and flow. You can take a look at this unbiased review to know more about this neti pot.

Pros
Easy to use
Travel-friendly
pH-balanced alkaline solution
No burning or nasal irritation
Cons
Does not exert enough pressure for cleansing
Price at the time of publication: $16.95
Aromatic Salt Premium Ceramic Neti Pot is an easy-to-use nasal cleanser. This neti pot claims to promote healthy sinus cleansing by removing allergens and mucus that block your nasal passages. Since it is made of ceramic, you can easily clean the pot by hand.

Pros
Easy to maintain
Has a solid handle
Durable
Affordable
Cons
Price at the time of publication: $14.95
This unique neti pot comes with a silicone nozzle that creates a comfortable seal for easy nasal cleansing. It enables excellent even flow with the anti-fill opening. This product claims to make your sinus cleansing an enjoyable experience. The conical tip seals your nostril perfectly. The best part is that the kit includes two removable silicone nozzles. ComfyPot's handle-free design is a travel-friendly product.

Pros
Easy to clean
Premium quality
Enables the right amount of flow
Durable
Cons
Price at the time of publication: $17.67
The Baraka Handcrafted Durable Ceramic Neti Pot is designed to treat multiple conditions like allergies, cold and flu, runny nose, rhinitis, and sinusitis. They are made of high-quality ceramic with no lead or toxic material. The pot design allows a comfortable grip. You can use these pots 2 to 4 times a day in chronic conditions to obtain complete relief. Moreover, these pots come in 13 different colors and are hand-glazed for a beautiful, unique look.
Pros
 Non-toxic
 Dishwasher safe
 Ergonomic grip
 Easy to clean
Cons
None
Price at the time of publication: $26.95
HailiCare Nasal Wash Pot's unique construction and patented ergonomic design allow the perfect water flow for deep cleansing of the nasal cavity. It gently eliminates dirt, mucus, and other nasal irritants. The kit includes two types of nasal wash adapters – one for adults and one for children. This bottle-like structure has a push-type switch that controls the flow.

Pros
Easy to clean
No spills and mess
Affordable
Cons
This neti pot was designed for yoga's many cleansing kriyas. It is made of hygienic stainless steel and keeps your nasal passage clean and sterilized. The smooth and tapered tip fits snugly onto your nostrils. It also allows flushing of both the nostrils within a single fill.

Pros
Non-breakable
FDA approved
Provides easy grip
No dripping
Cons
Price at the time of publication: $22.95
This combo is ideal for those who practice nasal washing every day. The compact size makes it a perfect choice for traveling. The kit includes a neti pot, a stainless steel tongue cleaner, and an eyewash cup made from high-quality raw materials. It comes with 10 complimentary salt sachets.

Pros
Cost-effective
Relieves allergies
Clears excess mucus
Cons
Price at the time of publication: $6.95
The Natural and Co Leak Proof Neti Pot is made of ceramic and ergonomically designed to ensure smooth water flow. It has no joints and is, thus, leakproof. This neti pot is suitable for sinusitis, headaches, dust allergies, and other respiratory issues to maintain your nasal health. Moreover, it is made without chemicals and toxic ingredients to offer you a hygienic and safe cleaning experience.
Pros
 Lightweight
 Comfortable to use
 Microwave-safe
 Dishwasher-safe
 Lifetime warranty
Cons
 The spout might be small for some
Price at the time of publication: $11.95
Several sorts of neti pots are available on the market, ranging from plastic variations to long-lasting ceramic devices. In this buying guide, we explain crucial aspects to look for while purchasing them.
Things To Consider For Buying the Best Neti Pots For Sinusitis Allergies
Material: Metal, ceramic, and plastic are the most common materials. A plastic neti pot is light and simple to pack, making it the perfect travel alternative. Check that your item is free of latex and BPA. A metal or ceramic pot is far more durable. Metal is indestructible, while ceramic can split or break if dropped on the floor. Although durable, these two materials are not suitable for travel and are costly. Look for materials that can be recycled, are clinically proven, and are simple to maintain.
Hygiene And Care: Cleaning your neti pot before and after nasal cleaning is essential. Moisture can lead to contamination or germs. Look for neti pots that are easy to clean and sanitize. Alternatively, opt for affordable disposable nasal washing kits that can be replaced regularly.
User-friendly: If you intend to incorporate nasal cleansing into your daily practice, get an easy-to-use neti pot. The most important factors to consider are a firm grip, the efficiency of the spout, and the tip's ability to produce a smooth, pleasant seal. Cleanliness and hygiene are other crucial factors to consider.
Saline Solutions: Look for neti pots with pre-made solution packets since most nasal cleansing packages contain solution packets that may be combined with boiling, distilled, or filtered water. You may, however, buy neti pots and extra solution packets or salts of your preference separately and pair them together.
These are the top 10 neti pots that can help you deal with sinusitis and nasal allergies.
Here are some quick tips for improving your experience with neti pots.
Tips For Maximum Results
Always use boiled water to fill your neti pot. Contaminated water can cause severe health issues.
If you are just starting off, use the pre-mixed salt sachets for cleansing.
It is important to understand the right amount of sodium for your nose before starting. Consult your doctor in this regard.
If you are using a traditional spout neti pot, tilt your head sideways to flush the solution from the other nostril.
Ensure to use not more than ¼ to ½ saline solution.
In case the saline runs down your throat while irrigating, spit it out quickly.
Always clean your neti pot once you're done using it.
Why Trust StyleCraze?
We have conducted deep research on the best neti pots for nasal allergies. We browsed online, read hundreds of reviews, and checked the forums for user feedback to shortlist the best and most effective products. These neti pots help with sinusitis, clear excessive mucus, and relieve allergies and other nasal irritants. They can also keep you free from nasal dryness and nasal stuffiness.
Frequently Asked Questions
Is it safe to use a neti pot?
For most people, it works well and is safe. But, if you use tap water or contaminated liquid, there are high chances of development of infection and other health conditions.
How often should I a neti pot?
You can use it once a day. But, if you have a cold or any other chronic nasal condition, use it thrice a day.
What to do when it pains while using a neti pot?
If you experience pain or burning sensation during the process, check for the amount of salt used. You can bend over and blow your nose, or visit a doctor right away.
How should I clean my neti pot?
Wash it with a dish soap using warm water and let it air-dry for some time. Also, ensure to clean your neti pot after every use.
Can a neti pot cure a sinus infection?
Yes. Neti pots boost nasal irrigation and cleanse the nasal area. As a result, they ease nasal congestion and treat sinus infections.
Which is better, sinus rinse or neti pot?
Sinus rinses have similar mechanisms to neti pots. Both use saline water for nasal irrigation. However, nasal rinses are available in various delivery mechanisms. For example, they come in squeeze bottles, products that work with batteries, or pulsating devices. Therefore, use one according to your needs.
When is the best time of day to use a neti pot?
Use a neti pot to clear your runny nose twice daily. Use it in the morning and the evening for the best results.
Why do I feel more stuffy after neti pot?
Using normal-temperature water in a neti pot increases blood flow, swells the nasal turbinates, and causes a stuffy sensation. Therefore, heat the water and pour it into the neti pot to prevent feeling stuffy.
Recommended Articles: