13 Best Neutral Eyeshadow Palettes You Can Use All Year Round
Add some subtle shades to your makeup looks to appear as the belle of the ball.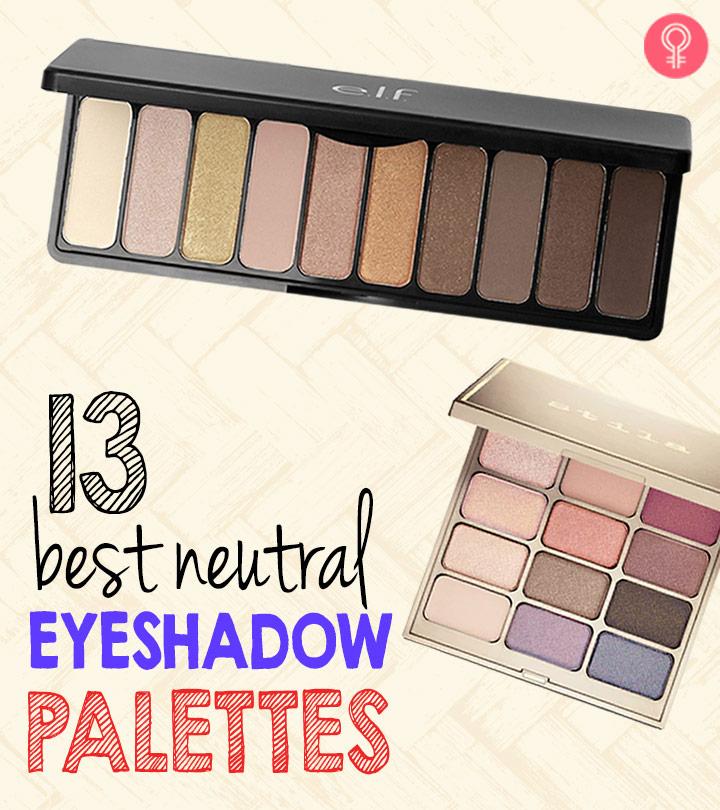 Neutral eyeshadow palettes are a staple in everyone's makeup vanity. The best neutral eyeshadow palettes allow you to experiment with light creams, beiges, browns, and dark charcoals to see which one goes with which mood, outfit, or occasion. You can also experiment with different finishes like matte shimmer and satin. Various makeup trends keep coming and going, but neutral eye makeup never goes out of style.
The best part about these palettes is that even though some consider these palettes boring and monotonous, they can actually create versatile eye looks, and you can use them for different occasions. Keep scrolling to find out the 13 best neutral eyeshadow palettes that you can use all year round!
The 13 Best Neutral Eyeshadow Palettes For Every Occasion
Review
This game-changing palette from Huda Beauty reinvents neutral eyeshadow palettes with its revolutionary textures and colors. It is super versatile and offers infinite possibilities to express yourself through your eyes. It consists of 18 highly saturated shades, ranging from mattes to shimmer-drenched hues, that come in handy for every occasion. It is formulated with coconut oil and aloe vera that give you a smooth, butter-like application. Watch this video to know more about the product.
Pros
Long-wearing
Extremely saturated
No fallout
Versatile
Value for money
Cons
Price at the time of publication: $99
Review
The Naked2 Palette from Urban Decay is the best nude eyeshadow palette loaded with six taupe-hued matte neutrals. Here's the best part – these shades are neutral enough for anyone, from cool tones to olive skin tones to darker complexions. Just like the original palette, the Naked2 comes in a sleek, compact case that is super easy to carry around. These velvety rich colors in this best matte nude eyeshadow palette will certainly leave you wanting more! This video will give you more insights into the product.
Pros
Long-wearing
Highly pigmented
Velvety texture
Travel-friendly
Value for money
Cons
None
Price at the time of publication: $54.99
[ Read: 12 Best Matte Eyeshadow Palettes ]
Review
The Amber Times Nine Palette from M.A.C is perhaps one of the most stunning collections of neutral eyeshadows out there. It features a color wave of amber hues that offer endless shade combinations. It consists of an array of textures, from matte to satin to frost, for creating a variety of looks for both day and night.
Pros
Pigmented shades
No fallout
Easy to blend
Long-wearing
Value for money
Cons
None
Price at the time of publication: $33
Review
This eyeshadow palette from Too Faced not only looks like a chocolate bar but also smells like chocolate heaven. It features a range of 16 shades, such as natural browns, delicate pinks, and luscious plums. These rich and pigmented shadows offer an impressive color payoff and stay in place through the longest of days. To make an informed decision before buying, you can check out this video.
Pros
Infused with 100% real cocoa powder
Long-wearing
Super saturated
No fallout
Blends easily
Cons
None
Price at the time of publication: $99.98
Review
This mini travel-sized matte neutral eyeshadow palette features eight universally flattering nudes to help you create endless eye looks on-the-go. These shades are insanely versatile and can be used as a shadow, liner, or even a brow powder to amp up your look. This palette also features a step-by-step guide for six eye looks and five brow shapes. What else can you possibly need from a neutral palette?
Pros
Very pigmented
Travel-friendly
Blends easily
Long-wearing
Suitable for all skin tones
Cons
None
Price at the time of publication: $48.32
[ Read: Best Drugstore Eyeshadow Palettes ]
Review
This luxurious palette from Stila is curated with 12 eyeshadows to illuminate your inner beauty. Encased in an exquisite, jewelry-inspired compact, it features a precious mix of white golds, rose, and yellow shadows that are super fun to work with. This palette can be used to create simple yet gorgeous daytime looks and elaborate nighttime looks.
Pros
Pigmented shades
Long-wearing
Rich colors
Long-wearing
Beautiful packaging
Cons
None
Review
If you're on the hunt for the best drugstore neutral eyeshadow palette, this one from L'Oreal is a great option. It features 10 highly pigmented shades that range from light to dark to flatter every skin tone in three shadow finishes: buttery matte, shimmery satin, and lustrous sheen. It also comes with step-by-step instructions and tutorials, making it perfect for beginners.
Pros
Long-wearing
Variety of textures and finishes
No fallout
Great packaging
Budget-friendly
Cons
None
Price at the time of publication: $11
Review
This cult-favorite eyeshadow palette from Tarte is packed with the perfect combo of 12 micro-shimmers and mattes in universally flattering shades. It is formulated without mineral oils and parabens, making it safe for those with sensitive skin and eyes.
You will certainly get your shadow skills bloomin' with these gorgeous colors!
Pros
Creamy texture
Super saturated
Easy to blend
Long-wearing
Cruelty-free
Cons
Price at the time of publication: $38.0
Review
This collection of hues from e.l.f features 10 perfectly curated neutral eyeshadow shades that are ideal for defining your eyes, shading, and highlighting. If you are a beginner or on a budget, this palette is definitely one you must absolutely try. For its price, you undeniably get more than what you pay for.
Pros
Very pigmented
Long-wearing
Cruelty-free and vegan
Affordable
No fallout
Cons
None
Price at the time of publication: $13
[ Read: Best Lakme Eyeshadows ]
Review
Taking a cue from the hottest runway trends, Maybelline's Nude Eyeshadow palette features 12 shades of neutral browns, bold beiges, golds, and bronzes. With its ultra-blendable formula, you can create a whole bunch of looks, ranging from a simple "no-makeup" makeup look to a sexy smokey eye. You get the best of both worlds!
Pros
Long-wearing
Versatile shades
Easy to blend
No fallout
Affordable
Cons
None
Price at the time of publication: $9.29
Review
It is unbelievable how insanely pigmented this drugstore eyeshadow palette is. It comes in a mix of coveted colors, from sultry shades for the after-hours to shimmery daytime hues. It also includes matte transitional shades for impeccable blending.
Pros
Long-wearing
Very pigmented
Affordable
Suitable for all skin tones
No fallout
Cons
None
Price at the time of publication: $5.99
Review
Get unzipped and unleash your beauty with this universally flattering neutrals eyeshadow palette. It features 10 ultra-rich matte and shimmery shadows in a sleek, nude palette. This is a great palette to play around with, especially for those who are new to the makeup game.
Pros
Great pigmentation
Easy to blend
Versatile
Long-wearing
Value for money
Cons
None
Price at the time of publication: $35
Review
The Clinique Wear Everywhere Neutrals Eyeshadow Palette comes in a classy, sleek, silver-mirrored compact with a full-length mirror and an applicator. Its eight matte and low-level shimmer shades work to add drama and highlight your eyes. This makes for a great daily-wear palette and is also an excellent option for beginners.
Pros
Very pigmented
Suitable for sensitive eyes
Great packaging
Long-wearing
No fallout
Cons
None
Price at the time of publication: $52.99
Why Trust StyleCraze?
The author of this article, Esha Saxena, is a makeup enthusiast. She believes that makeup can enhance a women's innate beauty. Esha has gone through multiple forums and has herself tried several branded neutral eyeshadow palettes to compile this list for her readers. She has also considered different finishes that are suitable for different occasions. These products are loaded with the best ingredients and super easy to apply and carry around.
Frequently Asked Questions
How long do eyeshadow palettes last?
The expiration date of eyeshadow palettes varies from brand to brand and product to product. However, the average eyeshadow lasts between 6 and 12 months after opening the seal.
Is eyeshadow safe to use?
Yes, eyeshadow is safe for daily use. However, use it within the expiration date and do not apply it very close to the waterline to prevent eye irritation.
How do you apply eyeshadow for an everyday look?
You can apply a neutral color and a darker shade of color for the crease and the lid. Blend it well to get a finished look.
Recommended Articles: