8 Best Neutral Running Shoes For Women That Are Comfortable
Motivate and encourage yourself to enjoy a smooth run in comfort and style.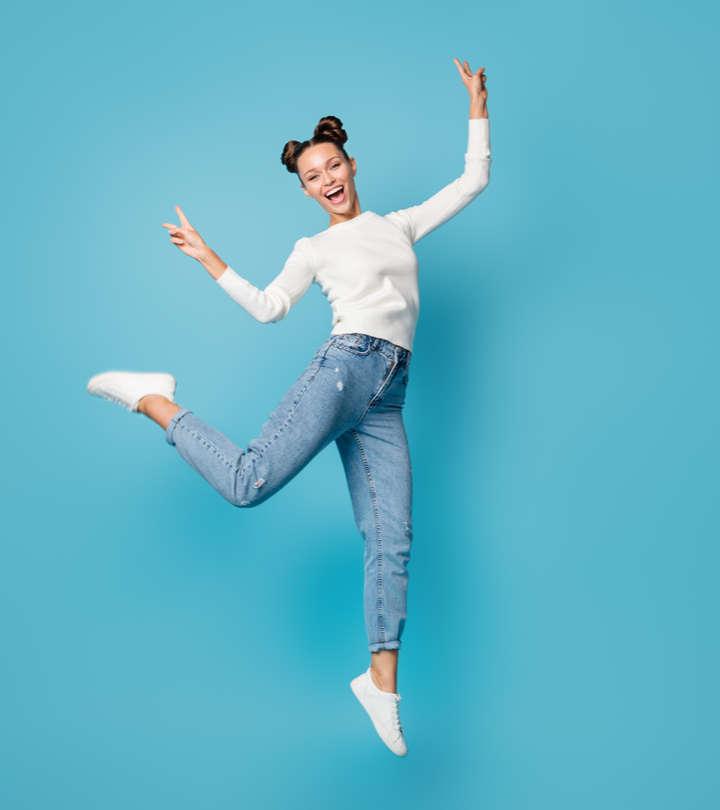 Running is fun and helps us stay fit. But to ensure a safe and comfortable running session, you need the best neutral running shoes. But it should not compromise the functionality either. A good pair of running shoes should be a perfect blend of comfort, style, and function! And that is where the neutral running shoes come in.
Some running shoes are designed to cater to various needs like added stability,balanced support for the ankle, or extra cushioning for the soles. But neutral running shoes have more equally distributed and adaptive cushioning, which means the shoes feel light on your feet and look great. These footwear are also lighter than the regular designs. The market is flooded with endless options for neutral running shoes. That is why we have compiled a list of the 8 top-rated shoes that you will love. Swipe up!
What Are Neutral Running Shoes?
Neutral running shoes are specifically designed for runners with neutral feet, which means that their feet pronate or roll back equally with the soles of both their feet, completely touching the ground while walking, jogging, or running. These shoes do not need any extra cushioning or stabilisers as they are meant for those who already have stable feet. These shoes are typically lighter and have cushioning that is equally distributed all along the soles of the shoes. They might also have stabilisers or other features but they are a part of the additional features and are not designed to address any issues with the runner's feet.
8 Best Neutral Running Shoes For Women To Enjoy Your Run
You can go running in style in these bright purple shoes that look and feel good. Designed with a light rubber sole that has air cushioning, the shoes keep your feet comfortable. This pair of neutral running shoes for women also have removable sock liners that can be removed if the runner wants to fit in any sort of orthotic fittings. Mesh and synthetic upper material used in the shoes allow the wearer to fit snugly into them. Made of knit fabric on the outside, the shoes are breathable and flexible. The versatility of this pair of neutral running shoes for women ensures that you can go running or walking in them but can also pair them with your favorite athleisure outfit as you step out to catch up with friends, looking cool and comfy. For more information about the product, click this video.
Pros
 Light rubber sole
 Air cushioning
 Removable sock liners
 Mesh and synthetic upper material
 Knit fabric on the outside
 Breathable
 Flexible construction
 Versatile
Cons
 Some may find the footbed a bit hard
Price at the time of publication: $41.89
This pair of neutral running shoes for women are ideal for those looking to switch up their neutral running shoes between the jogging track, their after-work gym session, and their weekend tennis sessions. Soles with air cushioning ensure a comfortable sole that is light on the feet and is flexible for those tricky terrains that you might run across. Made of soft, skin-friendly, breathable upper fabric, these shoes are designed to make your feet feel comfy. They offer good energy return and remain less irritable even when you are in these shoes for hours. The cushioning in these shoes are adequate to give your feet the right kind of elevation and lift to your arches for your daily activities. The upgraded insoles can be taken out as per your preference. The soles also come with the ability of shock absorption and have an anti-collision toe design. The fabric used can absorb sweat. The sole of these motion-control shoes has a non-slip design that gives you good grip while you go out for your morning run and is also versatile for various distances.
Pros
 Air-cushioned soles
 Light soles
 Flexible
 Non-slip design
 Sweat absorbent fabric
 Anti collision toe design
 Removable insoles
Cons
 Might not be suitable for marathon running
Price at the time of publication: $42.85
If you like fusing style with comfort as you go for your morning runs, try this good-looking pair of neutral running shoes that come in a mix of baby pink and black. The sole is made of rubber and is light, shock absorbent, and flexible. The upper body is 3D printed that makes it look trendy. Asic's FlyteFoam Propel Technology ensures that the foam in the sole has a unique propellant called an elastomer compound that gives the wearer great bounce. These shoes also help you in tackling issues such as Plantar Fasciitis with its advanced design. The brand also uses a gel technology in the rear and forefront of the soles that not only absorbs shock of impact but lets you run on multiple terrains without any worry due to the excellent grip. The placement of Asic's AHAR outsole at strategic points of the shoes ensures durability for your favorite pair of running shoes.
Pros
 Lightweight
 Flexible sole
 3D printed trendy upper
 Gives elevation and bounce
 Gel technology absorbs shock
 AHAR outsole ensures durability
Cons
 May not offer high sweat absorption
Price at the time of publication: $119.9
Do you dislike bulky running shoes that make your feet feel heavy and make you look clumsy? Worry no more as these low-top neutral running shoes for women are here to make your workouts look easy. Made of xpop PU foam that is fused with Mizuno foam wave, these running shoes are not just soft for your feet but also give you great bounce and elevation that deserve extra brownie points. The upper part of these neutral runner shoes are made of wave knit fabric that makes this pair of neutral running shoes extremely breathable and flexible, apart from providing a snug fit, which are a must for any pair of running shoes. This means you will never have to worry about your feet sweating too much again. This shoe also delivers a soft underfoot feeling to prevent impact when you run on rough terrain.
Pros
 Wave knit upper for enhanced flexibility and breathability
 Xpop PU foam to make the soles soft
 Mizuno Foam Wave tech to give great bounce
 Soft underfoot
Wide width options
Cons
 The soles might not be durable enough for heavy-duty runs or workouts.
There is nothing better than great comfort when you are losing calories on your run. Enjoy your run with this pair of neutral running shoes for women that offers great cushioning so that your beautiful feet do not have to bear too much impact. This brand's certifications include PDAC A5500 that makes it a great fit for diabetic runners. The pair is designed to have an internal stretch bootie, meaning it stretches with the movements of your feet to give you a great fit all the time and to also manage Plantar Fasciitis that may be tackled by wearing the right kind of shoes. Its smooth transition zones mean that the movements of your feet will be smooth and unhindered. It provides all-day comfort and helps in injury prevention. With all of these features, it is surely difficult to not buy these right away!
Pros
 Great cushioning
 Soft inside
 APMA seal of acceptance
 Allows smooth and natural foot movements
 Smooth transition zones
 PDAC A5500 for diabetics
Cons
 May not offer much arch support
Price at the time of publication: $101.57
Who says that neutral running shoes for women have to be boring? Get this pair of shoes in its trendy blue avatar that makes your runs as stylish as you are. Its synthetic soles give you durability even as you wear them across difficult surfaces. The top sole features Everun design that gives prolonged cushioning and energy to your feet. The Eva+ responsive midsole makes the shoes flexible so that you don't have to worry about your feet feeling stiff after your heavy-duty workouts. The mesh uppers have been engineered to add breathability to your running shoes and to also give you great support and stability. Choosing this pair of neutral running shoes will mean that you will not have to worry about not getting enough protective ride support and flexibility for your legs as you put them through a good, calorie-burning run.
Pros
 Stretchable
 Flexible
Offers cushioned comfort
 Gives a snug fit
 Provides stability
 Breathable mesh upper fabric
 Synthetic soles for more durability
Cons
 Might be a little bulky for some
Price at the time of publication: $66
This pair of neutral running shoes in a cool combination of black and blue is perfect for those morning runs you squeeze in before starting your day. The mesh and synthetic body ensures durability and flexibility for when you go sprinting, jogging, walking, or even for your gym sessions. It is just the right balance of flashy and stylish to make sure you have your style game on point even as you get your cardio in. The brand has designed this pair of shoes with an a-strap support for your arches to make you feel comfortable. The snug fit and the interiors of the shoes also give you a sock-like fit and feel. It has moderate cushioning with a total height of 28mm. Take these for a swing for your next gym session and watch heads turning!
Pros
 Durable and flexible
 Mesh synthetic body
 A-strap support for your arches
 Offer sock-like feel
Cons
 May not be suitable for those looking for high amount of cushioning
Price at the time of publication: $89.9
Loved by star athletes, this brand is popular for both its designs and functionality of its products. These neutral running shoes for women are created with a mix of fabric and synthetic detailing, so they offer both flexibility as well as comfort. The pair is lightweight on your feet and the upper body of these shoes are engineered with 2-toned mesh to give the wearer great ventilation and breathability. A TPU film is also used to give your feet support where it is needed. The collar of the shoes is molded into a comfortable design to lock in your ankles and give you great support and seamless fit. The EVA sock liners give bounce and comfort to make sure you have an easy run. Packed with so many features, this pair of neutral running shoes are bound to be a top choice for you.
Pros
 Offers flexibility
 Lightweight design
 Keeps feet ventilated
 TPU film for added support
 Molded collar for ankle support and snug fit
 EVA sock liners for good bounce
Cons
 Some might find the brand's sizing chart confusing
Price at the time of publication: $56.57
Now that we have looked at our favorite 8 neutral running shoes for women, here is an added guide to help you choose the best pair for yourself.
How To Pick The Best Neutral Running Shoes For Women
Knowing about the pronation of your own feet and how the heels roll back after they strike the ground is very important when it comes to choosing the correct shoes. If you are looking for neutral running shoes, it means that you already know you have normal pronation with a medium-arched foot. You can easily go for shoes that give you a set of balanced features such as flexibility, cushioning, and stability, without having to worry about any extra features.
Though most neutral running shoes come with balanced cushioning, there are some that are designed with more comfort in terms of the cushioning offered to your feet. If you like your feet to be cushioned well, go for shoes designed with more stackable height and more foam in the soles. And if you like moderate cushioning, simply pick a pair that gives you balanced cushioning all across the soles.
While the best neutral shoes for women always offer good flexibility, you can pick a pair depending on the amount of flexibility you like. Fabrics such as mesh in the upper body of the shoes and a synthetic or rubber sole are designed to give you extra flexibility to allow your feet to feel comfortable on long runs across uneven running tracks.
If you like extra support in your neutral running shoes, there are loads of options to consider. While some come with extra padding around the collar of the shoes to support and stabilise your ankles, some have arch support or easy transition points to support your arches and the feet better.
If you are wondering about whether you need a pair of neutral running shoes for women, you can look at the following.
Who Needs Neutral Running Shoes?
If you have normal pronation of feet where they roll back equally after the heel strikes the ground, and if you also have a medium arch, you have neutral feet. You do not need extra support or cushioning for your feet and so you can pick out the best neutral running shoes for yourself, which come with moderate cushioning and stability features.
Why Trust StyleCraze?
The author, Shreya Vishwanathan, is a fitness and health enthusiast with a deep interest in sports. She has carefully curated this list of the best neutral running shoes based on user reviews and feedback on multiple forums and brand websites. These running shoes feature cushioning and provide comfort. The shoes feel light on your feet and look great.
Frequently Asked Questions
Do neutral running shoes protect feet?
Neutral running shoes offer moderate protection to the feet and are only designed for those with neutral feet, who require only that amount of protection. This is why it is important to know your own feet before you buy a pair.
Are neutral running shoes good for high arches?
Neutral running shoes are best suited for people with moderate arches and not for those with high arches.
What is the difference between neutral and stability running shoes?
Neutral running shoes offer a mix of moderate cushioning and stability for the entire feet while stability running shoes are especially designed to provide extra stability to the feet with special features such as extra cushioning and added arch support.
Are neutral running shoes good for supination?
Neutral running shoes are designed for those with a neutral gait and not for those with supination. It is best to invest in shoes specifically designed for supination with extra support for the ankles.
How do you know if you need neutral running shoes?
People who have a neutral or "proper" running pattern should wear neutral running shoes. Here's how to know if you need neutral running shoes: Look at the wear- pattern of the soles and heels of your everyday shoes. If the wear-pattern leans towards the inside of the shoe, then you are an over-pronator. If the wear-pattern is on the outside of the shoe, then you are a supinator. If there is just a small amount or no wear at all toward either side, then you have a neutral running pattern.
How long do neutral running shoes last?
Neutral running shoes can last you about 6-8 months if you use them regularly.
Can I use neutral running shoes every day?
Yes, you can wear neutral running shoes every day.
Recommended Articles