10 Best Neutrogena Products To Use in 2023
Achieve clear skin and hair with these gentle cosmetic products from Neutrogena.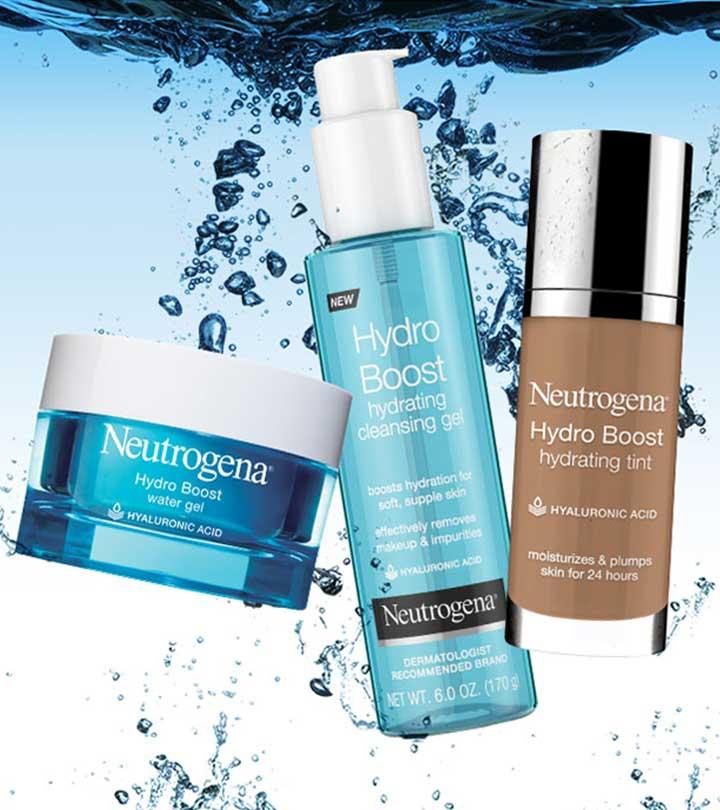 Finding your holy grail of products from one personal care brand can be so hard. With so many products from different brands on the market, we can't help but mix-and-match. But if you could only pick one brand to get all your products from, it is hard to do better than Neutrogena. Simply because Neutrogena provides effective solutions to every end of your routine including acne, hair, skin, bath, and cosmetics. In this article, I've put together a list of the 10 best Neutrogena products for personal care. Keep reading to find out what products have made it to the list.
Neutrogena is a well-trusted skincare brand that offers an extensive range of products. If you are a skincare enthusiast and you wish to take care of your skin with high-quality products under a budget, Neutrogena is the brand for you. Its products are made of the most potent and effective ingredients. Let's look at the common ingredients that are present in almost all Neutrogena skin care products.
What Are The Key Ingredients In Neutrogena Skin Care Products?
There are primarily three ingredients that are present in Neutrogena Skin Care products- Emollients, Humectants, and Silicon.
Emollients: They help to create smooth skin textures by filling the gaps between dead skin cells. Fatty alcohols, petrolatum, and pentaerythrityl tetraethylhexanoate are common emollients that make your skin feel smooth.
Humectants: They draw the moisture out from the dermis to the epidermis and moisturize your skin tissues. Common humectants like glycerin, glycols, and sodium hyaluronate are the hydrating agents that are abundantly available in Neutrogena skincare products.
Silicones: The last ingredient that you will find in almost all Neutrogena products is silicones. Silicones provide both water-binding and resistant properties that nourish your skin cells and provide it a silky, smooth texture.
Top 10 Neutrogena Products for 2023
Neutrogena's Ultra Sheer Dry-Touch Sunscreen Lotion with Broad Spectrum SPF 100+ is officially recommended by the Skin Cancer Foundation as an efficient sunscreen. Its helioplex formula is built with stabilized sunscreen technology that offers maximum sun protection. The light formula has a fresh scent and is water resistant. The sunscreen, unlike most, has an ultra sheer, non-shiny finish and leaves your skin feeling soft and smooth.
Pros
Easily absorbed by your skin.
Travel-friendly.
Long-lasting.
Waterproof and sweat-proof.
Excellent sun protection.
Suits all skin types.
Mild fragrance.
Non-comedogenic.
Does not leave a white cast.
A little goes a long way.
Cons
None
Price at the time of publication: $8.97
This day cream by Neutrogena helps minimize wrinkles, fine lines, and other visible signs of aging. With regular use, the product helps you achieve healthier and younger-looking skin. Formulated with retinol and multivitamins, the cream nourishes your skin while protecting it from sun damage with its SPF 15 sunscreen. Not only that, but it has also been clinically proven to help soften and smooth out the skin. Watch this YouTuber's video for more information about the Neutrogena Healthy Skin Anti-Wrinkle Cream With SPF 15.
Pros
Controls oiliness.
Non-greasy.
Non-comedogenic.
Suits sensitive skin.
Easily absorbed.
Improves complexion and skin quality.
Cons
Might not suit extremely dry skin.
Price at the time of publication: $16.95
Neutrogena's Hydro Boost Gel Cream is a lightweight gel-based formula that intensely hydrates your skin. The oil-free moisturizer contains hyaluronic gel, which helps conserve, deliver, and restore moisture to your skin. Formulated with glycerin and olive extracts, the product helps moisturize and nourish your skin to leave it feeling soft, healthy, and supple. It also helps improve skin texture and elasticity. To know more about the benefits of the Neutrogena Hydro Boost Gel-Cream , click on this YouTube video.
Pros
Suits oily skin.
Provides long-lasting hydration.
Soothes sunburns and aggravated the skin.
It has a pleasant fragrance.
Easily absorbed.
Primes your skin for makeup.
Cons
Might not suit extremely dry skin types.
Price at the time of publication: $19.57
Neutrogena's Triple Moisture Daily Deep Conditioner helps restore the moisture balance in your hair. The product is specially formulated for extremely dry hair and helps improve hair texture, making it smooth, soft, and manageable. The brand claims that you will notice improvement with every use and that the conditioner will help repair severely dry or overprocessed hair. It also helps control frizz and flyaways.
Pros
Intensely conditions hair.
Leaves your hair feeling silky and smooth.
The packaging allows for efficient and non-messy dispensing.
Prevents dryness.
It helps repair the damage.
Great for dry hair.
It does not weigh your hair down.
Reduces frizz.
Cons
None.
Neutrogena's T Gel Therapeutic shampoo helps give you lasting relief from issues such as flaking and itching. It is completely safe for daily use, making it perfect for anyone who swims or sweats a lot at the gym. It also helps soothe issues such as psoriasis and seborrheic dermatitis. The shampoo can also be used once a week to help control dandruff and itching.
Pros
Combats dandruff efficiently.
Lathers well.
It does not dry out your hair.
Cleans your scalp and hair efficiently.
The formula is not harsh, unlike more dandruff shampoos.
Soothes your scalp, especially if you have issues such as psoriasis.
Cons
The smell of tar can be off-putting for some.
Neutrogena's Triple Moisture Deep Recovery Hair Mask helps rehabilitate your hair. Especially formulated for extremely dry or over-processed hair, this product is an intensive hair repair treatment. The mask helps transform dull, dry hair into lustrous, soft, shining locks within a matter of minutes. Enriched with extracts of olive, meadowfoam seed, and almond, it helps nourish and hydrate your hair, reducing frizz and making your locks more manageable. The Neutrogena Triple Moisture Deep Recovery Hair Mask will work great for your skin. If you need further convincing, check out this YouTube video.
Pros
Improves hair health and texture.
Intensely conditions hair.
Specially formulated for extremely dry hair.
Value for money.
Adds shine.
Makes hair more manageable.
Reduces frizz.
Improves scalp health.
Cons
None.
Neutrogena's Shine Control Primer helps control shine and keeps your makeup looking fresh for a long time. The product perfectly primes your face so that your makeup goes on smoothly and lasts longer. It minimizes the appearance of pores and its rice protein technology helps absorb excess oils to keep your face grease-free. The formula is light and non-greasy.
Pros
Perfectly primes your face for makeup.
Prevents oiliness.
Long-lasting shine control.
Non-comedogenic.
A little goes a long way.
It does not leave a white cast.
Cons
None.
Price at the time of publication: $14.34
Neutrogena's Oil-Free Acne Wash is one of the best acne-fighting facial cleansers on the market. The product is specially designed for oily and acne-prone skin types. It gently cleanses your skin, removing excess oil from your pores to prevent clogging and breakouts. The product's Micro-Clear technology has been clinically proven to help boost the salicylic acid's performance when it comes to cleaning up acne and blackheads.
Pros
Helps reduce existing acne.
Nice consistency – not too thick or runny.
Suits oily skin.
Deeply cleanses your skin.
Controls breakouts.
Cons
Price at the time of publication: $23.05
Neutrogena's Natural Fresh Cleansing + Makeup Remover is a 2-in-1 formula that cleanses your face and removes makeup in one simple step. The product is specially formulated to be gentle on your skin, especially the eye area. It helps remove all traces of makeup all while helping strengthen your skin's moisture barrier. 86% of the ingredients in this product are derived from natural sources.
Pros
Gentle formula.
Removes all traces of makeup.
It does not dry out your skin.
Simplifies the makeup removal process.
Has a pleasant and refreshing fragrance.
Budget-friendly.
Cons
Might not suit oily skin.
Neutrogena's Norwegian Formula Lip Moisturizer glides onto your lips and keeps it hydrated for long periods of time. The chapstick comes with an SPF value of 15 and helps prevent sun damage while also moisturizing your lips to make them smooth, soft, and healthy.
Pros
Reduces chapping.
Keeps your lips hydrated.
Long-lasting.
It offers sun protection.
Perfect consistency that feels light on the lips.
Makes your lips smooth.
Cons
None.
Price at the time of publication: $9.89
Before adding all the Neutrogena products to your cart, check the below-mentioned factors to better decide what to buy. This way, you can save your money and achieve the best results.
Neutrogena Skin Care Products Buying Guide: What You Need To Know
Skin And Hair Type: Know your skin type before buying any Neutrogena skin and hair products. If you are from the dry skin family, look for products with moisturizing ingredients, whereas look for non-oily and non-comedogenic products if you have greasy skin or hair. Additionally, skip alcohol-rich products if you have sensitive skin.
Ingredients: Check the ingredients list before buying a product, especially if you are prone to allergies. Skip all products that contain an ingredient that might irritate your skin.
Purpose: Know what you need a product for. If you need it to nourish your hair, grab a nourishing hair mask from the brand. Opt for anti-wrinkle cream with good SPF if you are starting to see those unwanted fine lines on your face. Neutrogena makes great makeup removers that are gentle on your skin. So, buy them to wash all the makeup particles without stripping the moisture from your skin.
Why Trust StyleCraze?
Shiboli Chakraborti, the author of this article, is a certified skin care coach who loves experimenting with different skin care products. She believes that finding your holy grail of products from one personal care brand can be quite difficult. So, she has conducted comprehensive research, analyzed numerous reviews, and finally narrowed her search to the top 10 Neutrogena products. Neutrogena provides effective solutions to every end of your routine, including acne, hair, skin, bath, and cosmetics.
Frequently Asked Questions
What are the key ingredients in Neutrogena skin care products?
Neutrogena's key ingredients are vitamins A, C, E, and D, salicylic acid, retinol, retinoids, polyhydroxy acids, hyaluronic acid, glycerin, and benzol peroxide.
Is Neutrogena cruelty-free?
No, Neutrogena products contain ingredients like beeswax and lanolin. It is not a vegan or cruelty-free brand.
Which Neutrogena product is good for the face?
The Neutrogena Deep Clean facial cleanser is the best cleanser for the face. It deep cleanses the face and removes dead skin cells from the surface of the skin to give a fresh and healthier look to your normal and oily skin.
Why is Neutrogena so good?
Neutrogena effectively solves several of your skin concerns, including acne and fine lines. Adding some of their potent formulas to your everyday skin care routine will keep your skin healthy and glowing.
Do dermatologists really recommend Neutrogena?
Neutrogena products are genuine and they have gained the trust of dermatologists 2X times more than any other skin care brand. Hence, dermatologists recommend Neutrogena as a skin-friendly brand.