13 Best New Balance Sneakers That Are Stylish And Fashionable
Whether for your casual days or to match your outfits, these sneaks meet all your needs.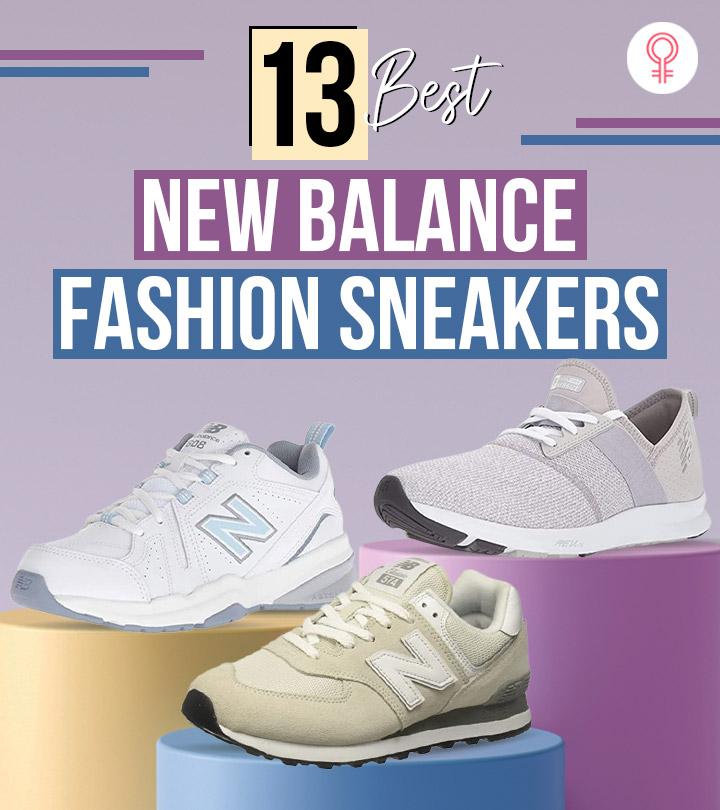 Whether you are looking for a snazzy pair of sneakers to complement your dress, athleisure-style shoes for a casual outfit, or a sleek pair of statement footwear for a casual look, New Balance has a collection that suits all your needs. This trusted brand has been promoting sneaker culture and bringing out revolutionary masterpieces since 1906, and it was a delight to compile a list of the best New Balance fashion sneakers for you. Based in Boston, this best-selling brand delivers footwear with a perfect mix of style, performance, and durability. "In recent times, New Balance is the most purchased sneakers. While the style is traditionally known for its comfort and durability, the designer has reimagined the otherwise basic silhouette into a statement shoe you will want to reach for every day," says Fashion Stylist, Eleonora Fiano. The wave that New Balance is making in the shoe world is easily recognizable by a real sneakerhead. Dive down and take your pick from the list below!
13 Best Stylish New Balance Fashion Sneakers
The New Balance Fresh Foam Roav VI Sneakers combine comfort and style. The shoes feature foamed midsole cushioning in a modern silhouette for an ultra-smooth wearing experience. The attractiveness is enhanced by the snug upper construction, ultra-heel design, and rubber outsole technology. Thanks to its seamless comfort, this women's running shoe is the ideal companion for your active lifestyle. The reviews suggest the shoes slide on effortlessly and keep the feet comfortable even after long hours of standing on the foot.
Pros
Ultra heel design
Midsole cushioning
Snug fit
Lightweight
Rubber outsole technology
Adjustable lace closure
Cons
None
If you train at the gym regularly, then the Women's 608 Casual Comfort Cross Trainers by New Balance are a must-have! The ABZORB Technology of these shoes absorbs impact thorough a combination of cushioning and compression resistance. It is designed with a dual-density collar foam, which prevents any irritation around your ankles, thus keeping your feet stress-free even during rigorous training. The sneakers also feature a flexible outsole with deep flex grooves that cover the length of the sole to provide all day comfort. The versatile sneakers are embellished with the classic N logo and lace-up closure that offer a stylish and elegant look.
Pros
Improves blood circulation
Impact absorption technology
Prevents ankle irritation
Flexible outsole
Comfortable
Cons
These iconic kicks aren't just your typical shoes as they have built-in technology for long-term wearability. They are made of 100% suede and feature ENCAP midsole cushioning, which combines polyurethane and soft foam for added comfort. Many reviewers agree that the comfortable construction of the sneakers gives a lightweight feel to ensure that the feet do not feel congested. These sleek shoes have a color-blocked body with a singular N logo that makes them a street-style favorite! The sneakers are available in nine different colors ranging from solid black and burgundy to white and gray.
Pros
Great support
Comfortable
Lightweight
Good fit
Ideal arch support
Eliminates swelling
Cons
None
The versatility of these New Balance Women's Fresh Foam X 1080 V12 Running Shoes sets them apart. They provide excellent performance for all types of runners and related activities. The ample cushioning, underfoot pinnacle, and underfoot cushioning are all fine-tuned to provide a seamless experience. These stylish shoes have a supportive fit with a very modern, ergonomic design.
Pros
Versatile
Lightweight
Supportive
Snug fit
Cons
The Women's 411 V1 Walking Shoes by New Balance are perfect for your daily walks and weekend getaways. They are lightweight and equipped with DynaSoft midsole cushioning that offers premium comfort. The underfoot is engineered with EVA foam and mesh materials that offer a breathable feel and amplify the shoe's performance. Their seamless construction and sleek look make your feet look stylish. The sneakers will perfectly complement your street style outfit and are available in three different colors – black, indigo, and white.
Pros
Comfortable
Stylish
Midsole cushioning
Lightweight
Cons
For a plush yet stable underfoot experience, get the New Balance Women's Fresh Foam X More V4 Running Shoe. The shoes have plenty of cushion zones and flex zones to ensure a smooth and seamless experience. The mesh upper and midsole foam are engineered to provide breathable comfort and support. According to reviews, the midsole and outsole are sternly firm to maintain the grip and durability. These stylish shoes are made from renewable resources to provide exceptional comfort.
Pros
Informed sole
Meditative midsole
Comfortable
Lightweight
Sturdy design
Ample cushioning
Cons
The New Balance Women's Fresh Foam 680 V7 Running Shoes are the perfect partner for your everyday physical activities. The design features a smooth air mesh upper, a foam midsole, and optimal rubber coverage for extreme comfort and durability. The no-sew construction imparts a sleek fit and feel. These super comfortable running shoes provide much-needed support! Multiple reviewers agree that the product is lightweight and has ample cushioning to support the feet when walking.
Pros
Midsole cushioning
Extra supportive
Rubber outsole
Durable
Comfortable
Lightweight
Cons
With the New Balance Women's Fresh Foam X 860 V12 Running Shoes, you can enjoy 360 degrees of ultra softness. The shoes feature a new foam midsole that provides adequate cushioning while being lightweight. The new midsole adds softness while maintaining stability and providing long-term comfort. The 860 is a true go-to running shoe, available in a variety of colors and patterns to suit your changing looks.
Pros
Comfortable
Lightweight
Reliable stability
Extra supportive
Long-lasting
Cons
These New Balance Women's Dynasoft Nergize V3 Cross Trainers are a versatile and dynamic addition to your collection. For all-day comfort and style, the shoes have a durable rubber outsole, a snug upper front, and a memory sole. Many reviewers have testified that the plush comfort of the midsole boosts performance, while the rubber outsole works in high-traction areas. The adjustable lace closure makes them easier to wear. These lightweight shoes are extremely comfortable to wear on a daily basis.
Pros
Durable
Comfortable
Lightweight
Rubber outsole
Adjustable lace closure
Cons
None
No products found.
Strap on and hit the road with these comfy walking shoes by New Balance. Their molded sock liner hugs your foot to provide extra comfort, while the superior-quality construction and added comfort make these running shoes perfect for intense use. These active lifestyle sneakers are designed with CUSH+, which offers responsive cushioning and stress-free wearability. The reviews on Amazon suggest that the product offers comfort to people suffering from bunions and hammertoes.
Pros
Super lightweight
Comfortable
Sturdy
Durable
Adjustable straps
Snug fit
Cons
None
The New Balance Women's FuelCell Shift Tr V1 Cross Trainer is the ideal companion for your intense training or workout sessions. The pair has a meditative midsole that boosts performance of your high-impact training while remaining comfortable. This versatile pair of women's training shoes also has an innovative upper front for a lightweight feel. The overall design provides a supportive and breathable fit. The no-sew design provides a contemporary look for enhanced style.
Pros
Sturdy design
Comfortable
Breathable
Lightweight
Durable
Cons
12. Best For Walking: New Balance Women's 460 V3 Running Shoe
The Women's New Balance 460v3 offers an excellent balance of comfort and versatility. It's a comfortable shoe that's great for walking. The silhouette pattern is traditional, with breathable mesh and a soft midsole for a comfortable fit. They are very light, and the fabric is breathable. The rubber outsole extends the life of these versatile shoes. These lightweight shoes are available in a variety of colors to complement your everyday, dynamic looks!
Pros
Rubber sole
Breathable
Lightweight
Soft midsole
Ultra comfortable
Cons
This 100% engineered knit shoe by New Balance is super durable and sleek. The embroidered detail provides superior comfort and structure to the sneaker. It features a 6 mm offset, which is ideal for a wide variety of foot strikes. The external TPU heel gives you a snug fit, and the FuelCell midsole foam ensures a propulsive feel to enhance your forward movements. Multiple reviewers have testified that the product provides ample toe room and the elastic at the ankle prevents the shoes from slipping down. These stylish sneakers are also available in 12 different colors, including black, neon-rimmed, coral, blue, and gray.
Pros
Ideal for running
Sleek design
Durable
Comfortable
Good quality
Cons
None
Sneakers are a common favorite footwear. They offer a fashionable look without compromising on comfort. If you are a sneaker enthusiast, you know how expensive they are. Therefore, there are a few things that you must keep in mind to save your money before finalizing the best pair. Go through the following buying guide and make a worthwhile purchase.
Things To Keep In Mind While Purchasing Sneakers
Material: A sneaker's longevity, breathability, and flexibility is influenced by the type of material used to fabricate it. Choose leather over other materials if you want a pair of sneakers that lasts longer. However, canvas shoes are the finest choice if you want flexibility. Opt for shoes made with sustainable materials cotton if you want a lightweight and breathable pair.
Fit: Place your bare foot on a sheet of paper. Use a ruler to measure from your heel to the tip of your longest toe. Compare your size with the sizing chart on the website and purchase. You can go for a size bigger than your actual foot size for easy foot movement and prevent chafing against the shoe surface.
Style: You can wear any sneaker style, such as modern or classic sneakers, slip-on, velcro, or running sneakers. However, if you are aiming to buy a pair, it is recommended to purchase a style that goes with several outfits. On the other hand, opt for slip-on sneakers if you're seeking a pair to wear regularly.
Laces: Sneaker laces are available in various widths. The most common sneaker lace type is flat. They are less flexible but are easier to tie with an overhand knot. Round or square laces are simpler to tie but take up more room in your shoe. Wider laces are comfortable but less secure and more likely to slip out. Narrower laces are more stable and less likely to sag when loose, but they dig into your ankles when they are too tight. So, opt for a lace design according to your need.
Why Trust StyleCraze?
The author of this article, Baishali Bhattacharya, is a certified image consultant and keeps herself updated on everything new in the world of fashion. Her in-depth knowledge and research about various brands and products provide users with an unbiased opinion about the best New Balance fashion sneakers. The products listed here have received positive feedback from the users. They are stylish, durable, comfortable to wear, lightweight, and feature cushioned soles.
Frequently Asked Questions
Are New Balance sneakers durable?
Yes, New Balance sneakers are durable. They last for 6 months even if run 3 times or more a week.
Why is New Balance so comfortable?
New Balance sneakers have EVA foam cushioning on the midsole and rubber on the outsole making them so comfortable.
What is the difference between Nike and New Balance?
Nike shoes have cushioning from the front to midsole whereas, New Balance has wide and thick midsole cushioning that provides comfort. New Balance shoes are wider than Nike shoes.
Is New Balance a high-end brand?
Yes, New Balance is among the high-end sneaker brands with its price ranging between $80 to $130.
Are New Balance sneakers good for walking?
New Balance sneakers have premium cushioning from toe to midsole with a rubber outsole that gives comfort and support while walking. They also offer a range of looks, from modern to retro sneakers.
Recommended Articles