13 Best Nexxus Shampoos For Thick And Beautiful Hair
Pamper your hair and scalp with the right nourishing, and moisturizing hair care formulations.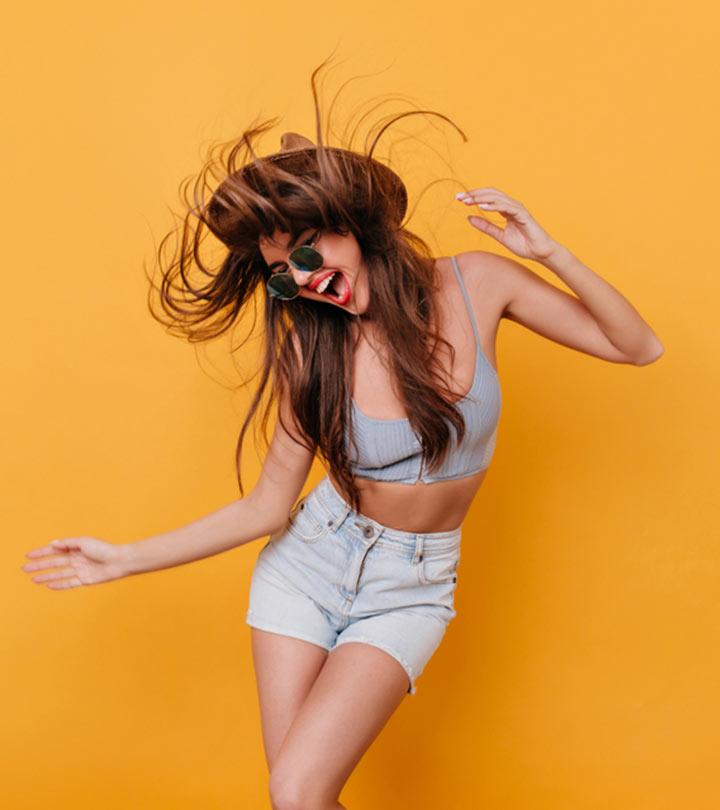 If you have been struggling with dry and frizzy hair long enough, try getting your hands on some of the best Nexxus shampoos. Heat styling tools, blowdrying, or just a change in the humidity around can all instantly make your hair go haywire. If thinking of a pool party or a lazy beach afternoon seems to dampen your spirits and the day literally, you must reconsider the hair products you use. Rather than shying away from such fun times because of your unmanageable hair, why not invest in good hair products that can help manage your dry and frizzy hair better? Nexxus shampoos are one such line of products that are not only great for taming the frizz but also help nourish your hair and scalp. To help you get started, we have listed down the 13 best Nexxus shampoos for you to take the world by surprise.
Top 13 Best Nexxus Shampoos For Hair Growth
Wouldn't it be great to experience salon treatment while at home? With the Nexxus Keraphix shampoo, you can reap the benefits of a salon at home. This product is enriched with keratin protein and black rice, making it a powerful blend and one of the best shampoos for damaged hair. It increases your hair's resilience and is clinically proven to repair internal hair damage. You should immediately get your hands on this shampoo if you are also looking to rejuvenate your hair.
Pros
Repairs hair
Increases resilience
Silicon-free
Cleanses scalp
Suitable for all hair types
Cons
Some may find the formula slightly greasy.
Price at the time of publication: $18.97
No products found.
Do you feel conscious when you are between people with smooth and silky hair? You no longer have to, as the Nexxus Therappe Ultimate Moisture Shampoo is the best shampoo you can get for your dry hair. Enriched with elastic protein and caviar complex to restore flexibility and smoothen each strand, this lightweight formula nourishes your hair, locks in moisture, provides intense hydration, and preps your hair for deep conditioning. 
Pros
Lightweight
Hydrating properties
24-hour moisture
Suitable for all hair types
Adds shine
Cons
Some may not be agreeable to the scent.
Price at the time of publication: $16.17
Invest in the Nexxus Color Assure shampoo that cleanses your color-treated hair and rewards it with a long-lasting vibrant look. With this miracle shampoo, you no longer have to perform trial and error on colored hair to achieve the best results. This product is infused with quinoa and elastin protein that adds life to your hair and color vibrancy for up to 40 washes. It works well on thick, dry, and curly hair too. 
Pros
Sulfate-free
Silicone-free
Replenishes hair with nutrients
Gentle formula
Cons
It may leave a thin layer of residue on some hair types.
Price at the time of publication: $25.49
No products found.
This hydrating shampoo is ideal for fine to flat hair and provides deep moisturization. It is enriched with deep-sea minerals and concentrated protein and helps retain your hair's natural movement and gives it a gorgeous look. This Nexxus shampoo for oily hair keeps your hair well-hydrated to fight off greasiness. Lightweight and smooth, it adds body and volume to each hair strand. 
Pros
Untangles hair easily
Ideal for oily hair
Provides long-lasting buoyancy
Silicone-free
Weightless formula
Cons
It may not be best suited for color-treated hair.
Price at the time of publication: $11.99
This shampoo provides unparalleled volume and thick, shiny hair as it is enriched with concentrated elastin protein and green tea extract. This Nexxus shampoo for fine hair is formulated with natural ingredients that increase the diameter of your hair strands. Salon-grade and silicone-free, this shampoos gives fine, limp, and flat hair a new lease of life and preps your hair for deep conditioning. If you've always wanted a head full of hair, you can count on this shampoo to increase the thickness of each hair strand by 17%.  
Pros
Silicone-free
Adds volume
Cleanses the scalp
Ideal for fine hair
Cons
Some may find the fragrance too strong.
Price at the time of publication: $11.99
Beautify and tone your platinum, bleached, or silver hair with the most fabulous shampoo you can ever find! This product has the goodness of keratin protein along with violet pigments that allow your hair to look natural, smooth, and soft. The shampoo is also an excellent choice for hair growth and it replenishes each strand and revitalises it without weighing it down. Designed specially for blonde hair, it reduces brassiness to keep your hair looking fresh and radiant.
Pros
Long-lasting color
Pleasant smell
Makes hair shiny
Repairs hair
Cons
Some may find it slightly drying.
Price at the time of publication: $11.97
Enhance the beauty of your hair with this shampoo, which is ideal for all hair types. This shampoo is enriched with Indian lotus extract and wheat protein that works well on your frizzy hair and helps you get rid of it. You can achieve salon-style hair at home with a multitude of hair styling tools, and the shampoo protects your hair from damage and phyto protein complex nourishes each strand for hair to offer frizz-free, smooth locks. 
Pros
Silicone-free
Colorant-free formula
Protects from humidity
Rehydrates hair
Cons
Some may find the fragrance too strong.
Detoxify your hair with the lightweight, cleansing shampoo that will also help you nourish and hydrate your hair with a blend of marine minerals and elastin protein. This product is loaded with vital ingredients and essential nutrients that provide shine, moisture, and movement to your hair. Ideal for all hair types, you can treat your dry and damaged hair with the help of this shampoo. 
Pros
Paraben-free
Silicone-free
Dye-free
Makes hair silky and soft
Cons
It may not be best suited for those with an extremely sensitive scalp.
Price at the time of publication: $15.99
Refresh your hair, cleanse, and purify it with the Nexxus Refreshing dry shampoo. This dry shampoo helps your hair get rid of oiliness, bad odor, and sweat, while leaving it clean and soft. It does not leave any build-up nor residues on your hair and scalp. Formulated with Fluid-Fix Complex, this dry shampoo offers incredible hold so you can try out innumerable hairstyles. It boasts a scent of jasmine and water lily, making your hair smell fresh throughout the day. 
Pros
Weightless formula
Safe for color-treated hair
Leaves no residue
Suitable for all hair types
Pleasant fragrance
Cons
May not offer long-lasting results.
Price at the time of publication: $35.0
We wish never to see split ends again and although we may have tried countless number of products, most of us have failed. However, this shampoo is the solution to all split end woes and will put an end to it forever. This Nexxus volumizing shampoo helps you get rid of impurities and soothes every stand as it is made up of flaxseed oil and concentrated elastin protein. Pamper your hair, make it feel great with the best shampoo made just for your hair! 
Pros
Makes hair smooth and healthy
Detangles the hair
Lightweight
Repairs split ends
Cons
Price at the time of publication: $13.99
Finding a curly hair shampoo that keeps your curls intact, tight, and super soft ends here. The Nexxus Curl Define Shampoo is a sulfate-free shampoo that cleanses hair gently without removing the natural proteins. It is formulated with silk protein and marula oil that strengthen and moisturize your hair to give you defined curls. Use this along with the conditioner from the same range to get the best results.
Pros
Sulfate-free
Suitable for all curly hair types
Pleasant smell
Curls last longer
Sulfate-free
Silicone-free
Cons
Buy the lightweight Nexxus Keraphix Dry Shampoo that helps you achieve strong locks and a healthy scalp by cleansing impurities and removing buildup. This product is a  fantastic blend of ginger root and wheat protein that helps absorb sweat and reduces greasiness from the scalp, keeping your hair odor-free throughout the day. Suitable for color-treated hair, a few spritzes of this dry shampoo will help keep your hair looking and smelling fresh between washes.
Pros
Paraben-free
Silicone-free
Adds shine
Cleanses the scalp
Cons
It may leave some residue on extremely curly hair.
Price at the time of publication: $23.0
To solve all your frizzy hair woes, you can try this Nexxus anti-frizz shampoo that helps you flaunt gorgeous and smooth hair that stays fresh and natural all day. This product has a lightweight formula blended with Moroccan argan oil and coconut extract, which helps add volume and locks in moisture. You can flaunt enviable hair every day as the shampoo claims to reduce frizz by up to 87%. Although it is a water-free formula, it is lightweight and won't weigh your hair down. 
Pros
Adds moisture
Cleanses your hair and scalp
Prevents dryness
Smoothens the hair
Cons
Price at the time of publication: $109.99
Now that we have taken a look at the 13 best Nexxus shampoos, here are a few points that you should keep in mind when buying a shampoo for yourself.
Things To Keep In Mind When Buying A Nexxus Shampoo
How Good Is Nexxus Shampoo For Hair? 
Nexxus Shampoos can work wonders for damaged hair. It helps keep it soft and makes it look glossy without making it greasy. This product works well on all hair types, thus making it useful and versatile.
How To Use Nexxus Shampoo
Step 1: Comb your hair and remove the tangles.
Step 2: Pour a coin-sized amount of a Nexxus shampoo on your palm. Use more product if you have very long hair.
Step 3: Massage the shampoo into your hair and allow it to clean your scalp and your hair strands.
Step 4: Rinse your hair and remove excess moisture from your hair.
Step 5: You may reapply some more shampoo if required.
For better results, you can also use Nexxus conditioner to ensure healthy growth of hair.
Why Trust StyleCraze?
Vaishnavi Kothuri is a skin and hair care enthusiast who conducts extensive research across several web platforms to recommend the best products. After considering your requirements, she has compiled this list of the most promising Nexxus shampoos in the market. These products are safe and effective for replenishing your hair's volume and shine. Furthermore, Sneha has provided a buying guide to help you choose the right shampoo.
Frequently Asked Questions
Is Nexxus shampoo good for hair?
Yes, they are great for hair. These shampoos are made up of ingredients that enrich the hair and allow it to grow and shine. It helps add life to your hair, improves your hair's texture, and prevents split ends.
Are Nexxus shampoo sulfate-free?
Not all Nexxus shampoos are sulfate-free.
Are all Nexxus shampoos color-safe?
Not all Nexxus shampoos are color-safe but shampoos like Nexxus Color Assure Shampoo and Nexxus Blonde Assure Purple Shampoo are some of the shampoos that are safe for those with color-treated hair.
Does Nexxus shampoo cause dandruff?
These shampoos do not cause dandruff and help repair damaged hair.
Is Nexxus shampoo good for highlighted hair?
Yes, Nexxus shampoo is safe for highlighted hair and maintains the vibrancy of the highlights.
Is Nexxus shampoo good for sensitive scalp?
Yes, the Nexxus Clean & Pure Nourishing Detox Shampoo is paraben-free and suitable for sensitive scalp.
Can you use Nexxus every day?
No. Use Nexxus shampoos twice or thrice weekly for the best results.
Recommended Articles