15 Best Niacinamide Products For A Healthy Skin Barrier – 2023
These niacinamide products can do everything from skin brightening to fighting acne.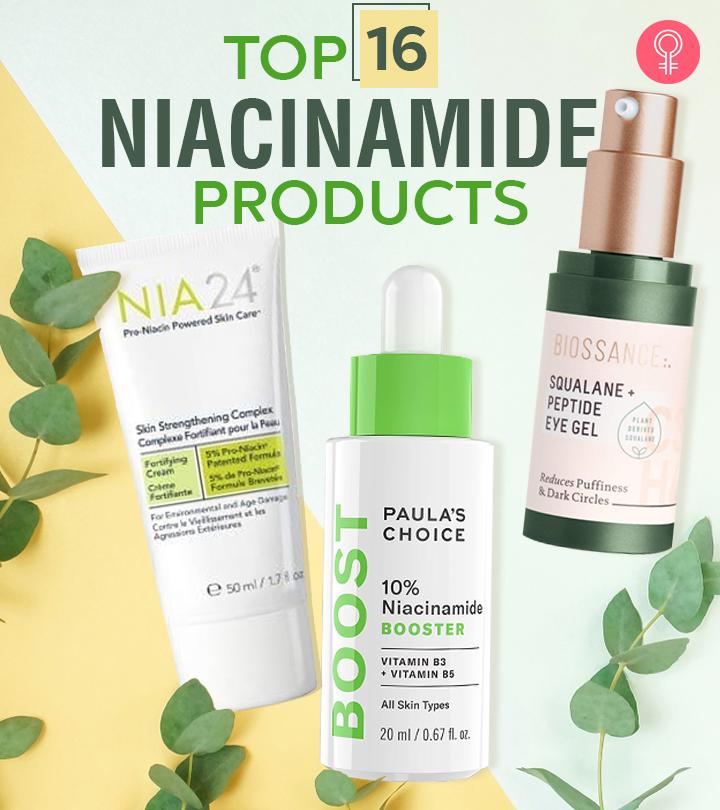 If you're wondering what the best niacinamide skincare products are, you've landed on the right page. Niacinamide is vitamin B3, an essential ingredient for the skin to function effectively. It treats hyperpigmentation, protects against sun damage, reduces pores, and more. So, if you've been wondering about incorporating it into your skincare regime, we have good news for you. Here, you'll find a list of the top 16 niacinamide products that are available online. They are skin safe, effective, and your new skincare love!
What Is Niacinamide?
Niacinamide is a form of vitamin B3 that comes from foods, such as meat, fish, milk, eggs, green vegetables, and grains. It is easily absorbed by the skin and keeps it healthy.
Niacinamide is ideal for those who love lightweight ingredients as it does not dissolve in oil. It is more likely to be found in water-based serums and also features in many skin care products. However, niacinamide is not always hailed as a star ingredient, probably because it does all kinds of jobs rather than one easily-marketed targeted effect.
What Does Niacinamide Do?
Niacinamide improves cellular energy, cell turnover, and microcirculation, heals your skin, and protects it from environmental damage. It also has antibacterial properties that prevent infections caused by excess sebum. Niacinamide also unclogs pores and prevents unwanted hair growth and acne.
Deficiency in vitamin B3 manifests in a lot of ways – and unhealthy-looking skin is one of them. You can maintain adequate B3 levels by consuming chicken, fish, red meat, salmon, tuna, kale, asparagus, and broccoli. For skin health in particular, the topical application of niacinamide has more significant benefits. Your body directly absorbs niacin, which targets specific issues internally. Niacinamide also helps improve facial skin appearance (1).
Now that you know how niacinamide works wonders on your skin, let's check out some products that can help you add it to your skincare routine.
Top 15 Niacinamide Products You Need To Try
The Naturium Niacinamide Serum has a potent formula that contains 12% niacinamide and 2% zinc PCA. This efficiently improves uneven skin tone, enlarged pores, dark spots, and fine lines. The zinc PCA in the formula reduces excess shine, while hyaluronic acid plumps the skin and gives it a youthful appearance. It minimizes excess oil production and refines the skin texture. The pH level of this serum is appropriate and safe for use.



Pros
Clinically effective
Vegan
Cruelty-free
Gluten-free
Paraben-free
Non-toxic
No artificial fragrances
Cons
Price at the time of publication: $15.99
The Nature's Way Niacinamide Capsules support cellular energy production. They promote the normal breakdown of fats and the release of energy from carbohydrates. You can take one capsule daily with food to see noticeable changes in your skin health and conditions prescribed. However, avoid this product if you are pregnant or undergoing treatment for any medical issues.
Note: Do not consume these capsules unless prescribed by the doctor.
Pros
Cons
Price at the time of publication: $8.69
The Thorne Niacinamide Dietary Supplement is beneficial for your skin and overall health. It supports restful sleep and takes care of your joint health. It also protects beta cells in the pancreas. The formulation is free of all harmful ingredients that make it one of the safest and purest options available. The supplements are also free of allergens like eggs, tree nuts, peanuts, soy, dairy, yeast, shellfish, or fish.
Note: Do not consume it unless prescribed by the doctor.
Pros
Gluten-free
Formulated with pure ingredients
Allergen-free
Cons
None
Price at the time of publication: $21.0
The Naturium Niacinamide Gel Cream 5% helps fade dark spots and improves the skin texture. The formula combines coconut fruit juice, phytonutrients, electrolytes, and amino acids that promote skin elasticity. This product is exclusively crafted and optimized to work with the physiological process of the skin. The clean formulation contains the highest-quality botanical, earth, and marine-based ingredients to keep the skin healthy.
Pros
Vegan
Cruelty-free
Paraben-free
No synthetic fragrances
pH-balanced
Tested for safety
Cons
Price at the time of publication: $16.0
This Vitamin B3 B5 Serum by Joyal Beauty contains hyaluronic acid and zinc that offers a fresh boost of hydration to your skin. It contains 5% niacin that evens out your skin tone and improves fine lines and wrinkles. Zinc is beneficial for those who have acne-prone and sensitive skin. This serum suits almost all skin types.
Pros
100% vegan
Suits all skin types
Cons
None
Price at the time of publication: $13.95
Pros
Absorbed quickly
Paraben-free
Alcohol-free
Sulfate-free
Mineral oiL-free
Phthalate-free
Synthetic dye-free
Cruelty-free
Vegan
Cons
Sensitive skin may need to do patch test
Price at the time of publication: $34
Pros
Lightweight formula
Rejuvenates your skin
Non-comedogenic
Maintains skin's natural barrier
Hypoallergenic
Oil-free
Fragrance-free
Cons
None
Price at the time of publication: $13.97
Pros
Brightens up your complexion
Reduces pigmentation
Diminishes dark spots
Offers youthful-looking skin
Cons
None
Price at the time of publication: $16.7
Biopelle Serum is packed with three of the most effective skin repairing agents – kojic acid, niacinamide, and retinol. These are mixed with peptides and other ingredients that brighten, repair, and even out skin complexion. KNR Serum is formulated with a patented Retinsphere® liposomal delivery technology that helps the serum penetrate skin easily and optimize retinol's efficacy. Use it twice a day, and follow it up with sunscreen when you step out.
Pros
Minimizes hyperpigmentation
Protects skin against skin damage
Prevents future skin damage
Brightens skin tone
Cons
None
Price at the time of publication: $126.0
Pros
Lightweight
Non-greasy texture
Clinically-proven
Suitable for all skin types
Offers skin hydration
Cruelty-free and gluten-free
Vegan
Free from artificial fragrances
Cons
None
Price at the time of publication: $38.0
Glamglow has been doing the rounds lately, and people love the results. This mask is formulated with niacinamide that works on shrinking pores. It also contains witch hazel that reduces inflammation, aloe vera that calms your skin, and bentonite and kaolin clays that detox your skin. All in all, this product clears your skin completely in just 60 seconds. For an honest review of the Glamglow – Instamud 60 Second Pore-Refining Treatment, check out this video.
Pros
Helps in refining your pores
Evens out your skin tone
Reduces skin inflammation
Cons
None
Price at the time of publication: $27.13
Pros
Reduces enlarged pores
Treats skin issues
Restores your skin tone
Moisturizes roughness and dryness
Minimizes fine lines and wrinkles
Cons
None
Price at the time of publication: $46.0
One Thing Niacinamide has 10% niacinamide and is formulated with EWG green level ingredients. It comes with no added preservatives and is suitable for all skin types. The hypoallergenic formula makes it safe for sensitive skin as well. You can use this as a toner and a mask. It helps brighten the skin, regulate sebum production, and strengthen the skin barrier to prevent moisture loss.
Pros
Multipurpose
Ideal for sensitive skin
Preservative-free
Vegan
Cons
Price at the time of publication: $21.9
The Ordinary Niacinamide 10% serum reduces blemishes and controls breakouts. It contains zinc that controls sebum production, and hence prevents acne. If you have severe acne, use it along with other serums recommended by your dermatologist. But make sure you talk to your dermatologist about this new addition to your skincare routine.
Pros
Reduces blemishes
Controls breakouts
Cures and prevents acne
Minimizes the look of enlarged pores
Cons
None
Price at the time of publication: $19.3
Pros
Weightless formula
Feels gentle on your skin
Reduces under-eye puffiness
Removes dark circles
Cons
None
Price at the time of publication: $51.0
Every skin needs a different nourishing approach. Although niacinamide is a proven ingredient to soothe the skin, it's best to know about the factors to consider before investing in the a product to get better results. Given below is a buying guide to help select the best niacinamide products to fulfill your skin care needs.
How To Choose The Best Niacinamide Products For A Healthy Skin Barrier
Skin Type: Skin type is one of the most critical factors in choosing the best niacinamide product. The majority of niacinamide products suit all skin types. They are also suitable for sensitive, mature, and acne-prone because they have anti-inflammatory properties. Choose a solution that is non-comedogenic if you have oily, acne-prone skin. A product with additional hydrating and skin-plumping components like hyaluronic acid, avocado oil, and butter will benefit dry skin type. Those with sensitive skin issues should stick to hypoallergenic solutions that have passed dermatological testing standards.
Ingredients: Look for ingredients like hyaluronic acid, zinc, glycerin, allantoin, essential oils, and botanical extracts in skincare products for hydration and nourishment. Additionally, search for antioxidants such as vitamins E, A, and C, as well as extracts of neem seeds, chamomile, and green tea leaves. In addition to niacinamide, these active components have antibacterial, anti-aging, and skin-renewal properties. Avoid substances that could hurt your skin, such as alcohol, parabens, sulfates, mineral oils, and synthetic fragrances.
Texture: To avoid blotting, choose a lightweight texture that is easy to absorb. A rich, creamy texture is essential for a nourishing niacinamide formulation that heals and regenerates skin overnight. Choose a niacinamide product with the consistency you prefer depending on the target use and duration, to ensure your skin is sufficiently moisturized and hydrated.
Concentration: Niacinamide at a concentration of 5% is the recommended dosage because it is safe and most effective. Choose serums with niacinamide levels close to 5%. Although it takes them longer to produce the desired results, they are still safer than 10 or 12%. Niacinamide excess with moderate to severe adverse effects may result from higher dosages.
These are the best niacinamide products that you can buy online. This ingredient offers multiple skin benefits. Let's take a look.
What Are The Benefits Of Niacinamide For The Skin?
Irrespective of your skin type, niacinamide offers relief to most of your skin problems. Studies have shown that niacinamide can act as an antioxidant, improve epidermal barrier function and skin elasticity, and reduce skin hyperpigmentation, fine lines, wrinkles, redness/blotchiness, and skin yellowness (sallowness) (2).
Skin care products with niacinamide have the following benefits:
Control Excess Oil Production
Niacinamide is said to regulate excess oil production. It also has anti-inflammatory properties that make it an ideal solution for acne concerns.
Reduces Hyperpigmentation
Niacinamide helps in lightening dark spots while encouraging collagen production. According to a clinical study, 5% niacinamide can minimize hyperpigmentation in eight weeks (2).
Strengthens The Skin Barrier
Niacinamide renews your skin and works as a shield against moisture loss and dehydration. Hence, it is one of the best options for those with dry skin.
Improves Fine Lines And Wrinkles
Niacinamide promotes dermal collagen and protein production. This improves the appearance of fine lines and wrinkles and prevents premature aging caused by dehydration, sun damage, and environmental aggressors (2).
Niacinamide has anti-inflammatory properties, and when applied topically, it helps minimize acne and calm rosacea-prone skin (3). It also neutralizes the impact of free radical damage and keeps the skin healthy.
Why Trust StyleCraze?
The author, Oyendrila Kanjilal, is a certified skin care coach. Her passion lies in trying out different beauty products that help the skin function properly. For this article, she spoke to dermatologists, read numerous online reviews, and put together a list of the best niacinamide products for the readers. In addition, Oyendrila considered various quality parameters and user requirements and selected products that are mostly chemical-free and rejuvenate dull skin.
Frequently Asked Questions
Which types of skin will benefit from niacinamide?
Niacinamide is beneficial for all skin types.
Does niacinamide work with vitamin C?
Yes, niacinamide can be combined with vitamin C products. This will not irritate the skin.
How long to use niacinamide to get results?
It may take 8-12 weeks to deliver visible results.
Are there any side effects of using niacinamide?
Taking niacinamide supplements may cause heartburn, rash, dizziness, and upset the stomach. Topically, niacinamide does not cause any major side effects.
What works best with niacinamide?
Niacinamide is compatible with many products such as HA, AHA/BHA, peptides, retinol, and certain antioxidants. If used together, they can improve skin radiance and skin tone, and protect your skin from UV damage.
Should I use niacinamide everyday?
Yes, niacinamide is a gentle ingredient that can be used every day. Dermatologists recommend using niacinamide-based products in the morning as well as at night. Opt for lightweight formulas that your skin can absorb easily.
What should you not mix with niacinamide?
It is debatable whether niacinamide and vitamin C are compatible, but dermatologists suggest avoiding this combination. These ingredients can neutralize the effect of each other and create nicotinic acid, leading to redness and inflammation.
What percentage of niacinamide is best?
Two to ten percent of niacinamide is best for skin care products. Using more than that can cause skin sensitivity, such as irritation and redness.