The 13 Best Night Creams For Dry Skin You Must Try In 2022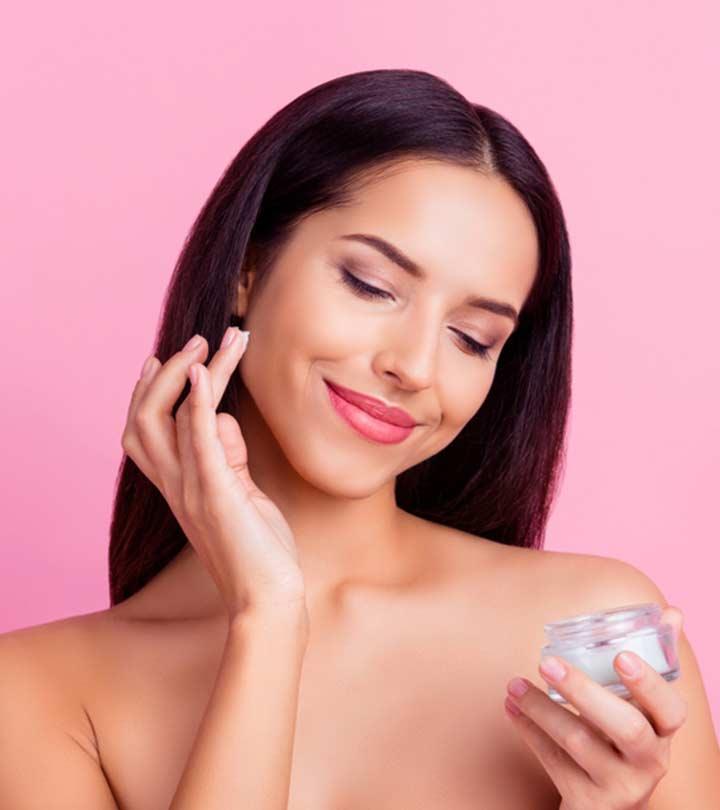 Dry skin is one of the most common skin types that is often characterized by issues such as scaling, cracking, itching, and dullness. The issues that are associated with dry skin are indeed hard to handle, which is why you need the best night cream for dry skin. Night creams can handle these issues, and some of them can even combat signs of aging. These creams are enriched with herbal ingredients, and hence, they can hydrate, rejuvenate, and repair the skin. What is more, they can also tackle the harmful impacts of pollution that your skin is made to encounter almost every single day.
Though a day cream can protect the skin and nourish it, a night cream is equally essential in order to repair, fight skin issues, regenerate skin cells, and refresh the skin for a gorgeous morning glow. Moreover, if you want to enhance the texture of your skin and soothe it, your cream will handle it perfectly. Therefore, given its significance, we have made a list of the best night creams that are designed exclusively for dry skin. So, what is the hold up for? Without further ado, let us check it out.
13 Best Night Creams For Dry Skin Hydration
This night cream from RoC is typically for dry skin and works on all the signs of aging through the night when the body is supposed to be at its calm. Induced with retinol and mineral complex, this night cream hydrates the skin, revitalizes it, and makes it radiant. These ingredients not just nourish the skin but also lend a beautiful youthful glow to it. This cream is ideal for daily use as it is very light in texture and doesn't make the skin greasy. Also, when your skin is suffering from aging symptoms like wrinkles, fine lines, and dark circles, this cream can help you out. Regular use of this night cream can help you lift and firm your skin, thus improving skin texture.
Pros
Oil-free formula
Anti-aging formula
Good consistency
Reduces expression lines 
Cons
Fragrance might be slightly unpleasant to some
This is a versatile night cream that works not just for the face but also for dry body parts like elbows, hands, and feet. A small amount of cream can keep the skin hydrated for long. In case you are looking for extra hydration, then try applying this cream to damp skin. The main ingredients in Mary Kay Extra Emollient Night Cream are mineral oil, paraffin, beeswax,  petroleum jelly, candelilla wax, and carnauba wax. All the ingredients are highly moisturizing for the skin. Petroleum jelly prevents loss of water while the other ingredients act as emollients and preserve the natural moisture of the skin. You can expect soft, smooth skin with the constant use of this night cream. 
Pros
Lasts long
Travel-friendly packaging
For both men and women
Provides intense moisturization 
Cons
Slightly greasy
Contains petroleum jelly 
Powered by retinol, vitamin E, shea butter, hyaluronic acid, aloe, and natural oil extracts, this night cream for dry skin adds hydration to the skin and keeps dryness at bay. Retinol helps reduce wrinkles and tackles age spots. It even promotes cellular vitality and refreshes skin. The hyaluronic acid content clears skin and works on dark spots. Collagen and natural oils reduce puffiness and lend a youthful glow. This cream from Pure Biology makes the skin texture smooth along with adding to its natural elasticity. It also serves as an anti-aging moisturizer face cream for both men and women, offering long-lasting hydration. It is an affordable night cream for dry skin.
Pros
Renews skin
Boosts skin elasticity
Non-greasy texture
Makes skin radiant
Cons
This night cream from Weleda is super hydrating with pure organic ingredients. With iris root, calendula, shea butter, and chamomile, this night cream balances the moisture content in the skin. The moisture is long-lasting and makes your skin soft, supple. The mild fragrance and thin consistency make this cream ideal for easy application. People who are scared to try hydrating creams due to breakout issues can also try this cream. Perfect for dry skin, this night cream improves skin texture rapidly. 
Pros
Paraben-free
Revitalizes skin
Natural fragrance
Cruelty-free
Cons
When looking for a multipurpose night cream for dry skin, give this one a try. This night cream for dry skin is enriched with collagen, aloe, cocoa butter, avocado oil, shea butter, vitamin E, and vitamin C. It helps make your skin supple with its deep nourishment. With its skin hydrating qualities, this night cream reduces the appearance of fine lines, dark spots, and wrinkles. It even brightens skin and improves skin elasticity. Due to the multiple benefits it offers, this cream stands out as the best night cream. Use it as a moisturizer after cleansing your face for intense nourishment. 
Pros 
No sulfates
Suits all skin types
Organic ingredients
Cruelty-free formula 
Cons
Fragrance might seem a little weird 
Clarins Multi-active Night Cream is your ultimate skincare expert. It is designed to nurture your skin and bring down signs of aging. Enriched with California poppy extract and teasel extract, this skin cream is specifically for night application. It works while you are sleeping and revitalizes the skin. With the consistent use of this night care cream, you can diminish fine lines, dark circles, dullness, and uneven skin tone. The cream targets skin issues and improves skin texture. Powered with Clarins' anti pollution complex, this night cream tackles the harmful skin issues caused by pollution. 
Pros
Hydrates skin
Smoothes skin
Gets easily absorbed
Suits normal to dry skin
Cons
Smell is slightly overwhelming
When looking for all night hydration, choose this hydrating night cream from O Naturals. Enriched with hemp seed oil, aloe vera, shea butter, jojoba oil, sacha inchi oil, and hyaluronic acid, this night cream is super nourishing. It also contains omega-3 & 6 fatty acids to moisturize skin and build a protective shield against various skin issues. The oils repair and heal the skin, whereas hyaluronic acid hydrates the skin deeply. It even helps in skin lighting and sealing in moisture. The omegas present in this cream improve the skin texture and regenerate skin. The formula is free from sulfates, paraben, silicone, and propylene, thus being super safe for skin.
Pros
Cruelty-free
Premium quality
Plant based product
Contains organic ingredients
Cons
With an all-natural formula, this night cream from Honeydew repairs and heals skin. It is enriched with shea butter, cocoa butter, avocado oil, collagen, and coconut oil which is super hydrating. The cream is great for dealing with all signs of aging. The shea butter, cocoa butter along with coconut oil lock in moisture and lifts skin texture. The cream works on the skin texture and improves its elasticity. Made with multiple natural ingredients, this night cream boosts skin cell production and alleviates deep lines and dullness. It also minimizes dark circles and helps you maintain your beauty naturally. You can apply this cream regularly at night to get smooth, wrinkle-free skin. It is the anti aging night cream for dry skin!
Pros
Hydrates skin
Cruelty-free product
Suits all types of skin
Sustainable ingredients
Cons
Moisture might not last long
Composed with unique ingredients like shea butter, coconut oil, sea buckthorn, aloe, cocoa butter, peptides, hyaluronic acid, and soothing algae, this night cream preps up the skin, moisturizes it, and makes the appearance smooth. Shea butter and aloe rejuvenate the skin whereas peptides and hyaluronic acid works on fine lines, wrinkles, and dark spots. This natural night cream for dry skin tackles dry skin and dullness. Boosted with Wonderlight, a plant-based active ingredient that brightens skin and reduces the appearance of skin discolorations, this is a great night cream for dry skin. 
Pros
Vegan
Gluten-free
Paraben-free
Deep moisturization
Cons
Fragrance might not be liked by some
This fresh nourishing formula is induced with hydrating ingredients like apricot, apple, cranberry, and cocoa butter. Along with these ingredients, there is hyaluronic acid and vitamin E present in this formula which makes this cream super powerful. You can use this cream to repair dry skin and make it soft and supple. The moisturizing night cream for dry skin serves as a perfect natural moisturizer that is enriched with botanical extracts like grapefruit, cranberry, cucumber, licorice, apricot, sweet almond, bamboo, soybean, cocoa, apple, ivy, and elderflower. The presence of these multiple ingredients makes this night cream highly useful in targeting dark spots, dryness, fine lines, and dullness.
Pros
No paraben
Vegan formula
Not tested on animals
For dry and sensitive skin
Cons
Slightly unpleasant fragrance
No7 Beautiful Skin Night Cream is induced with rosehip oil for intense nourishment. With no strong scent, this night cream is easy to apply at night. Rosehip oil makes this formula effective for hyperpigmentation and aging issues. The cream makes the skin radiant and beautiful. Since the consistency is perfect, it gets easily absorbed in the skin and seals in the moisture. The super hydrating quality of this night cream makes it great for dry and dull skin. Apply this thick night cream for dry skin to get a beautiful glow for the morning.
Pros
Hypoallergenic
Enhances skin health
Makes skin soft
Good consistency 
Cons
Might feel greasy for some
Replenix Restorative Nighttime Bio-Therapy night cream is great for rejuvenating dull skin while you are peacefully sleeping. It is composed of a unique combination of ceramides, humectants, and emollients that help keep the moisture sealed in to reduce dryness. Induced with green tea, resveratrol, polyphenols, and caffeine, this night cream nourishes the skin and protects it from pollution, stress, and other triggers. The moisture-boosting formula of this cream makes skin healthy and youthful. From targeting wrinkles to appearing younger, this night cream does everything.
Pros
Restores moisture
Improves texture
Enhances skin elasticity
Reduces dullness
Cons
Might be harsh for sensitive skin
As the name suggests, this night cream from Block Island Organics is highly revitalizing for the skin. It is loaded with vitamin rich certified ingredients like aloe vera, rosehip, avocado, cocoa butter, and jojoba that keep skin feeling soft and healthy. This cream works as a night moisturizer that counters free radical damage and keeps the skin nourished. The non-greasy formula keeps the pores clean by penetrating moisture in it. It is an effective night cream for dry skin, this unique formula suits all types of skin and can be used both during the day and night. However, using it at night is a better choice as it gets longer to work its magic on your skin.
Pros
Fragrance-free
Paraben-free
Phthalate-free
Sulfate-free
Cons
Can feel heavy if you use more product 
This was all about the best night creams for dry skin. We have listed multiple options in this list exclusively from reputed brands. If you wish to get a night cream, then please check out the points mentioned below. These points will help you in choosing the ideal night cream for dry skin. 
How To Choose The Best Night Cream For Dry Skin? 
There are multiple night creams in the market available nowadays. It is always good to look for the following points while purchasing night creams for dry skin-
The cream must be free from chemicals. You need to apply it all through the night, so it is good to avoid chemicals like parabens, sulfates, etc. in the composition.
The cream must be moisturizing in nature.
The composition must be light and not greasy in texture or else clogged pores can lead to acne.
The formula must be nourishing and should enhance skin elasticity.
There should be the use of ingredients like retinol, peptides, collagen, shea butter, aloe, coconut oil, etc. in a night cream for deep skin care and anti-aging formula.
A night cream must not be heavy in consistency. It should be easy to apply and must get easily absorbed.
When pollution and aging causes skin trouble, a night cream definitely comes handy. It is life-saving when it comes to dealing with skin texture, acne, dullness, spots, and fine lines. In fact, a night cream works like a miracle for dry skin. Dry skin needs skin care items that are highly rejuvenating in nature and a night cream does the job. This article has listed all the top night creams for dry skin that you can use in 2022. We have made our sincere efforts to help you in choosing the perfect night cream for dry skin and prevent your skin issues. Hope this helps ladies! 
Why Trust StyleCraze?
Sneha Manandhar, the author, is a skin care enthusiast. In this article, she has reviewed the best night creams for dry skin. The author checked multiple online reviews and user feedback on trusted platforms to pick the best products for the list. The shortlisted products are light weight, non-greasy, provide intense moisturization and fight signs of aging.
Frequently Asked Questions
Do Night Creams Really Work?
Yes, night creams really work. These creams rejuvenate and repair the skin at night while the body is at rest.
Is Night Cream Bad For The Skin?
No, night cream is not bad for the skin. It is for deep nourishment for the skin.
At What Age Night Cream Should Be Used?
You can introduce a good night cream to your skincare routine during your mid-20s.
How Often Should I Wash My Face If I Have Dry Skin?
Washing your face twice a day is good if you have dry skin. Try it once in the morning and once before going to sleep. Do not forget to apply a night cream before sleeping.