9 Best Night Serums Available In India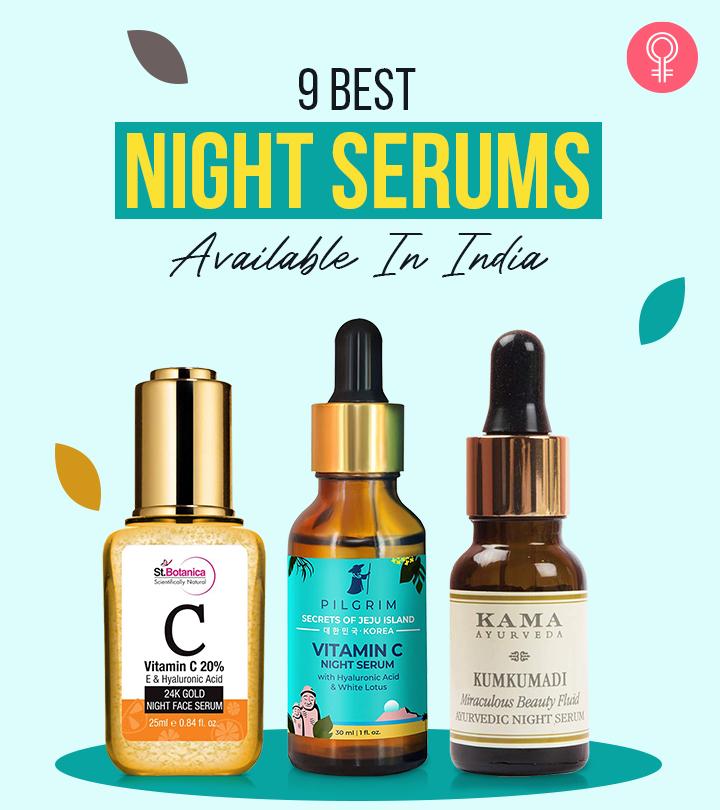 With our busy schedules, most of us tend to skip the essential skin care routine. As a result, the skin becomes dull and dry over time while fine lines and other imperfections begin to crop up. This is when a good night serum can be a miracle worker!
Night serums are super concentrated with active ingredients that deeply moisturize and nourish your skin while you sleep. These formulas are considered the holy grail of skin care. They are thinner, fast-absorbing, and power-packed with antioxidants and other beneficial vitamins that repair and rejuvenate damaged skin. If you want to include one in your skin care regimen, scroll down and check out the 9 best night serums in India to take care of your skin woes.
9 Best Night Serums Available In India
The night serum from St. Botanica contains 20% vitamin C that improves skin elasticity and radiance. It fades blemishes, dark spots, and circles and evens out fine lines and wrinkles while helping your skin absorb the nutrients better. The vitamin E in the serum nourishes the skin and prevents premature aging.
The hyaluronic acid infused in the formula keeps the skin hydrated and plumps it up. The serum also contains niacinamide, also referred to as vitamin B3, that erases hyperpigmented spots, minimizes large pores, and tightens the skin. The licorice extracts stimulate melanin production and boost skin tone, while the green tea extracts are loaded with antioxidants that restore the youthfulness of the skin. Regular use of this serum can repair damaged skin and rejuvenate it with a healthy glow.
Key Ingredients: Green tea extract, Vitamin E, Licorice extract, Hyaluronic acid, and Vitamins E, B3, and C
Pros
 Non-sticky
 Absorbed quickly
 Smells good
 Vegan
 Cruelty-free
 Fragrance-free
 Paraben-free
 Silicone-free
 Mineral oil-free
Cons
The Vitamin C Night Serum from Pilgrim contains a blend of hyaluronic acid and white lotus. These ingredients shield the skin against free radical damage, hydrate it, and smoothen its texture with a natural glow.
White lotus is also known for its anti-aging properties that stimulate collagen production and gives skin a healthy, natural glow. It improves skin elasticity, combats the signs of aging like fine lines, wrinkles, and blemishes, eliminates acne scars, soothes inflammation, and shields the skin against sun exposure. The vitamin C in the serum plays a significant role in skin brightening, minimizing acne scars, and depigmentation.
Key Ingredients: White lotus and Hyaluronic acid
Pros
 Lightweight
 Non-sticky
 Absorbed quickly
 pH-balancing
 100% vegan
 Non-toxic ingredients
 Cruelty-free
 Paraben-free
 Sulfate-free
 Mineral oil-free
Cons
The miraculous blend of oils and herbs in the Kama Ayurveda Night Serum helps brighten your skin tone. The formula claims to improve your skin health by more than 2.5 times in just 4 weeks. The serum contains pure saffron that brightens the skin tone. The age-old medicinal blend of Indian madder and banyan tree extracts effectively prevents premature aging and firms the skin.
The formula also contains sandalwood that soothes skin inflammation, eczema, dermatitis, psoriasis, and sunburn. The vetiver in the serum is a natural astringent that detoxifies and tightens the pores and enhances skin elasticity. Lotus is a natural skin coolant, brightener, emollient, and stress buster. It is rich in antioxidants, vitamins, flavonoids, and polyphenols that nourish the skin. All these ingredients work in tandem to rejuvenate dull skin. The fragrance of the serum is a blend of sandalwood, lavender, and rose.
Key Ingredients: Saffron, Sandalwood, Mulaithi, and Manjhistha
Pros
 100% natural
 Absorbed quickly
 Clinically tested
 Paraben-free
 Cruelty-free
 Sulfate-free
Cons
Are you looking for a serum that does more than lightening the skin? Well, you are in luck! The Dot & Key Night Serum has a 3-in-1 formula that hydrates and lightens the skin and prevents facial skin aging. This best night serum for glowing skin is formulated with peptide technology that unlocks youthfulness and improves the skin's overall appearance.
The serum is enriched with bearberry leaf extracts that naturally brighten up the skin, even out its tone, and erase acne scars, freckles, blemishes, hyperpigmentation, melasma, and other imperfections. The peony root extracts in the formula control melanin production in the skin, giving you lighter skin with a healthy glow. The lemon verbena oil moisturizes and softens your skin and imparts a youthful glow. The antioxidants infused in the serum protect the skin against free radical damage. The tripeptides and natural moisturizers in the serum keep your skin looking young and free of wrinkles. The serum also contains essential oils that hydrate the skin.
Key Ingredients: Uva ursi (bearberry) leaf and Paeonia suffruticosa (peony) root
Pros
 Natural botanical actives
 Lightweight
 Fast penetrating
 Refreshing scent
 Harsh chemical-free
 Cruelty-free
Cons
Make your dream of achieving ageless, young-looking skin a reality with the Minimalist Multi-Peptide Serum. The transparent formula achieves the results with the power of the seven most potent peptides. The night serum contains 7% Matrixyl 3000 with two peptides that improve skin elasticity and smoothen out wrinkles.
The 3% bio placenta with five peptides stimulates cell growth and reverses premature aging. This ingredient is similar to the human placenta and combats skin imperfections like wrinkles, fine lines, crow's feet, and more. The serum is intensely hydrating and feels light on the skin without clogging it up. The product comes with a dropper for convenient usage.
Key Ingredients: Matrixyl 3000 and Bio-placenta
Pros
 Clean formula
 pH-balanced
 Hypoallergenic
 Absorbed quickly
 Non-comedogenic
 Cruelty-free
 Fragrance-free
 Dye-free
 Sulfate-free
 Paraben-free
Cons
 May cause whiteheads and breakouts
The Wow Skin Science Anti-Aging Night Face Serum contains the skin rejuvenating power of plants and Mother Nature in a single bottle. This best night serum in India contains rosehip oil that deeply moisturizes the skin, improves collagen production, soothes inflammation, and protects the skin against sun damage.
The hyaluronic acid in the formula locks moisture into the skin and keeps it soft and supple. The serum also contains avocado oil and vitamin E that moisturize the skin and reduce the appearance of wrinkles, fine lines, and crow's feet. The vitamin B3 and provitamin B5 repair damaged skin, nourish it to boost a more robust cellular structure, and delay aging.
Key Ingredients: Rosehip oil, Hyaluronic acid, Avocado oil, and Vitamin B3, and Provitamin B5
Pros
 Non-sticky
 Dermatologically tested
 Paraben-free
 Mineral oil-free
 Artificial color-free
Cons
 Might itch after application
The facial night serum from Novrux is a single solution for all your skin care needs. It is infused with kumkumadi oil, an age-old Ayurvedic ingredient that repairs and brightens the skin and improves its texture. It also contains saffron that lightens the skin, combats infections, and kills germs, prevents the formation of fine lines, wrinkles, hyperpigmentation, blemishes, and scars.
The jojoba in the formula is a natural moisturizer that treats dry skin conditions and forms a protective barrier, preventing moisture loss. Aloe vera has a soothing effect that calms inflammation, redness, and eczema and is easily absorbed by the skin, keeping it hydrated. The orange peel extracts in the serum have antimicrobial properties that fight acne and infections, lighten the skin, and work wonders against pigmentation. The 24K gold dust repairs the cells, smoothen the skin texture, and makes the skin naturally radiant.
Key Ingredients: Jojoba, Olive, Walnut, Sunflower, Castor, Ashwagandha oil, Orange peel, Aloe vera, Mulethi, Saffron, Vitamin E extracts, and 24 K gold flakes
Pros
 Pure and natural ingredients
 Long-lasting
 Cruelty-free
 Paraben-free
 Sulfate-free
 Mineral oil-free
Cons
This face serum from Minimalist power-packed with a blend of 0.3% pure retinol and Q10. Retinol is known to combat the signs of aging and other related skin imperfections. Coenzyme Q10 and tocopherol are excellent antioxidants that protect the skin from free radical damage. They also nourish and repair the skin and lessen wrinkle depth. The night skin serum is formulated with a squalane base for better stability of the molecules. The product comes in a UV protective bottle to shield the contents from light, air, and water exposure.
Key Ingredients: Squalane, Vitamin E, and Retinol
Pros
 100% safe ingredients
 Fragrance-free
 Dye-free
 Sulfate-free
 Paraben-free
Cons
Want to wake up to plumper, youthful skin? Try the Olay Retinol 24 Night serum. This best night serum for oily skin is formulated with a proprietary blend of niacinamide and retinol complex.
Retinol is derived from vitamin A that neutralizes free radicals and enhances elastin and collagen production to offer plumping effects. This ingredient also helps treat severe acne breakouts and scarring. Niacinamide is vitamin B3 that stimulates protein building, moisturizes and brightens skin, and shields it from environmental damage. It also plays a significant role in repairing damaged DNA and helps in the regeneration of cells.
Key Ingredients: Retinol and Niacinamide
Pros
 Lightweight
 Absorbed quickly
 Fragrance-free
 Artificial dye-free
 Phthalate-free
 Sulfate-free
Cons
 May cause skin reactions
 Expensive
Facial serums have various benefits and help you get plumper and healthy-looking skin. But they provide the best results when used at night. Check out the next section for more details.
What Are The Benefits Of Using Face Serums At Night?
 Intense Hydration: Night serums are formulated to hydrate your skin while you sleep. When you wake up in the morning, your skin feels fresh, hydrated, and dewy. These serums help you fight extreme dryness and other related skin issues. The formula locks moisture in the skin, making it soft and smooth all day long.
 Oil Control: Night serums control oil and sebum production, thus preventing acne and pimple breakouts. They maintain the pH balance and even out the skin tone. Some of these serums contain active ingredients that kill bacteria, eliminate impurities, and unclog the pores.
Reduces Blemishes: With a good night serum, you can say goodbye to those confidence-ruining skin blemishes. The formula helps you get rid of stubborn blemishes, acne scars, marks, dark circles, and pigmentation. It unlocks a radiant skin tone while repairing and regenerating skin cells.
Younger Skin: Most serums come with anti-aging properties and are infused with antioxidants and active ingredients. They are designed to stimulate collagen production and improve skin elasticity. They slow down the aging process of the skin and help restore its youthful, healthy glow.
Now that you know about the best serums available on the market and their benefits, let's look at how to use these products.
How To Use Night Serums
 Step 1: Before going to bed, cleanse and wash your face thoroughly with plenty of water. Pump twice or pour two to three drops of the serum on your palm.
 Step 2: Gently apply the serum all over your facial skin and neck, spreading it evenly with your fingertips.
 Step 3: Massage it into the skin by lightly patting and smoothing it out. Do not rub or tug the skin too roughly.
Step 4: Leave it on overnight and wash it off in the morning.
Following are a few points that you need to consider before buying a night serum.
How To Select The Best Night Serum
Knowing your skin type is vital when you are looking for a night serum. If you have dehydrated skin, choose a night serum with hyaluronic acid, vitamin E, and niacinamide. For oily skin types, go for serums with salicylic acid or glycolic acid. If you have acne-prone skin, go for serums containing retinol, tea tree extracts, and niacinamide. To target wrinkles and fine looks, look for serums with retinol, ceramides, and bakuchiol.
Serums can tackle a horde of skin care issues – dark spots, acne, acne scars, wrinkles, or dullness. Pick a serum that addresses your skin concerns.
The active ingredients in the night serum play a major role in various healing and skin care treatments. Avoid serums containing parabens, sulfates, phthalates, and artificial dyes and fragrances to avoid skin irritation.
Night serums have power-packed formulas that help you combat targeted skin problems like acne, blemishes, fine lines, and wrinkles. They not only nourish and moisturize your skin but also repair and reverse skin damage to make your skin look youthful, healthy, and glowing. Include any of the above products in your daily skin care regimen for naturally beautiful and radiant skin.

Recommended Articles
The following two tabs change content below.