10 Best Nightgowns With A Built-In Bra That End Your Search For Comfort
Give your breasts the required support while you sleep peacefully in these gowns.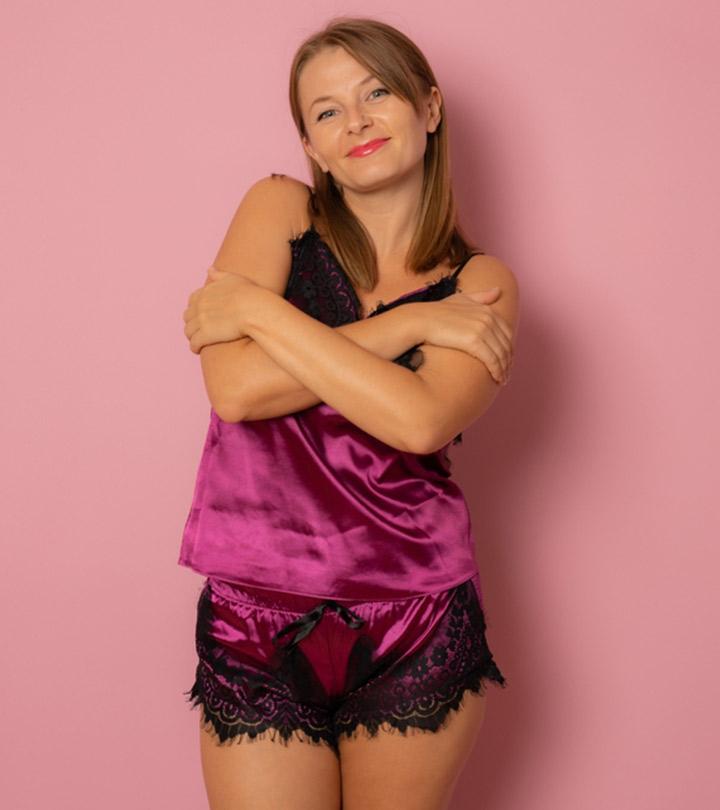 While bras are not the most desirable accessories, it is necessary for some. Women with heavy busts do not always have the luxury to go braless, even at night. That's why the best nightgowns with a built-in bra exist. Pairing your camisoles with regular bras can work throughout the day, but you need something more comfortable while going to bed. The nightgowns with built-in bras are made with lightweight and breathable materials. They are safe on skin and keep your ladies properly tucked in throughout the night. The bras attached to these gowns offer light support and keep you comfortable while sleeping. But getting your hands on an elegant nightgown can feel like a task, and that's why most women end up sleeping in their shelf bras.
These sleepwear featuring a built-in bra can offer you optimum comfort and are designed to ensure a good night's sleep. They come in various styles which you can use to lounge in all day. Their buttery soft material remains gentle on your skin and helps you relax after a long day. The market offers a wide range of choices when it comes to nightgowns with built-in bras. Our well-researched list will narrow down your options and help you find the most suitable product for yourself. Scroll down to explore.
10 Nightgowns With A Built-In Bras That Are Comfortable And Supportive
This floating top comes with an attached shelf bra, along with molded cups, making it lightweight and airy. The top is made from polyester blend fabric, and it has 4-way stretch comfort. Even though it is soft and loose, the silhouette provides a functional and feminine touch, which means that you can wear it for various occasions like for yoga classes or to run your daily errands. In addition, you can pair this cute cami with a pair of warm pajamas for a comfy lounge look. Attractive features like adjustable spaghetti straps, quick-drying fabric that is odor-resistant, and ultra-soft make this sleepwear with built-in bra a wardrobe staple you cannot miss out on.
Pros
True to size
Polyester blend fabric
Lightweight
Adjustable straps
Cons
The stitching may fall apart after a couple of washes
Price at the time of publication: $22
Having the proper chest support during your pregnancy journey can be such a relief, which is why this Motherhood Maternity Lace-Trim Nursing Nightgown can be an excellent addition to your wardrobe. It is made from 65% polyester, 30% rayon, and 5% spandex, making the fabric soft, stretchy, and gentle on the skin. It is the perfect nightgown for hospital stays, lounging around the house, and nursing because the straps are adjustable. In addition, it has a clip-down feature that provides convenient access during breastfeeding times. The scalloped neckline and sleeveless chemise fit ensure that you not only feel good but look amazing as well. This one is machine washable and comes on with a pull-on closure for easy usage and maintenance.
Pros
Pull-on closure
Machine washable
Suitable for pregnancy and postpartum
Clip down feature is ideal for breastfeeding
Cons
Some may find the material too thin
Price at the time of publication: $29.98
This is the perfect tank top with a built-in bra, especially if you are looking for something that you can wear outdoors and indoors. This versatile piece is made from a breathable cotton blend of soft and dry modal; this elastic fabric keeps moisture at bay while being breathable and stretchy. The lightweight top has a wireless bra sewn in to stay in place and suits most women. The shelf bra provides light support and suits a C cup size or below. The stylish design also includes comfortable wide straps, providing a fabulous toned and feminine silhouette.
Pros
Premium quality fabric
Wide straps
Stylish design
Lightweight
Cons
It must be hand-wash only
Price at the time of publication: $21.5
If you are looking for an amalgamation of a tank top and a nightgown, look no further because this piece checks both boxes. This feminine style comes complete with a wireless built-in shelf bra and removable bra cups, just like you would find in swimsuits. The bra provides adequate support, and it is comfortable to sleep in. The nightgown is made from a blend of modal and spandex fabric, making it stretchy and soft on the skin. Also, the adjustable straps are wide, making them suitable for all body types.
Pros
Adjustable straps
Removable cups
Versatile
Pull-on closure
Cons
The hemline may get frayed in the long run
Price at the time of publication: $33.99
If you don't want to be over the top with your sleepwear and would like to keep it simple, you can opt for this minimal yet stylish nightgown. The seamless and comfortable camisole nightdress is made from high-quality cotton and modal fabric. It comes with a supportive non-wired shaping bra and adjustable straps that sit comfortably on the skin without digging in. The piece is also versatile because you can wear it as slip-under skirts and dresses.
Pros
Versatile
Adjustable straps
Feminine and toned fit
Non-wired shaping bra
Cons
It may not be true to size; you may have to choose a size up
Price at the time of publication: $31.99
This could be an ideal addition to the nightwear collection for women who don't want to wear nightgowns to bed and would rather wear a tank top with whatever bottoms they like. The comfy sheer racerback nightgown is made from 35% rayon, 60% polyester, and 5% spandex, making it soft and moisture-wicking without clinging to your skin. The built-in bra with racerback design provides adequate support and comes with removable pads and a silky mesh line that makes the chest area breathable, so you don't feel stuffy. The comfy tank nightgown also has an effective racerback design with 4-way stretch for comfort and moisture-wicking material that provides freedom of movement and ventilation. The overall fit of the tank top is quite flattering, and it gives a feminine silhouette.
Pros
Moisture-wicking fabric
Breathable
Racer-back design
Removable chest pads
Cons
The material may be see-through
Price at the time of publication: $23.98
This cami and shorts set come with a soft shelf bra that provides light support without being constrictive. The racerback design with elastic stretch brand ensures that the top stays in place the whole night and doesn't slip off your shoulders or get twisted. The shorts have a malleable elastic band that provides a good fit without digging into your skin. The set is made from lightweight viscose material and has a lace trim that runs along the sleeves and hems. Both pieces can be machine washed and are dryer safe. Simply combine this nursing pajama with the matching Cool Nights Grosgrin Trim pajama shorts for an uninterrupted and comfortable sleep.
Pros
Soft elastic band
Racerback design prevents slippage and twists
Lightweight
Machine washable and dryer safe
Cons
Some may find the top a bit snug around their midsection
Price at the time of publication: $13.99
This soft midi dress is amazing as nightwear because it is comfortable and provides a feminine silhouette. The pattern is sleeveless and has a scoop neck opposed to a V-neck design, which flatters almost all body types. The nightdress has a built-in padded bra and provides adequate support for all chest types. In addition, the soft, stretchy fabric makes it perfect for lounging around the house. This piece is available in various prints and colors, and you can choose the one that suits you the best.
Pros
Available in a variety of colors
Soft and stretchy fabric
Scooped neckline
Machine washable
Cons
The stitching may be uneven
Price at the time of publication: $19.99
This lightweight nightgown with built-in support is made from cotton/micro modal fabric. The pull-on closure also comes with adjustable spaghetti straps, sitting comfortably on your body without digging into your skin. It has a 2-way design, allowing you to adjust this nightgown the way you want for a modest look or a more relaxed fit. If you're going to sleep without any restraints, you can remove the chest pads as this one comes with removable cups. The fabric has durable stitching, which will last no matter how many times you wash the nightgown. Also, you don't have to worry about overheating when you sleep because the fabric is breathable and lightweight so that it will keep you cool all through the night.
Pros
Pull-on closure
Adjustable spaghetti straps
Durable stitching
Breathable
Cons
It may not be accurate to size, and you may have to order a size down
Price at the time of publication: $31.99
This soft cami nightgown is simple and perfect for a cozy night in, especially during the warm months of spring and summer. It comes with delicate adjustable straps, elastic inner lining, and a padded shelf bra, which offer comfortable support without irritating the skin. The fabric is modal knit, which is buttery soft and has a fluttery or flowy fit. The cups are removable, so you can remove them before you pop the nightdress into the machine washing.
Pros
Fabric is opaque
Buttery soft fabric
Adjustable straps
Removable cups
Cons
The shelf bra may not offer full bust support
Price at the time of publication: $22.99
Now that you know what to look for when choosing nightgowns with built-in bras, you need to understand what to look for when selecting a piece that meets all your preferences. Keep reading our buying guide to know more.
How To Buy The Best Nightgowns With A Built-In Bra
This is the first thing you must look for when choosing a nightgown with a built-in bra. Comfort is essential because the last thing you want to feel when you go to bed is restricted or suffocated. The straps should be adjustable so that they don't dig into your skin, the built-in bra line should be stretchable and lightweight, and the fabric must be breathable so you don't feel hot.
Even though this factor is not mentioned much, it is worth looking into. If you are into the aesthetics of nightgowns and loungewear, color may be an essential component. If you want to stray away from basic colors like black, white, grey, and beige, opt for soft pastels like peaches, baby pinks, or mint greens because they look sophisticated without jarring.
There are many materials used to make durable and soft nightgowns; you have to find the fabric that suits you the best; the most commonly used materials are cotton, satin, and chiffon. Cotton is a great option for a comfortable night's sleep, however it does not contain moisture-wicking properties. Satin nightgowns are the way to go if you require one that is lightweight and gentle on the skin. Moreover, it is made from natural fibres that allow your skin to breathe. You could also go with a poly-nylon blend, which are breathable and moisture-wicking, but may not be too soft or gentle on the skin.
Why Trust Stylecraze
The author, Priyam Gupta, is a fashion enthusiast. She has done extensive research on various types of nightgowns. After reading many user reviews online from various trusted forums, she has carefully curated the list of best nightgowns with a built-in bra. These nightgowns offer light support and keep you comfortable while sleeping. In addition, the fabric is very soft and breathable.
Frequently Asked Questions
Is it comfortable to sleep in a nightgown?
Yes, nightgowns are very comfortable, warm, and cozy to sleep in.
Can I wear a nightgown as a dress?
Yes, you can wear specially designed nightgowns as a dress in a late-night event. It helps you carry comfort and style together.
Do long nightgowns with built-in bras support large breasts?
Yes, long designer nightgowns with built-in bras support your breasts. They feature cozy padding and keep you in heavenly comfort overnight.
Are nightgowns with built-in bras good for plus size?
Yes, nightgowns with built-in bras are available in many sizes and designs, which helps you feel comfortable all night long.
What are vintage nightgowns called?
Vintage nightgowns were termed night clothes in the 1800s. They had simpler designs and were typically white.