13 Best Ninja Blenders of 2023 For Your Kitchen (With A Buying Guide!)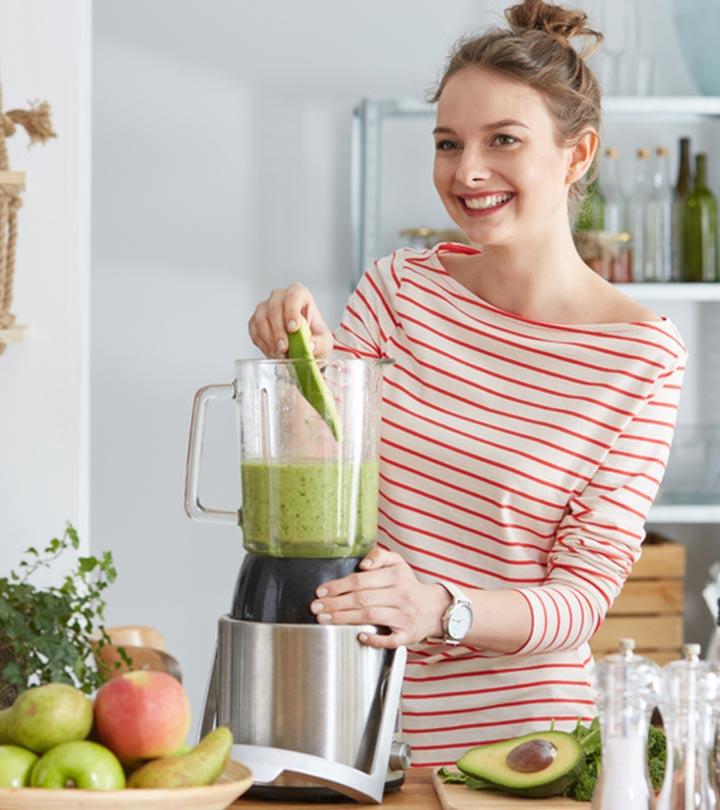 Ninja Blenders are totally changing the blending game in the kitchen today! Staying true to their name, they are fast, sharp, and ultra-powerful. With some making smoothies and healthy drinks at the tap of a button, skipping breakfast or diet cannot be an option anymore! Hailed as the game changers and delivering blending, whipping, and also basic food processor needs, every kitchen deserves to have a Ninja Blender. So, whether you are looking to upgrade from those bulky and messy blenders or need a compact single-serving blender, we have options for all lined up!
Now, who's ready to blend like a Ninja? Go browse through our exclusive list of 13 best Ninja blenders of 2023 for your kitchen.
Caution: Most of the Ninja blades are extremely sharp. Precaution should be taken before cleaning them or putting them in the dishwasher.
Top 13 Kitchen-Friendly Ninja Blenders of 2023
Crushing ice to snow in seconds, this blender with six blades and a powerful motor turns into a beast on ignition. High-performance, robust, and quick with 1100W motor, consider frozen fruits or veggies blended into smoothies instantly! Other than the motor, the pitcher is large (72ounce) and is suitable to blend milkshakes, dips, and juices for the entire family. And on days when you need your nutritious intake on the go, this Ninja blender comes with two 16ounce Ninja single-serve cups for your convenience.
Pros
High-performance motor with three speeds
Mess-free and easy-to-use
Blades are sturdy and extremely sharp
Sturdy design
Dishwasher-safe and BPA-free product
Guarantees single-serve functions
Cons
Noisy
Bulky for countertops and kitchen cabinet
Price at the time of publication: $99.95
This blender and food processor combination is perfect for those who are looking for a dual-benefit appliance. Taking care of all your blending, whipping, and chopping needs, you can prepare drinks, dips, and cookie dough – all in a few powerful spins! The 72ounce pitcher is XL-size, and its assembled sharp blades can easily quick-blend margaritas for the entire family. And as far as the chopping and mixing is concerned, you have the 8-cup food processor! A kitchen staple for every family who loves to cook and enjoy nutritious meals, this combination package also comes with two 16ounces to-go Ninja cups.
Pros
1500W powerful motor base
Four speeds and pulse control
Robust construction
Sharp and sturdy blades
Single-serving and multi-serving functions
The parts are BPA-free dishwasher-safe.
Cons
Noisy
Cleaning the blades may be a hassle.
Price at the time of publication: $159.99
Are you planning to go on a healthy diet or always running out of time to make breakfast? Here's a Ninja personal blender with 2 to-go cups (18ounce and 24ounce) that will make healthy drinks instantly for you. Its 900W-powered motor is quick, and the blades are sharp enough to crush the fruits and veggies uniformly while keeping all the nutrition intact. A great option for bachelors or single-person use, this blender is space-efficient too.
Pros
Manual pulse function
Efficient and quick
Ideal for fine-grain blending
Mess-free and leak-free
Easy to clean and set
The blending cups turn into sippers easily.
The parts are dishwasher-safe and BPA-free.
Cons
Price at the time of publication: $99.99
Making healthy drinks is easy and quick if you have Nutri Ninja Auto-IQ Blender! With an IQ of its own, this small Ninja blender has a built-in advanced preset technology that lets you blend at the touch of a button. It also has a digital countdown display for tracking blending time and uniquely combined preset buttons with pulsing and pausing patterns. Plus, the motor is 1000W-powered that crushes anything from ice, frozen fruits to veggies into nutritious smoothies with its razor-sharp blades. So, even before you are ready to hit the road, your juice is ready to go with you. A mess-free, hassle-free, and ideal tool for small families, go high on nutrition with this smart blender.
Pros
Intelligent and high-speed ninja blender
Comes with 2 Ninja cups – 18ounce and 24ounce
Efficient and easy-to-use
The extractor blades are robust.
The cups have sip and seal lids.
All parts (except motor) are dishwasher-safe and BPA-free.
Cons
The blending noise can be loud.
It may not be easy-to-clean.
The Ninja SS401 Foodi Power Blender Ultimate System offers precise and effortless blending every time and features variable speed control for adjusting the speed and texture of every blend. The Hybrid Edge Blade Assembly and seven preset Auto-iQ programs make it easy to make one-touch smoothies, chopping, spreads, dough, and food processing. All the parts are dishwasher-safe for easy cleaning.
Pros
High blending power
Versatile
Easy to use
Easy to clean
Cons
None
Price at the time of publication: $198
Are you looking for an appliance that can speed-up your prep and blending time in the kitchen? Meet Ninja Master Prep Professional Blender. One of the most versatile blenders with an ergonomic and interchangeable pod, it switches between 48ounce pitcher, 40ounce bowl, and 16ounce chopper effortlessly. 450W-powered with Ninja blade technology for effortless blending, chopping, and mincing, consider all your dishes and smoothies ready faster than before. Also, unlike bulky countertop blenders and mixers, this one will easily fit in any corner of your kitchen countertop.
Pros
One of the most powerful blenders
Includes a 6-blade and 4-blade set
Guarantees even consistency
Unique and sturdy construction
Dishwasher-safe and BPA-free parts
Additional storage lids with jars
The pod has a built-in chrome pulsing button technology.
The base is non-slip and the cups have splash guards.
Cons
Cleaning the mixing lids may not be easy.
Price at the time of publication: $50.99
Many skip preparing healthy drinks, because bulky blenders can mess up the kitchen countertop. So, if you are one of those, then this kitchen Ninja blender will be a good option for you. Ideal for nuclear families, this 400W-powered pod may look small and convenient for storage, but its crushing power is no joke. Breaking down frozen fruits and ice like no big deal, it can easily prepare drinks for up to two people in its 48ounce pitcher. Plus, you also get a 16ounce chopper jar for chopping veggies for small meals.
Pros
One-touch pulsing technology
Easy-to-use and safe
Sharp and sturdy blades
Anti-skid base
Spout for easy pouring
Jars are anti-spill with splash guards
Ideal for blending and chopping
Additional storage lids included
All parts (except pod) are BPA-free dishwasher-safe.
Cons
It does not have multiple speed options.
Price at the time of publication: $34.88
Here's proof that Ninja Blenders have come a long way from crushing ice! Surprise your family with smoothies and delicious hot fondues with this super-efficient cold and hot blender. With a 1400W high-speed motor, the extractor blades are made of stainless steel and can crush the hardest frozen fruits effortlessly. However, what makes it extraordinary is its Auto-IQ technology with heat features. It lets the user explore different blending and cooking options at the touch of a button. A must-try for home cooks who love to indulge in healthy eating, it also comes with a tamper, which is ideal for making ice-cream! Dessert lovers, don't skip this one.
Pros
12 automated and intelligent program that controls pulsing and pausing
Ideal for preparing hot soups, dips, and fondue too
Has an 800W heating element for quick boiling
64ounce glass pitcher with an anti-skid base
Built-in one-touch cleaning program
Cleaning brush included for blades
Cons
Noisy
Bulky
The self-cleaning program may not clean thoroughly.
Price at the time of publication: $165.8
The Ninja BN401 Nutri Pro Compact Personal Blender boasts a powerful 1100-peak-watt motor that can blend the hardest ingredients and turn ice into snow in mere seconds. It features two Auto-iQ programs, has specific timers for smoothies and crushed ice, and can also extract the right balance of nutrition from fruits and vegetables. The compact blender comes with a recipe guide filled with ideas for smoothies, frozen drinks, sauces, and more.
Pros
Easy to use
Easy to clean
Efficient
Low noise
Cons
None
Price at the time of publication: $79.95
The Ninja SS151 TWISTi Blender DUO has a built-in Twist Tamper and high-speed blades that can easily blend even the toughest ingredients.  You don't have to worry about any stalling, shaking, or stirring to achieve the perfect texture as it has 1600 peak-watt power. The hybrid-edge blades assembly chops, crushes, and blends at high speed, and the powerful motor is designed to maintain high speed for uninterrupted performance. The blender has five functions that can be accessed with the touch of a button, including extractions, smoothies spreads, and drinks. The blender is easy to clean with dishwasher-safe parts.
Pros
High-speed blades
Easy to use
Easy to clean
Good suction power
Value for money
Cons
None
Price at the time of publication: $139.95
The Ninja BN801 Professional Plus Kitchen System is a modern, powerful appliance with exceptional blending and processing. It has 1400 peak watts of power and Total Crushing Blades to crush ice. It also includes single-serve cups with lids for smoothies on the go, a 64 oz Precision Processor Bowl for chopping and purees, and 5 preset Auto-iQ programs to easily make smoothies, frozen drinks, extractions, mixtures, and dough.
Pros
Easy to clean
Less noise
Easy to use
BPA-Free Plastic
Cons
None
The Ninja SS351 Foodi Power Blender & Processor System is an all-in-one solution for your cooking needs. Its SmartTorque Technology provides a powerful 1400-peak-watt power motor that powers through without stopping or shaking. It is easier than ever to make extractions, smoothies, spreads, dough, and chopping with this at hand. The blender has intelligent programs that combine unique timed pulsing, blending, and pausing patterns to create the perfect drink without the user having to do any work. It has a 72-oz. pitcher that can perform various tasks such as crushing, chopping, making smoothie bowls, and dough all in one.
Pros
Good suction power
Versatile pitcher
Variable speed controls
Easy to use
Easy to clean
Cons
Price at the time of publication: $139.99
The Ninja Foodi SS100 Stainless Steel Smoothie Blender has a powerful motor that enables you to make spoon-thick nut butter, smoothie bowls, and blender ice creams. The smartTORQUE design powers through heavy ingredients at high speed, eliminating the need for shaking and stirring. This blender has a Nutrient Extraction Cup for frozen drinks and extractions, with Auto-iQ and two manual programs. The blender cup and bowl are easy to carry and store, and it includes cups with lids for convenience.
Pros
Easy to use
Easy to clean
Quick and effective
Portable blender cup and bowl
Cons
Price at the time of publication: $94.99
There you go, those are 13 Ninja blenders of 2023 for your kitchen. Still, need assistance with buying the best ninja blender? Read our buying guide below!
Buying Guide- Best Ninja Blenders To Buy Now
Why Should You Choose Ninja Blenders?
A Ninja blender is known for its high durability.
It is easy-to-use and has smart, automatic, and advanced interfaces.
It lasts longer than other juicers and blenders in the market.
It is quick, efficient and powerful at the same time.
Ninja Blenders encourage healthy-eating, drinking, and having a well-balanced diet.
Why Do I Need A Blender?
Blenders are quicker, efficient, and time-saving.
Unlike juicers and mixers, they ensure precise extraction of nutrients and vitamins from ingredients.
Other than juice and smoothies, a blender can whip dips, purees, sauces, etc.
Things to Consider Before Buying Ninja Blenders?
Following are the features you must consider before buying a ninja blender:
Power – Ninja blenders are available in different wattage. So, choose according to your needs. For example: if you need it for blending soft or single-serve ingredients, you needn't buy a blender with 1500W. A 450W-powered motor would do the task effortlessly.
Pitcher & Blade Material – Look out of high durability and sturdy pitcher and Ninja cups, so they last long and through many blending sessions with you. Also, pick a blender with stainless-steel or extractor blades with total crushing technology for best results. And most importantly, all these parts should be BPA-free.
Functions – Ninja blenders are available with multiple functions and advanced technology options. For quick blending, you can choose a blender with a chrome pulsing button, Auto-IQ technology, and a one-tap feature. However, if you want to explore different styles of blending, there are blenders with up to 9 preset and manual speed control options too.
Versatility – Who wouldn't like an appliance that can cater to more than one needs? Pick a blender that offers on-the-go cups with sip and seal lids to make your job less messy. Also, some Ninja blenders come with food processors too for all your chopping and mincing purposes.
User-friendly – Though most of the Ninja Blenders are easy-to-use or have an instruction manual for guidance, check out the user interface or pulsing/ignition option before buying the blender.
Warranty – Given that no appliance can last forever, having a warranty in place always helps. Other than the features, enquire about the warranty of the product, in case you might need it later.
Tips To Remember While Using Ninja Blenders
Right Wattage – Use the right wattage source to avoid overheating the blender
Spill-free Experience – Do not open the lid while blending. Even if you have to add extra ingredients, let the blades stop before you open the lid, or else, you'll end up spilling everything in all directions.
Smaller Pieces, Blend Faster – Chop bigger fruits and vegetables into smaller or medium pieces before adding it to the blender for desired creamy and chunk-free drinks.
Add Liquid with Ingredients – Along with the fruits or vegetables, add a little water or preferred liquid for easy blending.
Read the Instructions – Go through the guide book and learn about the interface or settings before using them as a wrong setting may not give you the desired consistency.
How to Care For Ninja Blender?
Clean the Blender – Keeping the blender clean is imperative. Make sure you remove all the ingredients and clean every part thoroughly. Not doing so will not only make them smell bad but can also ruin your next batch or worse cause health issues.
Place the Right Attachment – Using the right attachment is essential to avoid damaging the motor.
Use It for Blending Only – A blender is used for making juices, smoothies, sauces, dips, and purees. Avoid using it for chopping or mincing purposes as it could damage the blades.
Frequently Asked Questions
Which Is the Best Ninja Blender to Buy?
Since not all Ninja blenders have the same features or functions, choosing the best one may ideally depend upon the user's needs. However, in our opinion, Ninja Foodi Cold & Hot Blender is one of the best Ninja blenders.
Is A Ninja Blender Good?
Yes, Ninja blenders are one of the best blenders in the market. They are well-known for their efficient, powerful, and healthy diet-boosting features.
Which Is the Most Powerful Ninja Blender?
With 1500W-powered motor, Ninja Mega Kitchen System Blender is one of the most powerful Ninja blenders for blending, whipping, basic food processing needs.
Can You Put Hot Liquids in A Ninja Blender?
Yes, you can. Most of the Ninja Blenders are infused with thermal-friendly material so they can withstand heat. However, they cannot heat the liquid, only blend it.
Is Nutri Ninja BPA-Free?
Yes, all parts of Ninja blenders (except motor) are BPA-free.
Are Ninja Blenders Dishwasher Safe?
Yes, most of the Ninja blenders are dishwasher-safe. However, you can hand wash them for thorough cleaning, provided precautions are taken around the blades because they are extremely sharp.
Which Is the Best Ninja Blender to Make Smoothies?
All Ninja Blenders are suitable for making smoothies, juices, sauces, dips, purees, etc.
Which Ninja Blender Is Best for A Beginner?
Ninja Smart Screen Blender is ideal for beginners as it is easy-to-use, has an easy user interface and can create healthy drinks in a tap!
What is Ninja Auto-IQ?
Ninja Auto-IQ is a pre-set programming technology that simplifies and quickens the process of blending for the users. The buttons are already set with pulsing and pausing patterns, and will create the desired drink at the touch of a button.
How long does a Ninja Blender last?
It depends on how well you maintain and use the blender. Usually Ninja blenders last for more than a year, given most of them come with a 1-year warranty.
So, blend away and drink healthy – Ninja style! For all the health-enthusiasts out there who can't make time to prepare nutritious breakfast, these Ninja blenders could be your saviors. Why work hard when you can work smart in the kitchen? Go, pick your Ninja Blender, and pamper yourself and family with delicious and healthy drinks every day.