10 Best No B.S. Skin Care Products To Try In 2022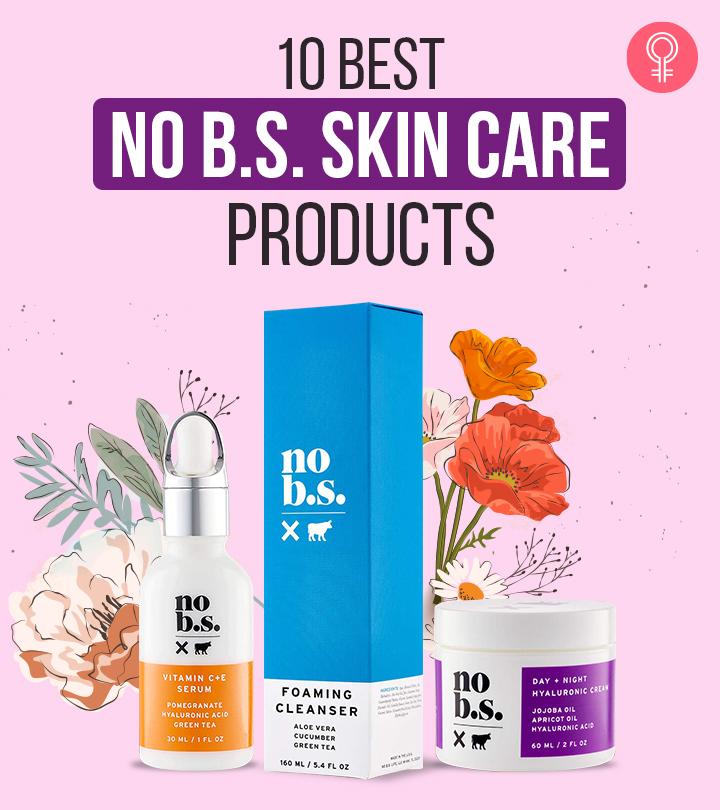 If you are planning to try new skin care products to boost the freshness and glow of your skin, you have come to the right place. The best No B.S. skin care products can be your go-to option to achieve the skin of your dreams! This brand offers skin care formulas that are safe, innovative, and simple to use, making your skin care regimen even more fun. In addition, No B.S. products are made with plant-based materials and do not contain any harsh chemicals. Tea tree oil, vitamin E, rosehip oil, vitamin C, pomegranate, aloe vera, jojoba oil, coconut oil, and cucumber are among the substances used to make these products.
What's more? They are reasonably priced, made locally, and packaged in environmentally friendly materials. In this article, we have picked the best No B.S. skin care products for you to check out. So, what are you waiting for? Let's dig in!
10 Best No B.S. Products Available Right Now
Say goodbye to tired-looking eyes and dark circles with the help of No B.S. Caffeine Eye Cream. This eye cream contains powerful ingredients like caffeine and quinoa seed extract that visibly brighten your under-eye room by reducing discoloration. Caffeine is the active ingredient that reduces under-eye puffiness while making your eyes look enhanced and bright. This cream is also infused with hyaluronic acid and squalane that hydrate your under-eye area and diminish the existing fine lines. This wonder cream reduces crow's feet and blurs wrinkles.
Pros
Lightens dark circles
Reduces puffy eyes
Diminishes fine lines, wrinkles, and crow's feet
Provides under-eye hydration
Brightens the eye area
Cons
Are you looking for a serum that gives your skin a dewy glow? No B.S. Vitamin C+E Serum is specially formulated to provide a dewy finish. The formula is packed with potent natural ingredients like pomegranate and green tea extracts that reduce inflammation, heal damaged skin, and prevent premature aging. This serum also contains hydrating hyaluronic acid and collagen-boosting vitamins like vitamins C and E tighten your skin and give it a brighter look.
Pros
Imparts a dewy finish
Hydrates the skin
Reduces skin inflammation
Heals damaged skin
Prevents premature aging
Tightens the skin
Protects skin from environmental pollutants
Cons
Not suitable for sensitive skin
Restoration and relaxation are everything that we look forward to when it comes to moisturizing our skin. No B.S. Day + Night Hyaluronic Acid Cream has a creamy and clean formula that keeps your skin bouncy and supple all day long. It is enriched with hyaluronic acid, jojoba oil, apricot oil, and squalane that gives your skin a silky smooth finish instantly. It works on your skin to show visible results and is free from all toxic ingredients.
Pros
Moisturizes the skin
Smoothens the skin
Creamy formula
Offers long-lasting moisturization
Suitable for most skin types
Cons
Not suitable for very dry skin
No B.S. Foaming Cleanser is a sulfate-free facial cleanser that works quickly on your skin to remove stubborn makeup. It is formulated with hydrating ingredients like cucumber, green tea, and aloe vera extracts that reduce skin inflammation, fight acne, protect the natural moisture barrier of your skin, and combat free radicals. On application, it creates a dense and luxurious foam.
Pros
Sulfate-free
Removes stubborn makeup
Soothes inflamed skin
Hydrates the skin
Combats free radical damage
Cons
May cause build-up on the skin
No B.S. Salicylic Acid Facial Toner is an acne-fighting and alcohol-free facial toner. It balances the oil production on your skin, combats stubborn acne, and gives you smooth, matte skin. It is infused with salicylic acid, witch hazel, tea tree oil, and antioxidant-rich ingredients that gently exfoliate your skin to unclog pores, tighten your skin, and prevent redness and breakouts. Tea tree oil is a critical element in this cleanser as it has anti-inflammatory, antibacterial, and antifungal properties.
Pros
Alcohol-free
Fights stubborn acne
Controls excess oil production
Tightens the skin
Evens out the complexion
Cons
Effective spray dispenser
No B.S. Charcoal Detox Peel-Off Mask contains activated charcoal that works wonders for your skin. It painlessly removes blackheads, impurities, and debris without hampering your skin's natural oils and moisture. It clears out your pores and prevents future breakouts. It also contains squalane, plant stem cells, and garden cress extract that tighten saggy skin, brighten your dull complexion, and even out your skin tone. Its formula exfoliates your skin without causing any redness or irritation.
Pros
Removes blackheads and impurities
Protects your skin's natural oils and moisture
Prevents future breakouts
Does not cause redness or irritation
Cons
Not suitable for acne-prone skin
Do you want those blemishes to disappear in no time? No B.S. Healing Acne Patches reduce redness and diminish acne scars in no time without causing any skin irritation. These hydrocolloid pimple patches can be used to treat cystic acne and as acne spot treatment. It reduces skin inflammation and minimizes existing scars. These hydrocolloid acne patches also keep your skin's moisture intact and offer germ-free protection.
Pros
Reduces redness and inflammation
Diminishes acne scars and blemishes
Does not cause skin irritation
Peel off easily
Can be worn throughout the day
Cons
None
No B.S. Moisturizer is a multitasking lotion that works both as a sunscreen and a moisturizer. It offers broad spectrum SPF 20 that protects your skin from the harmful UVA and UVB rays and some harmful environmental pollutants. Its formula contains hyaluronic acid, green tea, and vitamin E that reduce wrinkles, treats existing sunspots, and offer plenty of moisturization. Hyaluronic acid keeps your skin soft and supple all day long, while the antioxidant properties of green tea and vitamin E maintain your skin's moisture balance.
Pros
Broad spectrum SPF 20
Hydrates the skin
Reduces fine lines and wrinkles
Treats sunspots
Prevents environmental damage
Keeps the skin soft and supple
Cons
If the word 'hydrating' is soothing to your heart, try out the No B.S. Hydrating Body Moisturizer. This moisturizer is more like a buttery cream loaded with naturally moisturizing ingredients like shea butter, coconut oil, rosehip oil, and antioxidant-rich green tea. These ingredients protect your skin from crepiness and skin irritation. They also help fight free radicals and nourish your dry hands, arms, legs, and all other parts of your body.
Pros
Moisturizes the skin
Soothes skin irritation
Prevents crepiness
Prevents skin damage
Cons
None
Make your skin plumper and bouncier with the No B.S. Pure Hyaluronic Serum. This serum is infused with 100% pure hyaluronic acid and has a quick-absorbing formula that does not make your skin feel greasy. It is free from artificial fragrances and toxic ingredients. This serum is your ultimate secret to healthy and glowing skin.
Pros
Offers long-lasting moisture
Smoothens out fine lines
Prevents dryness
Makes your skin plumper and bouncier
Cons
None
No B.S. Skin Care products add a refreshing glow and freshness to your skin and help you achieve the skin of your dreams in no time. The brand formulates safe, innovative, and easy-to-use products that work well with all skin types. They are enriched with plant-based ingredients and are devoid of any synthetic chemicals. So whether you are looking for a cleanser, an under-eye cream, a moisturizer, toner, peel-off masks, or a serum, No B.S. has it all.
Why Trust StyleCraze?
Oyendrila Kanjilal, the author of this article, is a certified skin care coach. She has a penchant for skin care and loves trying out and reviewing new products. She has conducted a thorough study on No B.S. skin care products through several online platforms and user feedback to prepare this list. No B.S. skin care products are made with plant-based materials and contain no harmful chemicals.
Frequently Asked Questions
Are No B.S. skin care products vegan?
All No B.S. skin care products are vegan except the No B.S. Moisturizer With SPF 20. However, the brand is 100% cruelty-free.
Recommended Articles
The following two tabs change content below.