13 Best No-Show Underwear For Full Coverage And Better Comfort – 2022
Put on that bodycon dress without worrying about seams and show-ups from your innerwear.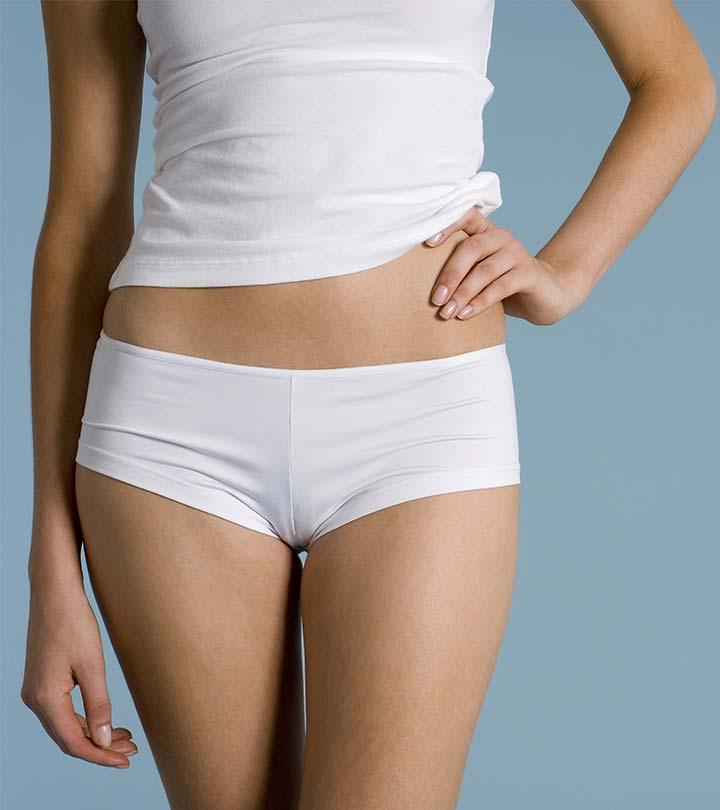 Finding the right pair of seamless underwear is more like finding a new and true friend. The best no-show panties allow you to feel confident and comfortable.
While shopping for seamless underwear, it is best to look out for fabrics that feel like a second skin and find a pair that shows no lines at all. The right pair will offer you coverage and comfort and is made from high-quality fabric. It has an edgeless design, paper-thin fabric, and perfect coverage that will be completely invisible under a tight night-out dress or your yoga pants when you hit the gym.
However, searching for a good pair can be tricky as not all seamless underwear are made of good quality. Check out our list of the best no-show panties for women to find the best options out there. Read on.
13 Best No Show Underwear
The Wirarpa Women's High Waisted Cotton Underwear is made of 95% combed cotton and 5% spandex. These panties are high-waisted to give you an extra tummy tuck and flaunt your figure. They are comfortable and durable as they are made of superior quality material and come with a double-layer crotch. These panties are 100% machine washable, so don't think twice before tossing it in your machine at the end of the week. They also have a fabric-covered elastic waistband that ensures a comfortable fit.
Features and Fit
Made of breathable cotton material that provides comfort all day long
High-waisted fit
Perfect to be worn under skinny jeans or short dresses.
Pros
Cotton-based material
High waist
Stretchable
Soft fabric
Double layered crotch
Cons
None
Buying Kalon Women's Nylon Spandex Thong Underwear is a money saver as you get a pack of 6 at an affordable price. They have a circular knit design that ensures no panty lines. No matter your waist-size, these panties have you covered as they come in sizes ranging from small to XX-Large. These panties are available in 6 solid colors and are 100% machine washable.
Features and Fit:
Thong panty style
Comes in a pack of 6
Available in 6 solid colors
Available in sizes S,M,L,XL,and XXL
Pros
Smooth and seamless fit
Stretchable
All-day comfort
Ease of movement
Soft fabric
Cons
Becomes rough after a couple of washes
The Balanced Tech Women 6 Pack Seamless Panties, are loved by women all over, and here's why. They are made of a high-quality imported blend of polyester, nylon, and elastane that allows for easy movement. You can wear these panties under your favorite sportswear for an upcoming workout session as they are odor-resistant and moisture-wicking. These panties are tagless to ensure no irritation or discomfort while wearing.
Features and Fit:
Odor-resistant and moisture-wicking
Mid-rise design
Made of breathable and stretchable polyester
Elastane fabric allows for free movement
Pros
High elasticity
Odor-resistant
Moisture-wicking fabric
Quick drying
Ultra comfortable
Cons
None
From one of the most trusted names in the underwear industry, comes the Jockey Women's No Panty Line Promise Tactel Hip Brief. These are available in 13 different colors and are made of imported quality tactel and lycra spandex. Like its name, these panties promise to reveal no panty lines so you can wear them under your favorite evening dress. It also provides full coverage and flexibility for better comfort, making it perfect for athletes and gym enthusiasts.
Features and Fit
Machine washable
Mid-rise design
Offers full coverage
Pros
Machine washable
Seamless design
Mid-rise fit
All-day comfort
Suitable to wear under any outfit
Cons
None
Fall Sweet No Show High Waist Briefs provide all-round coverage. The high-rise design of these panties contours your body like no other. So now, having that hourglass figure doesn't have to be a mere dream! They are made from best-in-the-market cotton and spandex blend, which offers maximum stretch and comfort. These panties are available in sizes from small to XXL and come in a wide range of colors for you to choose from.
Features and Fit
High-rise with a design that contours your curves
Lightweight fabric
Available in packs of 4 and 6
Pros
High elasticity
Machine washable
High-waisted fit
Full back coverage
Seamless design
Cons
None
Delicate in design, the Wealurre Seamless Underwear is made with exceptional fit and quality that makes it long-lasting. These panties are laser cut and come in a low-rise bikini style. Soft, smooth, and comfy are the perfect words to describe them. You can wear them under your leggings and yoga pants as they are ultra-thin and stretchable. So, save yourself the hassle of always having to adjust your underwear and get yourself these panties now!
Features and Fit
Super durable and made of high-quality fabric
Ultra-thin and stretchable making it perfect to wear under leggings and yoga pants
Low-rise bikini style
Pros
Machine washable
High elasticity
Laser cut finish
Low-rise fit
Seamless design
Cons
None
The Wealurre Women's MicroFiber Low Rise No Show Panty is made of an incredibly soft and comfy blend of fabric. Its high-quality spandex makes its super stretchable.This panty is a thong that is low-rise in design. Available in a wide range of cool colors, these panties are a must-have.
Features and Fit
Can be worn under any outfit
Made of superior quality spandex
Pros
Durable
Elastic
All-day comfort
Soft fabric
Seamless design
Good range of colors
Cons
None
The Alyce Intimates Women's Bikinis are made with laser-cut technology that emphasizes your enviable figure. Its super-soft cotton fabric is gentle on the skin and causes no rashes or irritation. Made of breathable material that keeps you feeling fresh and cool all day long, these panties are an excellent choice for daily use. These panties are machine washable and guarantee no color run.
Features and Fit
Apt for daily wear under any outfit
Made of breathable fabric
Pros
Machine washable
Ultra-soft fabric
Stretchable
Laser cut finish
Seamless design
Breathable
True to size
Cons
None
The name says it all! Calvin Klein is one of the biggest names in the lingerie industry. These panties are made in the USA and are composed of nylon and elastane. The product prides itself on being 'invisible' under your clothing. Its smooth stretch microfiber guarantees complete comfort. This panty also has a cotton panel for comfort. You can either buy a single product or a multipack. These panties come in 20 plus classy colors with the Calvin Klein logo on the left hip side.
Features and Fit
Smooth stretch microfiber for soft comfort
Has a cotton panel
Pros
High elasticity
Pull-on closure
Machine washable
Laser cut finish
Seamless design
Tag-free
Cons
None
The OUXBM No Show Seamless panties are available in 2 styles- bikini and hipster. Thanks to its ultra-thin fabric, they can be paired with skinny jeans, a bodycon dress, or tight pants. Also available in high-waisted style, these panties offer great support to new moms postpartum. These panties are machine washable, and their super dry technology ensures that they dry in just 2 hours. The perforated mesh design makes these panties breathable and provides all-day comfort. So all you have to do is pick your size, and you are good to go!
Features and Fit
Made of bamboo cotton
Super dry technology
Available in 2 styles- hipster and bikini
Pros
Stay in place
Seamless design
Suitable to wear under the thinnest materials
High-waisted fit
Suitable for the postpartum period
Breathable
Soft fabric
Stretchable
Cons
None
With the Altheanray Women's Seamless Super Stretch Underwear, you never again have to worry about your panty slipping or riding up. Due to their comfort and flexibility, these panties can be worn with workout pants and gym shorts. It's nylon and spandex composition with a 100% cotton panel makes it a safe bet for women with sensitive skin. These panties are made from breathable and a 4-way stretchable fabric. Available in single pieces or multipack, these panties would make for a great addition to your closet.
Features and Fit
Made of nylon and spandex with cotton panel
Breathable and 4-way stretchable fabric
Available in 6 colors
Pros
Cotton-based crotch
Machine washable
Seamless design
Stretchable
All-day comfort
Anti-slip material
Cons
None
Bubblelime Bikini Panties are a perfect combination of fashion and function. These panties come in a low-rise bikini cut and are made of nylon and spandex. Regardless of whether you are wearing jeans, a short skirt, or a fitting cocktail dress, these are your go-to panties for the night! Available in sizes from small to large, these thongs are great for teenagers and young women. These panties are also a great money saver as they can be purchased in a pack of 1,3 or 6.
Features and Fit
Low-rise bikini cut
Thong style panty
Available in 36 colors
Pros
Ultra-soft material
Breathable fabric
Chic look
Comfortable to wear
Seamless design
Cons
None
Featuring an all-round seamless design, complete coverage, and breathable fabric makes the Bali Women's Comfort Revolution Seamless High-Cut Panty loved by all! These panties are available in over 30 colors. Their imported, high-quality nylon fabric is hand washable. These panties also provide full-coverage and a high-cut design. Crafted from an exceptionally soft fabric, these panties also reduce the chances of skin irritation.
Features and Fit
High-rise design for a better fit
Made of imported high-quality nylon fabric
Hand washable
Pros
Pull-on closure
Seamless finish
Knit-in waistband
Moisture-wicking fabric
No ride up
Hi-cut design
Machine washable
Offers full coverage
Cons
None
Why Trust Stylecraze?
The author of this post, Chaitra Krishnan, is a makeup and fashion enthusiast who passionately experiments by trying new launches and searches for organic and trustworthy product reviews across various forums. In this article, she enlists the best no-show underwear available in the market. She has considered factors such as coverage, comfort, and the fabric used to make these garments while curating this list.
Frequently Asked Questions
What does no-show underwear mean?
Underwear with seamless construction and raw-cut edges that do not show under jeans, leggings, or bodycon dresses is known as no-show underwear.
What underwear does not show lines?
Bikini panties, thongs, boy shorts, and hipsters show no lines.
What is no-show underwear made of?
No-show underwear is made of cotton spandex, polyamide, modal, and elastane fabric.
What kind of underwear do Models wear?
Raw-edged, microfiber thongs are usual choices for most models.
What underwear do you wear under yoga pants?
Seamless cotton underwear is the best choice for yoga pants.
Is it OK to work out in a thong?
No. Wearing thongs during a work session increases the chances of UTI as the sweat spreads from the body to the urethra, increasing the risk of vaginal infection.