10 Best No-Show Running Socks To Level Up Your Performance (2023)
Keep your feet safe while running or while performing intense dance moves.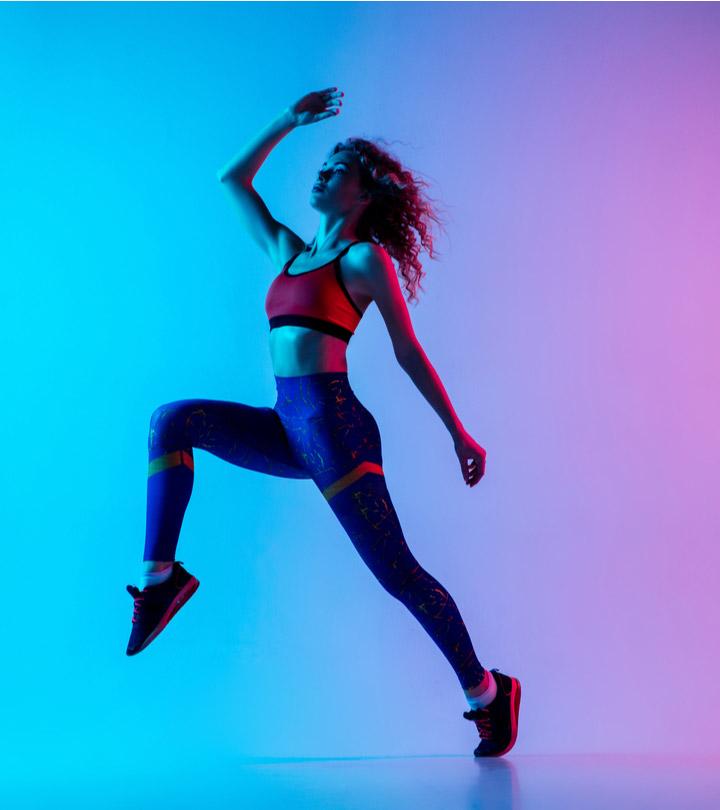 You know how crucial the appropriate kind of shoes are, whether you're a professional athlete or enjoy jogging around the neighborhood park just for pleasure. However, if you want to go the extra mile in terms of protecting your feet and refining your run, the best no-show running socks may be the weapon you've been missing. The right type of no-show sock is built to swaddle your feet and function as a shield against the shoe, providing you with all-around comfort. Choose from our selection of the 10 finest no-show running socks if your socks are lumpy and heavy in your shoes.
No-show socks include all of the benefits of supportive socks, such as compression and padding while remaining quiet and light. They function in unison with a robust pair of running shoes to preserve your fragile ankles, relieve stress on your joints, and lift the arches. A cute pair of these will make a massive difference if you want to reach the finish line.
Top Picks
10 Best No-Show Running Socks For Your Next Marathon
Pros
 Available in 14 colors
 Temperature-regulating
 Moisture-wicking
 Anti-blister
 Suited for sensitive skin
 Seamless toe area
Cons
 Might pill slightly after many washes
Price at the time of publication: $20.49
Denisy's best running no-show socks are made with a combination of cotton, polyester, and spandex. This particular blend pulls sweat away from the skin while remaining stretchable enough for free movement. Super soft on your feet, the socks are constructed with a sturdy stitch and are breathable to prevent any overheating. Enhanced arch support relieves tired muscles while the reinforced toe area keeps blisters minimized in these best no-show diabetic running socks.
Pros
 Pack of 6 pairs
 Breathable
 Enhanced arch support
 Reduced blisters
 Tall heel tab
 Moisture-wicking
Cons
 Some might find the opening to be a bit snug.
Price at the time of publication: $16.99
Pros
 Available in 9 colors
 Reduced chafing
 Well-cushioned
 Moisture-wicking
 Breathable
 Tall heel tab
Cons
 Might not be pill-resistant
Price at the time of publication: $15
Cotton, polyester, and spandex are employed in the construction of Gonii's thin no-show running socks. With an array of fun colors to choose from, these functional socks feature mesh on the forefoot for enhanced ventilation. Non-slip silicone is embedded on the underfoot so you don't experience any uncomfortable bunching up. The textured plush cushioning works to reduce the occurrence of blisters for a wild and carefree run.
Pros
 Pack of 5 pairs
 Textured cushioning
 Breathable mesh
 Non-slip underfoot silicone
 Seamless toe reduces chafing
 Moisture-wicking
Cons
 Might shrink slightly in the wash
Price at the time of publication: $15.99
Super-lightweight to keep you breezy on the field, Saucony's socks are composed of 97% polyester and 3% spandex. Reducing the bulk in your shoes, this running gear uses the unique RunDry moisture-management system to wick away all pooled-up sweat. Mesh is used strategically to increase airflow while the arch support gives you a secure fit. Irritation is eliminated with the help of a seamless toe construction to keep you fully comfortable.
Pros
 Pack of 8 pairs
 Arch support added
 Seamless toe
 Breathable mesh
 Moisture-wicking
 Lightweight
Cons
 Might be slightly thin for some
Price at the time of publication: $12.5
Meaiguo's no-show finger socks use 75% cotton, 22% polyester, and 3% spandex to wick away sweat for a dry performance. As each toe is separated, you can find relief for conditions like athlete's foot or allergies. The cuff extends both arch compression and support to keep runners comfortable no matter how long they remain on the field. Supporting your natural gait, these socks by Meaiguo are sure to have you performing your best.
Pros
 Breathable
 Aids heel stability
 Elasticated heel tab
 Moisture-wicking
 Quick-drying
 Prevent blisters and allergies
Cons
Price at the time of publication: $14.99
Pros
 Strategically-placed plush cushioning
 Contoured fit
 Seamless design
 Moisture-wicking
 Odor-repelling
 Enhanced arch support
Cons
 Might be too snug for some
Price at the time of publication: $8.99
Avia's no-show tab running socks blend polyester with spandex to give you a generous amount of stretchability. Wear-resistant with a reinforced heel and toe construction, these runners' socks also aid with stability as they have a mild level of compression. Mesh ventilation on the forefoot guarantees airflow to keep you cool and dry even in hot and humid weather. Soft on the skin, these socks are ideal for professionals and beginners alike.
Pros
 Pack of 6 pairs
 Moisture-wicking
 Breathable
 Offer compression
 Mesh ventilation
 Quick-drying
Cons
 Might not offer adequate arch support
Price at the time of publication: $14.99
Pros
Moisture-wicking
Breathable
Non-slip grip
Elastic cuff
Quick-drying
Cons
None
Price at the time of publication: $11.99
Pros
 Moisture-wicking
 Breathable
 Seamless construction
 Lightweight cushioning
 Quick-dry
 Anti-slip
Cons
Price at the time of publication: $16.95
Now that we've gone over some of the best no-show socks out there, let's learn how you can pick out the right pair as a runner.
How To Choose The Right No-Show Running Socks
Cotton is often found in sock blends owing to its soft, natural fibers that absorb moisture. It is also breathable and lightweight, making it great for everyday use. However, it becomes heavy when it's wet and might cause excessive friction, leading to discomfort. Kinds like combed and organic cotton are slightly expensive as well.
Bamboo is another natural fiber that is sought-after for its incredible features. It is naturally breathable and instead of absorbing sweat, it pulls it away from your body. Bamboo also has a fresh smell that can combat odor. The material is lightweight and has a natural stretch. On top of being antimicrobial, it is also temperature-regulating, with its only disadvantage being its tendency to pill.
Polyester, on the other hand, is a synthetic fiber that's durable, quick-drying, and holds shape fairly well. It can be dyed in a variety of colors, is affordable, and is also resistant to stains. It isn't very breathable though, which can cause the sock to become wet and smelly. Nylon fills that void by being a synthetic fiber that is as sturdy as polyester but boasts moisture-wicking properties as well.
Spandex is also known as elastane and Lycra, which works to give you a snug fit and holds shape pretty well. However, spandex on its own can cause overheating and pilling, which is why it is best mixed with the fabrics above in small quantities.
A few socks have cushioning added at the heel and toe area as they work extra hard to keep you up and running. This softness allows you to rest well and keeps joints supported when you are in motion. Some brands include cushioning throughout the underfoot and across the ankle so as to reduce stress.
Arch support is also a great feature to look out for in socks, especially if you are an active person. This helps prevent injuries, supports gait, and stabilizes your footing.
Compression at a level your body needs is also a great way to soothe fatigued foot muscles. The snugness holds the ligaments together and allows for blood flow to be constant, which works to aid recovery.
Socks made with mesh placed strategically on the forefoot are good at preventing overheating, especially in hot weather. They are ventilated and allow constant airflow so you can stay cool, dry, and fresh as you run.
Flat Knit designs are another aspect of construction that's a must-have to guarantee a secure fit and seamless construction. They can help prevent chafing in the toes.
Why Trust StyleCraze?
The author, Priyam Gupta, is an avid fitness enthusiast who stays in tune with all fitness trends. She relies on running socks to improve her performance while protecting her feet from the rigors of long-distance running. After reading numeros product specifications and user feedback, she compiled a comprehensive list of the top no-show running socks. These socks provide an all-around comfort during running sessions by wrapping your feet and protecting them from the shoe.
Frequently Asked Questions
Are no-show running socks good for running?
Yes, no-show socks that are designed with optimum compression, arch support, and heel tabs are good for runners.
How do socks affect your running?
Socks are a great way to stabilize and secure your footing without putting too much pressure on your joints. They work with high-quality shoes and prevent slipping or sliding.
What is the difference between low-rise socks and no-show socks?
Low-rise socks typically end a little below your ankle bone and might be seen through the shoe, but no-shows are invisible.
Are no-show socks good for sneakers?
Yes. Wear no-show socks under your sneakers to keep your feet dry and comfortable.
Is it better to run with thick or thin socks?
Thicker socks offer better cushioning and warmth to your feet, but thinner socks allow better ventilation and improve your natural stride. Also, thin socks do not constrict your feet' movements and are ideal for running.
What is the difference between liner and no-show socks?
No-show socks protect your feet from blisters and feature moisture-wicking fabric. They are available in various colors and patterns. On the other hand, liner socks do not come in various patterns and colors, but they protect your feet from the rough shoe surface and offer insulation. You can also wear liner socks with another pair of socks.