13 Best No-Show Socks For Women That Will Stay Put – 2023
Wear the socks that maintain your glamorous style while getting rid of odor and blisters.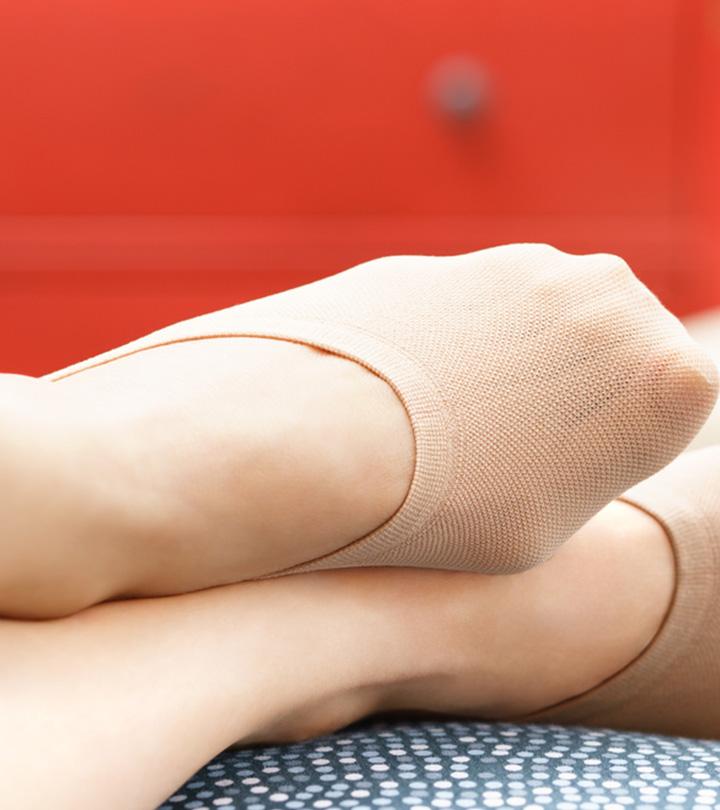 It gets embarrassing when you are wearing amazing shoes put up perfectly with your outfit, but then a pair of socks stick out. This is where you must use the best no-show socks to effortlessly look chic without your socks peeping out for a hello. Socks are essential to keep your feet free from bad odor, bacteria, fungi, and painful blisters. However, they shouldn't come in our way of looking fashionable. No-show socks are exactly what you need to beat comfort blues and look chic, as these keep your feet safe, odor-free, and snug softly.
No-show socks are made with high-quality material and have an anti-slip mechanism to ensure you have a strong grip and stability regardless of your activity. Moreover, these also act as a barrier between your feet and the shoes to prevent unpleasant odor and sticky feels. These well-made socks are here to get you timeless fashion and comfort and if you are wondering where to begin, worry not. Scroll down to find the best no-show socks of 2023 listed by us. We promise they are worth it.
13 Best No-Show Socks For Women That You Need In 2023
The fashion Gods have answered your prayers! Delight your feet to the soft touch of these women's no-show ankle socks from Idegg that offer a snug fit and odor-free protection. Made from premium fabric, it has 3 anti-slip silicone strips that guarantee these won't fall even if you're running, driving, or walking. The cushioned feet soles, toe seam that is stitched to comfort, and breathable material ensure long-lasting support and moisture management for feet that smell pleasant and free of bacteria.
Pros
Cushioned sole
Machine-washable
Non-slip silicone grips
Moisture control
Breathable and soft material
Comfortable toe seam stitch
Available in pairs of 6 and in different colors
Cons
Some may find the sizes to be a bit small. It is advisable to size up.
Price at the time of publication: $13.99
If you like to indulge in the finer things, the Reebok Classics Invisible Socks are the ones for you. These are made from lightweight combed cotton fibers that optimize the airflow around the feet. They also have a non-slip construction. These features make them an ideal fit for activities like running, walking, gym, or standing for long periods. The cotton fabric craftsmanship also reduces sweat and protects the skin from chafing and blister formation. Regardless of the outfit you are planning, you can wear these basic-patterned socks to keep your feet dry, odor-free all day.
Pros
Comfortable fit
Breathable material
Anti-slip grip
Machine washable
Set of 6
Cons
Price at the time of publication: $17.99
If you are looking for socks that go well with all kinds of footwear, do not miss out on the Peds Women's No Show Socks. Be it flats, pumps, heels, or sneakers, you can wear them with anything! These high performance cute socks help you up your fashion game without worrying about blisters and chafing. The fabric is a blend of nylon and lycra spandex and offer a soft and smooth wear. Out of the fabric used, at least 12% is made of recycled fibers that help lessen the harmful impacts of raw material production.
Pros
Machine washable
Color-matching anti-slip gel grip
Seamless toe design
Set of 6
Cons
Price at the time of publication: $12.97
These cushioned no-show socks are all you need to keep those pesky blisters and overwhelming smelly feet away! A pair so smooth to touch, it is made of a stretchy microfiber blend of lycra and nylon, so your feet can be protected without feeling stuffy and suffocated inside your shoes. Made to fit, it houses slip-preventing gel tabs that keep them tightly secured, despite your daily activities. It is available in both nude and neutrals that never go out of style and can be worn with party dresses, casual outfits, under sport shoes, boat shoes, and more.
Pros
3 universal sizes
Machine-washable
slip-preventing gel tabs
Soft, microfiber material
Cons
Price at the time of publication: $11.4
If showing socks is your biggest worry, you can finally breathe a sigh of relief cause we have great news for you! These cute no-show socks have everything you need in a pair that won't disappoint. They have been designed with a low-cut cuff that ensures your socks won't ever show, regardless of what type of shoes you are wearing. Flats, pumps, heels, or sneakers — you can rock it all with these no-show socks for dress shoes. If this wasn't all, it is made from 80% cotton and has silicone grippers at the heel to provide support. These one-size-fits-all socks come in a pair of 8 in different colors.
Pros
Pair of 8
Low-cut cuff
Suitable for all shoes
One-size-fits-all socks
Anti-slip silicone grippers
Made from 80% cotton
Cons
Some find that the material is a bit too thick
Price at the time of publication: $17.99
Are you tired of not finding the perfect pair of loafer socks for women that don't sneak out while you're busy running errands? Well, fret no more! This pair of ultra-cool, fun socks are made of lightweight, breathable materials and have a contrasting elastic cuff for socks that fit snugly and comfortably. The silicone grip provides maximum slip protection so you can go about your day without worrying about the socks slipping off. With a wide variety of color and number options, you will be spoilt for choice. 
Pros
Elastic cuff
No-slip grip
Silicone grip
Premium material
Wide variety of colors
Cons
The silicone grip may not provide as much slip protection as expected
Price at the time of publication: $14.5
You must be living under a rock if you haven't heard of these Adidas no-show socks. Made from a lightweight and breathable material, this one is considered one of the best no-show socks on the market. What's so special about these socks, you ask? Their arch compression provides support to your feet while moisture-wicking yarn absorbs sweat for dry, healthy, and happy feet. And that's not all! It also has cushioning heel and toe fabric and mesh ventilation, so your feet don't get stuffy inside your shoes. With more than 20 colors and patterns to choose from, we can guarantee you'll be more than happy with your purchase.
Pros
Mesh ventilation
Absorbs moisture
Cushioning heel and toe
Provides arch support
Lightweight and breathable material
Over 20 colors and patterns to choose from
Cons
The socks may slightly loose their shape after being washed
Price at the time of publication: $27.99
Your search for the perfect pair of thick no-show socks ends here! The dedicated cotton-rich knit of these socks makes this one something you cannot miss out on. It comes with a cool wicking material that keeps the feet cool and dry, along with full sole cushioning for support and comfort. It also has a reinforced heel and toe and a snug toe seam that will leave your feet feeling happy, even during a strenuous workout.
Pros
Machine-washable
Cotton-rich knit
Good toe coverage
Full sole cushioning
Available in black and white colors
Cons
Some may feel the outer cover is a but rough
Price at the time of publication: $10.97
You do not have to worry about the bulky feeling that comes with wearing socks with these Amazon Essentials Women's Plus Size No-Show Socks. They are made of a cotton, polyester, nylon, and elastane blend. These are a must-have basic clothing item to go with all your footwear and outfits. The high-quality, premium ring-spun cotton material with cushioned soles offer maximum comfort. The socks feature smooth toe seam construction that helps eliminate all the bulkiness and ensures there are no blisters and chafing. They fit well and retain their shape for long.
Pros
Machine washable
High-quality fabric
No bulky seams
Cushioned sole
Come in pairs of 10
Affordable
Cons
None
Price at the time of publication: $15.2
Keep the foul odor and dreadful blisters away by protecting your feet with these no-show socks. Balancing the fine line between too thick and too thick, these spandex and cotton no-show socks are perfect for anyone and every foot. The elastic band safely secures the socks onto your feet, and the silicone grip prevents them from ever falling off. If you're wondering if this pair will lose its snug fit after a single wash in the washing machine, the answer is no. These extra low no-show hidden socks are breathable and light but will not lose their appreciated and applauded fit, even after several trips to the laundry machine. Available in 3 different sizes and pairs of 8, we can assure you that this item will keep your feet secure and protected.
Pros
Durable
Silicone grip
Comes in pairs of 8
Breathable and light
Comfortable elastic band
Available in 3 versatile sizes
Cons
Some may feel that the material is paper thin
Price at the time of publication: $16.5
Dive into comfort with these extra-wide no-show socks. Compared to the regular low-cut no-show socks made using 144 needles, this one uses over 200 needles, so the material the socks are made of feels soft, stretchy, and breathable. Silicon heels hold the socks in place while Y-shape heel construction and elastic topline minimize further slipping. Made from majoritively cotton, this pair is designed with ventilation meshes at the bottom and no seams to keep irritation and unpleasant scents away. Ideal for the hot months, these low-cut socks act as a second skin and protective barrier between your shoes and your skin.
Pros
Low cut
No seams
Ventilated heels
Silicon heel protection
Soft, stretchy, and breathable
Available in pairs of 4 and a variety of color options
Cons
Some feet may feel too hot inside
Price at the time of publication: $7.99
The Balega Silver No Show Socks are all you need to meet your athletic requirements. These running socks are designed to mimic running shoes and offer ultimate compression and movement during physical activities. The Drynamix yarn of the socks is encapsulated with silver ions for all-day comfort and hygiene. This unique blend makes the socks antibacterial and keeps your feet free of odor and sweat. It also protects the feet from molds and fungal infections. Additionally, the socks are seamless to prevent blisters and chafing. They also come with medium-volume cushioning to keep you relaxed even during extended training sessions.
Pros
Moisture-wicking fabric
Breathable material
Odor-resistant
Hand-linked seamless toe
Anti-slip grip
Anti-sweat
Machine washable
Multiple color options
Cons
None
Price at the time of publication: $19
If being fashionable is your top priority, you might have just found the one. With over 14 colors and minimalist patterns to choose from, you can rest assured that you will be comfortable while being trendy. Stay away from sweat, as this pair made of a premium fabric dries faster than others in the market. The Y-heel pocket improves fit and enhances comfort for feet, while the absence of seams at the toes reduces irritation.
Pros
No toe seams
Y-heel pocket
Quick-drying fabric
Comes in over 14 colors and minimalist patterns
Cons
Some find that this pair does not keep odor away efficiently
Price at the time of publication: $21.59
And that was all for the 13 best no-show socks for women in 2023! If you're a calculated buyer and want to check all the boxes before picking out the best ones for your feet, read our buying guide below. 
How To Choose No-Show Socks
Material is the deal-breaking factor when deciding on the best no-show socks. While most are made with some blend of polyester and spandex, and they work just fine, if cushioning comfort ranks high on your priority list, you might want to buy socks that are also made of cotton. Cotton is a lightweight, breathable fabric that absorbs sweat and allows trapped heat to escape the feet.
We understand your pain of having to pull up your socks each time and you're getting annoyed when your favorite pair won't stay put. Hence, it is best to invest in no-show socks that stay on. This feature is ensured by silicone strips that are attracted to your socks' sole to ensure it won't roll up your feet each time.
What good are no-show socks if they actually manage to show? Many socks are falsely advertised as no-show socks, even if they do end up showing over your shoes. If you want to buy virtually invisible ones, be sure to select ones that have a low-cut cuff.
Comfort is everything! While most socks — no-show or not, come with a toe seam, only a few are actually not irritating. The best no-show socks are stitched using skilled artistry to ensure that the toe seam contours your feet ideally without making the feet uncomfortable. So pick one that offers this feature.
Why Trust StyleCraze?
A beauty and lifestyle enthusiast, Srijani Roy Chowdhury has built a niche as a product reviewer with exemplary research skills and a metaphoric nose to hunt down the best market offerings. She dug deep into user reviews and product specifications to find the best no-show socks for women. The shortlisted items on this list are made with high-quality material, have an anti-slip mechanism for a firm grip, and can keep your feet odor-free as you move about in comfort and style.
Frequently Asked Questions:
Are no-show socks comfortable?
Absolutely! If you pick up the right pair, no-show socks can be worn throughout the day with ease. Comfort depends on a few factors such as right-sizing, breathable material, anti-slip function, and more.
Are no-show socks good for running?
There are many women's no-show athletic socks that are made specifically for running. These offer more support and cushioning compared to regular no-show socks.
How do I keep my no-show socks from slipping?
The best way to keep your no-show socks from slipping is investing in a pair that offers anti-slip protection with silicone strips.