13 Best No7 Products Of 2022
Groom yourself with the innovative no7 products for soft, firm, and supple skin!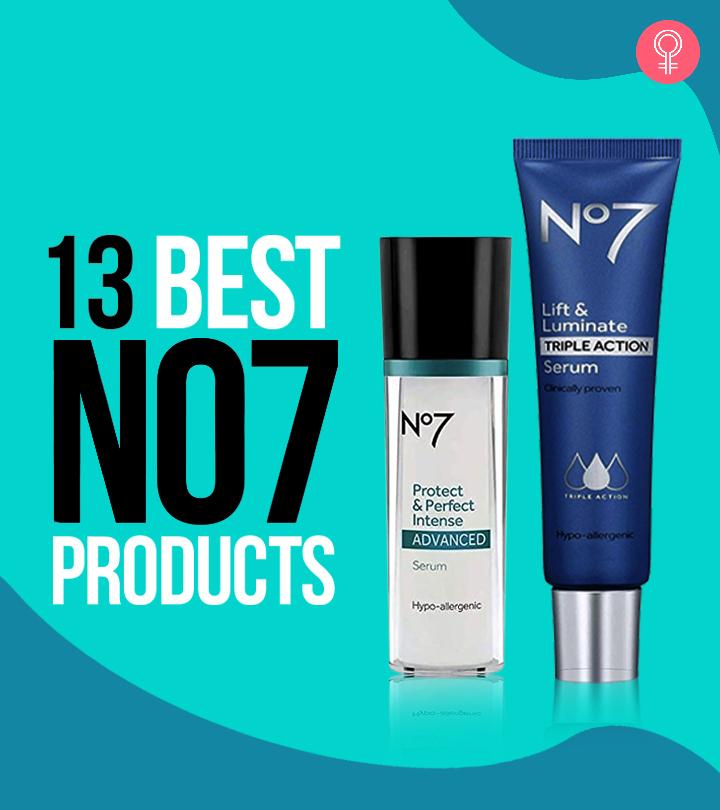 The UK-based skin care brand No7 has been around since 1935. The best No7 products are highly sought after as they are known to use scientific and consumer research for developing their skin care products. Their products include innovative technology, and new products are brought into the market only after obtaining clinically valid results. High-quality ingredients, use of cutting-edge technology, and affordability make No7 a tough competitor. Many of their products target skin issues with proprietary ingredients. A cult-fave is the No7 serum. Other products also cater to all skin types and ages.
This post lists the 13 best No7 skin care products you must buy. Check them out!
13 Best No7 Products Available Right Now
No7 Protect & Perfect Intense Advanced Serum is a powerful anti-aging product that protects the skin from aging and restores the natural youthful appearance of the skin. The advanced formula contains antioxidants that scavenge free radicals and prevent photoaging. The innovative blend of firming peptides called Matrixyl 3000 Plus in the serum nurtures the skin and rebuilds it so that it looks firm and supple. It increases the levels of elastin and fibrillin, which are important for the skin's structural integrity. This serum also contains retinyl palmitate and alfalfa extracts that reduce the appearance of wrinkles and deep lines within a month. Clinical studies support its efficacy over a long period of time. This moisturizing serum leaves your skin feeling soft and glowing.
Pros
Long-lasting results
Reduces fine lines and wrinkles
Reverses sun damage
Makes the skin soft and smooth
Protects the skin
Cons
No7 Laboratories Line Correcting Booster Serum is clinically proven to reduce the appearance of stubborn lines and wrinkles in 12 weeks. This powerful serum also contains the signature Matrixyl 3000 Plus anti-wrinkle peptides. The secret behind quick and visible results is that the serum booster contains 7x the concentration, so it targets the problem areas such as crow's feet, forehead, mouth, nasolabial folds, under eyes, and frown lines. The serum is easy to apply as it comes with a streamlined nib that offers the precise application and reduces wastage of the product. This serum from No7 is great on your skin. You can check this video out to know about the final results after using this product.
Pros
Quick results
Reduces wrinkles and fine lines
Suitable for sensitive skin
Highly concentrated for targeted use
Precise application
Cons
No7 Lift & Luminate Triple Action Serum is clinically proven to deliver three anti-aging results – improved firmness of the skin, even-toned skin, and visibly reduced wrinkles. This serum also contains Matrixyl 3000 Plus, which is a blend of peptides that have anti-aging and anti-wrinkle properties. This serum contains hyaluronic acid that is known to replenish moisture in the skin and make it supple and bouncy. Hibiscus and vitamin C reduce dark spots and pigmentation and brighten the skin. The serum gets absorbed quickly and penetrates deeply into the skin to deliver the advanced firming complex and unique pigmentation complex. These ingredients work together to boost the production of collagen, elastin, and fibrillin in the skin so that it looks youthful, radiant, and soft.
Pros
Hypoallergenic
Gets absorbed quickly
Penetrates deep into the skin
Makes the skin smoother
Reduces wrinkles
Makes the skin firm
Evens out the skin
Imparts radiance to the skin
Cons
The neck is a part of the body that is often ignored, and it is also the first to show the signs of aging. No7 Restore & Renew Face & Neck Multi Action Serum targets the neglected skin on the neck while also pampering the face. It has an advanced anti-wrinkle firming and lightening complex and a fortifying complex of calcium, ceramides, and essential amino acids that are important for skin health. They act as building blocks for structural proteins that make up the skin. Thus, this clinically proven serum has potent anti-aging activity. It has been observed that it improves the firmness of the skin on both the face and neck. It adds lift to the face so that the skin does not look saggy or aged. The extracts from hibiscus and rice along with vitamins E and A restore and rejuvenate the skin cells and reduce the appearance of wrinkles. You can check a review of this serum for more information.
Pros
Reduces wrinkle
Tightens the skin on the neck and face
Brightens the skin
Nourishes the skin
Cons
No7 Laboratories Firming Booster Serum is targeted at mature skin that has already started showing the skins of aging. This powerful concentrate can tone, lift, and tighten the skin in a week! It is formulated with 4x the firming complex, potent anti-wrinkle peptides (Matrixyl 3000 Plus), and hyaluronic acid. This serum has been clinically tested and proven to restore the elasticity of the skin by regenerating specific structural proteins. Hyaluronic acid locks moisture in the skin and improves its tone, texture, and bounce. Regular use of this highly effective serum can reverse the signs of aging without resorting to surgical procedures. Watch this video for a detailed review of this popular product from No7.
Pros
Tightens the skin
Tones the skin
Comes with an easy-to-use roller applicator
Cons
The Dark Spot Correcting Booster Serum is a part of the Restore & Renew Regimen by No7 Laboratories. It is formulated to be used as a spot treatment to reduce hyperpigmentation, dark spots, and age spots. This clinically proven serum contains 6x more Lightening Complex, which helps in fading dark spots in two weeks and significantly reducing pigmentation in four weeks. The formula contains extracts from Indian gooseberry, sophora, and white mulberry that are rich in vitamin C. Thus, it brightens the skin by reducing melanin production. It helps in achieving an even skin tone and complexion.
Pros
Highly concentrated
Reduces dark spots
Evens out the skin tone
Brightens the skin
Suitable for all skin types
Does not irritate sensitive skin
Cons
Results may vary from person to person
No7 Lift & Luminate Triple Action Night Cream provides intense hydration as it contains moisturizing agents such as glycerine, shea butter, and hyaluronic acid. It nourishes the skin from within and prevents it from drying out. It restores moisture into the skin and locks it in so that it feels soft and supple. This night cream also has vitamins A and E that have powerful antioxidant and anti-aging properties. Thus, this serum helps in reducing the appearance of lines and wrinkles. The hydrolyzed rice protein, extracts of ginseng, white mulberry, and Indian gooseberry help in brightening the skin by reducing dark spots and uneven skin tone, and pigmentation. This multitasking night cream repairs, restores, and tightens your skin to make it look youthful and radiant.
Pros
Suitable for mature skin
Hypoallergenic
Hydrates the skin
Tightens and lifts the skin
Reduces uneven pigmentation
Cons
No7 Lift & Luminate Triple Action Day Cream has anti-aging, brightening, and firming benefits for your skin. It is made with the Double Defense Technology with SPF 30 that provides broad spectrum sun protection. This titanium dioxide-based day cream contains the Vitamin C Pigmentation Complex that evens out the skin tone and complexion. This supercharged day cream also delays aging. The anti-aging ingredients like the Matrixyl 3000 Plus complex fights wrinkles and hyaluronic acid hydrates and plumps the skin. Ginseng and hibiscus extracts also help in tightening the skin.
Pros
Visibly reduces wrinkles
Evens out the skin tone
Plumps up the skin
Broad spectrum SPF 30
Brightens the skin
Hydrates the skin
Cons
No7 Protect & Perfect Intense Advanced Serum contains a patented antioxidant complex that protects the skin from environmental stress. It also helps in protecting the skin from future aging. This serum restores the natural skin tone and texture as it contains active ingredients such as rice peptides and alfalfa extracts that prevent the decline of collagen and fibrillin levels. This keeps the skin soft and supple. Hyaluronic acid also provides hydration, which makes your skin look firm and youthful. The Matrixyl 3000 Plus reduces deep wrinkles and fine lines.
Pros
Makes the skin firm
Reduces blemishes
Moisturizes the skin
Reduces fine lines and wrinkles
Hypoallergenic
Travel-friendly
Cons
None
No7 Restore & Renew Eye Cream targets skin problems like dark circles, puffiness, and wrinkles and fine lines around the eyes. This clinically proven eye cream brightens the under-eye area as it is formulated with a unique fortifying complex which consists of essential amino acids and calcium. These nutrients enhance skin health, while the Double Defense Technology protects the delicate eye area from environmental stressors. The anti-aging properties of this serum come from retinyl palmitate that renews skin cells, boosts collagen production, and improves the skin tone and texture. Thus, this eye cream restores your youthful appearance by tightening the skin around your eyes. It is suitable for mature, sensitive skin.
Pros
Reduces fine lines and wrinkles
Lightens dark circles
Reduces puffiness
Protects the skin
Hypoallergenic
Cons
May cause mild irritation
No7 Restore & Renew Face & Neck Multi Action Day Cream nourishes and revitalizes mature skin to reveal more even-toned, firmer, and younger-looking skin in a month. The triple protective power of SPF 15, UVA technology, and antioxidant complex protects the skin from pollutants, free radicals, environmental stressors, photoaging, and sun damage. The unique plant extract derived from persimmon trees improves the skin's firmness to make it look younger. This day cream enhances the skin's resilience to dryness to make it look firm and plump. It contains a nourishing complex with essential lipids and amino acids that improve skin health. This replenishing day cream repairs and restores the skin nutrients and hydration levels. It also reduces pigmentation and keeps your skin soft and moisturized. The anti-wrinkle Matrixyl 3000 Plus peptide complex and retinyl palmitate support the skin renewal process and reduce the signs of aging.
Pros
Prevents skin damage
Suitable for mature skin
Hydrates the skin
Tightens the skin
SPF 15
Suitable for sensitive skin
Cons
None
This gentle foaming cleanser has been clinically proven to give you radiant and healthier skin in a week. It contains nourishing and hydrating ingredients like sweet almond oil, grapeseed oil, panthenol, and castor oil. Thus, it does not dry out your skin. It removes dirt, excess oil, pollutants, and waterproof makeup from the skin, leaving it clean, soft, and glowing. The Tri-Vit Complex in this cleanser has powerful antioxidant and brightening agents that even out the skin complexion.
Pros
Softens the skin
Imparts a radiant glow
Nourishes the skin
Gentle formula
Glides smoothly on the skin
Removes waterproof makeup easily
Cons
If you are looking to replenish your skin with nutrients and moisture, No7 Youthful Replenishing Facial Oil is a great choice. It nourishes dry and dehydrated skin. It contains rosehip seed oil that moisturizes the skin and fights inflammation. This facial oil also has anti-aging benefits that make your skin soft and glowing. Clinical tests have shown that fine lines and wrinkles are less visible after using this product for a month. This facial oil is not sticky on the skin as it is weightless and gets absorbed quickly.
Pros
Reduces fine lines
Hydrates the skin
Lightweight
Non-greasy
Suitable for dry and sensitive skin
Cons
None
Why Trust StyleCraze?
Shiboli Chakraborti is a certified skin care coach and an expert on writing and reviewing beauty products. After assessing and evaluating user reviews on various skincare products of the brand "No7", Shiboli has recommended some of the best No7 products. No7 is a popular UK-based brand that provides a wide range of skincare products. All the products in this list are provided with brief descriptions of their ingredients, usage, benefits, and potential drawbacks to assist you in making an informed choice.
Frequently Asked Questions
Which No7 product is best for over 60?
The No7 Restore & Renew Face & Neck Multi Action Serum is the best skin care product for aged people. It adds firmness to the skin and rejuvenates your face.
What company makes No7 products?
The Walgreens Boots Alliance is the parent company that makes No7 skin care products.
Is No7 a good brand for mature skin?
Yes. The No7 skin care products are one of the best, especially for people over their 40s. Products like the No7 Restore & Renew Face & Neck Multi Action Serum and the No7 Lift & Luminate Triple Action Serum are highly recommended for mature skin.
Does No7 work products on wrinkles?
Yes, No7 serums work effectively on mature skin and wrinkles. The vitamin and collagen-based formula covers the wrinkles and blemishes instantly.
Does No7 have hyaluronic acid?
Yes, the No7 Lift & Luminate Triple Action Serum contains hyaluronic acid, which helps replenish natural skin moisture.
Recommended Articles