Mattify The Oiliness With 13 Best Non-greasy Sunscreens Of 2022
Take that much-awaited beach trip with these non-greasy sunscreens in your bag!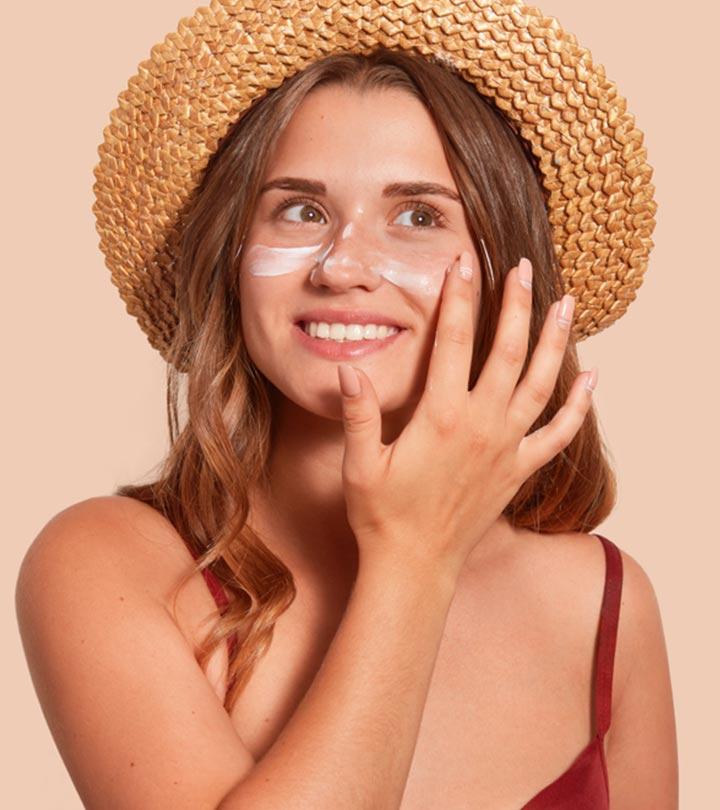 Sunscreen is a must in every skin care regimen. But, makeup and sunscreen usually don't go hand in hand as they may mess up your entire look. Does that mean you should skip sunscreen? No. You can choose from the best non-greasy sunscreens that give a matte yet radiant look. Bid goodbye to those greasy sunscreens that make you look greasy when coupled with makeup. With these sunscreens, you can happily step out without being worried about the makeup touchups you might have needed with the use of regular sunscreens. This sunscreen can be a perfect fit for your beach trip and give you a shine-free look.
However, with a wide range of non-greasy sunscreens available, you might be confused about which one to choose. Don't worry. We have narrowed down and compiled a list of the 13 best sunscreens that are non-greasy and shine-free. Check them out!
Top 13 Best Non-Greasy Sunscreens To Try In 2022 (With Reviews)
Keep the sun rays out and your skin protected with this clear non-greasy sunscreen infused with broad-spectrum SPF 100+. Lightweight, fast-absorbing, and formulated with dry-touch technology, you can rule out feeling heavy or greasy with this dermatologist-recommended brand. Protecting the skin from sunburn, UV damage, skin cancer, and other deadly skin conditions, this non-greasy high SPF sunscreen is also formulated with Helioplex that ensures superior sun protection. Try it!
Pros
Protects against UVA/UVB rays
Ensures a sheer and mattified finish
Non-comedogenic and PABA-free
Water-resistant up to 80 minutes in the pool
Cons
Not suitable for sensitive skin
Not a fan of the white cast? (Nobody is!) Then try this tinted non-greasy sunscreen for face by EltaMD for a natural finish. Also, it has ultra-moisturizing benefits to fight aging signs too! Yep, a must-try for workaholics who can't keep up with their skincare routine, this sun lotion has hyaluronic acid to boost moisture levels and minimizes fine lines as well. Besides this, the infused antioxidants protect from the harmful UVA/UVB rays and sunburns too. And, are you a makeup lover? If yes, then you can skip the primer if you have this sunscreen in your kitty. Try it!
Pros
Mineral-based formula
Contains 9.0% zinc oxide
Leaves skin smooth and soft
Ensures a natural and sheer finish
Paraben-free and fragrance-free
Dermatologist-recommended and sensitivity-free
Lightweight, quick-absorbing, and non-comedogenic
Suitable for normal to combination skin types
Cons
Not ideal for water activities
For those with an active life, a regular sunscreen won't cut the deal. Hence, you must-try this water and sweat-resistant sunscreen to protect your skin from harmful UVA/UVB rays and sun damage. Infused with menthol to give your skin an instant cooling effect, it also contains tea tree oil, vitamin C, and Kakadu plum for nourishing benefits. Yep, vegan lovers indulge in this non-greasy daily sunscreen already!
Pros
Fights odor
Water-resistant up to 80 minutes
Infused with a light coastal fragrance
Non-greasy, lightweight, and long-lasting
Cruelty-free, oxybenzone-free, gluten-free, PABA-free, and more
Cons
Not suitable if you are sensitive to smell
Are you planning a beach trip? Let this lightweight non-greasy sunscreen with broad-spectrum SPF 50 be your shield under the blazing sun! Go on, protect your skin from the harmful UVA/UVB rays, boost hydration, and repair the skin's barrier with the infused ceramides (1, 3, 6-II) and niacinamide. Moreover, this non-greasy sunscreen for sensitive skin has zinc oxide and titanium oxide, making it a 100% mineral-based sunscreen for broad-spectrum protection. Yep, you enjoy sunbathing with this one!
Pros
Locks in natural moisture
Gentle and suitable for kids too
Non-comedogenic and allergy-tested
Free from oxybenzone, paraben, oil, chemical-filters, and fragrances
Cons
May leave a white cast
Not suitable for darker skin tones
Step out in the sun confidently with this non-oily sunscreen this season! Oily skin users, where y'all at? This sunscreen with silica and perlite (an oil-absorbing complex) will keep your skin from turning greasy or shiny because of the sunscreen. And as far as sun protection is concerned, the Cell-OX shield technology forms a sturdy layer to keep the UVA/UVB rays from penetrating the skin. Yep, a combo worth trying if you love the outdoors. Do not skip this premium sunscreen with broad-spectrum SPF 60, sun lovers!
Pros
Dry-touch formula
Blocks out the humidity
Ensures a mattified finish
Protects the skin from skin-damaging radicals
Water-resistant up to 60 minutes
Dermatologist-tested and suitable for sensitive skin
Non-comedogenic, fragrance-free, and allergy-tested
Paraben-free, octinoxate-free, and oxybenzone-free
Cons
Say aloha to summers and beach trips with this reef-safe sunscreen by Hawaiian Tropic. Adding a tropical touch to your skin, all thanks to the ingredients it contains, such as shea butter, vitamin E, and mango fruit extract, it offers broad-spectrum UVB protection with SPF 30. Moreover, the infused tropical fragrance may make you want to trip away to Hawaii ASAP; it's that's tempting! Beach lovers, grab this non-greasy everyday sunscreen today.
Pros
Oil-free formula
Ultra-nourishing sunscreen
Ensures a soft, smooth, and radiant glow
Water-resistant up to 80 minutes
Free from octinoxate and oxybenzone
Cons
Protect your skin on-the-go with this travel-friendly sunblock that is also water and sweat-resistant for up to 80 minutes. Ideal for travelers, water-sport enthusiasts, and beach lovers, this natural non-greasy sunscreen contains ultra-nourishing oats and 100% naturally-sourced zinc oxide. Dermatologist-recommended as it protects from the skin-damaging UVA/UVB rays, the sunscreen is also non-irritating, gentle, and absorbs quickly into the skin. Yep, sensitive skin users indulge already!
Pros
Lightweight formula
Ensures a matte finish on the skin
Hypoallergenic, non-comedogenic, and fragrance-free
Free from phthalates, parabens, and dyes
Ideal for applying on the face and body
Cons
Thick consistency
May leave a white cast
Did you know sun damage can accelerate aging signs? However not, if you have this sunscreen that claims to protect from harmful rays and slows down the aging signs. Packed with dual powers, it moisturizes the skin intensely while forming a strong shield on the skin for broad-spectrum protection. An ideal combo for those looking for a sunscreen with moisturizing benefits, Dermalogica Dynamic Skin Recovery will not disappoint.
Pros
Blends easily
Ensures a smooth finish
Medium-weight, long-lasting, and non-greasy
Vegan and cruelty-free
Free from gluten, paraben, artificial colors, and fragrances
Cons
Don't let the blazing sun keep you from enjoying some vitamin sea! Hit the waters like a pro if you have Coppertone Sport Clear Sunscreen in your kitty. Being sweat, water, and heat resistant for up to 80 minutes, it cools, hydrates, and refreshes your skin with every use. Also, are you worried about the white cast? Then don't be! This sunscreen has a clear texture and guarantees to leave no white residue on the skin. Yep, flaunt your beach body confidently with this one!
Pros
Non-sticky sunscreen
Quick-absorbing and light formula
Provides broad-spectrum protection from harmful UV rays
Free from PABA, synthetic preservatives, and dyes
Cons
Not suitable to apply around the eyes
It's not fragrance-free.
Not like your regular sun lotion, TULA Sunscreen Gel protects the skin from UV rays as well as blue light and pollution. Yep, taking broad-spectrum protection to a whole new and premium level, it also leaves a dewy finish and guarantees no white cast. Like a BFF for your skin as it nourishes, strengthens, and protects with every use, its formula contains probiotics, wild butterfly ginger roots, papaya, and pineapple. Go on, beat the harmful yellow rays with this yellow gem!
Pros
Improves skin tone
Ensures a stunning glow on the skin
Non-greasy and non-comedogenic
Ideal to use daily and under makeup as well
Vegan, reef-safe, and free from synthetic fragrances
Suitable for all skin types
Cons
Moisturizer but with sunscreen benefits! This argan oil-infused blend is ideal for those who are looking for a chemical-free or vegan option. Moreover, this sunscreen-moisturizer claims to take a traditional method to protect and nourish your skin as the infused argan oil is harvested and sourced from Morocco. Adding a stunning radiance to the skin while protecting from sun damage and UV rays, it also contains titanium dioxide and zinc oxide for broad-spectrum protection. Try it!
Pros
Lightweight formula
Cruelty-free product
Non-greasy and fragrance-free
Suitable for mature skin as well
Free from sulfates, gluten, paraben, phthalate, mineral oil, and more
Cons
Oily skin users, let the only shine on your skin be your natural glow! Banish the greasiness with this Extra Care non-greasy sunscreen spf 50 that claims to protect from harmful rays and leave a radiant matte finish. Plus, it is water and sweat-resistant for up to 80 minutes, so you can enjoy your water activities without worrying about sun damage. But what makes this non-greasy sunscreen a must-try is its oil-absorbing, soothing and ultra-hydrating formula that contains vitamin A, C, E, aloe vera, and kaolin. Yep, bask in the sun carefree with this ultra-protective shield!
Pros
Lightweight formula
Suitable for all skin types
Ensures a youthful glow
Protects the skin from environmental damages
Cruelty-free, paraben-free, and fragrance-free
Ideal for applying on the face and body
Cons
Not ideal if you need a thick consistency
Is your skin weak or very, very sensitive? Then trust Dr. G Green Mild Up Sun Plus to be your skin's ultimate sun-blocker! Mild and gentle on the skin, it forms an ultra-strong shield that protects from UV rays, pollution (smoke, fine dust), and blue light. Powered by zinc oxide to provide broad-spectrum protection, it also contains other organic ingredients that ensure moisturizing and soothing benefits. Yep, so while the shield protects, it also nourishes the skin underneath. Worth a try, isn't it?
Pros
Non-sticky sunscreen
Ensures no white cast
Fragrance-free and hypoallergenic
Gentle and suitable for kids as well
Cons
It may flake after a few hours.
Go on, glow with the sun this 2022! Those are the 13 best non-greasy sunscreens to enjoy a mattified effect on your skin all day. Do you need more assistance with choosing the right sunscreen? Check out our buying guide below for some exclusive tips.
Buying Guide
How To Choose the Right Non-Greasy Sunscreen?
Look out for the following features in the product before buying:
Matte effect: No matter your skin type, if a sunscreen turns greasy, it's a lost cause. Hence, first, you must choose a product that suits your skin type and also guarantees an all-day matte effect with every use.
Oil control: Since oily skin is prone to sebum build-up, pick a non-greasy sunscreen for oily skin that'll cut down greasiness to give you a fresh and radiant look.
Percentage of zinc oxide: Though zinc oxide (also known as mineral-based or physical sunscreen) has earned the reputation for leaving a white cast on the skin, it is recommended by most dermatologists. The reason being, zinc oxide sits on top of the skin to form a protective shield and prevent the harmful UVA/UVB rays from penetrating the skin. Also, it is non-comedogenic! And for those who despise the white cast, there are sunblocks with transparent zinc oxide as well.
Sun protection factor (SPF): It is dermatologist-recommended to apply sunscreen with SPF 30 at least before stepping out. Also, the higher the SPF, the better it will be at shielding the UV rays. However, no sunscreen can provide 100% protection from harmful rays.
Water & sweat resistant: Whether you are into water activities or not, it is ideal to choose a water-resistant formula so your skin can stay protected even if you sweat or it rains.
Reef-safe product: Though this is optional, for the love of nature, pick a product that guarantees to be reef-safe, so you can enjoy your water activities without harming the environment.
Why Trust Stylecraze
Vaishnavi Kothuri loves keeping up with the latest skin care trends. Her extensive knowledge of products and ingredients enabled her to write this well-researched article on the finest non-greasy sunscreens that will give your skin a radiant look. She has also included sage advice on finding the perfect sunscreen for your skin type and other preferences to assist you in picking only the best from the list.
Recommended Articles
Best Sunscreens For Oily Skin
Best Recommended Sunscreens For Every Skin Type
Best Dermatologist-Recommended Non-Comedogenic Sunscreens
Best Sunscreen Sticks
Best Sunscreens Without Oxybenzone For Gorgeous Skin