13 Best Non-Oxidizing Foundations For Oily And Dry Skin Types In 2022
Get photo-ready skin with a flawless finish that does not oxidize throughout the day.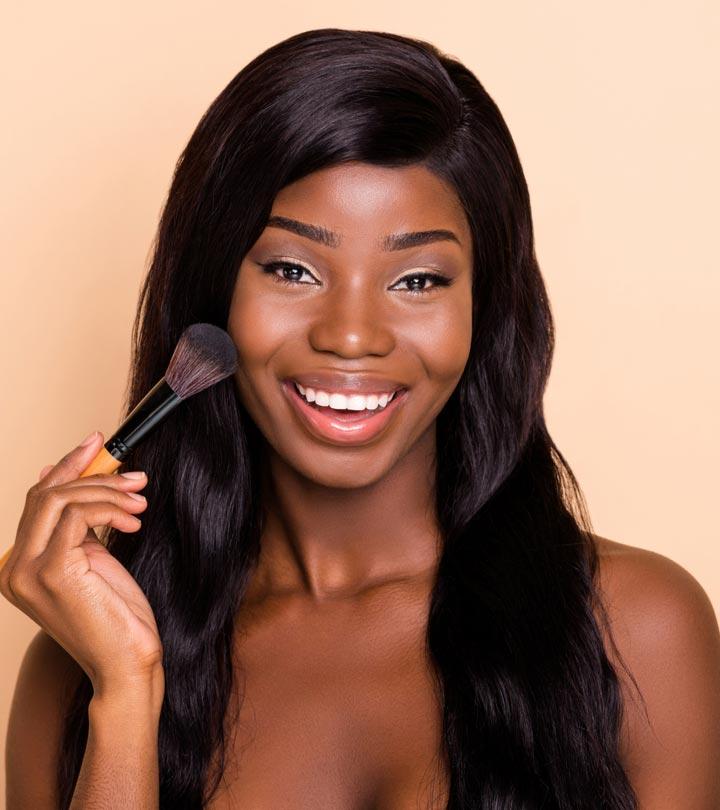 A foundation helps to cover your skin imperfections and provide an even skin tone. But if the formula oxidizes on your skin being exposed to oxygen in the air, it will make you appear darker. This is where the best non-oxidizing foundation comes to the rescue.
If you have oily skin, finding the right foundation is more complicated for summers, as we know that foundation may glide with sweat and make you look darker and too shiny. With oxidation, all of it is even worse. So, in this article, we have mentioned a list of the best non-oxidizing foundations that match your skin tone and stay their true colors all through the day. Read on and grab one for yourself!
What Is Oxidation?
Oxidation is a chemical reaction wherein atmospheric air causes a change in the element. As makeup is made up of minerals like zinc oxide or titanium dioxide, these ingredients can mix with oxygen in the air along with our skin's natural chemistry and cause color changes. An easy-to-understand example is when apples turn brownish after being left out in the open for too long. Some foundation formulas can be victims of this, but there are some gems out there that are built with non-oxidizing ingredients and technologies.
It is already difficult coming across a foundation that serves you but those of us with oily or dry skin know the struggle all too well. So to kill two birds with a single stone, this list features non-oxidizing foundations for oily and dry skin types. Whether you're a luxury brand junkie or you can't let go of your favorite drugstore brands, we've got you covered with a wide range.
Avoid An Orange Face With These Non-Oxidizing Foundations For Oily And Dry Skin
For 24-hour confidence, we recommend you pick Estée Lauder's Double Wear Stay-In-Place Makeup which leaves a matte finish. Its oil-free formula is a gem for oily skin types and as it is also resistant to humidity and sweat, you're in for flawless skin all day long. With more than 55 shades, you're bound to find your match and the lightweight formula of this non-oxidizing foundation for oily skin flatters every skin tone. Not only does the foundation go on and blend easily, but it won't settle into fine lines or creases. With a buildable medium-to-full coverage, you'll barely need any touch-ups and can go about your day worry-free. If you want to know more about the results after using this foundation, take a look at this detailed video on YouTube by a makeup enthusiast.
Pros
Transfer-resistant and waterproof
Crease-proof and streak-proof
Doesn't cake up or leave streaks
Non-comedogenic
Dermatologist-tested
Free of parabens, gluten, phthalates, synthetic fragrance, alcohol, and sulfates
Cons
Some may find the consistency too thick.
Neutrogena's non-greasy and lightweight foundation allows your skin to breathe while also perfecting its lumosity. The sheer foundation is equipped with SPF 20 from titanium dioxide to safeguard your skin from the sun's UV rays and keep the barrier strong. With a full coverage, the foundation is infused with vitamin E that heals skin, natural extracts of feverfew with calming properties, and soy that gives your skin a subtle lumosity. You can use this multitasking foundation that doesn't oxidize daily as it will bring about skin-improving benefits owing to the rich antioxidant blend it contains. If you are still unsure about this foundation, you can take a look at this review on YouTube.
Pros
Broad-spectrum SPF 20
Offers a lightweight and natural coverage
Contains skin-nourishing ingredients
Improves skin texture
Gives a dewy finish
Lightweight and silky formula
Cons
May not be ideal for those looking for full coverage
The NARS non-oxidizing foundation will grace your skin with full coverage that looks natural. It stays put for up to 16 hours and its lightweight formula neutralizes any skin discolorations you may face. The ultra-pigmented and heavy-duty foundation builds and blends effortlessly for a seamless luminous matte finish. Resistant to humidity, water, and sweat, you'll find that the oil-free formula suits all skin types and tones by delivering a semi-matte finish. This foundation from Nars can truly work wonders on your skin. You can take a look at this YouTuber's review of the product if you require more information.
Pros
Offers 16-hour wear
Paraben-free
Alcohol-free
Fragrance-free
Dermatologist-tested
Evens out skin tone
Cons
Might not be crease-proof
Cover FX's Natural Finish Foundation has the second-skin feel to give you a natural-looking and flawless coverage. It stays loyal to you for up to 12 hours and packs a punch with some rich antioxidant action. For intense hydration, the water-based formula is enriched with emollients while vitamins C, E, and F moisturize skin and protect it from environmental stressors. Squalene present in this foundation that won't oxidize seals in all the moisture to keep skin soft and supple. With soft-focus pigments, all your skin irregularities are blurred out and the dewy finish gives you instantly photo-ready skin.
Pros
Buildable formula
Offers medium to full coverage
Vegan
Cruelty-free
Contains vitamins and antioxidants
Doesn't contain parabens, sulfates, phthalates or other harsh chemicals
Cons
Might settle into fine lines
The W3LL PEOPLE's Narcissist Foundation Stick comes to your rescue to improve overall skin tone and offer you flawless coverage. The creamy formula hydrates skin and delivers soft-focus pigments to blur out skin inconsistencies. With plant-based antioxidants, the full coverage non-oxidizing foundation glides on easily and blends well without greasing or streaking. To moisturize skin, you'll find oils like safflower, castor, soybean, vitamin E, along with aloe extracts which have healing properties. A satin finish with just the right amount of shimmer graces your face for a busy day. And if you need sudden touch-ups, the stick comes in handy for a mess-proof application and an instant healthy glow.
Pros
Made without toxic chemicals
Vegan
Gluten-free
Cruelty-free
Non-comedogenic
Ideal for on-the-go application
Cons
Might have a sticky consistency
One of our favorite picks on this list is Tarte's best non-oily foundation which is filled to the brim with natural elements. It features Amazonian clay as the key ingredient that helps your makeup stay on for longer, with vitamin E that has antioxidant and anti-inflammatory properties and some mineral pigments for softening the skin. Apart from this, Tarte's non-oxidizing foundation glides on ultra-smooth and stays put for up to 24 hours with no signs of caking or creasing. Oily-skinned beauties will love this formula as it doesn't contain any oil to give you a matte finish without being overly dry. The featherlight texture feels comfortable and this powerful formula covers up skin imperfections, evening out your skin tone. We bet you won't be using any Instagram filters after this!
Pros
Cruelty-free and vegan
Waterproof
Dermatologist-tested
Light and mousse-like texture
Doesn't contain parabens, mineral oil, SLS, gluten, or phthalates
Contains moisturizing emollients
Cons
Might not be ideal for mature skin
A powder foundation with a matte finish is oily skin's best friend and brownie points if it doesn't oxidize! We're talking about Smashbox's Photo Filter Powder Foundation which has a weightless formula without any oil which helps mattify your skin and blot it. This longwear 2-in1 foundation and setting powder offers buildable coverage so that you can customize your finish. Using Light Filter Technology, the powder blurs out skin imperfections and adds a natural radiance that stays for up to 8 hours. You don't have to worry about creasing, caking, or settling with Smashbox's best foundation which does not oxidize.
Pros
Offers sheer-to-medium buildable coverage
Doubles as a setting powder
Oil-free formula
Doesn't cake or crease
Offers a matte finish
Blurs skin imperfections
Cons
Might not be transfer-proof
Becca's fluid foundation is ideal for normal-to-dry skin types as it gives an unfailing radiant finish that packs a healthy dose of hydration. It features pigments that blur skin irregularities like spots, wrinkles, acne, and redness so that you are left with skin that looks and feels smooth. The light and buildable coverage is suitable for an everyday look owing to its long staying power. With a healthy glow, the Becca Aqua Luminous Perfecting Foundation can be your go-to for the ultimate 'no makeup-makeup' look for dehydrated skin.
Pros
Buildable coverage
Radiant finish
Long-wearing power
Blurs skin imperfections
Blends easily
Lightweight texture
Cons
Might not be smudge-proof
If you've been looking for drugstore foundations that don't oxidize, you have to give Rimmel's Match Perfection Foundation a chance. It features a medium coverage formula with smart-tone technology that is made to suit most skin tones. And the 24-hour moisture complex along with the soft-focus powders allow the foundation to smoothly glide over skin and conceal dark circles, lines, and those pesky spots. The SPF 18 is a plus as there's no such thing as too much sun protection, aren't we right?
Pros
Offers medium coverage
Moisturizes skin
Conceals skin imperfections
SPF 18
Lightweight
Gives a radiant finish
Cons
Topping our list of high-end foundations that don't oxidize, Laura Mercier's formula also tops in the pigment and performance categories. The 12-hour wear formula won't cause you any discomfort and it hides all your skin woes while also moisturizing it. With a medium-to-full coverage that ends in a luminous finish, you'll find that this foundation also smooths and evens out skin texture for a flawless makeup base. The formula wears like a second-skin and is a dream to blend, and the credits go to its color-true pigments!
Pros
Non-comedogenic
Dermatologist-tested
Oil-free
Hydrates skin
Richly pigmented
Smooths skin texture
Cons
Might not be transfer-proof
The best non-oxidizing foundation definitely needs a boost of SPF, which is why Bobbi Brown's Skin Foundation reigns supreme. The water-based and oil-free formula has a feather-light feel on the skin and gives an enviable dewy finish. A multitasking product, you'll find this Bobbi Brown foundation covers up lines, spots, and redness while also delivering broad-spectrum UV protection for longwear. Its active ingredient, that is, glycerin seals in the skin's moisture to make it appear soft and plump with maximum hydration. This light-to-medium buildable formula is a must-have in your vanity if your skin is in the normal-to-dry range.
Pros
Retains skin's moisture
Conceals imperfections
Buildable formula
Offers light to medium coverage
Water-based
Oil-free
Cons
If you struggle with oily or blemish-prone skin, Clinique's Anti-Blemish Solutions Liquid Makeup can be your savior. The weightless formula glides on easily for a smooth and moderate coverage. You'll be delighted to know that the oil-free formula also helps prevent breakouts owing to the salicylic acid and this is especially helpful for acne-prone skin types. It also does a great job of concealing your skin's irregularities and neutralizing redness. We think this is a stellar non-oxidizing foundation for combination skin as well, because it gives a natural-looking finish without looking cakey.
Pros
Non-irritating formula
Suited to oily, combination, and acne-prone skin
Neutralizes redness
Lightweight
Has soothing effects
Prevents breakouts and blemishes
Cons
Might not offer long-lasting wear
Enjoy gorgeous buildable coverage with CoverFX's Pressed Mineral Foundation which feels feather-light. Owing to the inclusion of kaolin clay, the matte finish allows for a shine control— we know this is what everyone with oily skin craves! With the help of phytosphingosine, your skin barrier is strengthened with the redness being calmed. The formula covers up your skin's discoloration and shrinks pore size to gift you an even-looking complexion. This way, you can even skip concealer on some days for a lightweight and natural look.
Pros
Matte finish
Reduces pore size
Evens out skin tone
Absorbs oil
Lightweight formula
Vegan and cruelty-free
Cons
Might not be suitable for those with wrinkles
Now that we've gone over the 13 best non-oxidizing foundations for oily and dry skin types, let's take a look at how you can choose the best one for yourself.
How To Choose A Non-Oxidizing Foundation
A crucial factor that goes into purchasing a foundation is to ensure that it matches your skin tone exactly. This helps achieve a seamless finish that doesn't look patchy or caked-on. You can test samples on your wrist or your neck and then make your choice. Sometimes, a blend of 2 shades can help you get the right shade. These days, brands also offer technology on their official websites wherein you can pick your exact shade of foundation from a variety of shades. With regards to undertones, yellow undertones are usually warm, cool ones have blues, purples or reds, and neutral undertones are a combination of both warm and cool hues.
Sheer coverage formulas are ideal for those who don't have too many imperfections to cover up, thus looking for a natural finish suited to daily wear. But if you're on the hunt for a foundation that evens out skin tone and texture while concealing skin irregularities, full or heavy coverage would be the right option. Medium or moderate coverage is a good pick for skin that has mild hyperpigmentation and flaws. The best thing would be to opt for a foundation that offers buildable coverage so that you have the liberty to customize it by wearing it sheer on some days and full on others depending on the state of your skin.
Oily and combination skin types would fare well with ingredients like clay, tea tree, aloe vera, and salicylic acid as they absorb oil and control sebum production so keep an eye out for 'oil-free foundations'. This is also a great benefit if you have acne-prone skin as these elements can prevent future breakouts or blemishes with a soothing effect. Dry skin, on the other hand, needs hydrating ingredients like shea butter, essential oil blends, and hyaluronic acid. You can also use tinted moisturizers beforehand and then follow up with foundation for a natural look. For sensitive skin types, steer clear of mineral oils, preservatives, and other harsh chemicals that might be irritating to the skin barrier. Stick to a cleaner formula if your skin flares up easily.
Opt for a foundation that has a matte finish for extremely oily skin as this can help tone down on the grease. If your skin is only mildly oily, a semi-matte formula will also do. Luminous and radiant finishes add a natural glow to dry skin and make it look hydrated.
Foundations that come in a liquid formula have richer pigments and longer staying power due to their thicker consistencies. They help hydrate dry skin and opting for a lightweight formula will help avoid creasing and allow skin to breathe. If you want a liquid foundation for oily skin, ensure to opt for a non-comedogenic formula and lighter foundations in general. Powder foundations are a great addition to your makeup routine if you have oily skin. They have a velvety-smooth texture that offers a sheer-to-medium coverage and the powders absorb excess oil from the skin for a mattifying effect. Combination skin types can use a mix of both liquids and powders and use the latter to set the entire look.
It is necessary to understand why our makeup oxidizes so that we can take precautions and keep it intact for a longer time.
What Causes Foundation To Oxidize?
Oxidation is basically a chemical reaction that takes place when a chemical reacts with a molecule, losing its electrons. This can in turn increase its oxidation number which, for foundations, causes a change in the shade. Minerals used in makeup are prone to oxidation. Your foundation will go on as you want it to initially but throughout the day, it might turn a shade or 2 darker, or even orange. Since our skin has varying levels of acids, these can combine with the oils our skin produces and initiate a chemical reaction. Other factors that can contribute to this could be your specific skin texture, how clean it is, and even the atmospheric air can mix with your foundation and darken it.
It's a fact well-known that a foundation can be the key that makes your makeup— or breaks it. If this base isn't right, everything else you layer atop it can come off a little bland and do the opposite of enhancing your features. Among our requirements for the ideal foundation, a non-oxidizing feature is as necessary as a flawless coverage. No one wants to be caught in the middle of an important presentation with an orange face! You may have tossed out quite a few foundation bottles because the formula just didn't work with your skin. To prevent instances like these, we hope our list of the 13 best non-oxidizing foundations for oily and dry skin types keep you covered, quite literally!
Why Trust Stylecraze
Chaitra Krishnan is an avid writer and enjoys writing about products that can enhance people's lives by making them look and feel their best. In this post, she talks about the best non-oxidizing foundations for oily and dry skin types. While curating this list of some of the best foundations, she performed in-depth research into each product's features, benefits, and user feedback.
Frequently Asked Questions
How to avoid oxidizing makeup?
To prevent your makeup from oxidizing, ensure to use a primer first. You can also opt for makeup that has a sheer and lightweight formula, and finishing powders can help add a protective layer to safeguard makeup from oxidizing.
Why does my foundation keep oxidizing?
Things that can lead to foundation oxidizing include your skin's texture, the natural oils it produces, and its cleanliness. A foundation can also react with atmospheric air and end up oxidizing on your skin.
How can I stop my foundation from oxidizing?
• Use a silicon-based primer. It will create a barrier between the skin's natural oil and the oils of the foundation, thus preventing oxidation.
• Apply a finishing powder after using the foundation to create a barrier between your skin and the environment. This will delay oxidation.
Do foundations with SPF oxidize?
Yes. Foundations with SPF oxidize. SPF contains ingredients like titanium and zinc that cause the pigments to oxidize faster. So, it is recommended to apply a powder over your base makeup to delay the process of oxidation.
How long does it take for the foundation to oxidize on the skin?
Usually, your foundation will start oxidizing between one and three hours after wearing the makeup. But, at times, your makeup may not oxidize if you have used proper products before or after using the foundation.
Recommended Articles