13 Best Non-See-Through Leggings To Wear In Broad Daylight
Twist, bend, and stretch freely during your workout with these comfortable leggings!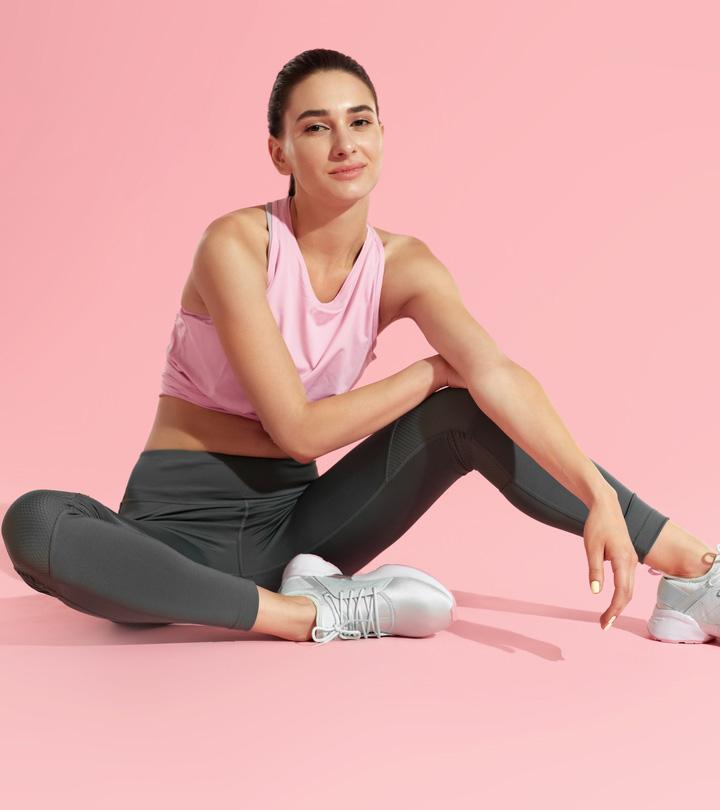 A nice pair of back or colored leggings can be comfortable and stylish at the same time! However, bright light and the sun can become your undoing when they reveal a little more than you hoped for. This is probably why you're searching for the best non see-thru leggings. Honestly, sometimes looking fashionable and stylish can inadvertently be a little uncomfortable with regular leggings. Bands these days are focusing on making non-see thru legging to give women all the comfort and style they deserve! Available in a wide range of colors, styles, and sizes, there is something for every woman out there. Designed for workouts, workwear, and lounging around, non see-thru leggings are a must-have for every woman. If you're not sure which is the best non see thru leggings, go check out our list of the 13 best recommendations we have for you!
13 Best Non-See-Through Leggings That Are Fully Squat-Worthy
As one of the most popular activewear brands, ODODOS is known for crafting products that are versatile, innovative, and functional. Among their offerings, these high-waisted yoga capris take the top spot for being completely opaque and stretchable. Made with a soft ACEPORA Interlock fabric blend of polyester and spandex, the pair is double-knitted to give you a firmer feel. It also wicks moisture away and allows your skin to breathe during intense workouts. Squat-proof and super-flexible, it comes with an elastic waistband that comfortably covers the belly and prevents muffin top. Best of all, there are two side pockets deep enough to hold your phone!
Pros
 4-way stretch
 Anti-chafe fabric
 Gusseted crotch
 Buttery-soft texture
 Wide side pockets
 19-inch inseam
Cons
 The material might feel a little too thick to some.
Price at the time of publication: $22.98
Whether you're planning on doing yoga, running errands, or simply lounging around the house, these high-waisted pants will move with you. Crafted with a breathable, moisture-wicking fabric, they flow oh-so-smoothly over your lower legs and keep you cool while working up a sweat. The wide, anti-drop waistband along with flatlock seams and gusseted crotch helps them stay put as you walk, run, bend, and squat. The material boasts a 4-way stretch, so you can pull them up or down effortlessly. As part of Baleaf's Yoga Collection, these skin-tight leggings are available in 11 different colors for the full-length version and 9 different capri shades.
Pros
 Anti-drop waist
 High-rise fit
 Moisture-wicking
 Ergonomic seams
 Hidden pocket
 Available in multiple lengths and colors
Cons
 Some may not like the waistband pocket placement.
Price at the time of publication: $23.99
Take your wardrobe basics to the next level of comfort with these classic leggings from Hue. They are 100% opaque, no matter how much you bend, and have a wide elastic waistband that doesn't roll down or move at all. Composed from a rare blend of cotton, rayon, and lycra spandex, the stretch and smoothness are otherworldly. You can wear them equally well on hot and cold days, thanks to a thick yet breathable material that hugs your curves like an old friend. Top it up with a loose shirt or a smart boyfriend tee to look chic effortlessly.
Pros
 29-inch inseam
 100% opaque
 No knee sagging
 Wide range of sizes
 Available in 7 colors
Cons
 Might shrink a little after being dried in a dryer
Price at the time of publication: $37.37
Looking for the ultimate pair that boosts comfort and keeps you cozy all day long? Crafted with a 4-way stretch cotton spandex, these leggings are perfect for lounging, low-impact workouts, and even for casual trips to pretty much anywhere. The fabric is breathable and truly opaque, which means there's no chance of accidental peek-outs while you're stretching at the gym. With a sewn-in elastic waistband and durable lock-stitch, they offer the right amount of compression and can withstand daily washes for a long time. To sum up, they're super-easy to get into, but tough to get out of (because, you know, you wouldn't want to).
Pros
 No sagging
 Machine washable
 Doesn't shrink or fade
 Light, stretchable fabric
 Sizes from S to 7XL
 Available in 45+ colors
Cons
 Might pill near the crotch after excessive use
Price at the time of publication: $19.99
Need a pair of leggings that makes you look chic and keeps you ventilated during workouts? This pair from Persit comes with power mesh panels that are super-breathable and cool your skin. It is strategically designed with a soft, opaque fabric to give you second-skin comfort along with complete coverage. Despite being made from materials that stretch in every direction, the pants stay firm along your waist and never droop, which is exactly what you need for running, jogging, or performing acrobatics. The moisture-wicking aspect works well for those who tend to sweat a lot during the day. From t-shirts and tunics to blouses and blazers, from the gym to your bed, the pair can be worn everywhere and with everything.
Pros
 High-rise
 Mesh design
 Quick-drying fabric
 Two side pockets
Cons
 There's a little extra fabric near the crotch and butt.
Price at the time of publication: $19.99
For all the yogis out there, these pants from Uurun are, to put it simply, the bomb. Crafted to hug your frame, give you a 4-way stretch, and feel (a little too) comfy, they're ideal for women who are always on the go. Though they are called yoga pants, you can totally use them for hardcore activities like runs, hikes, and squats as well as for daily wear with casual tops and tees. The high-waist elastic band stays firm over your tummy while shaping the buttocks and thighs, and the compression smoothens the fit around the calves, keeping your movements hassle-free and easygoing. This one is highly recommended for women who want to flaunt their shape and look chic effortlessly.
Pros
 Durable quality
 Interlocking seams
 Gusseted crotch
 Minimizes rubbing
 Has 2 side pockets
 Sweat-wicking fabric
Cons
Price at the time of publication: $21.99
At this point, black leggings are on par with the LBD in terms of cult status — every wardrobe is incomplete without one. With this ubiquity in mind, Athlio has come out with completely non-see-through leggings that are lightweight and wick moisture to keep you cool and dry all day. Being high-waisted, the leggings offer proper support and prevent a bulging tummy, shaping the butt while gliding smoothly over the legs. They are sewn using unique techniques that make the leggings more firm and durable. Created especially for workouts, these leggings are good to go with all your athleisure outfits.
Pros
 4-way stretch
 Side pocket
 Comes in 1, 2, and 3-packs
 Cropped and full-length variants
 Available in multiple colors
Cons
 The pocket might not seem large enough to some.
Price at the time of publication: $39.98
Available in 2 shades and lengths, these Splendor Flying leggings were made for long, peaceful yoga sessions that aren't interrupted by pants that keep rolling down. The extra-wide waistband ensures firmness and mild compression that prevents or sagging anywhere in the fabric. The fit is also quite amazing. As far as material is concerned, the unique power flex dry-fit construction comes with moisture-wicking abilities, causing your sweat to dry quickly. The fabric is completely opaque yet breathable, which keeps your legs cool and comfy. If snug and stretchy is the kind of vibe you're going for, these leggings are ideal for you.
Pros
 Nylon-spandex blend
 Body-shaping design
 Firm tummy control
 Easy to pull on and off
 Available in 2 colors
Cons
Price at the time of publication: $14.98
Surprisingly comfy and opaque despite running thin, these leggings will fit you just right. Among the numerous reasons behind our love for this pair, the most important ones include the sturdy, 4-needles-6-lines sewing technology that holds up after multiple rounds of washing and drying. The gusseted crotch lets you bend, stretch, and move around freely without awkward bunching in the wrong places, or any places for that matter. Like most leggings, this pair has a waistband made out of the finest elastic for better flexibility. It gets extra points for gentle compression and control over muffin tops, lending a beautiful shape to the body with no compromise on comfort.
Pros
 Squat-proof
 Breathable fabric
 Has an inner pocket
 Lightweight and skinny
 Available in a variety of colors
Cons
 Might run slightly long for some
Price at the time of publication: $19.99
These comfortable leggings are a lifesaver when it comes to fending off sweat during hardcore workouts. They're made from a blend of polyester and spandex with an elastic closure that's equal parts flattering and unyielding. The material is quite soft and has a 4-way stretch that makes working out really convenient. Due to the stretchy fabric, bending and squatting becomes effortless. But the best thing about the pair is hands down the unique crosshatch mesh pattern, which serves the dual purpose of allowing maximum breathability and being hella sexy. Oh, and there's a zipper pocket in the rear to stash essential items, so you can be hands-free and not worry about misplacing anything.
Pros
 Perfect fit
 Mesh panels
 Stunning design
 4-way stretch
 Available in 14 styles
Cons
Price at the time of publication: $24.99
When looking for your go-to pair of the perfect workout leggings that can also be used on casual occasions, this non-see-through bottom is among the best. It has a super-soft fabric and chic design that renders it compatible with a crop top, comfy t-shirt, or casual top. Made from polyester and spandex, there's something quite luxurious about this legging. The material is totally elastic and contours your body perfectly. You won't have to sit through a damp environment after finishing a particularly sweaty run because the pair wicks moisture and keeps you dry. With an inseam of 23.5 inches, it ends just above the ankle, creating a slimming effect.
Pros
 Breathable fabric
 Fitted elastic waistband
 Thick and supportive
 Moisture-wicking fabric
 Available in 13 colors and patterns
Cons
Price at the time of publication: $17.99
This pair of long-length leggings is a godsend for tall women, or anyone who wants to look like an Amazonian queen. Its lightweight, super-skinny feel is a result of the nylon-spandex blend as well as ultra-wide waistband, which infuse flexibility and give you a firmer fit. The fabric is quick to wick moisture as it dries in no time and consistently keeps you cool, so you can make it a part of your everyday athleisure without worrying about damage due to repeated machine washes. It also scores well on thickness, boasting infinite potential as a work-cum-workout legging.
Pros
 Ideal for tall women
 Has an inner pocket
 Breathable design
 Quick-drying fabric
 Available in 3 colors
Cons
Price at the time of publication: $16.99
Here's a fully loaded pair of leggings that comes in a unique design and incredibly soft material. Suitable for both active and casual wear, the fabric wicks away sweat while being breathable enough to keep you comfortable through high-intensity workouts. Not only does it glide along the skin with very little effort, but pairing it with the right uppers (like a crop top or sports bra) will make your legs look longer, courtesy of the high-rise fit and wide waistband that accentuates the shape of your curves. The 2 outside pockets are large enough to stash your phone and keys, while the hidden pocket in the band holds your cards safe and sound. With mesh panels on the sides to keep you ventilated and a 4-way stretch that's squat-proof, this is the ultimate summer legging.
Pros
 High elasticity
 Ultra-soft
 Reduces irritation
 Gusseted crotch
 No muffin top
 Available in multiple colors
Cons
Price at the time of publication: $21.99
Now that you have the lock on 13 of the best non-see-through leggings the internet has to offer, it's time to pick a favorite. But how can you be sure it's the right choice for you? The guide below might be of some assistance.
How To Choose The Right Non-See-Through Leggings?
The material used in the construction of non-see-through leggings is usually a blend of spandex, polyester, and cotton. Spandex is responsible for elasticity, polyester for shape retention, and cotton for keeping you cool. You should also check whether the leggings are moisture-wicking, which is important for regulating your body's temperature on hot days or during workouts. When the material absorbs moisture, it reduces the chance of skin reactions due to constant sweating.
The best non-see-through leggings are ones that feel soft against your skin. Though the fabric is thick for the purpose of opacity, it doesn't have to compromise on flexibility and comfort. Opt for a legging that's not too thin but still feels buttery or satiny smooth.
You want a legging that glides seamlessly along your legs, accentuates your natural shape, and doesn't move around without your say-so. High-waisted leggings that come with wide elastic bands and longer inseams are ideal for all of these. Whether you choose neutral colors or peppy prints depends on your taste.
The whole point of leggings as a concept is versatility. When you get your hands on a good pair, it should be able to transition from the gym to the club to the lounging chair in your home almost effortlessly. If you go for neutral colors, you can wear the leggings with a variety of uppers such as tees, tops, tunics, sports bras, shirts, or even layered under skirts or shorts on chilly days.
Finding the best non-see-through leggings is a big deal because of how rare a species they are. Fortunately, the ones we've cherry-picked offer more than just opacity — they're also incredibly smooth, made from quality materials that wick moisture, stretchable enough to pass every squat test, and most importantly, curve-contouring. Some of them even have glorious hidden pockets to go with the deep side panels, so you can stash belongings away safely and free your hands for long-distance runs or hikes. It's totally normal to end up falling for more than one because of how much use you'll be getting out of them. After all, leggings are the perfect everywhere-pants, so you might as well go full throttle and stock up that wardrobe.
Why Trust StyleCraze?
The author of this post, Priyam Gupta, is a fashion enthusiast. This list of best non-see-through leggings is curated after thorough research and going through consumer reviews online on trusted forums and brand websites. These non-see-through leggings are perfect for office wear and even for workouts.
Frequently Asked Questions
What materials are non-see-through?
Usually, materials made from the blend of cotton or polyester are non-see-through. These fabrics are squat-friendly as well.
What are the best quality leggings?
The ODODOS Women's High Waist Tummy Control Yoga Capris are high-waisted pants made from stretchable material. It is double-knitted to provide a firmer feel and comes with an elastic waistband that offers greater coverage.
How do I make my leggings non-see-through?
Wear nude underwear underneath your not-so-opaque leggings to make your undergarments less obvious. This way, you can manually make your leggings non-see-through.
Related Articles
Best Fashionable Leggings Under $30 Available Online
Best Seamless Leggings That Redefine Comfort
Best Workout Leggings And Yoga Pants With Pockets
Best Reviewed Leggings For Tall Women