7 Best Non-Stick Kadais Available In India
Experience hassle-free cooking with the perfect cookware for your kitchen.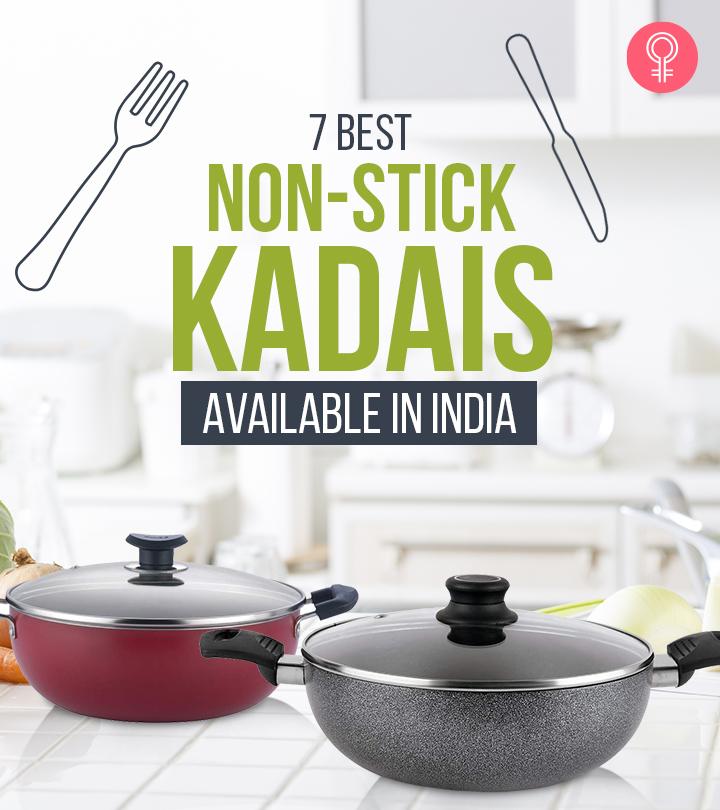 Indian curries and delicacies are rich in spices, aroma, and flavors that need to be cooked in the right cookware. A non-stick kadai is one of the most convenient Indian cookware, ideal for roasting, deep-frying, sautéing, curries, and more. Whether you are a beginner dabbling with recipes or a master chef, a kadai is a must-have utensil in your kitchen. Here's a list of the 7 best non-stick Kadai's available in India that help you cook your favorite dishes in style.
7 Best Non-Stick Kadais In India
Hawkins' non-stick kadai comes with a heavy round bottom that retains heat. Its cool rivet-fitted handles are sturdy enough to withstand heavy-duty usage. This kadai is perfect for deep frying, roasting, and cooking various Indian and western cuisines. The heavy gauge anodized aluminum body is non-reactive, non-toxic, and does not reek chemicals into your food. The long-lasting non-stick coating saves gas and allows you to cook food with minimal oil. The unique design conducts heat faster and distributes it evenly throughout the kadai. This utensil is compatible with gas stovetops.
Specifications
Capacity: 2.5 L
Weight: 0.8 kg
Diameter: 25.6 cm
Pros
Large capacity
Wide cooking base
2-year warranty
Easy to clean
Durable
Value for money
Cons
No lid
Not suitable for induction stoves
Price at the time of publication: ₹1278
The Lifelong Non-stick Kadai enables you to steam, deep-fry, roast, and sauté spices to perfection. This non-stick aluminum kadai comes with a 3-layered Greblon coating that saves fuel and does not wear out quickly. Its body is designed to heat your food faster and cook it well, while the glass lid enables you to check the food without lifting the lid. The cool-touch handles do not burn your fingers while cooking.
Specifications
Capacity: 2 L
Weight: 1.51 kg
Diameter: 28 cm
Pros 
Durable
Transparent lid
Scratch-resistant
Chip-resistant
Easy to clean
Cons
The 5-layer non-stick kadai from Prestige is made from premium quality aluminum with a granite finish. Its German design enables even heat distribution that evenly cooks the food and saves the gas. The special spatter coated surface is resistant to oil and food stains, scratches, and residue buildup. This 2.3-liter non-stick kadai is compatible with gas and induction cooktops.
Specifications
Capacity: 2.3 L
Weight: 1.6 kg
Diameter: 24 cm
Pros 
Dishwasher safe
Food grade materials
2-year warranty
Durable granite finish
Metal spoon friendly
Superior quality
Durable
PFOA free
Cons
Low-quality lid knob
Expensive
The 4.1-liter non-stick Kadai from Vinod is perfect for a large family. Its strong and durable 100% aluminum body with an inner non-stick coating enables low oil cooking. The handles are heat resistant and easily fit into the curve of your palm for a comfortable grip. The cookware is compatible with induction cooktops and gas stoves. The kadai is available in two shades – red and black.
Specifications
Capacity: 4.1 L
Weight: 1.9 kg
Diameter: 26 cm
Pros
Scratch-proof
Non-toxic coating
PFOA-free
Metal spoon-friendly
Heat-resistant handles
Cons
Feels heavy
The non-stick coating might not last long.
Price at the time of publication: ₹1492
The aluminum non-stick deep kadai from SOWBAGHYA is perfect for a small family. You can cook curries, vegetables, deep fry, sauté, and season spices with ease. The wide mouth enables you to flip or toss the vegetables with ease. The Bakelite handles and sturdy lid knob can withstand temperatures of up to 150°C. The non-stick coating allows you to cook food with less oil, ensuring you enjoy nutritious meals every time.
Specifications
Capacity: 2 L
Weight: 1.3 kg
Diameter: 22 cm
Pros
Easy to clean
Convenient to use
Value for money
Durable
Sturdy
Cons
Non-stick coating wears off easily
The pure grade, high gauge aluminum Cello non-stick kadai is designed for an excellent cooking experience. The inner surface non-stick coating allows you to cook your food with less ghee, butter, or oil, giving you a more comprehensive lower-fat cooking option. The riveted cool-touch handles, covered with heat-resistant materials, help you safely hold on to the kadai as you cook, carry, or serve the food. It is compatible with both gas stoves and induction cooktops. The tempered glass lid has a vent that lets out steam and prevents your food from getting burnt due to excess heat.
Specifications
Capacity: 2.5 L
Weight: 1 kg
Diameter: 27 cm
Pros
User-friendly
Convenient
Sleek design
Heat-resistant lid knob
100% non-toxic
Compact storage
Unbreakable glass lid
Cons
The non-stick coating can wear off 
The BERGNER Non-Stick Kadai is a multipurpose cooking unit where you can cook and serve your dishes. It comes with a tempered glass lid for monitoring the food without lifting the lid. The Teflon Dupont coating makes this kadai long-lasting and durable. The body of the kadai is made with food-grade forged aluminum. It is compatible with induction cooktops, gas stoves, electric, halogen, and vitro ceramic stoves.
Specifications
Capacity: 2.16 L
Weight: 1.2 kg
Diameter: 24 cm
Pros
Lightweight
Anti-rust
Dishwasher-safe
Rust-resistant
Durable
Sturdy
Cons
How To Choose The Best Non-Stick Kadai?
Quality: Always choose Kadai's made with the highest quality materials. It should be free of PFOA and manufactured with advanced cutting-edge technology that makes cooking thorough and faster.
Construction: Ensure that it has metal cladding to guarantee a better cooking experience.
Capacity: Most Kadai's with 2-2.5-liter capacity can cater to small or medium-sized families. The 3-4.5-liter kadais are perfect for large or joint families.
Size: The size of the Kadai is another vital factor that should be considered while buying. Choose wider kadais for easy stirring, cooking, and serving without burning your hands.
Material: The most popular materials used in non-stick Kadai are aluminum, cast iron, and stainless steel. Ensure that the Kadai is made of heavy gauge and pure virgin materials that do not contaminate the food. It should not absorb the smells or residue of the food cooked in it.
A non-stick Kadai is frequently used in almost every Indian kitchen due to its multiple benefits. It makes cooking a hassle-free experience, evenly distributes heat to cook the food better, and can double up as a serving bowl. Pick one from the above list and cook delicious dishes that leave your family and guests asking for more!
The following two tabs change content below.