13 Best Non-Sticky Lip Glosses For Pretty Lips In 2022
Rock your luscious, glittery lips again by dabbing these tints on your lips.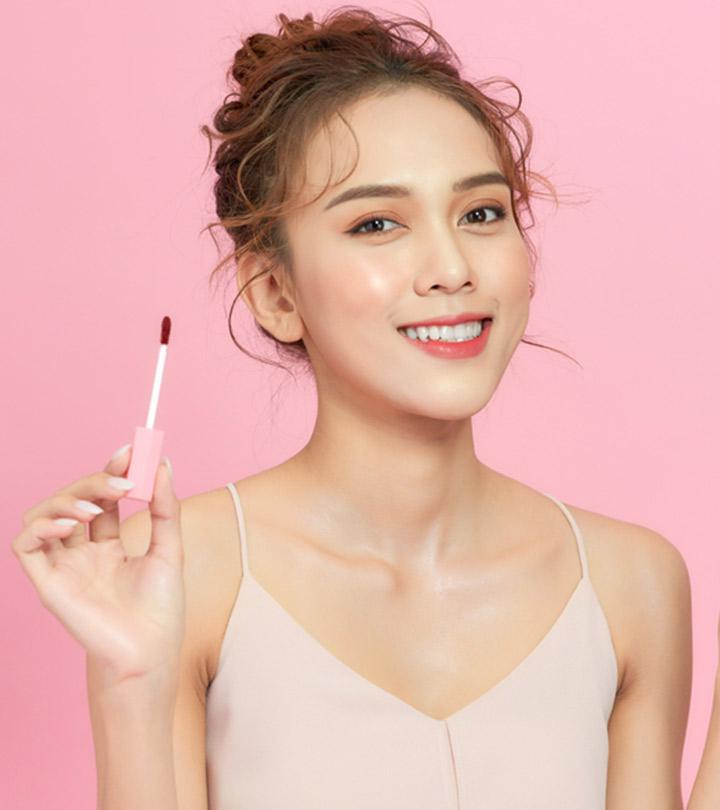 The best non-sticky lip gloss has the potential to finally lay the old love-hate debate over lip glosses to rest. That's because, unlike the forgettable and quite regrettable lip glosses, the best ones give you the perfectly glistening and gloriously glittery lips minus the sticky or gummy feeling. It is this gummy feeling that has put women off lip gloss, but you need not keep it at bay anymore. You just need to pick out one of the best non-sticky lip glosses and keep that in your purse to get luscious lips anytime!
The best thing about non-sticky lip gloss is that it can enhance your lips by giving them a glimmery outline and a shimmery tint. It also lasts a long time; atleast those that feature in the top lists. If you want to give the re-imagined, revamped, and updated lip products a shot, check out our carefully curated list of the top 13 non-sticky lip glosses available on the market.
13 Best Non-Sticky Lip Glosses That Seal The Deal!
Here's a great high shine non-sticky lip gloss that you must add to your makeup stash right away! A formula so buttery soft, and silky smooth, this one offers sheer to medium coverage for fuller, plumper lips. The non-sticky texture of this hydrating lip gloss ensures lips don't stick to anything, while the highly pigmented shade provides your lips with a beautiful tint that lasts all day. It perfectly defines your lips without spilling or leaking.
Pros
Affordable
Cruelty-free
Moisturizes lips
Available in variety of shades
Smooth and creamy texture
Cons
Might be too sheer for some people looking for full coverage
The E.l.f Lip Lacquer is one of the best non-sticky lip glosses in the market. Lauded for its smooth, irresistible texture, it contains moisturizing ingredients like vitamin E that ensure lips are hydrated and nourished. Without being too thick and clumpy or too watered-down and runny, this clear, non-sticky lip gloss is great for enhancing the beauty of your lips. The dreamy lip lacquers are available in 7 stunning shades and are free from phthalates, parabens, and other harmful chemicals.
Pros
Hydrating ingredients
Available in 7 shades
Vegan and cruelty-free
Does not contain parabens and phthalates
Cons
May feel heavy on the lips
If you're worried about dry, chapped lips getting in the way of your luminous shine, this is the product for you! Crafted using caster oil, soya bean oil, and hyaluronic acid, this shiny non-sticky lip gloss provides a hydrating boost to quench, condition, and soothe dry and parched lips. If you're a novice and new to the makeup game, you're in luck! The easy wand applicator ensures a hassle-free application, so the smooth texture of this tinted lip gloss glides effortlessly. Have the best of both worlds with this one that offers the moisturization of a lip balm and a pretty sheen of gloss. Its pigmented shades and non-sticky, non-drying formula makes this a notable mention in our list of the 13 best non-sticky lip glosses. This video offers a more detailed explanation of the product.
Pros
Hydrates lips
Wand applicator
Non-drying formula
Hyaluronic acid formula
Ideal for everyday use
Cons
The scent may be overpowering for some
Is there anything better than a product with the goodness of coconut oil? We didn't think there was either! This non-sticky lip gloss is formulated with 100% pure, organic oil for healthy and hydrated lips. The formula is filled with antioxidants and vitamins to restore lips to their original, supple form. If this was not all, it also contains shea butter to help lock in moisture and nourish lips for the perfect, pretty pout. Non-sticky and quick-drying, we're sure this will be a great addition to your lip gloss collection.
Pros
Non-greasy
Contains coconut oil
Nourishes and hydrates lips
Ideal for dry, sensitive lips
Parabens and sulphate-free
Cons
May not be as long-lasting as expected
This Lime Crimes non-sticky lip gloss comes in 13 beautiful shades that complement every skin tone. With a delightfully lightweight texture, your lips will thank you for this one that feels like lip balm. Leave the worries of bleeding and creasing behind, as this lip gloss has a smooth texture and an ultra-gloss sheen that does not settle on cracks but rather applies effortlessly to your lips. The doe-foot applicator ensures the application is a breeze, and you get perfect, shiny lips with every try.
Pros
Lightweight
Vegan and cruelty-free
Available in 13 shades
Has a doe-foot applicator
Offers an ultra-gloss sheen
Does not bleed, crack, or smudge
Cons
It may be difficult to take off without a makeup remover
A beautiful tint with a glossy, lightweight finish, grab your hands on this one before it's too late. This formula contains hyaluronic acid and moisture-retaining ceramides that make a nourishing concoction for puckered and healthy lips. They help repair the skin barrier while hydrating the lips. The non-sticky texture offers a beautiful sheen that is sure to steal eyes and hearts wherever you go. You can apply this one over your lipstick or use it as is for an undeniable shine.
Pros
Contains hyaluronic acid
Nourishes lips
Pigmented
Keeps moisture intact
Cons
The shine might wear down with time.
We're all tired of harmful ingredients that ruin our lips. Instead of using ones loaded with chemicals, choose a natural non-sticky lip gloss to help protect your lips' color and texture. Enriched with aloe vera, green tea, and vitamins A and 3, this lip gloss promotes healing and nourishes the lips from within. The highly pigmented colors have a high shine and intense moisturization for lips that bring out your inner diva.
Pros
Cruelty-free
Free of parabens
Natural ingredients
Nourishing formula
Rich in antioxidants
Available in 20 shades
Cons
The texture may be transferable
This product needs no introduction. Standing tall as one of the best non-sticky lip glosses the beauty shelves have to offer, this lip gloss feels as good as it looks. It has a non-sticky formula that instantly enhances the shape of your lips, giving it a fuller appearance. The formula of this lip luminizer is filled with the goodness of shea butter that helps it to glide effortlessly on the lips, leaving you kiss-ready all day. Long-lasting with a large wand for easy application, this lip gloss is highly pigmented for a luminous shine. It truly is a show-stopper!
Pros
Available in 7 universal shades
XXL wand
Smooth, shimmer finish
Velvety texture
Pleasant scent
Cons
All of us know that if there is one thing you should always have in your bag, it is a clear lip gloss. Clear, non-sticky lip glosses are indeed lifesavers as they go with every shade, outfit, and occasion. This one from W7 stands apart from the rest for its luminous finish and long-wearing formula. Made from high-quality, non-cruelty ingredients, it sits perfectly on the lips, offering a subtle yet striking shimmer.
Pros
Vegan
Cruelty-free
Long-wearing formula
High-quality ingredients
Cons
May need more than one application for pigment to show
Pamper your luscious lips with the buttery, creamy formula of the BareMineral's lip gloss. Its non-sticky formula offers a sheer to medium coverage that can easily transition from a classy, day look to an all-out, glamorous night-styled makeup. Made from shea, avocado, murumuru butter, and cupuacu butter, the lip gloss moisturizes the lips and conditions them. The sinfully smooth texture of this long-lasting lip gloss plumps your lips instantly, making them look plumper. Devoid of gluten, we can't see why you shouldn't bring home this product right away!
Pros
Buildable coverage
Buttery formula
Free of gluten
Moisturizes the lips
Vegan and cruelty-free
Cons
Has a limited shade range
How can we count down the 13 best non-sticky lip glosses of 2022 and not mention this one by Stila? It is made with castor oil, hyaluronic filling spheres, and luminous oils to provide hydration and moisture to the lips while naturally adding volume. The smooth formula does not streak, feather, or crease and has a pleasant aroma for sweet-scented sips. Infused with light-refracting, iridescent pearls, it offers an intense pigment, allowing you to create unique and creative makeup looks. Get instantly plump lips without going through the tingling with this high shine non-sticky lip gloss.
Pros
Hydrates and moisturizes lips
Infused with light-refracting, iridescent pearls
Plumps lips
Does not feather or crease
Cons
Move over chemical-filled lip glosses, like this one with natural ingredients is here to grab the limelight. Made from aloe vera, avocado, grape seed extract, and green tea, this one nourishes, heals, and rejuvenates the lips, helping them stay soft and supple. The collagen in the product ensures the lip looks fuller and plump, while the antioxidant-rich formula protects the lips from environmental triggers. And that's not all! This product comes with a mirror attached to the tube and a LED light on the wand for seamless application day or night.
Pros
Includes natural ingredients
Nourishes, heals, and rejuvenates lips
Comes with a mirror on top of tube
LED light attached to wand
Plumping effect
Cons
Shimmer, shine, and everything nice — this drugstore non-sticky lip gloss gives your plumper, fuller lips in an instant. It ensures lips look dazzling and shine all day long while providing a flawless, glossy finish that rests easily on the lips. The angular, oversized wand guarantees mess-free application and helps you achieve the makeup look you want in seconds. With buildable coverage and high pigment, take this product home before everyone else does.
Pros
Lightweight
Buildable coverage
Highly pigmented
Angular, oversized applicator
Long lasting
Cons
Now that we've seen 13 of the best non-sticky lip glosses, let's look at the factor we have to keep in mind while choosing the best one.
How To Choose Non Sticky Lip Gloss
Always keep in mind the kind of person you are and the kind of style you have. If you usually keep it simple and don't like to be over-the-top, warm, nude tones are the ones for you. If you don't mind experimenting and being creative, pick dark or peppy-colored lip glosses. A must-have staple in every makeup bag is a clear, non-sticky lip gloss that you can layer and use with any other lip product.
Not all non-sticky lip glosses are created the same when it comes to texture. Creamy-based ones are more moisturizing and hydrating. While they may feel heavy on the lips, it is the best one for people with dry lips. You can also opt for lightweight ones that glide effortlessly on your lips. But, they might not always be moisturizing.
As a rule of thumb, always remember to stay clear of chemicals and harmful ingredients. Make sure to read the ingredient list of the non-sticky lip gloss before you make a purchase. Invest in ones with natural ingredients like vitamin E, aloe vera, and shea butter while bidding farewell to formulas with parabens and sulfates.
Why Trust StyleCraze?
The author of this article, Chaitra Krishnan, is a makeup enthusiast and loves to explore different products used in makeup. After thorough research and reading many online reviews on various trusted platforms, she has curated the list of the best non-sticky lip glosses. These lip glosses leave a great moisturizing effect on your lips that lasts for hours.
Frequently Asked Questions
How can I apply non-sticky lip gloss?
You can apply a non-sticky lip gloss like any other lip gloss. Glide the product on your lips with the help of the gloss applicator. Repeat the process multiple times until you get your desired result.
How do I make my lip gloss less sticky?
You can make your lip gloss less sticky by applying a lesser amount of product on your lips. Or, you can go for a non-sticky lip gloss like the Fenty Beauty Gloss Bomb.
Does a non-sticky lip gloss damage the lips?
Generally, lip glosses are not damaging to your lips; they, in fact, hydrate them. However, specific ingredients may not suit some people and can cause side effects like allergic reactions.
Why do my lips turn white when I wear lip gloss?
Your lips turn white when you apply lip gloss because of the build-up caused by dead skin cells. Regularly scrub and exfoliate your lips to avoid that.
How often should you change your lip gloss?
It is best to use your lip gloss within 12-18 months after opening the seal.
Recommended Articles