13 Best Non-Sticky Lip Glosses For Pretty Lips In 2023
Rock your luscious, glittery lips again by dabbing these tints on your lips.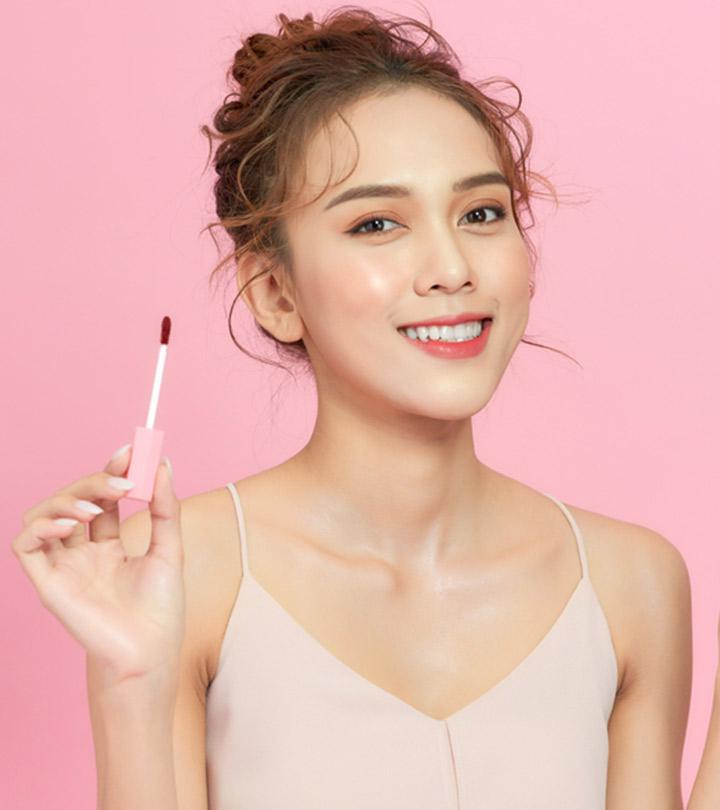 The best non-sticky lip gloss has the potential to finally lay the old love-hate debate over lip glosses to rest. That's because, unlike the forgettable and quite regrettable lip glosses, the best ones give you the perfectly glistening and gloriously glittery lips minus the sticky or gummy feeling. It is this gummy feeling that has put women off lip gloss, but you need not keep it at bay anymore. You just need to pick out one of the best non-sticky lip glosses and keep that in your purse to get luscious lips anytime!
The best thing about non-sticky lip gloss is that it can enhance your lips by giving them a glimmery outline and a shimmery tint. It also lasts a long time; atleast those that feature in the top lists. If you want to give the re-imagined, revamped, and updated lip products a shot, check out our carefully curated list of the top 13 non-sticky lip glosses available on the market.
13 Best Non-Sticky Lip Glosses That Seal The Deal!
Pros
Affordable
Cruelty-free
Moisturizes lips
Available in variety of shades
Smooth and creamy texture
Cons
Might be too sheer for some people looking for full coverage
Price at the time of publication: $3.42
Pros
Hydrating ingredients
Available in 7 shades
Vegan and cruelty-free
Does not contain parabens and phthalates
Cons
May feel heavy on the lips
Price at the time of publication: $3.0
Pros
Hydrates lips
Wand applicator
Non-drying formula
Hyaluronic acid formula
Ideal for everyday use
Cons
The scent may be overpowering for some
Price at the time of publication: $14.1
Pros
Non-greasy
Contains coconut oil
Nourishes and hydrates lips
Ideal for dry, sensitive lips
Parabens and sulphate-free
Cons
May not be as long-lasting as expected
Price at the time of publication: $14.0
Pros
Lightweight
Vegan and cruelty-free
Available in 13 shades
Has a doe-foot applicator
Offers an ultra-gloss sheen
Does not bleed, crack, or smudge
Cons
It may be difficult to take off without a makeup remover
Price at the time of publication: $14
Pros
Moisturizes
Non-sticky
Smooth
Dermatologist-tested
Cons
Price at the time of publication: $3.48
Pros
Cruelty-free
Free of parabens
Natural ingredients
Nourishing formula
Rich in antioxidants
Available in 20 shades
Cons
The texture may be transferable
Price at the time of publication: $6.99
Pros
Available in 7 universal shades
XXL wand
Smooth, shimmer finish
Velvety texture
Pleasant scent
Cons
Price at the time of publication: $20
Pros
Vegan
Cruelty-free
Long-wearing formula
High-quality ingredients
Cons
May need more than one application for pigment to show
Price at the time of publication: $4.45
Pros
Buildable coverage
Buttery formula
Free of gluten
Moisturizes the lips
Vegan and cruelty-free
Cons
Has a limited shade range
Price at the time of publication: $12.99
Pros
Pleasant scent
Lightweight
Great coverage
Moisturizes
Long-lasting
Available in multiple shades
Cons
None
Price at the time of publication: $2.74
Pros
Includes natural ingredients
Nourishes, heals, and rejuvenates lips
Comes with a mirror on top of tube
LED light attached to wand
Plumping effect
Cons
Price at the time of publication: $21.0
Pros
Non-sticky
Unique applicator
Moisturizes
Sheer to full coverage
Pleasant scent
Cons
Price at the time of publication: $16
Now that we've seen 13 of the best non-sticky lip glosses, let's look at the factor we have to keep in mind while choosing the best one.
How To Choose Non Sticky Lip Gloss
Always keep in mind the kind of person you are and the kind of style you have. If you usually keep it simple and don't like to be over-the-top, warm, nude tones are the ones for you. If you don't mind experimenting and being creative, pick dark or peppy-colored lip glosses. A must-have staple in every makeup bag is a clear, non-sticky lip gloss that you can layer and use with any other lip product.
Not all non-sticky lip glosses are created the same when it comes to texture. Creamy-based ones are more moisturizing and hydrating. While they may feel heavy on the lips, it is the best one for people with dry lips. You can also opt for lightweight ones that glide effortlessly on your lips. But, they might not always be moisturizing.
As a rule of thumb, always remember to stay clear of chemicals and harmful ingredients. Make sure to read the ingredient list of the non-sticky lip gloss before you make a purchase. Invest in ones with natural ingredients like vitamin E, aloe vera, and shea butter while bidding farewell to formulas with parabens and sulfates.
Why Trust StyleCraze?
The author of this article, Srijita De, is a makeup enthusiast and loves to explore different products used in makeup. After thorough research and reading many online reviews on various trusted platforms, she has curated the list of the best non-sticky lip glosses. These lip glosses leave a great moisturizing effect on your lips that lasts for hours.
Frequently Asked Questions
How can I apply non-sticky lip gloss?
You can apply a non-sticky lip gloss like any other lip gloss. Glide the product on your lips with the help of the gloss applicator. Repeat the process multiple times until you get your desired result.
How do I make my lip gloss less sticky?
You can make your lip gloss less sticky by applying a lesser amount of product on your lips. Or, you can go for a non-sticky lip gloss like the Fenty Beauty Gloss Bomb.
Does a non-sticky lip gloss damage the lips?
Generally, lip glosses are not damaging to your lips; they, in fact, hydrate them. However, specific ingredients may not suit some people and can cause side effects like allergic reactions.
Why do my lips turn white when I wear lip gloss?
Your lips turn white when you apply lip gloss because of the build-up caused by dead skin cells. Regularly scrub and exfoliate your lips to avoid that.
How often should you change your lip gloss?
It is best to use your lip gloss within 12-18 months after opening the seal.