10 Best Non-Toxic Hand Soaps You Can Buy Now In 2023
Clean your hands on another level by detoxing them using good skin care soaps.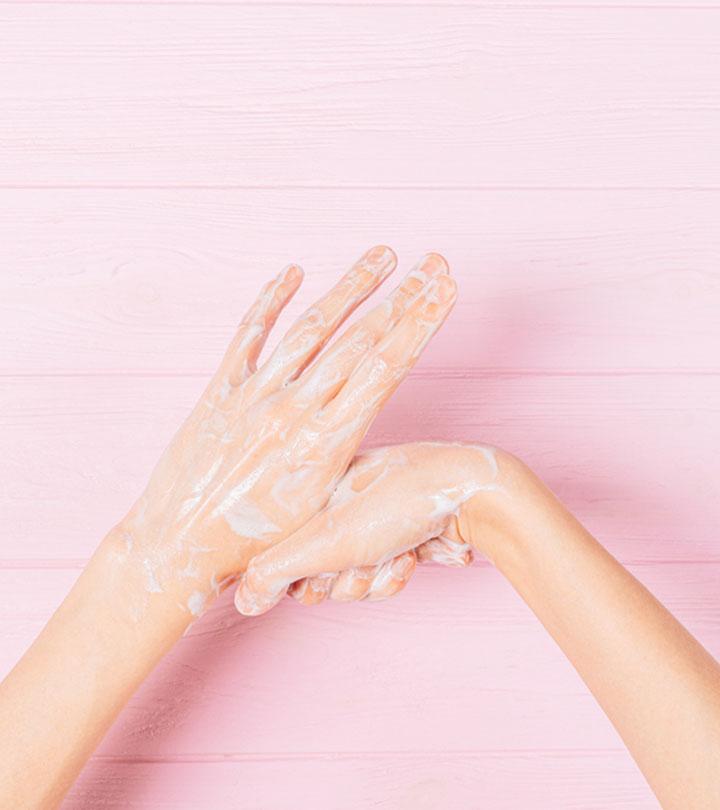 The need for the best non-toxic hand soap arises when you realize how often you wash your hands with the bar whose ingredients you are unaware of. Maintaining the hygiene of your hands is always a priority, and making sure the cleaning products wipe off the germs while keeping the natural oils intact on your skin is a priority. One way to make sure your skin is not affected is to check the ingredient list of the soap and choose the one that suits your skin.
To keep yourself safe from synthetic dyes, fragrances, and parabens, you must ensure your soap nourishes your skin while cleansing. Choosing a soap that suits your skin can be challenging. Worry not! We will help ease the process and select the perfect one for your skin type. Go through the 10 skin-friendly soaps that will keep your hands clean, soft, and nourished with every wash. Scroll down for more information.
Top 10 Non-Toxic Hand Soaps For Soft, Germ-Free Hands
If you want to treat yourself to a bar of luxurious, all-natural hand soap, the First Botany Tea Tree Mint Hand Soap is the perfect product for you. It's filled with lush ingredients like tea tree, jojoba, and peppermint oils that result in a gentle formulation that is mild enough for frequent hand washing. It's also formulated with vitamin E, which results in soft, hydrated hands after every wash. Cruelty and paraben-free, it calms redness and inflammation with its unique soothing properties.
Pros
Cruelty-free
Soothes inflamed skin
Suitable for dry skin cleanses
Paraben-free
Cons
The scent may be overwhelming for some
Price at the time of publication: $14.98
The Cleancult non-toxic foaming hand soap is a gentle formulation suitable for all skin types and keeps your skin conditioned with every wash. It has moisturizing ingredients like coconut oil, olive oil, vitamin E, lavender extract, and a blend of essential oils that keep your hands hydrated and moisturized all day long. You don't have to worry about dry, chapped skin on your hands with this hand soap. It nourishes your skin and protects it from germs without over-drying it.
Pros
Moisturizing properties
Safe for all skin types
Eco-friendly
Natural ingredients
Recyclable ingredients
Cons
Some might find the consistency to be a bit too thin
Price at the time of publication: $33.99
This organic foaming hand soap is an excellent addition to your daily self-cleaning routine. The gel formulation includes fresh ingredients like lavender, grapefruit extract, lemon, mint, and sea salt. You are assured soft and clean feeling hands every time you lather up this healthy hand soap. Safe for all skin types, this paraben-free hand soap is crafted using only natural ingredients and devoid of harmful chemicals that may harm your skin's outer layer.
Pros
Paraben-free
Biodegradable formula
Moisturizing and hydrating
Natural ingredients
No artificial fragrances
Cons
May leave behind a greasy residue
Price at the time of publication: $45.26
Your skin will love this organic liquid hand soap because it is filled with probiotics that kill germs and keeps your skin hydrated. The gentle formulation also balances the pH of your skin without over-drying it. It's filled with plant-based ingredients like peppermint oil, lemon peel oil, spearmint oil, and orange peel oils that are hypoallergenic and safe to use. And don't stress about any harmful chemicals damaging your precious hands as this sensitive skin hand soap is free from parabens and synthetic dyes.
Pros
Probiotic-based
Plant-derived ingredients
Paraben and gluten-free
Dermatologist-tested
Hypoallergenic
Cons
Some may find the consistency watery
Price at the time of publication: $9.99
This sulfate-free hand soap is everything you need for squeaky clean, soft, and nourished hands. The rich, foaming formula is infused with plant-based ingredients like lavender and vanilla extract, dried Indonesian clove leaves, balsamic undercurrents, coconut oil, and aloe vera to keep your skin hydrated. The hypoallergenic hand soap is safe to use on all skin types because it's free from harsh chemicals. You can also check this YouTuber's detailed review to know more about the results after using this product.
Pros
Plant-based ingredients
Hydrating formula
Paraben and sulfate-free
Dermatologist approved
Cons
In rare cases, it may cause redness and skin irritation
Price at the time of publication: $16.99
This chemical-free hand soap is great for sensitive skin because its hypoallergenic formula assures your skin is cleansed without irritating it. This gentle formulation includes moisturizing plant-based ingredients like aloe leaf juice, citric acid, and glycerin that leave your hands feeling clean, soft, and supple. There are no artificial fragrances or dyes in this bottle, so it's safe for you and your family.
Pros
Hypoallergenic
No synthetic fragrances or dyes
Plant-based ingredients
USDA certified
Suitable for sensitive skin types
Cons
Some find the formula to be too drying on the skin.
This clean, eco-friendly hand soap is a suitable option for everyday use due to its gentle formula that won't dry out your skin while cleansing your hands. It's filled with soothing and nourishing ingredients like vitamin E, aloe leaf extract, glycerin, grapefruit extract, green tea, mint, and coconut oil. Together they rid pores of dirt, grime, and bacteria for hands that are germ-free and clean. This sulfate-free hand soap has a refreshing citrus mint scent that will make you feel rejuvenated every time you rinse your hands.
Pros
Sulfate-free
Paraben-free
Fragrance-free
Natural ingredients
Hypoallergenic
Cons
May not be as moisturizing as expected
Price at the time of publication: $16.57
Created with a potent blend of natural ingredients like lemon, cinnamon bark, clove, eucalyptus, and rosemary oil, Thieves is one of the best non-toxic hand soaps. These ingredients ensure that all unwanted particles are eliminated in the first wash. It also comes with a refreshing autumn scent and luxurious, rich formula that makes it quite the crowd favorite. Safe for the entire family, it has no synthetic dyes or harmful chemicals.
Pros
Organic ingredients
Paraben-free
Moisturizing formula
Responsibly sourced ingredients
Cons
Price at the time of publication: $58.22
This organic liquid hand soap is known for its gentle formula that effectively cleans and nourishes your hands with every wash. It includes hydrating ingredients like vitamin E, glycerin, lavender oil, and grapefruit seed extract, ensuring hands are clean without stripping it from its natural oils. Since it has no harsh chemicals, this antibacterial soap does a great job balancing the skin's pH levels and helps maintain your skin's natural acidity levels.
Pros
Moisturizing formula
Paraben, chlorine, and sulfate-free
Cruelty-free
Plant-based ingredients
Biodegradable formula
Cons
May not be best suited for sensitive skin
Price at the time of publication: $14.88
Enriched with refreshing and clean ingredients like cucumber, sage, and aloe vera, this non-drying hand soap is ideal for sensitive skin. It is dermatologist tested, free from any harmful chemicals, and safe for children. Also, your skin will love the hypoallergenic formulation as it leaves your hands feeling supple and clean after every use. Cruelty-free and vegan, we can't find a single reason why you shouldn't bring this fantastic product home.
Pros
Plant-derived ingredients
Cruelty-free
No harsh chemicals
Vegan
Hypoallergenic
Cons
Price at the time of publication: $47.96
Keeping ourselves clean and safe by the simple act of handwashing is easy and hassle-free. But constant washing can also harm and dry out the skin, if we don't pay attention to our hand soaps. The market if filled with several types of hand soaps and choosing the best ones among so many gets confusing. Given below are some factors to look out for while you select the best non-toxic hand soaps for use.
How To Select The Best Non-Toxic Hand Soaps
Form
Hand soaps come in gel, creamy liquid, and foam form. Foam takes less water to wash off while gel and liquid soaps come in bottles and build up more lather for better cleansing.
Skin Type And Ingredients To Use
Dry Skin: a gentle non-toxic formula enriched with hydrating ingredients is suitable for dry skin. Ingredients like shea butter, coconut oil, and aloe vera keep hands moisturized and soft. It removes dry, peeling skin and pulls out dirt and grime from the pores. Aloe also has healing properties that soothe the hands.
Sensitive Skin: choose chemical-free, fragrance-free, hypoallergenic soaps. These formulas will keep the skin from feeling irritated or breaking out into rash and redness. Lemon peel oil, peppermint oil, orange peel oils, and spearmint oil are safe for the skin.
Oily Skin: oily skin requires antioxidants that balance the pH level of the skin. Look for a deep cleansing soap that will clear out not only dirt and impurities but also soak in excess sebum from the pores.
All Skin Types: choose a gentle, non-toxic formula with essential oils like olive and coconut, or lavender extract, vitamin E, shea butter, milk proteins, and other natural botanical extracts to keep the skin moisturized and nourished.
Ingredients To Avoid
Avoid hand soaps which are made with parabens and sulfates. These are chemicals used for forming lather and may be harmful to the skin. Also, avoid artificial fragrances and synthetic dyes which may irritate the skin.
Well, now that you know about the top 10 non-toxic hand soaps that are available. Let's look at the various factors you have to look for when purchasing an organic liquid hand soap.
Things To Look For When Purchasing A Non-Toxic Hand Soap
When looking for non-toxic hand soap ingredients, look for products that have plant-derived ingredients. Avoid hand soaps that have any sulfates or parabens as they can cause an adverse reaction and dry out your hands. Look for components like aloe vera, essential oils, and milk proteins that nourish and cleanse your skin.
If you suffer from dry and rough skin, you must look for hand soaps with a gentle formula and are loaded with hydrating ingredients like coconut oil, aloe vera, and shea butter. If you have sensitive skin, look for fragrance-free and hypoallergenic formulas that ensure skin is cleansed without irritating it.
When looking for a hand soap that you want to use multiple times a day, you need to invest in a product within your price range and good quality. Look for organic hand soaps that are affordable and will give you all the benefits you are looking for.
Why Trust StyleCraze?
The author, Kirtana Divakar, is a skin care enthusiast. She loves trying out different non-toxic hand soaps for soft, germ-free hands. She has browsed through multiple forums for users' feedback and went through the brand websites before shortlisting the best non-toxic hand soaps that are suitable for different skin types. These skin-friendly hand soaps not only wipe off the germs but also keep natural oils intact on the skin.
Frequently Asked Questions
Which is the safest hand soap you can use?
When you are looking for nontoxic hand soap, look for a product that is free from any synthetic dyes or fragrances, parabens, and preservatives.
Why is unscented hand soap good for you?
Choosing an unscented hand soap is good for your skin because synthetic dyes may dry your skin out and strip the natural oils from it, leaving it dull and chapped.
Which is better – gel or foam hand soap?
Foam hand soap is easy to dispense and thoroughly cleanses the hands. Its effect is long-lasting as well. In contrast, gel hand soap is difficult to lather and has lower cleansing power.
Can I use non-toxic hand soap every day?
Yes. Non-toxic hand soaps have a gentle formula that deep cleans and nourishes the hands.
How do I wash my hands?
• Rinse your hands with clean water.
• Pour a few drops of the soap onto your palms.
• Rub your hands together and form a lather.
• Lather between the fingers, the back of your hands, and beneath your nails. Do this for 20 seconds.
• Rinse the hands under running water.
• Pat the hands dry with a soft, clean towel.
Does using hand soap for skin care do any damage?
Yes. Using hand soaps for skin care disturbs the skin pH level and causes irritations.
What ingredients should I avoid in non-toxic hand soap?
Non-toxic hand soaps are made without fragrances, parabens, SLS, SLES, Triclosan, and cocamidopropyl betaine.