The 11 Best Non-Toxic Mascaras That You Can Swear By – 2023
Add drama, definition, and volume to your lashes without that crunchy, sticky feel.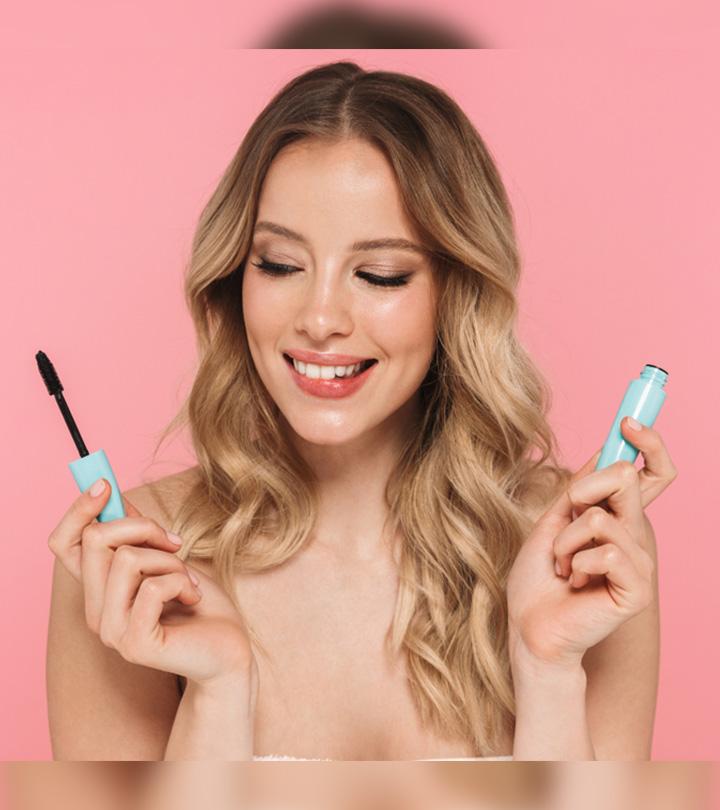 Don't give up on mascaras altogether before you try out the best non-toxic mascara that comes equipped to beautify sensitive eyes with no toxic irritants. Mascaras are such makeup staples that are kind of irreplaceable if you want to glam up your eyes instantly for any kind of look. Even on days when you want to skip a heavy-duty makeup routine, a sweep of mascara can liven up your eyes and give you a minimalist chic look. The issue arises when mascara meets sensitive eyes, especially mascaras which are loaded with chemicals and are not formulated to cater to sensitivities. That's where non-toxic mascaras enter the picture.
Packed with safe and natural ingredients, non-toxic mascaras are the answer to your teary-eyed (literally!) doubts about this makeup product. Most of these are not only suitable for sensitive eyes, but also for those who wear contact lenses. So, take your pick from our list of the 11 best non-toxic mascaras that you can use to glam up your eyes.
The 11 Best Non-Toxic Mascaras To Try Out In 2023!
Voluminous lashes, anyone! Flaunt longer and thicker lashes with this mineral mascara and its 100% vegan plush brush. A nourishing formula, it contains vitamin B, jojoba oil, and coconut oil to hydrate every lash intensely. With one swipe giving you the desired length for the day, you can add layers to the same for an enviable voluminous look for the night. Non-toxic and free from harsh chemicals such as silicone, petrolatum, carmine, and phthalates, the formula also contains vitamin E, chamomile extract, brown kelp extract, algae extract, rice protein, and cucumber extract for moisturizing benefits.
Pros
Intense color
Clump-free
Smear-proof
Lengthening formula
Optimum coverage
Cruelty-free
Cons
May smudge in humid weather
Price at the time of publication: $14
Do you have sensitive eyes; but can't do without mascara? Try this organic bliss for soft and healthy lashes. Besides transforming your eyes from lifeless to lush, this vegan and volumizing mascara nourishes every lash with the infused organic ingredients. The formula contains coffee powder, rice powder, chamomile extract, sunflower seed oil, and vitamin E to nourish and stimulate lash growth. Besides this, it also protects and moisturizes with extracts of grapefruit, oregano, thyme, cinnamon, rosemary, and goldenseal root. Non-goopy, water-resistant, and sweat-proof, this chemical-free mascara is a fantastic choice for contact wearers too.
Pros
Clump-free
Smudge-free
Flake-proof
Long-lasting
Easy to remove
Cruelty-free
Cons
May not be the best if you need bold volumized lashes
Price at the time of publication: $21.95
Who needs fake lashes when you can flutter confidently with this ultra-lengthening mascara! Sweep on for colossal lashes, as the slim wand will separate, coat, condition, and lengthen each lash beautifully. And its formula is every bit nourishing and free from coal tar, toxic petrochemicals, and Teflon. It moisturizes with oat protein, wheat protein, provitamin B5, seaweed powder, rice germ powder, coffee beans powder, and lavender honey. The formula also contains extracts of green tea, black tea, oregano, thyme, rosemary, lavender, goldenseal, Theobroma cacao powder, and seed butter to fight free radical damage. Just what you need for dramatic long lashes, this non-clumpy mascara also stimulates lash growth.
Pros
Cruelty-free
Non-flaking
Non-smudging
Long-lasting
Water-resistant
Optimal coverage
Suitable for all skin types
Cons
Slightly drying after few hours
Price at the time of publication: $28
Obsessed with eye makeup, are you? This premium non-oil-based mascara will make your lashes the star of your makeup! With a dual-sided wand to explore endless lash looks, the shorter bristles are great for curling and adding volume for a dramatic look, and the longer bristles will lengthen, lift, and separate the lashes effortlessly. An award-winning mascara with 99% natural ingredients, the blend contains beeswax, carnauba wax, keratin, and shea butter for conditioning, enhancing, and keeping your lashes lifted all day! The formula is also gentle and safe for sensitive eyes and contact lens wearers. And the best part, the mascara comes off easily with water and without scrubbing or tugging.
Pros
Flake-free
Buildable
Lightweight
Cruelty-free
Ophthalmologist-tested
Fuller healthy lash look
Cons
Price at the time of publication: $26.99
Say no to raccoon eyes this season, girls! This organic waterproof mascara will make sure your lashes remain tip-top for up to 24 hours. Intense black and coating every lash with a rich texture, you can explore dramatic, intense curl, volumized and colossal lash looks with this dual-sided wand. Goodbye, falsies! Infused with non-toxic, natural, and lash-friendly ingredients, the formula is hypoallergenic and suitable for sensitive eyes. All you have to do is sweep on and get ready to flaunt healthy and lush lashes with this long-lasting and sweat-proof formula.
Pros
Clump-free
Flake-free
Smudge-proof
Allergy-tested
Alcohol-free
Easy to remove with waterproof makeup remover
Cons
Slightly messy
Thick consistency
Price at the time of publication: $6.98
With this lash-magnifier in your beauty arsenal, you'd need no falsies and fake lashes ever! Adding 400x more volume with its magnifying gel and thickening microfibers, get ready to be stunned with the lash envy it stirs. Not for your daily look (unless you don't mind the attention), this natural mascara will enhance your lashes with an incredible volume that'll last all day and until the party ends. A must-try for eye makeup enthusiasts, the formula is made of hypoallergenic and non-toxic ingredients. And to make the experience worthwhile, the mascara comes off quick and easy.
Pros
Clump-free
Waterproof
Smudge-proof
Cruelty-free
Paraben-free
Cons
Price at the time of publication: $20.99
This mineral mascara by EVXO will pamper your lashes with the infused olive oil. So, if you have sensitive or super sensitive eyes, this intense black mascara would be a redeemer for daily or party wear. Free from toxic preservatives, fragrances, artificial colors, and harmful ingredients, the blend goes on smoothly to make the lashes look longer, fuller, and healthier than before. You can either use it for a natural finish with one coat or build-up for a dramatic look; this mascara guarantees stellar eyes only. And as the cherry on top— the organic formula won't clump or flake!
Pros
Vegan
Cruelty-free
Long-lasting
Gluten-free
Hypoallergenic
No touch-ups required
Cons
May smudge in humid weather
Price at the time of publication: $22.99
Craving for some lash love, are you? Indulge in this healthy mascara ASAP. Like a natural conditioner for your lash line, it has 85% organic and ultra-nourishing ingredients such as chamomile, vitamin E, lemon peel, lavender flower, coconut oil, and rosemary leaf extract. Free from preservatives, parabens, phthalates, paraffin, synthetic fragrances, artificial dyes, and more, the non-toxic formula is hypoallergenic and suitable for sensitive eyes. Easy to apply and remove, this long-lasting mascara will make your lashes look longer, fuller, and enhanced effortlessly.
Pros
Cruelty-free
Gluten-free
Long-lasting
Safe for contact lens wearers
Cons
Slightly clumpy
It may smudge as it's not waterproof.
Price at the time of publication: $89.99
Not a fan of intense black mascaras? This black-brown option will complement your daily natural makeup look flawlessly. Sweep on once for a natural finish or build-up for fuller and longer lashes; this vegan mascara contains provitamin b5 for a thickening effect. Besides this, the unique brush will separate, define, and coat every lash optimally for a voluminous look. The formula contains vitamins and plant waxes to pamper your eyes inside out. It also contains aloe leaf juice, sea fennel extract, and eyebright extract for nourishing and soothing benefits. Want more? The mascara is suitable for sensitive skin, sensitive eyes, and contact lens wearers.
Pros
Cruelty-free
Gluten-free
Non-GMO
Paraben-free
Smudge-proof
Ultra-conditioning
Cons
Price at the time of publication: $17.6
With a non-toxic formula and maximum volume effect, trust this lash-extending mascara to make your eyes the talk of the town! Sensitive eyes or not, this ultra-conditioning blend will lengthen and volumize your lashes with the infused organic ingredients. Are you worried about smudging or irritation? Don't be! The formula is water-resistant and free from harsh chemicals such as preservatives, parabens, phthalates, SLS, artificial fragrances, and colors. Vegan and 100% natural, this blend contains sunflower seed oil, coffee powder, corn starch, lemon peel, rice powder, and extracts of oregano, thyme, rosemary, chamomile, cinnamon, and more for nourishing benefits.
Pros
Vegan
Gluten-free
Cruelty-free
Non-GMO
Lightweight
Easy to remove
Cons
Price at the time of publication: $18.99
One word— scandalous! Just the mascara you need to glam up your eyes without worrying about redness or irritation the next day, this non-toxic formula contains natural and gentle ingredients. Also, its creamy texture will coat and condition every lash in just one sweep! Intensely pigmented and non-clumping, watch your lashes look longer, thicker, and stunning instantly with this long-lasting blend. A must-try for sensitive eyes and contact lens wearers, this formula will not smudge or dry out. And that's not all; its wide-angle bristles provide optimal coverage from roots to ends. Give it a try!
Pros
Waterproof
Easy to apply
Hypoallergenic
Dramatic long lashes
Easy to remove with warm water
Suitable for all skin types and tones
Cons
Price at the time of publication: $6.99
Safe for your eyes and stunning for your lashes, there's no reason to give these non-toxic gems a miss! With 11 non-toxic mascaras to choose from, we bet you might feel spoilt for choices. And, if you are still wondering how to pick the best non-toxic mascara or its benefits, you must check out our buying guide below.
How To Choose The Best Non-Toxic Mascara?
Look out for the following features in the mascara for maximum benefits:
Not all brushes are the same. Some may have long, short, both, or twisted bristles to deliver different effects. Long bristles will define, separate, and add length to your lashes instantly. Short ones are ideal if you are looking for maximum volume. The twisted bristles will elongate and curl your lashes at the same time. So, inspect and choose according to the look you desire.
The skin around the lash line is sensitive, so before applying mascara, even the non-toxic ones, check the ingredients in the formula. Vitamin E formulas are ideal for fighting free radical damage, whereas plant-based and oil-based mascaras will soothe and nourish the lash line intensely.
Although labeled non-toxic, check to what extent the mascara is gentle and safe for your eyes. Is it dermatologist-tested? Is it ophthalmologist-tested? If not, it should be free from toxic chemicals such as parabens, coal tar, Teflon, phthalates, petrolatum, artificial fragrances, artificial colors, preservatives, SLS, and more.
Unless you enjoy raccoon eyes, you should choose a waterproof non-toxic mascara, especially if the climate is humid around you. The waterproof formula will not smudge or smear, be it sweat, tears, or rain, and most of them are long-lasting too.
One of the main reasons why eyes turn red or irritated is due to the mascara removal process. The harsh scrubbing and tugging can be harmful not only for sensitive eyes but normal eyes too. So, pick a formula that cleans off quickly and effortlessly with water or makeup remover.
What Are The Benefits Of Using A Non-Toxic Mascara?
Non-toxic mascaras are a boon for sensitive eyes and contact lens wearers, but anyone can benefit from them. Here are some of its pros:
Stimulates lash growth
Prevents redness or irritation
Reduces chances of allergic reactions
Nourishes eyes and lash line intensely
Ensures healthy, fuller, and longer lashes
Free from chemicals that can irritate your lash line
Strengthens and protects lashes from radical damage
Why Trust StyleCraze?
The author, Chaitra Krishnan, is a makeup enthusiast who lives and breathes makeup. She believes that the right mascara, especially without toxins, can have a huge impact on your look. Knowing how mascara is important to a girl's daily look, she has tried out some of the top non-toxic mascaras available in the market. Made with natural ingredients, this list of mascaras can glam up your eyes in minutes without hurting your eyes, making it a must-have for every girl.
Frequently Asked Questions
Which ingredient in mascara causes an allergic reaction?
Several ingredients can irritate the eyes, such as parabens, phthalates, iron oxides, coal tar, synthetic fragrances, yellow carnauba wax, nickel, and more can cause a severe allergic reaction. So, if your eyes are sensitive, then it is best to use mascara free from the above-stated ingredients.
Which mascara can make your eyelashes grow?
There are umpteen non-toxic mascaras with all-natural ingredients that can help stimulate lash growth. If you have weak or scanty lashes, Endlessly Beautiful Natural Organic Mascara and 100% Pure Fruit Pigmented Ultra Lengthening Mascara would be great options to promote lash growth.
Is using mascara daily bad for your eyes or lashes?
Yes, but it depends. Regardless of the type of mascara (chemical-based or non-toxic), it's essential to remove it with a good makeup remover and wash your eyes with lukewarm water to ensure no residue is left behind. Also, avoid applying it daily as it may cause inflammation, irritation, or loss of lashes in worse cases.
Is mascara bad for your eyes?
No! It is not bad for the eyes but using the right mascara is essential to avoid redness and irritation. Non-toxic mascaras are great substitutes as they are free from harsh chemicals, have all-natural ingredients, promote lash growth, and are safe for the eyes too.
Is it okay to wear non-toxic mascara every day?
Yes. Wear a non-toxic mascara daily, but remove it properly from your lashes with gentle micellar water before going to sleep. Otherwise, mascara can cause product buildup and turn your lashes brittle.
What is the least toxic mascara?
The ILIA Limitless Lash Mascara is the least toxic mascara. It is an ophthalmologist-tested formula that contains 99% organic ingredients. In addition, the formula is safe for sensitive eyes and contact lens wearers.
Recommended Articles