15 Best Non-Toxic Nail Polishes For The Perfect At-Home Manicure
Give your nails that salon-like finish and shine with long-lasting pigments.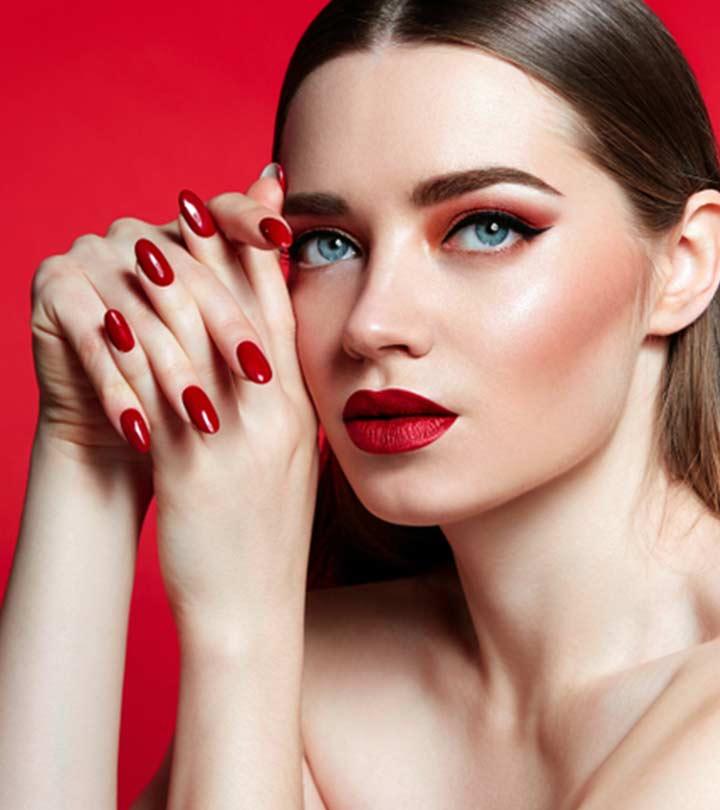 While you embrace organic foundations, lipsticks, and other makeup products, it is a good idea to give some thought to your nails. Ditch the conventional nail lacquer formulas often packed with harmful chemicals and choose the best non-toxic nail polish. These chemical-free products are made with premium-quality ingredients that provide a long-lasting finish and shine.
While traditional nail colors might cause headaches, dry skin, and dizziness, the non-toxic nail polishes are healthy, stylish, and do not damage your nails. In this article, we have compiled a list of some of our top picks for the best non-toxic nail polish available online. Keep scrolling to check them all out!
What Is A Non-Toxic Nail Polish?
Since chemicals in nail polishes can absorb through our nails and into our bodies, manufacturers have started to eliminate chemical additives that may damage your health. 3-free nail polishes have gained considerable popularity in recent years for being free from toxic and destructive ingredients like formaldehyde, toluene, and dibutyl phthalate. This has increasingly led to formulas opting out of the chemical race and eliminating more harmful ingredients like formaldehyde resin, camphor, xylene, ethyl tosylamide, and many others. You'll notice 5-, 10-, 12-, or 16-free written on the nail polish label if the ingredients are free from these chemicals.
More and more nail lacquer brands agree on a list of potentially harmful chemical ingredients to avoid and are becoming much more transparent with what their formulas contain. Of course, while it's necessary to be conscious while using safer products on your enamel, you shouldn't have to give up a happy nail polish experience. There are some colorful, stylish, and safe formulations out there, and we've compiled a list of the 15 best non-toxic nail polishes for you!
15 Best Non-Toxic Nail Polishes For Colorful And Safe Nails In 2023
The Sally Hansen Vegan Nail Polish – Elderflower Power is a 100% vegan formula free from 16 chemicals!Steer clear of harmful ingredients that can cause long-term damage to your tips with this non-toxic, toluene- and formaldehyde-free nail polish. Formulated with plant-based ingredients like potato, corn, wheat, and sugar cane, which are combined to give you a smooth and colorful finish, this nail polish settles as a rich earthy tone. For the perfect application, the brush also contains 100% plant-based bristles made from castor bean oil. With no animal-derived ingredients in the formula or packaging, this vegan nail polish will add a bright and non-toxic splash of color to your nails.
Pros
100% natural
Free from 16 chemicals
Plant-based ingredients
Plant-based applicator brush
Cons
This non-toxic nail polish may take some time to dry completely.
Price at the time of publication: $5
If you like vibrant colored nail polishes, try the Orly Nail Lacquer in the shade glowstick. It is a fluorescent yellow creme non-toxic nail polish that leaves a sparkling glow on your nails. The long-lasting formula has a vibrant color intensity and the perfect finish that lends your nails a natural shine. This nail lacquer formulation is free from 12 chemical ingredients including toluene, formaldehyde, dibutyl phthalate, formaldehyde resin, camphor, parabens, gluten, and animal-derived ingredients. The nail polish instantly glides on, is durable, and delivers a streak-free coverage that is worth your while.
Pros
12-free formula
Vegan
Cruelty-free
Durable color
Streak-free coverage
Fast-drying formula
UV-inhibitors to prevent fading
Cons
Some may find this nail polish to have a thin and porous texture.
Price at the time of publication: $8.02
If you are cutting toxins out of your life, the Karma Hues Organic Nail Polish can be the ideal choice for you. The French nail polish formula contains nourishing ingredients like calcium, vitamins, and coffee extract that strengthen the nails without causing any damage. It is durable and chip-resistant to enable you to enjoy your pretty nails for long periods of time. It is suitable for kids, teens, and adults alike. This non-yellowing nail polish is absolutely safe for children as well as pregnant women and is available in different colors.
Pros
Easy application
Flawless coverage
Non-yellowing
150 color options
Cruelty-free
Toxin-free
Cons
None
Price at the time of publication: $10.49
The Sophi Nail Polish is your one-way ticket to non-toxic and chemical-free colorful nails. This nail polish is for all health-conscious and environment-conscious individuals as it uses natural ingredients to achieve the perfect color and finish on your nails without damaging at all. It has a water-based formula that is virtually fragrance-free. It does not contain harsh chemicals and is durable. This non-irritating nail polish is also safe for pregnant ladies as well as nursing mothers.
Pros
Eco-friendly
Water-based formulation
Odorless
Vegan
Cruelty-free
Cons
None
Price at the time of publication: $11.99
The Piggy Paint Natural As Mud Nail Polish is a non-toxic, low-odor, and child-friendly alternative to toxic nail colors. You can trust that this water-based formula is eco-friendly and free from harsh chemicals, while leaving your nails healthier. Compared to solvent-based paints that reek of a strong odor, this 7-free nail polish is gentle on your nails. You can get chip-resistant results with this nail polish that not only dries quickly, but also has a durable finish.
Pros
Water-based formula
Virtually odorless
Paraben-free
Cruelty-free
Child-friendly
Durable color
7-free ingredients
Cons
Some may find the nail polish slightly clumpy.
Price at the time of publication: $9.8
For a creamy formula that is also aesthetically pleasing, the ILNP in the shade Birthday Suit is a cashmere pink holographic nail polish that is a must-have! The nail polish contains holographic micro-flakes that give your nails an added sparkle. With high-quality ingredients that are 100% vegan, this non-toxic nail polish is formulated without any harsh chemicals. The cruelty-free color is safe to use and also offers long-lasting coverage and chip-resistant durability. The 5-free ingredient list can also be removed easily, making this product a safe bet.
Pros
Creamy formula
Easy to remove
Long-lasting coverage
Chip-resistant
5-free ingredients
Cons
You may find that the color is rather light.
Price at the time of publication: $10.0
The Cirque Colors Creme Urbanized Nail Polish is a vegan and cruelty-free formula that delivers a smooth and long-lasting finish. The spicy mustard yellow creme has a non-toxic and 10-free formula that will leave your nails safe and colored. This product is handmade in small batches that are free from chemicals including parabens, and synthetic fragrances. The easy-to-apply consistency is agreeably one of the top reasons to have this non-toxic nail polish in your manicure kit!
Pros
Vegan
Cruelty-free
Non-toxic 10-free formula
Easy to apply
Lasting color
Cons
Some may find the consistency of the nail polish to be too thick.
Price at the time of publication: $12.5
The ZOYA Nail Polish in the shade Scarlet has a creme base of faint peach undertones, that will add a sheer, fleshy tone and glossy sparkle to your nails. The vegan and non-toxic nail polish is free from 10 chemicals that will keep your tips looking and feeling healthy. If you are looking for a lasting color and shine, choose this non-toxic nail color that comes with a small and easy-to-use application brush that will give you maximum coverage with a single stroke. Suitable for everyday wear, this nail polish will add a shimmery touch to your look.
Pros
Vegan
Non-toxic 10-free formula
Easy-to-apply
Creme finish
Cons
May take quite some time to dry completely
Price at the time of publication: $10.0
The butter LONDON Patent Shine 10X Nail Lacquer In Regal Red delivers a gel-like shine for brighter, stronger, and healthier nails. The long-wearing nail polish is free from 8 chemicals that ensures you of making the safest choice for your nails. With a patented shock-resisting polymer technology that gives you up to a 10-day wear time, this chip-resistant nail polish has a gel-like soft finish. For an extra shine, this nail polish also has UV absorbers to prevent fading. Infused with bamboo extracts, this formula also helps to strengthen your tips.
Pros
8-free formula
Up to 10-day wear
Chip-resistant
Full-color coverage
Gel-like soft finish
Fade-resistant
Available in up to 27 shades
Cons
Some may find it slightly streaky
Price at the time of publication: $18
This 7-free formula does not contain chemicals like formaldehyde, toluene, camphor, or animal ingredients. This natural and organic nail color is chip-resistant and does not split or peel easily. This non-toxic, toluene-free nail polish is safe for sensitive and allergy-prone skin types too. It contains keratin to harden your nails and prevent brittle tips and keeps them hydrated. Infused with ingredients like vitamins A, B5, C, E, along with plant extracts like aloe vera, lemon, and grape, this is a formula that you can depend on!
Pros
Natural and organic ingredients
Chemical-free nail polish
Vegan
Cruelty-free product
Extra hard and long-lasting
Hypoallergenic
Chip-resistant finish
Cons
Price at the time of publication: $10.49
The LONDONTOWN Lakur Enhanced Color is a 16-free highly pigmented formula that is infused with a florium complex. The florium complex contains an amalgamation of botanical ingredients like rapeseed flower oil, cucumber extract, garlic extract, evening primrose oil, chamomile extract, and vitamin E. For long-lasting shine, this formula is free from toxic chemicals that will give your enamel a healthy shine. It is also vegan, gluten-free, and cruelty-free. The gel-like nails are shatterproof and contain a durable molecular bond for stronger nails.
Pros
16-free formula
Highly pigmented
Contains botanical ingredients and mineral oils
Vegan and cruelty-free
No gluten
Shatter-proof and durable
Cons
Price at the time of publication: $16
The TOMICCA Kids Nail Polish Set contains no chemicals and is free from formaldehyde, benzophenone, and heavy metals. This water-based less toxic nail polish is not just eco-friendly, but also virtually odorless, making this a suitable option for children. The easy-to-apply formula can also be removed by simply peeling it off. An ideal gifting option, this non-toxic polish does not contain parabens, and is both cruelty-free and vegan.
Pros
Non-toxic and odorless
Water-based nail polish
Easy-to-apply
Suitable for children
Vegan and cruelty-free
Cons
May take about 5 minutes to completely dry
Price at the time of publication: $19.99
For chip-resistant color, the Tenoverten Nail Polish is an ideal cruelty-free choice that will give you stronger, healthier and colorful nails. The 5-free non-toxic nail polish will help you combat long-term side effects of chemically-laden products. Without sacrificing the quality of your nails, this lasting lacquer gives you a smooth, saturated, and streak-free color. This natural nail polish is a healthy alternative to chemical polishes, and is not only easy to apply, but also promotes the overall health of your enamel. If you want to find out more about this product and its usage, make sure to check out this review on YouTube.
Pros
5-free formula
Chip-resistant color
Promotes strong and healthy nails
Long-lasting polish
Streak-free color
Easy-to-apply
Cons
You may not get the coverage that you expect
Price at the time of publication: $14.69
The Cote Toxin Free Nail Polish is a vegan and cruelty-free nail polish that works as an effective base and topcoat. For a chip-resistant manicure experience, this non-toxic nail polish does not contain harmful ingredients. Additionally, it is formulated with vitamin B5 and coffee extracts that strengthen your weak or peeling nails. You can trust that this shiny nail polish will not harm your nails and instead give you the bright shine and color that you want.
Pros
Vegan
Chip-resistant
Contains vitamin B5 and coffee extracts
Cruelty-free
Helps to revitalize nails
Cons
Price at the time of publication: $20.95
The Piggy Paint SOPHi Nail Polish is a low-odor formula that is water-based and free from harsh chemicals. This vegan and cruelty-free alternative has a hard and durable finish that lasts longer. The non-toxic nail polish gives your nails the shine and color that you want, without compromising on the health of your tips. Free from formaldehyde, toluene, and dibutyl phthalate, this nail color is also safe enough for pregnant women and nursing mothers.
Pros
Low-odor formula
Water-based nail polish
Vegan
Cruelty-free
Hard and durable
Suitable for pregnant women
Cons
You may find that the nail polish has a slightly thick consistency.
Price at the time of publication: $9.9
Non-toxic nail polishes are free of recognized toxins and allergens, which makes them a safe nail polish alternative for your nail enamel. Picking the best non-toxic polish can be difficult due to the sheer number of choices and formulations available, but our buying guide will assist you in making the best decision.
How To Choose A Non-Toxic Nail Polish
When choosing a non-toxic nail polish, you may come across 3-free, 5-free, 7-free, and up to 16-free products. These counts indicate the number of chemicals or harmful ingredients that are absent in the formulation. The most common toxic trio is toluene, formaldehyde, and dibutyl phthalate which may cause skin irritations and other long-term effects on your body. Look for acetone-free, formaldehyde-free, phthalate-free, resin-free, ethyl tosylamide-free, xylene-free, and camphor-free nail polishes. This ensures that your nail stays healthy no matter how many times you choose to paint them with color.
Choose a water-based nail polish. A water-based polish does not give off harmful fumes and is safe for your skin. Solvent-based nail polishes, on the other hand, can give off toxic fumes, which can be dangerous when inhaled. Since nail colors last long on your enamel, you want to choose a base that is safe for you.
When looking for non-toxic nail polish, you may also want to consider the final look of the color. You can choose a finish that best suits your taste. Whether you want a matte or creamy finish, there is a non-toxic nail polish available for you. Opt for something that has a glossy finish if you're looking for a finish that will compliment your outfit on special occasions. Creme and matte nail polishes are more suitable if you want to add a bit of color to your everyday look. Sheer nail polishes are ideal for daily wear, while glitter nail polishes are perfect for night-outs and parties. You can even opt for metallic nail polishes if you wish to try something different, fun, and daring.
Non-toxic nail polishes are free from harmful chemicals, which may not allow them to last as long as chemical polishes do. Look for products that last up to 7 days without causing any harm. You can also choose from a large variety of colors and look for polishes that are easy to remove. Some nail polishes also come with a peelable option so you don't have to worry about using a chemical nail polish remover to get rid of the color.
Why Trust StyleCraze?
The author, Srijita De, is a makeup enthusiast and loves trying out new products before recommending them to users. She understands how various ingredients in nail polishes get absorbed into the body. So she has come up with a list of toxin-free products that provide a long-lasting finish. To back up her expertise, she has also gone through hundreds of reviews posted online to consider users' experiences.
Frequently Asked Questions
Is non-toxic nail polish safe?
Yes, it is comparatively a safe nail polish to use especially if you are prone to changing your nail colors often.
Does non-toxic nail polish smell bad?
No, they do not. Non-toxic nail polishes, especially ones that are free from camphor are less likely to smell harsh. Most non-toxic nail colors are low-odor formulas.
Is non-toxic nail polish safe for babies?
It is recommended not to use nail polishes for babies, but non-toxic formulas are safe to use for children above the ages of 5.
Is OPI polish non-toxic?
Yes, OPI nail polishes do not have toxins like toluene, formaldehyde, and DBP (Dibutyl phthalate- a plasticizer) which are common toxins in generic nail polishes.
Are nails healthier without polish?
Yes, some ingredients in nail polishes can dry out your nails and the surrounding cuticles. Do not use nail polish for a long time at a stretch and keep your fingers well-moisturized.
Do nail polishes affect your health?
Only toxic nail polishes can cause allergic reactions and skin irritation. They can also increase the risk of cancer, reproductive issues, and respiratory issues.
Are all nail polishes toxic?
No, there are gentle nail polishes available in the market that are made without toxic ingredients. These polishes are generally xylene-free, camphor-free, formaldehyde-free, resin-free, acetone-free, DBP-free, ethyl acetate-free, and toluene-free.
Recommended Articles