9 Best Non-Toxic Shampoos And Conditioners For Healthy Hair – 2023
Ditch those toxic hair products that strip off natural oils and cause breakage.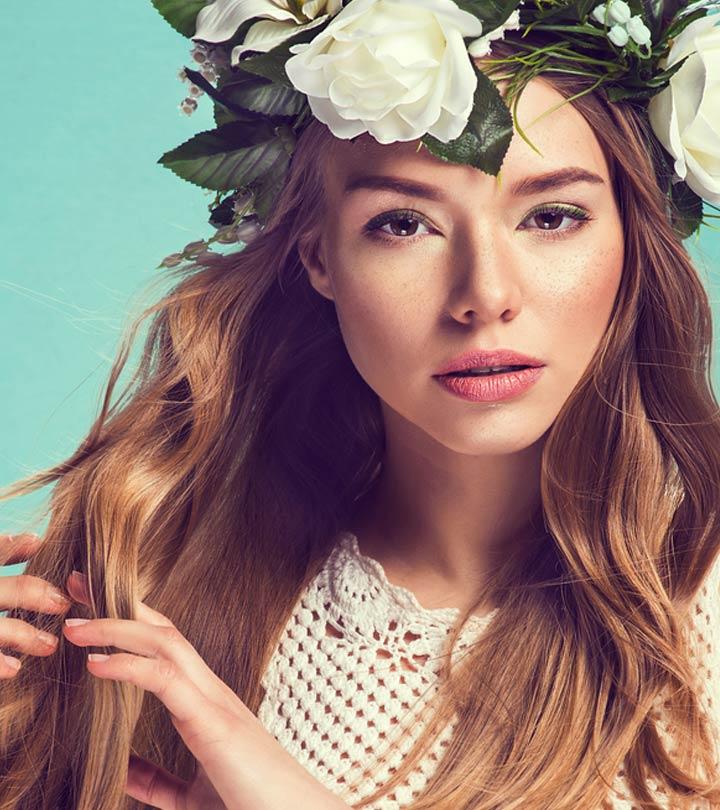 Healthy hair is not easy to get or maintain. To help you combat the damaging effects of pollutants and chemicals, we have listed the best non-toxic shampoos and conditioners in the market. Non-toxic hair products are made primarily with natural ingredients and are a better alternative to chemical-based shampoos and conditioners. These products can nourish your hair without stripping it off its natural oils, and leave it hydrated, silky, and soft. They also often contain natural oils that can penetrate directly into the roots and make your hair strong and resistant to breakage.
The clean revolution in the beauty industry has made space for hair-care products that are cruelty-free and safe for the environment and your hair. Understandably, tons of brands have jumped on the bandwagon, with plenty of such products finding their way to the shelves. While that is great news, it may be a tad difficult to know your options well and make the right choice. And that is exactly why we have listed out the best products out there for you. As a bonus, we have also included a buying guide with a list of ingredients that you should avoid if you want healthy and luscious hair.
9 Best Non-Toxic Shampoos And Conditioners In 2023
Pamper your hair with only the best! Made from a unique blend of 17 natural herbs, this is a hair care indulgence you cannot miss out on. While ingredients like nettle extract, saw palmetto, and red Korean seaweed reduces hair thinning and promotes hair growth, apple extracts, argan oil, and aloe vera juice provide hydration and moisture directly to the roots. It also contains essential vitamins like biotin, niacin, and vitamin E, which aid in circulation and maintains scalp and hair health.
Pros
Contains 17 natural herbs
Suitable for dry and normal hair
No parabens
No sulfates
SLS-free
Gluten-free
Cruelty-free
Cons
●     May not suit oily hair

Price at the time of publication: $29.99
With this beautifully packaged toxin-free shampoo and conditioner set, you can revive dry and lacklustre hair to beautiful, soft locks. Enriched with virgin coconut oil, it nourishes the hair from root to tip and prevents breakage. The shampoo and conditioner have a pleasant fragrance made from ethically sourced ylang-ylang flower oil and do not contain any parabens, silicones, or dyes. What's more? The set is packaged in a 100% recycled plastic bottle. Take a look at this video to get more information on the product.
Pros
Contains virgin coconut oil
Suitable for dry hair
Paraben-free
Silicone-free
Dye-free
Cruelty-free
Safe for colored hair
Cons
Price at the time of publication: $11.99
Your hair and scalp will thank you for this super duo! The non toxic shampoo and conditioner together work to improve the health of your scalp and hair. The shampoo contains 100% pure tea tree oil, rosemary oil, and vitamin C and hydrates and nourishes the scalp. Similarly, the conditioner has aloe vera, orange fruit extract, and silk protein that smoothens and improves the texture of your hair. Sulfate-free and paraben-free, it is suitable for all hair types.


Pros

Sulfate-free
Paraben-free
Suitable for all hair types
Suitable for itchy, dry scalp
Cons
The scent may be overpowering for some.
Price at the time of publication: $25.94
If you need a shampoo and conditioner set that instantly provides a refreshing touch to your dry scalp, you should consider this duo.  It contains natural ingredients like peppermint, wild mint, and jojoba, which penetrate deep into the hair follicles and deep cleanses the scalp. It eliminates the scalp's oiliness and offers immediate relief for people with oily hair and dry scalps. Other ingredients like eucalyptus mint oil, aloe vera extracts, argan oil and, shea butter offer hydration and moisture, leaving the hair looking soft and silky. It is the best non toxic shampoo and conditioner. This video offers a more detailed explanation of the product.
Pros
Sulfate-free
Paraben-free
Safe color-treated hair
Suitable for normal hair, curly hair, and dry hair
Cons
Some may find the scent of mint overpowering.
Price at the time of publication: $24.95
Take care of your hair and the environment the natural way with the Ingreendients Hair Care Bundle. This shampoo and conditioner combo is made from plant-based ingredients. Its no-harmful formula hydrates hair and provides a glossy finish. The shea butter and jojoba oil in the formula strengthen hair cuticles and protect split ends, while the apple cider vinegar helps cleanse your scalp build-up and flakey skin. Also, if your struggles are an oily scalp and itchiness, then its tea tree oil will definitely provide relief and balance your scalp pH level.
Pros
Suitable for all hair types
No-synthetic fragrance
100% recyclable bottle
Sulfate-free
Silicone-free
Color-safe
Gluten-free
Reef-friendly
Vegan
Cruelty-free
Cons
None
Price at the time of publication: $34.95
Prevent hair loss and welcome new and healthy hair growth with the Laritelle Organic Shampoo 17 and Conditioner The products are formulated using therapeutic hydrolats and certified organic oils to stop hair fall and nourish the strands while rejuvenating the hair follicles. They also contain essential oils, such as rosemary, lemongrass, ginger & cedarwood, known to promote healthy hair growth. The ingredients are derived from plants that are grown through organic farming and without any chemicals. These are gentle and safe for all hair types and even suitable for color-treated hair.
Pros
Natural ingredients
Color-safe
Hypoallergenic
Sulfate-free
Paraben-free
Silicone-free
Gluten-free
Cruelty-free
Cons
None
Price at the time of publication: $99.98
Parents have so much to worry about, but toxic shampoos and conditioners should not be one of them. Say hello to the TotLogic Kids Shampoo And Conditioner, made specifically for parents who want safe ingredients for their child. This hypoallergenic and non-toxic shampoo and conditioner set is made from plant-based ingredients that are kid and toddler safe. Enriched with natural extracts and essential oils, they contain a unique blend of botanicals and antioxidants that cleanse and condition the hair. Naturally scented with bergamot, lavender, and chamomile, it is a toxin free shampoo and conditioner that does not contain any phthalates, parabens, artificial dyes, or scents.
Pros
Enriched with natural extracts, antioxidants, and essential oils
Hypoallergenic
Suitable for all hair types
Naturally scented
Kid-safe
Phthalate-free
Paraben-free
Cruelty-free,
Cons
Slightly expensive for the quantity provided.
Price at the time of publication: $22.95
Here's another great toxin-free shampoo and conditioner! Made from natural ingredients, it cleanses the hair without stripping away its natural oils and sheen. It contains jojoba extracts that provide moisture and hydration, while the coconut-derived surfactants give it a rich, luxurious lather. It also contains sandalwood, which nourishes the hair from root to tip.  Sulfate and paraben-free, this natural shampoo and conditioner do not have synthetic fragrances, artificial colors, glycols, silicones, or PEGs.
Pros
Contains coconut-derived surfactants
Sulfate-free
Paraben-free
No synthetic fragrances
No artificial colors
Silicone-free
PEGs free
Cons
Price at the time of publication: $54
The Common Ground All Natural Shampoo and Conditioner Set uses natural ingredients to help to relish clean and bouncy hair each time! The product has antibacterial and anti-inflammatory avocado oil extracts that repair damaged and dull hair and enhance vitality. The shampoo effectively clears the dirt and buildup that occurs due to pollution, dust, or bodily secretions and the conditioner makes them smooth and shiny without weighing them down. Both the shampoo and conditioner are enriched with vitamins B & E, which are essential for healthy scalp and hair. The products also prevent scalp irritation and dandruff and maintain the optimum pH balance of the scalp.
Pros
Plant-based ingredients
UV protection
Silicone-free
Paraben-free
Mineral oil-free
Color-safe
Cons
Not suitable for 4a/b hair
Price at the time of publication: $32.98
Now that you have taken a look at the best non-toxic shampoos and conditioners for healthy hair, there are a few things to keep in mind. While your shampoo and conditioner may have "natural" or "safe" written on them, it doesn't mean it's entirely true. You need to check the ingredients and see if it contains harmful chemicals, which may come in the way of you achieving healthy hair. Here are a few things you must avoid while picking your non-toxic shampoo and conditioner.
Things To Keep In Mind While Buying A Non-Toxic Shampoo And Conditioner Set
Rebekkah O'Neill, a master stylist and hair & beauty expert, says, "It's really important to opt for non-toxic hair products. Not only do they help the hair but they also help the scalp. Many hair products contain lots of chemicals that cause reactions, build ups, and damage to your hair. And you should do your research so that you can avoid those toxins."
What to avoid
Sulfates
Sulfates are sometimes considered as harmful chemicals and are also used as cleansing agents in shampoos and conditioners. While they do a great job of cleansing your scalp and hair, they also are notorious for washing away natural oils, leaving your hair brittle and dry. Sulfates may also lead to skin allergies and irritate sensitive skin. While buying a shampoo and conditioner, one must always avoid sulfates.
Parabens
These are commonly used preservatives in beauty care products. Although they are commonly found in skin care products, they are used in shampoos and conditioners to stimulate hair growth and eliminate bacteria. A cost-effective alternative to microbial agents in plants, parabens are known to harm the texture of the hair and scalp health. Studies also show that parabens contain weak estrogen-like properties, which may lead to breast cancer in rare cases. Try to avoid products with parabens as much as possible.
Triclosan
Best known for its antifungal and antibacterial properties, Triclosan is a chemical found in many consumer products to prevent bacterial build-up. There have been numerous studies on the ill effects caused by Triclosan, and it is seen that it may lead to skin and scalp allergies and cause hormonal imbalances. Long-time exposure to this toxic chemical may also lead to damage to the endocrine system of your body. This chemical is a big no-no for everyone who wishes to have healthy hair!
Fragrance
Who wouldn't want a nice smelling shampoo and conditioner? Shampoos and conditioners with added artificial fragrances can do more harm than good. Typically, shampoos and conditioners with an inviting and lasting scent are made of synthetic and toxic chemicals. Fragrances can harm the scalp and its natural texture and may lead to other severe issues like asthma attacks and even cancer.
Why Trust StyleCraze?
The author of this article, Kirtana Divakar, is a hair care enthusiast who is passionate about looking for the best non-toxic shampoos and conditioners for healthy scalp and hair. She has browsed through many online reviews to curate the perfect list for her ardent readers. Her well-researched article includes cruelty-free and color-safe shampoos and conditioners.
Recommended Articles