7 Best Nose Contour Products On Amazon
Now sculpting and highlighting your distinctive features is easier than ever before.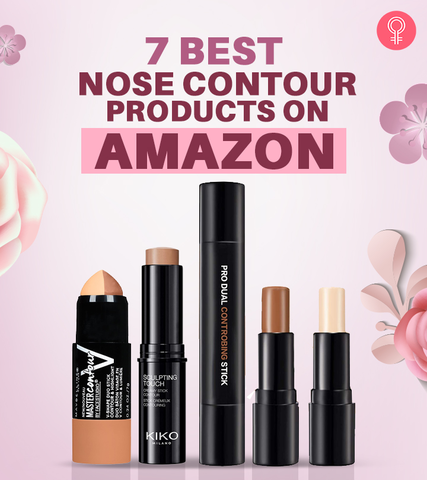 Sculpting your facial features for improved definition was nearly unheard of several years ago. Then came the best facial and nose contour products, which started being used to carve out people's facial features using darker shades. Thanks to the Kardashians, what began as a simple professional trick has evolved into a global sensation in the beauty industry.
It may appear challenging to choose a perfect product for nose-contouring, given the numerous options available in the market these days. That's why we combed Amazon for the best-selling and most-reviewed nose contour products to make the task of choosing the right one more straightforward for you. Continue reading to learn more.
7 Best Nose Contour Products On Amazon
The Kevyn Aucoin The Sculpting Contour Powder helps define and sculpt your face with a matte finish. The powder is a blend of brown, red, and gray pigments that create a natural shade to add dimension to your face. You can use it down your neck, along the nose bridge, under the cheekbones, and even the under chin. It comes in three different shades for light, medium, and deep skin tones. You can check out this YouTuber's review of the product if you require more convincing.
Pros
Highly pigmented
Easy to blend
Crease-proof
Multipurpose
Does not clog pores
Value for money
Cons
None
Price at the time of publication: $44
If you are looking for a super blendable formula that provides great coverage, try the Kiko Milano Sculpting Touch Creamy Stick Contour. It is enriched with hydrating African walnut oil and soothing pistachio extract, giving it a rich and soft texture. This cream contour provides a natural shadow with a matte finish and comes in two shades of hazelnut and chocolate that work across a range of skin tones. If you want to find out more about this product and its usage, make sure to check out this review on YouTube.
Pros
Easy to blend
Long-lasting
Lightweight
Non-comedogenic
Cruelty-free
Hypoallergenic
Dermatologically tested
Value for money
Cons
Price at the time of publication: $14.99
Are you looking for a multipurpose makeup stick that works as a highlighter and contour in one? Here's one by Maybelline New York Facestudio. In just two easy steps of highlighting and contouring, you can achieve your desired V-shaped face with defined lift and structure. This stick comes in three different shades, each for light, medium, and deep skin tones. If you need further convincing, check this YouTuber's review out.
Pros
Super blendable
Multipurpose
Non-drying
Super affordable
Cons
None
Price at the time of publication: $6.48
This star product by TheBalm has a multipurpose formula and works as a bronzer, contour, brow filler, and shadow. It gives your skin a natural, sun-kissed matte glow for a perfect illusion of a fresh beach tan without leaving any orange undertones. You can use this as a brow filler to get the perfect arches too.
Pros
Versatile
Lightweight
Great value for money
Easy to blend
Highly pigmented
Cons
None
Price at the time of publication: $19.93
A perfect contour brush definitely comes in handy when trying to achieve a flawlessly natural, slimmer nose. The Kabuki Nose Contour Brush is a small flat-angled brush designed specifically to highlight, contour, and bronze your nose. Use this for spot concealing delicate and hard-to-reach areas on your face.
Its shed-free synthetic bristles reduce product wastage and provide an even blend while ensuring a streak-free finish. Its copper ferrule, dual crimps, and wood handle construction ensure better balance, easier control, and excellent durability.
Pros
Soft bristles
Shed-free bristles
Durable
Easy to clean
Vegan
Budget-friendly
Cons
None
Price at the time of publication: $11.97
This multipurpose contour and highlight palette by Vodisa can be a great addition to your makeup arsenal. It features six customizable highlighting and contouring shades that help sculpt, define, and emphasize your natural features. You can easily create the illusion of a slimmer nose, chiseled jawline, and higher cheekbones using this soft and silky formula. It provides a salon-grade finish and can be used by both professionals and amateurs.
Pros
Super affordable
Highly pigmented
Non-cakey
Long-lasting
Waterproof
Cons
None
Price at the time of publication: $12.99
The Onlyoily Pro Dual Controbing Stick is a 2-in-1 highlighter and contour stick that provides a flawless sculpting effect to your face. It offers medium to natural coverage with a creamy finish that minimizes the appearance of wrinkles, fine lines, and blemishes. This stick comes in three vibrant cool and warm shades, which are designed to work across all skin tones, including fair, yellow, and natural.
Pros
Long-lasting
Easy to blend
Waterproof
Sweat-proof
Non-greasy
Non-comedogenic
Ideal for all skin types
Cons
None
Price at the time of publication: $8.99
Contouring highlights your facial features, creates an illusion of chiseled cheekbones, stronger jawline, and fuller lips. So whenever you put on makeup, contouring should be on your list! However, when it comes to contouring your nose, you need to have the right products in order to create the perfect look. Keep the following points in mind before buying nose contour products.
Things to Consider Before Buying Nose Contour Products
Choose the right shade: The shade you choose to buy should be in line with the shade that suits your face. Take your skin tone and undertone into account while choosing the right shades. Choose a contour shade that is two to three shades darker than your skin tone and foundation shade to achieve shadowy effects.
Check your wrist veins to understand whether you have cool, warm, or neutral undertones. If your veins look greenish, you have warm undertones. Choose a shade designed for warm undertones. If your veins appear blue or purple, you have cool undertones and need to choose contour shades for cool undertones.
To do a proper nose contour that enhances your face structure, you need to understand your face first. Knowing your face structure will help you enhance your best features. For instance, if you have a round face, highlight and contour the bridge of your nose. If you have a diamond face structure, make your nose contour more pointed and focused.
Skin Type: If you have oily skin, you may want to use powder contour products that make your face appear more matte and luminous. People with dry skin should opt for cream-based nose contour products that offer nourishment and do not make your face drier than before.
Ingredients: You need to be careful about the ingredients used in the contour product since it will be applied on your face directly. Choose formulas with nourishing ingredients like wild rose extract, hyaluronic acid, and vitamin E.
However, you should avoid nose contour products with artificial fragrances, parabens, triclosan, and added preservatives. Petroleum distillates, phthalates, and lead may make your skin rough and lead to severe damage.
Why Trust StyleCraze?
The author of this article, Baishali Bhattacharya, is certified in makeup artistry and loves hunting down the best makeup products and reviewing them. She did hours of research and sifted through numerous user reviews online to curate this list of the most highly-rated nose contour products available on the market. She has reviewed each of these handpicked products with their pros and cons so that our readers can pick the ones most suitable for them.
Recommended Articles