6 Best Nude Eye Pencils Available In India
Getting a natural look has never been easier than with nude-toned eye formulas!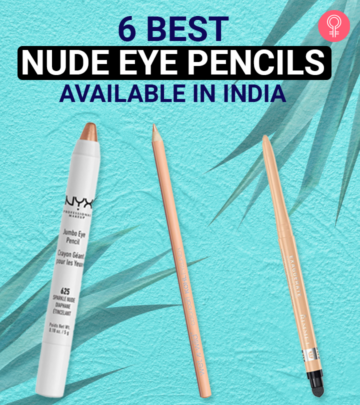 Who doesn't want to wake up well-rested and refreshed every day with a perfect eight hours of sleep behind them? Sleep-deprived eyes basically make you look like a zombie. On days when you need to fake that awake and alive look, a nude eye pencil can come to your rescue.
Nude eye pencils have the magical ability to make your eyes look more awake. They are perfect for those days when you want to go for a more subtle, no-makeup look. Whether you wish to define your brow area, highlight the inner corners of your eyes, or clean up bleeding lipstick, this versatile pencil does it all. We have curated the perfect list of the 6 best nude eye pencils available in India right now. Take a look!
Top 6 Nude Eye Pencils in India
The Rimmel London Exaggerate Waterproof Eye Definer is a high impact nude eye pencil. The design features a built-in sharpener and a smudger. The shade In The Nude has an intensely pigmented formula that is waterproof and promises up to 10 hours of staying power. This eye pencil can help you create extremely precise lines, while the smudger helps with subtle blending for a bold and dramatic look.
Pros
Intensely pigmented formula
Long-wearing up to 10 hours
Inbuilt smudger
Inbuilt sharpener
Waterproof
Affordable
Cons
None
Price at the time of publication: ₹4100
The NYX Professional Makeup Jumbo Eye Pencil is an amazing multi-use product and one of the best nude pencils in India. You can use it as an eyeliner, an eyeshadow, and even a highlighter! Sparkle Nude looks particularly glamorous for a party, night out, or festival. The formula is a smooth blend of powder and mineral oil that glides effortlessly without tugging, pulling, or fading.
Pros
Creamy formula
No pulling or tugging
Highly pigmented
Cruelty-free
Can be used as eyeliner, eyeshadow, or highlighter
Cons
Price at the time of publication: ₹1070
If you are looking for something long-wearing, try the wet n wild Color Icon Kohl Eyeliner that promises to last for up to 12 hours. With its intensely smooth and creamy formula, this eye pencil gives you the freedom to create any eye look you desire. It is one of the best drugstore nude eyeliner brands in India that even celebrities and makeup artists can't stop raving about.
Pros
Long-wearing up to 12 hours
Highly pigmented
Creamy formula
Paraben-free
Cruelty-free
Affordable
Cons
A favorite among makeup vloggers and professionals, RIMMEL LONDON's Scandal Eyes Waterproof Kohl Kajal in Nude 005 gives you a high-intensity color impact with its creamy formula. With this nude shade on your waterline, you can easily fake 8 hours of sleep while making your eyes look bigger and more awake. This nude eyeliner pencil is dermatologist-tested.
Pros
Safe for sensitive eyes
Intensely pigmented
Smudge-proof
Waterproof
Smooth and creamy formula
Dermatologist-tested
Cons
Price at the time of publication: ₹2157
This multi-functional eye pencil from DEBORAH MILANO gives you the benefits of a kajal and an eyeliner. It is a great pick for beginners as it is effortless to use. The richly pigmented formula will stay put through hot summer days, rainstorms, and emotionally devastating moments from any classic tragedy.
Pros
Can be used as kajal or eyeliner
Highly pigmented formula
Long-wearing up to 8 hours
Transfer-proof
Waterproof
Dermatologist-tested
Cons
PAC Cosmetics has been making waves in India with its high-quality professional makeup that is super affordable. This champagne-pink shade looks great on fair to medium skin tones. It stays put for about 8 hours without smudging or fading. If you are looking for a long-staying, waterproof kohl formula that is pocket-friendly, give this one a shot.
Pros
Inbuilt smudger
Highly pigmented
Long-wearing up to 8 hours
Waterproof
Cruelty-free
Cons
Not smudge-proof
Does not glide on easily.
These are the 6 best nude eye pencils in India. But there are a few things you should consider before buying any of them. Check out the buying guide below to learn more!
Things To Consider Before Buying A Nude Eye Pencil
Eye pencils come in different types and various forms. There are wooden pencils that you need to sharpen, and there are twist-up pencils. Although twist-up pencils are convenient, wooden pencils usually offer a richer color payoff. Choose a nude eye pencil based on your convenience and requirement.
Read the ingredient list before you buy any product. These eye pencils are known to be suitable for all skin types. But if you have a known allergy to any of the elements in the product, refrain from buying it.Also, some products claim to be organic or all-natural. If you are looking for something in that regard, go through the ingredients to be doubly sure.
There are so many brands to consider. Some claim long-lasting wear, and some promise a smudge-free look. Some brands claim to be skin-friendly and natural. Choose one based on your preference.
Depending on the brand, nude eye pencils start at ₹125. Drugstore brands like wet n wild and RIMMEL LONDON are great budget-friendly options. DEBORAH MILANO and NYX fall into the mid-range category and start from ₹500. High-end brands like MAC and Bobbi Brown start from ₹1300.
That was our round-up of the 6 best nude eye pencils available in India. We hope you found some that are perfect for you. Why not buy your faves and get working on creating some glam eye makeup looks for the next party?
Frequently Asked Questions
What are nude eye pencils, and how are they different from regular eye pencils?
Nude eye pencils are neutral-colored eyeliners, made to match various skin tones and create a natural and subtle look. Whereas regular eye pencils come in various colors and are often used for bolder and dramatic eye makeup looks. Nude eye pencils enhance the eyes subtly, while regular eye pencils offer more versatility in creating different makeup styles.
How to apply nude eye pencil to achieve a natural look?
Start by applying a thin line along the upper lash line, staying close to the lashes. Then, use gentle, short strokes to line the lower lash line to subtly define the eyes without looking too bold.
Can nude eye pencils be used for both waterline and lash line application?
Yes, nude eye pencils can be used for both waterline and lash line application. They can brighten and open up the eyes when applied to the waterline, and define and enhance the lash line for a natural, subtle look.
Can I use nude eye pencils to make my eyes appear larger or more awake?
Yes, using nude eye pencils on the waterline can make the eyes appear larger and more awake. The light color of the pencil creates the illusion of bigger eyes by brightening the waterline area, making the eyes look more open and refreshed.
How do I remove nude eye pencils effectively without irritating my eyes?
Use a gentle eye makeup remover or micellar water on a cotton pad to remove eye makeup. Gently wipe along the lash line and waterline. Do not rub the skin around the delicate eye area or tug the hair on the lash line. Follow up with a gentle cleanser to remove any residue.
Recommended Articles: