Top 15 Nude Lip Liners For Well-Defined, Fuller Lips In 2023!
Top selection of nude lip liners that make your lips look defined, bigger, and fuller.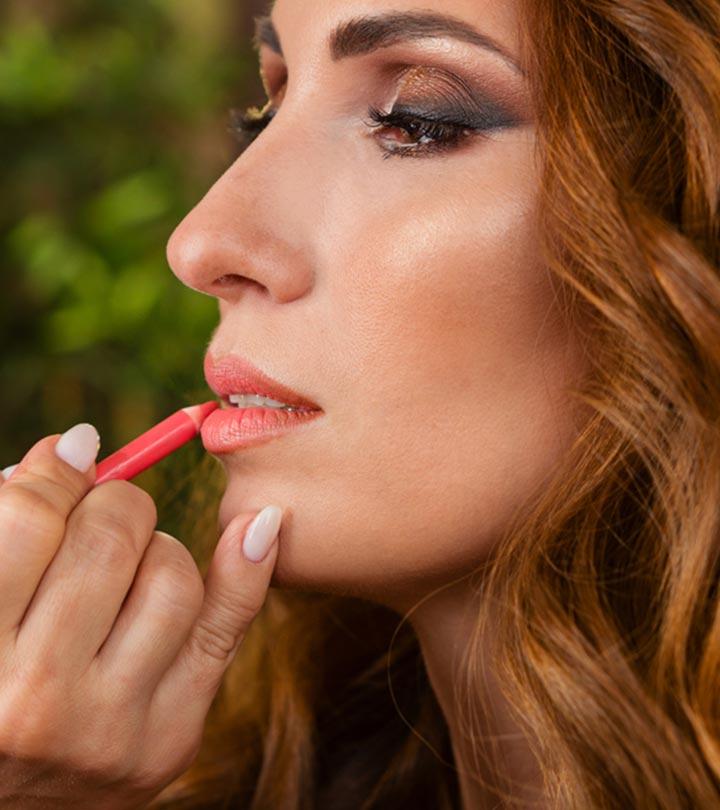 Move over, dark brown liners, and say hello to nude lips. The best nude lip liners are the new revolution to achieve well-defined and full lips. It is a known fact that achieving a nude makeup look is quite a skill, as the strokes and hand movements should be carefully made, instead of putting too much or too little product. It should highlight your lip features just right, instead of leaving a trail of product on your face. The best part about it is nude lips are easy to look at after application.
Nude lip liners can be used regularly without making your lips look all cracked or feathering. It's all about giving off no-makeup vibes as effortlessly as possible. It is now becoming a must-have among many makeup lovers. It's almost as crucial as a facewash in your skincare routine. What's more? These nude lip liners will surely give the illusion of bigger lips. With so much said about these lip liners, take a look at these top 15 nude lip liners that will turn out very well.
Best 15 Nude Lip Liners For All Skin Tones
Pros
No feathering or bleeding
Rich lip color
Helps in achieving fuller lips
Smooth formula
Cons
Some might find the formula to be a bit too creamy
Price at the time of publication: $7.98
Pros
Great pigmentation
Creamy formula
Smudge-proof
Gives you fuller-looking lips
Cons
It can feel slightly heavy on the lips
Price at the time of publication: $19.99
Pros
Highly pigmented
Smooth and creamy texture
Long-lasting
Transferproof
Lightweight texture
Cons
Might require a heavy oil-based make-up remover to completely remove it
Price at the time of publication: $6.98
Pros
Creamy texture
Smooth Finish
Helps in definition of lips
Buildable product
Cons
Might not be best suited for dry, chapped lips.
Price at the time of publication: $4.69
Pros
Cruelty-free and vegan
Creamy texture
Smooth Finish
Great definition
Long-lasting
Cons
The product color may slightly differ from the one shown on the website
Price at the time of publication: $4
Pros
Smooth and creamy
Does not feather
Lightweight
Does not transfer
Cons
May not be compatible with deep skin tones
Price at the time of publication: $8.83
Pros
Soft and creamy texture
Lasts up to 24 hours
Waterproof
Contains hydrating ingredients
Cruelty-free
Cons
Might not last for too long.
Price at the time of publication: $15.99
This pout gel lip liner is one of a kind! Move over creamy and matte textures as this nude lip liner with a gel formula is here to dominate the lipstick game. It slides smoothly on the lips and leaves a pigment that lasts for days. It feels soft and light while drying very quickly. This lip liner is great for outlining your lip, and it also works to fill in your lips well. It also doesn't smudge around your lips, even though it has a smooth texture.
Pros
Soft and creamy
Gel texture
Dries quickly
Smudge-free
Lasts long
Cons
Might not be very pigmented
Price at the time of publication: $19.23
Pros
Matte finish
Moisturizing properties
Smudge-free
Defines and contours lips
Cons
Might not last as long as expected
Price at the time of publication: $20
Pros
Enriched with vitamins
Matte finish
Creamy texture
Smudge-free
Cons
Might feel very dry on the lips
Price at the time of publication: $11.99
Pros
Beautiful color
Longwear
Helps you get fuller lips
Smudge-free
Cons
Price at the time of publication: $14
Pros
Subtle shade
Well-defined lips
Satin finish
Primes lips
Free from parabens, sulfates, and phthalates
Cons
Price at the time of publication: $10.83
Pros
Ideal for all skin tones
Smooth finish
Easy to apply
No feathering
Cons
The scent may be overpowering for some
Price at the time of publication: $4.97
Pros
Creamy texture
Semi-matte finish
Affordable price range
Great pigmentation
Cons
Might not be smudge-proof
Price at the time of publication: $8.99
Pros
Smooth finish
Blends well
Easy to use
Waterproof
Lasts up to 8 hours
Cons
Price at the time of publication: $30.8
Now that we know of almost every nude lip liner out there, it's time to understand how to choose the right one for yourself!
How To Choose A Lip Liner That's Close To Your Natural Lip Color
One thing to be careful about while buying the right nude lip liner is choosing the right color with the right undertones. As a general rule of thumb, choose a nude lip liner 1 or 2 shades lighter than that of your nude lipstick. This will ensure your lips stand out and look more fuller and defined.
The texture of a lip liner can either be matte, creamy or even gloss. Creamy lip liners glide effortlessly on the lips but may also be prone to smudging. Matte liners ensure they stay longer but may need to be paired with a lip balm as they crack on the lip, leaving them feeling dry. Glossy lip liners dry quickly for a flawless matte finish but may be hard to take off. Depending on your preferences and needs, you can pick one that suits you best.
Speaking about priorities, wearability is one of the topmost ones you need to consider before bringing home a nude lip liner. How long does it last for, does it smudge, does it cause feathering, are all common concerns. If you have long days of work, it is necessary to go for something that allows you to run around without worrying about smudging or feathering. Also, invest in long-lasting lip liners.
Why Trust Stylecraze
Our author, Srijita De, is a makeup enthusiast. She has curated this list of lip liners after carefully researching them, checking reviews online, and browsing through multiple online forums for user feedback. She picked only the top-rated products that highlight your lip features perfectly. These nude lip liners give the illusion of bigger and fuller lips, glide well, and don't make your lips look crusty.
Frequently Asked Questions
Why do people use lip liners?
Lip liners give your lips a better shape and reduce the chances of smudging. It works as a highlighter as well and makes lips look plump.
Can I wear a nude lip liner with red lipstick?
Yes, you can use a nude lip liner with red lipstick to get an enhanced outline and fuller lips.
How long do lip liners last?
Lip liners come with a shelf life of over one year. But it's safe to avoid using a formula beyond 6 months after opening the tube.
How do you keep your lip liner on all day?
A setting powder or spray can enhance the staying power of a lipliner, but it is unlikely to make it last all day long. To get the most long-lasting look, try the Revlon ColorStay Nude Lip Liner, which stays up to 8 hours because of its high pigmentation and smudge-proof formula.