Top 15 Nude Lip Liners For Well-Defined, Fuller Lips In 2023!
Top selection of nude lip liners that make your lips look defined, bigger, and fuller.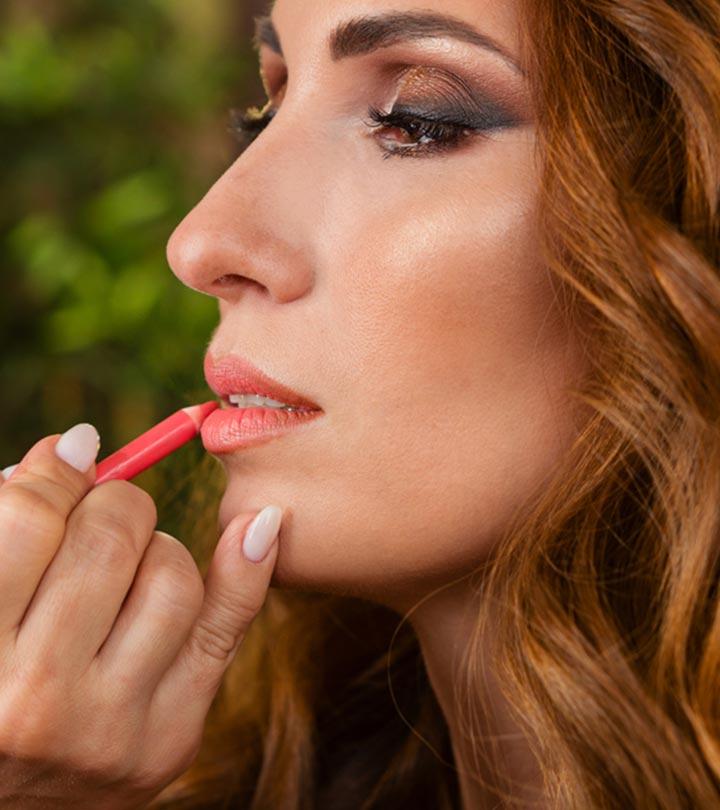 Move over, dark brown liners, the best nude lip liners are the new revolution to achieve well-defined and full lips. It is a known fact that achieving a nude makeup look is quite a skill, as the strokes and hand movements should be carefully made, instead of putting too much or too little product. It should highlight your lip features just right, instead of leaving a trail of product on your face. The best part about it is that it will not look crusty as nude shades are subtle to look at after application.
Nude lip liners can be used regularly without making your lips look all cracked or feathering. It's all about giving off no-makeup vibes as effortlessly as possible. It is now becoming a must-have among many makeup lovers. It's almost as crucial as a facewash in your skincare routine. What's more? These nude lip liners will surely give the illusion of bigger lips. With so much said about these lip liners, take a look at these top 15 nude lip liners that will turn out very well.
Best 15 Nude Lip Liners For All Skin Tones
This nude lip liner is too good to be true! The smooth and creamy formula glides easily for a lush finish. No more frequent trips to the bathroom for constant touch-ups, as this one offers long-lasting, heavy pigment for up to 8 hours. Not only does it help your lips achieve a fuller appearance, but it also helps lipstick stay on longer. With no bleeding or unnecessary featuring, the Revlon ColorStay Nude Lip Liner also comes with a built-in sharpener.
Pros
No feathering or bleeding
Rich lip color
Helps in achieving fuller lips
Smooth formula
Cons
Some might find the formula to be a bit too creamy
Price at the time of publication: $7.98
The Milani nude lip liner is every girl's dream lip liner. What makes this lip liner so great is that it has a creamy texture, yet it does not smudge! The pigmented formula allows you to have well-defined, fuller lips with every application. It blends easily with your favorite nude lipstick while also giving you the definition your lips deserve. The long-wearing formula is easy to apply, cruelty-free and offers a flawless matte finish. Allow your lips to pop and be your most attractive feature using this natural and nude shade.
Pros
Great pigmentation
Creamy formula
Smudge-proof
Gives you fuller-looking lips
Cons
It can feel slightly heavy on the lips
Price at the time of publication: $19.99
This rich, true-brown lip liner is perfect for a long day of work or for a wild night in the town! The formula is super creamy and has a lightweight texture won't skip or drag and helps the lip color stay longer. Just outline the outer corner of your lips and slightly overdraw your lip's natural line for a fuller, plump lips. If this wasn't all, the rich chocolate pigmented shade is also transferproof so you can go about your day without having to worry about it creasing or smudging. This video helps you know more about the product.
Pros
Highly pigmented
Smooth and creamy texture
Long-lasting
Transferproof
Lightweight texture
Cons
Might require a heavy oil-based make-up remover to completely remove it
Price at the time of publication: $6.98
Contour and define your lips with this Rimmel Lip Liner. Known for its quality and affordability, this drugstore product has a subtle yet gorgeous nude shade that compliments most skin tones. The smooth, creamy texture does not transfer and lasts up to a whopping 8 hours. For beautiful lips that steal the show no matter where you go, use the Rimmel nude lipstick and lip liner together. Check out this video to know more about this product.
Pros
Creamy texture
Smooth Finish
Helps in definition of lips
Buildable product
Cons
Might not be best suited for dry, chapped lips.
Price at the time of publication: $4.69
If you want the perfect blend and definition, this is the nude lip liner you need to add to your lipstick and liner collection. It has a super creamy and irresistible formula that lasts long and highlights your lips well. Unlike other lip liners with a matte finish, this smooth, matte-finish liner does not dry out your lips. Instead, it ensures the product glides easily while offering a hydrated matte look. This cruelty-free and vegan product is an absolute steal for anyone wanting to perfect the nude lip.
Pros
Cruelty-free and vegan
Creamy texture
Smooth Finish
Great definition
Long-lasting
Cons
The product color may slightly differ from the one shown on the website
Price at the time of publication: $4
This nude lip liner is a great one to own if you have a light to medium skin tone. From your go-to everyday look to the nights you want to stand out, this nude color lip liner can help you achieve any look you want with its buildable formula. Feathering and transferring will be a thing of the past as this one ensures that it lasts on your lips for long hours, regardless of the activity. Super easy to apply, it doesn't require a lot of tugging or pulling to give your lips the definition you need. All you need is 1 stroke to provide you with perfect color and definition.
Pros
Smooth and creamy
Does not feather
Lightweight
Does not transfer
Cons
May not be compatible with deep skin tones
Price at the time of publication: $8.83
The Urban Decay nude lip liner has some great winning points! Whatever may be the weather outside — raining cats and dogs or hot, sweat and humid, this lip liner will stay on because of its long-wearing and waterproof formula. It is completely cruelty-free and contains moisturizing ingredients like vitamin E and jojoba oil to nourish your lips and lock in hydration. It also ensures the rich-pigment of the product stays on. If you're tired of liners that won't stay on, we think it's time for you to switch over to this one that will last up to 24 hours.
Pros
Soft and creamy texture
Lasts up to 24 hours
Waterproof
Contains hydrating ingredients
Cruelty-free
Cons
Might not last for too long.
Price at the time of publication: $15.99
This pout gel lip liner is one of a kind! Move over creamy and matte textures as this nude lip liner with a gel formula is here to dominate the lipstick game. It slides smoothly on the lips and leaves a pigment that lasts for days. It feels soft and light while drying very quickly. This lip liner is great for outlining your lip, and it also works to fill in your lips well. It also doesn't smudge around your lips, even though it has a smooth texture.
Pros
Soft and creamy
Gel texture
Dries quickly
Smudge-free
Lasts long
Cons
Might not be very pigmented
Price at the time of publication: $19.23
If you're a matte lip lover like us and on the search for the perfect anti-aging lip pencil, you're in luck. This one with hydrating properties prevents aging around the lips and glides smoothly like gloss to offer an irresistible matte finish for defined and contoured lips. It contains moisturizing ingredients that blend easily into fine lines without drying out your lips or leaving them feeling dry. The smudge-free texture offers a rich pigmentation, does not bleed, and is the best reverse liner ever for both novices and professionals.
Pros
Matte finish
Moisturizing properties
Smudge-free
Defines and contours lips
Cons
Might not last as long as expected
Price at the time of publication: $20
Next on our list of the 15 best nude lip liners, this cruelty-free and vegan liner is made of high-quality ingredients. Its ultra-nourishing formula is infused with vitamins A, C, and E, which help fight aging and pigmentation while nourishing your lips. The pencil-like tip with a long-lasting matte color allows for easy application, and with just 1 swipe, you can achieve fuller, beautiful lips. You can leave your worries about smudging and leaking with this liner.
Pros
Enriched with vitamins
Matte finish
Creamy texture
Smudge-free
Cons
Might feel very dry on the lips
Price at the time of publication: $11.99
This nude lip liner is perfect for giving you some pouty, fuller lips! This product helps in the definition of your lips while keeping them nourished and moisturized. Both vegan and cruelty-free, this liner has a warm, woody hue with warm undertones that complement most skin tones. It also is great for longwear and does not even smudge! So, what are you waiting for? Bring home this one now!
Pros
Beautiful color
Longwear
Helps you get fuller lips
Smudge-free
Cons
Price at the time of publication: $14
The bareMinerals lip liner does the job in more than one way. It works as a primer to seal in the pigment of your lipstick and help it blend more seamlessly. Not only this, it also outlines your lip's natural shape to give you defined lips that stun everyone. Suitable for all skin tones, it provides a satin finish and keeps feathering and smudging at bay. Ideal for the conscious consumer and sensitive skin, it is made devoid of parabens, sulfates, and phthalates.
Pros
Subtle shade
Well-defined lips
Satin finish
Primes lips
Free from parabens, sulfates, and phthalates
Cons
Price at the time of publication: $10.83
Get long-lasting, pouty lips with this liner that has a dreamy warm coffee-toned hue. It looks beautiful on every skin tone and type and does not feather or bleed. The creamy liner delivers up to 24 hours of rich, intense color that won't quit! Plus, the self-sharpening pencil makes the application precise and easy. Express your creativity and transform yourself with this definition lip liner.
Pros
Ideal for all skin tones
Smooth finish
Easy to apply
No feathering
Cons
The scent may be overpowering for some
Price at the time of publication: $4.97
This new nude lip liner is an uncovered gem with a rich, pigmented color and creamy, smooth texture. The waterproof formula is unlike other lip lines that help you give well-defined lips and blends easily to avoid feathering. You don't have to get tensed about constantly sharpening your liner as this one is a retractable device that helps you use this product with ease. The smooth tip ensures your lips get the definition they deserve.
Pros
Creamy texture
Semi-matte finish
Affordable price range
Great pigmentation
Cons
Might not be smudge-proof
Price at the time of publication: $8.99
Last but not the least is this Charlotte Tilbury Nude Lip Liner that is truly a classic. Create seamless lines while shaping and reshaping your lips for a pout that everyone has their eyes on. The waterproof formula ensures it does not feather or transfer, so you can enjoy your day without frequent touch-ups. The color-rich pigment on this Charlotte Tilbury iconic nude lip liner stays up to 8 hours and glides easily for easy application.
Pros
Smooth finish
Blends well
Easy to use
Waterproof
Lasts up to 8 hours
Cons
Price at the time of publication: $30.8
Now that we know of almost every nude lip liner out there, it's time to understand how to choose the right one for yourself!
How To Choose A Lip Liner That's Close To Your Natural Lip Color
One thing to be careful about while buying the right nude lip liner is choosing the right color with the right undertones. As a general rule of thumb, choose a nude lip liner 1 or 2 shades lighter than that of your nude lipstick. This will ensure your lips stand out and look more fuller and defined.
The texture of a lip liner can either be matte, creamy or even gloss. Creamy lip liners glide effortlessly on the lips but may also be prone to smudging. Matte liners ensure they stay longer but may need to be paired with a lip balm as they crack on the lip, leaving them feeling dry. Glossy lip liners dry quickly for a flawless matte finish but may be hard to take off. Depending on your preferences and needs, you can pick one that suits you best.
Speaking about priorities, wearability is one of the topmost ones you need to consider before bringing home a nude lip liner. How long does it last for, does it smudge, does it cause feathering, are all common concerns. If you have long days of work, it is necessary to go for something that allows you to run around without worrying about smudging or feathering. Also, invest in long-lasting lip liners.
Why Trust Stylecraze
Our author, Chaitra Krishnan, is a makeup enthusiast. She has curated this list of lip liners after carefully researching them, checking reviews online, and browsing through multiple online forums for user feedback. She picked only the top-rated products that highlight your lip features perfectly. These nude lip liners give the illusion of bigger and fuller lips, glide well, and don't make your lips look crusty.
Frequently Asked Questions
Why do people use lip liners?
Lip liners give your lips a better shape and reduce the chances of smudging. It works as a highlighter as well and makes lips look plump.
Can I wear a nude lip liner with red lipstick?
Yes, you can use a nude lip liner with red lipstick to get an enhanced outline and fuller lips.
How long do lip liners last?
Lip liners come with a shelf life of over one year. But it's safe to avoid using a formula beyond 6 months after opening the tube.
How do you keep your lip liner on all day?
A setting powder or spray can enhance the staying power of a lipliner, but it is unlikely to make it last all day long. To get the most long-lasting look, try the Revlon ColorStay Nude Lip Liner, which stays up to 8 hours because of its high pigmentation and smudge-proof formula.
Recommended Articles: