9 Best Nude Lip Glosses That You Need Right Now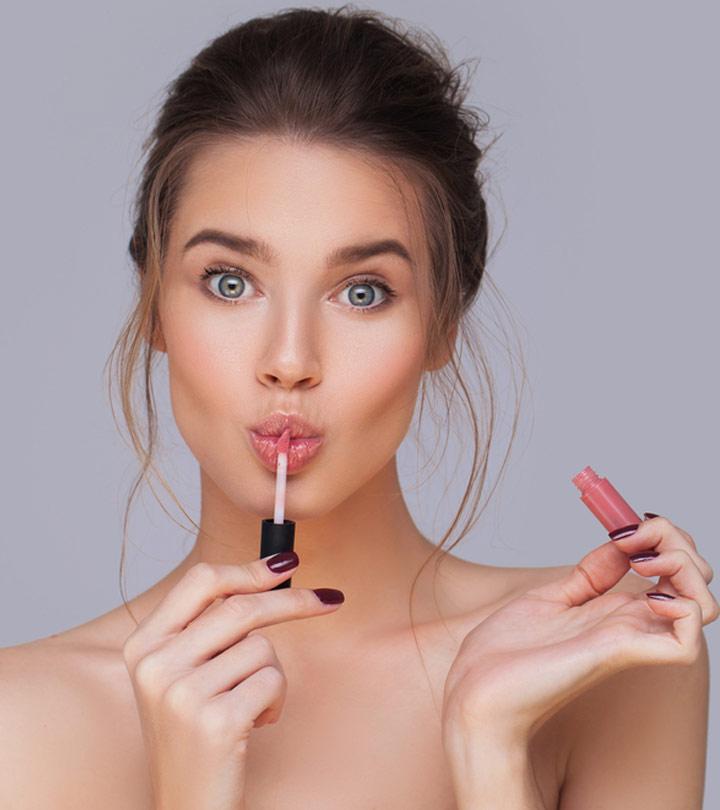 As celebrities are always on the hawk-like scrutiny of fans, paparazzi, and beauty professionals, they must look their best whenever they step out. Each and every aspect of their appearance is judged with a keen eye, especially their makeup for the day. This is why many celebrities such as Zendaya, Kendall Jenner, and Meghan Markle among others, have embraced the no-makeup look as their go-to look. The pillars of a no-makeup look include a heavy-duty sunscreen lotion, a foundation, mascara, and nude lips. There you have it; the secret to the prettiest makeup! To perfect the art of achieving desirable nude lips, you need to invest in some nude lip glosses, ones that pair well with the best nude lipsticks.
So, whether it is a natural nude lip you wish to try out or a pink one, take a look at these 9 best nude lip glosses, because let's face it, one best nude gloss is all you need to take over the world!
 9 Best Nude Lip Glosses
As the name suggests, this pink lip gloss is as smooth as butter and glides like a dream. A nude lip gloss that melts onto your lips, it provides an irresistible glossy coverage, leaving your lips supple and kissable. Although it lends a sheer finish, it is never too runny or too sticky and stays on for a long time. Even after re-application, it doesn't crease or cake on your lips, making your lips appear soft. You can also try the other nude shades such as Vanilla Cream Pie and Creme Brulee, which come in varied shades of pink or explore deeper shades of red such as Cranberry Biscotti and Red Velvet depending on your skin tone.
Pros
Buttery smooth upon application
Available in 22 shades
Full-coverage shine
Affordable
Cruelty-free
Mineral oil-free
Cons
May not be suitable for extremely sensitive skin
A true lip gloss aficionado will tell you that one can never have enough nude lip glosses. Infused with agave, moringa oil, and cupuacu butter, this nude lip gloss will give your favorite lipstick a run for its money. It is incredibly moisturizing, non-sticky, and a little product goes a long way in providing a lavish dose of shine to your lips. Its unique reservoir application tip allows for full-coverage in one single, smooth swipe. This highly-pigmented pink nude lip gloss also contains the right amount of shimmer, not too little and not over-the-top. It's not only hydrating, but it contains antioxidants as well.
Pros
Highly-pigmented
Non-sticky
Lightweight
Hydrating
Available in 12 shades
Can be applied over lipstick as a top coat
Cons
The fragrance may be overwhelming for some
If you are on the hunt for high-shine, no shimmer nude lip glosses, you can consider this one. This high-performance gloss is creamy, glides effortlessly, and keeps your lips hydrated. A generous dose of vitamin A and E ensure that your lips stay moisturized, leaving it smooth and supple. This pink lip gloss also has a superior quality to its credit. It contains peptides and hyaluronic acid boosters that add the appearance of plumpness to your lips, making it look fuller from all angles. It is the best Nude Lipgloss.
Pros
High-shine without shimmer
Plumps the lips
Creamy formula
Contains vitamins A and E
Cons
Slightly sticky formula
Slightly expensive
Your search for the best nude gloss can end here. It's time to add this shade to your collection of nude lip glosses if you haven't already. It sits on your lips comfortably, without feeling heavy, sticky, or runny. This hydrating formula keeps the lips soft and supple and doesn't cause any flaking. Its patented Petit Coeur applicator stick helps in precision-lining and gives your lips a flawless and glossy finish. As it is a buildable formula, the shade of this next-level gloss gets darker with each coat.
Pros
Light
Non-sticky
Glossy finish
Angled precision tip
Available in 20 shades
Affordably priced
Cons
Lasts eight hours or lesser
This weightless formula sets a high benchmark in redefining what shimmer nude lip glosses ought to be like. With this incredibly shimmery pink nude lip gloss, you may even put a starry night to shame. Oozing with shine and conditioning formula that is easy to apply in one swipe, this lip gloss moisturizes your lips. Not only does it stay on for the whole day (and then some), it is also food and transfer-proof. If you want to plant a kiss on your boyfriend's cheek, go ahead, this lip gloss will stay intact until you decide it's time to wipe it off. It is the best Nude Pink Lip Gloss to try!!
Pros
Lasts for up to 24 hours
Sleek application stick
Transfer-proof
Doesn't feel heavy on the lips
Good value for money
Instantly moisturizes your lips
Cons
Some may feel that the color is too light
Gloss makeup is making a comeback and this shimmer tint is one of the best nude lip glosses to carry in your everyday makeup pouch due to its compact size and easy squeeze-tube. Formulated with 100% natural mint, this shimmery delight is as nourishing and hydrating as a lip balm you would use during the cold months. It leaves a cooling sensation, and also lends a sheer deep plum tint to your lips. It also contains peppermint oil, which helps in eliminating bad breath.
Pros
Infused with 100% natural mint
Shimmery sheer gloss
Leaves a cooling sensation on your lips
Moisturizes your lips
Affordable
Cons
May not be suitable for use on extremely sensitive skin
A stellar example of all things creamy and luscious, this pink nude lip gloss will instantly convert you into an admirer. It provides a rich color to the lips without looking excessive and makes your lips look fuller with the help of Volulip, a natural peptide. Infused with the goodness of shea and avocado butter along with castor seed oil, sunflower seed oil, and jojoba seed oil among others, this lip gloss is incredibly moisturizing as well. As it is a sheer lip gloss, you can apply several coats without it feeling cakey or heavy, and it will still provide a beautiful shine. To tickle your olfactory sense, it boasts of a subtle vanilla scent. It is the good Drugstore Lip Gloss.
Pros
Buildable coverage
Makes your lips look fuller
Paraben, sulfate, and phthalate-free
Gluten-free
Cruelty-free
Ideal for all skin tones
Cons
A glittery pink clear gloss that is fit for a star, this one will elevate your makeup to grander heights in a matter of seconds. Ideal for lunch or dinner outings, this lip gloss provides a smooth, glossy finish with a high-shine effect. You need not think twice about re-applying the gloss as it lasts all day, never feeling too heavy or sticky. With the help of its sponge-tip applicator, you can apply this lip gloss to perfection, giving your lips full coverage and a plumper appearance. Although it adds a sheer sheen to your lips, the formula is extremely creamy. It is the Perfect Nude Lip Gloss.
Pros
Moisturizes lips
High-shine shimmery gloss
Precision application stick
Long-lasting
Non-sticky
Cons
Some may find the color too light
At first glance, you will be hard-pressed not to notice this nude lip gloss range's cute packaging which reveals an inverted lipstick. Richly formulated, this pink nude lip gloss features a saturated color that looks very natural. This balm infused lip gloss keeps your lips hydrated and smooth. The smoothing angora brush allows you to apply the lip gloss in a polished and gliding swipe. The first coat leaves a glossy sheen on the lips and can be re-applied to bring out a denser shade. It is the best Nude Glossy Lips.
Cons
Creamy and pigment-rich formula
Contains moisturizing lip balm
Buildable coverage
Vanilla-like scent
Glossy shine
Cons
Nude lip glosses have a unique way of making you stand out in any crowd, whether it is matte, shimmer, or sheer. Now that you have a helpful list of the 9 best nude lip glosses, which shade would your inner makeup artist like to try out first? Would you rather try a pink nude or a natural nude lip? Let us know what sort of eye makeup you'd go for to complement your nude lip. If you have any tips to make your nude lip glosses stay on longer, do share it in the comments!
Recommended Articles