15 Best Nude Lipsticks For Dark Skin Tones That Last Long – 2022
Versatile and nude stains that offer smudge-proof and buildable coverage to your lips.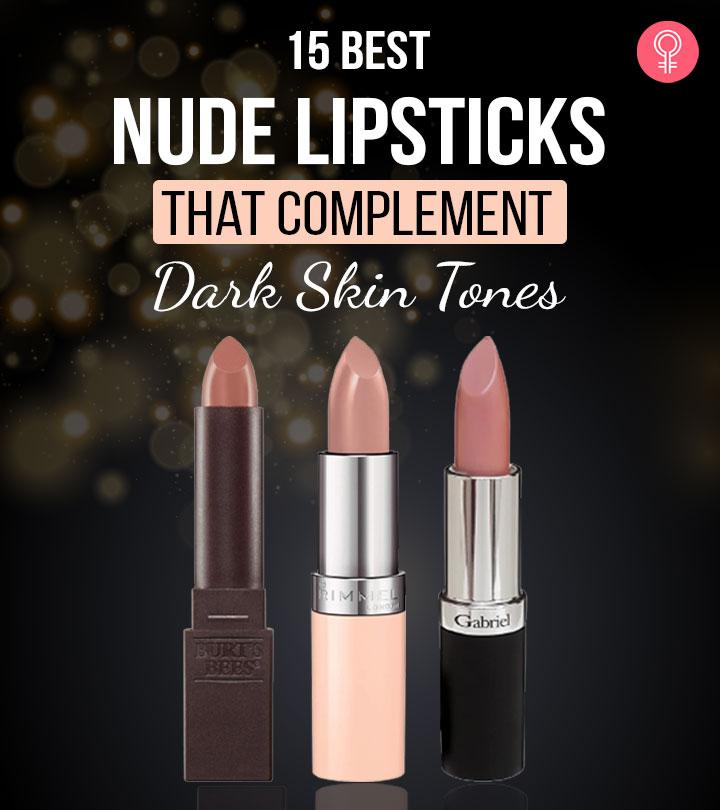 Dark skin is beautiful skin. However, as gorgeous dusky skin tones are, it can be challenging to find the right shade of lipstick, especially if you want a nude shade; this can be a herculean task, to say the least. But that's why we are here to help, and we bring you our list of 15 best nude lipsticks for dark skin tones. Our list has everything from subtle browns to gorgeous pink undertones to crème and matte finishes. Not only will these shades complement your stunning dark skin, but they will also allow your other features to pop. So, what are you waiting for? Go check them out!
Does Nude Lipstick Suit Dark Skin?
Yes. Nude lipsticks are extremely versatile, and once you have found the perfect shade that flatters your skin tone, there will be no turning back. Nude lipsticks with rich brown and deep undertones complement dark skin tones and deliver a striking yet subtle contrast.
Here are the best nude lipsticks for dark skin. Keep scrolling to find your favorite shade.
15 Best Nude Lipsticks For Dark Skin
The Maybelline's SuperStay Matte Ink has a highly pigmented formula that revamps your lips. It glides smoothly over the lips to give you a beautiful brownish shade that lasts all day. This nude liquid lipstick for dark skin tones comes with a smooth doe-tip wand for easy application.
Pros
Buildable
Quick-drying
Long-lasting
Smudge-proof
Budget-friendly
Cons
The luxurious L'Oreal Paris Colour Riche Lipcolour in Fairest Nude is enriched with conditioning agents like omega 3, argan oil, and vitamin E that nourish and hydrate the lips, keeping them soft and supple all day long. It has a smooth, creamy texture that glides evenly on the lips while delivering a matte finish. This richly pigmented lipstick has a warm brownish hue that suits slightly dark or medium skin tones.
Pros
Non-drying
Goes on smooth
Transfer-proof
Long-lasting
Highly pigmented
Cons
The Covergirl Outlast All-Day Lip Color in Nude Flush comes with an innovative topcoat that seals the color, giving you shiny, long-lasting coverage. It softens the lips and keeps them soft, smooth, and healthy. This nude lipstick for dark skin is transfer-resistant, kiss-proof, and smudge-proof even when you wear a mask.
Pros
Moisturizing topcoat
Smudge-proof
Kiss-proof
Food-proof
Transfer-resistant
Cruelty-free
Cons
The plush, matte lipstick from NYX in the shade Sandstorm has a highly pigmented formula that settles into a matte finish. It is enriched with vitamin E and avocado oil to nourish and condition the lips and keep them from drying or flaking. This striking liquid lippie in a chocolaty brown shade adds a glam element to your darker, chocolaty skin tone.
Pros
Waterproof
Non-drying
Transfer-proof
Long-lasting
Cruelty-free
Cons
None
Nude Crème from Milani is a vibrant and bold statement-making shade. This nourishing lipstick is infused with vitamins A and C to fight free radicals that cause natural pigment loss, heal the cracked skin around the lips, and neutralize discoloration of the lips. It has a smooth, creamy texture that glides effortlessly on the lips.
Pros
Nourishing formula
Long-lasting
Goes on smooth
Transfer-resistant
Cruelty-free
Cons
None
The Burt's Bees Lipstick is formulated with moringa oil, vitamin E, beeswax, and raspberry seed oil to condition and hydrate the lips. Nile Nude is a peachy suede shade with a creamy and satiny finish. This lipstick glides smoothly on the lips and delivers luscious color to complement your makeup.
Pros
Moisturizing
Long-lasting
Paraben-free
Phthalate-free
Petroleum-free
SLS-free
Cruelty-free
Vegan
Cons
The full coverage stila Stay All Day Liquid Lipstick in the shade Caramello stays intact for up to 12 hours. This weightless liquid lipstick sits on the lips without peeling or drying them. It contains avocado oil and vitamin E that hydrate and soften the lips. The nude lipstick comes with a plush doe-foot brush for easy and precise application. Here's a video featuring a detailed review of the product.
Pros
Weightless
Transfer-resistant
Moisturizing
Long-lasting
Smudge-proof
Cons
None
The Rimmel Lasting Finish Lip Color 45 is a luscious natural tint that suits every skin tone. It is formulated with the signature Black Diamond pigment complex to reflect light and create depth. The shade Color 45 is universally flattering and gives a long-lasting, natural glow to the lips.
Pros
Long-lasting
Transfer-resistant
Goes on smooth
Cons
None
The vitamin-infused Palladio Lip Stain nourishes the lips to fade the signs of aging and dryness while adding gorgeous color to the lips. It contains aloe and coconut oil to hydrate and soften the lips. The lipstick comes with a chisel tip marker for easy, precise application. It has a matte finish and can be worn alone or blended with other colors for an ombre effect.
Pros
Natural ingredients
Nourishing
Non-drying
Waterproof
Long-lasting
Smudge-proof
Precise application
Paraben-free
Cruelty-free
Gluten-free
Cons
None
The petrochemical-free base of the Gabriel Cosmetics Lipstick is enriched with candelilla wax, aloe, and jojoba seed oil. These ingredients seal in moisture and keep the lips hydrated for long. Nude is a soft peachy pink shade that suits all skin tones. The bullet lipstick glides effortlessly on the lips.
Pros
Natural ingredients
Hydrating
Non-GMO
Vegan
Cruelty-free
Gluten-free
Non-toxic
Cons
The mousse-like Black Radiance Perfect Tone Matte Lip Crème sits comfortably on the lips and provides an intense matte finish. Its moisturizing formula keeps the lips soft and supple. Rich color pigments are blended in a luxurious creamy base to ensure the lipstick glides smoothly on the lips and offers brilliant color payoff. This velvety smooth lipstick can be worn solo or layered with other colors to create a unique look. It comes with a brush tip wand for precise and easy application
Pros
Long-lasting
Goes on smooth
Moisture-rich formula
Intense color payoff
Cons
None
The deeply nourishing Mented Semi Matte Lipstick is free of preservatives, making it safe for all skin types. The pigments flatter all skin tones and add warmth and depth to the lips. Peach Please is a perfect blend of brown and pink that is suitable for a natural everyday look. This lightweight lipstick hydrates and preserves the natural barrier of the lips.
Pros
Lightweight
Non-drying
Non-flaking
Paraben-free
Vegan
Cruelty-free
Cons
The cream-to-matte formula of the bareMinerals Gen Nude Matte Liquid Lipcolor is lightweight and long-wearing. It is formulated with moisturizing ingredients to soften the lips and combat dryness. This liquid lip color has a high color payoff with rich pigments and glides on smoothly to leave the lips with a silky matte finish. It comes with a paddle applicator that aids a single sweep application.
Pros
Lightweight
Long-lasting
Goes on smooth
Pleasant fragrance
Cruelty-free
Petrolatum-free
Gluten-free
Cons
None
This effortlessly stylish nude lipstick in the shade Cheeky Chestnut is a must-have. Its rich texture with the right amount of color pigments offers a perfect nude glow, while the natural oils and vitamin E in the formula keep the lips smooth and hydrated. The lipstick also contains pomegranate extract that gives the lips a long-lasting, ultra-glossy finish.
Pros
Hydrating
High shine
Long-lasting
Heals cracked lips
Goes on smooth
Cons
The satin-finish Physicians Formula Lipstick in Nude delivers a bold pop of color to the lips that is flattering to all skin tones. This hypoallergenic bullet lipstick keeps the lips moisturized and healthy. It can be used directly from the stick or applied with a brush. The highly pigmented lipstick provides rich color payoff and is long-lasting.
Pros
Hypoallergenic
Long-lasting
Hydrating
Cons
Follow our guidelines below to choose the best nude lipstick shades for dark skin.
How To Choose Nude Lipsticks For Dark Skin
Moisturizing Benefits
Before you choose the shade, make sure the lipstick has moisturizing properties that will keep your lips hydrated and healthy. Protecting your lips from environmental stressors is one of the most important features of a good lipstick. Look for lipsticks that are infused with nourishing and hydrating ingredients like argan oil, avocado, almond oil, and aloe.
Shade
There are some basic rules to follow while choosing a nude shade for dark skin tones. Pick a shade that will define your lips and match your skin undertone while being close to the natural color of the lips. Accentuate the warm undertones of your skin by choosing lipsticks with rich tones and pigments. The shade should make your lips stand out, so don't go for a very light shade that will have a chalky or pasty effect.
Longevity
To avoid the need for frequent touch-ups, look for a lipstick that is long-wearing and transfer-resistant.
Why Trust StyleCraze?
The author, Baishali Bhattacharya, is certified in makeup artistry and gives you an insider's perspective on the best nude lipsticks for dark skin tones that you should have in your makeup collection. She relies on nude lipsticks instead of the usual darker shades to add a subtle elegance to her look. The extensive research she conducted gave her an overview of the best nude lipsticks for dark skin tones available on the market.
Frequently Asked Questions
What is a nude shade of lipstick?
As such, there is no one simple definition for a nude shade of lipstick. It has different connotations for different people. A nude shade of lipstick will generally be pretty close to your natural lip color and bring out the warmth in your skin tone as well. It usually ranges from light pinks to brownish shades.
How do you apply nude lipstick?
First, apply any moisturizing lip balm to make sure they are not dry. After that apply a thin coat of foundation or concealer; it will help the lipstick shade pop more. Then apply a nude lip liner on the outlines of your lips before lipstick to avoid bleeding. Finally, apply 1-2 layers of your nude lipstick.
How do you find the right shade of nude lipstick?
If you have a lighter complexion then go for a warmer shade whereas if have a richer complexion then go for peach or brown shades of nude lipstick. Match your nude lipstick with the natural color of your lips.
Do nude lipsticks expire?
Yes, like any lipstick, nude lipsticks usually have a shelf life of 2 years when sealed and 6 months from the stay you use it for the first time.
How do you apply nude lipstick to pigmented lips?
After moisturizing your lips, you can apply a layer of foundation or concealer to make your lipstick shade pop.
Recommended Articles