13 Best Nude Lipsticks That Suit Every Skin Tone – 2022
Swipe on these shades and let your lips that do all the talking confidently.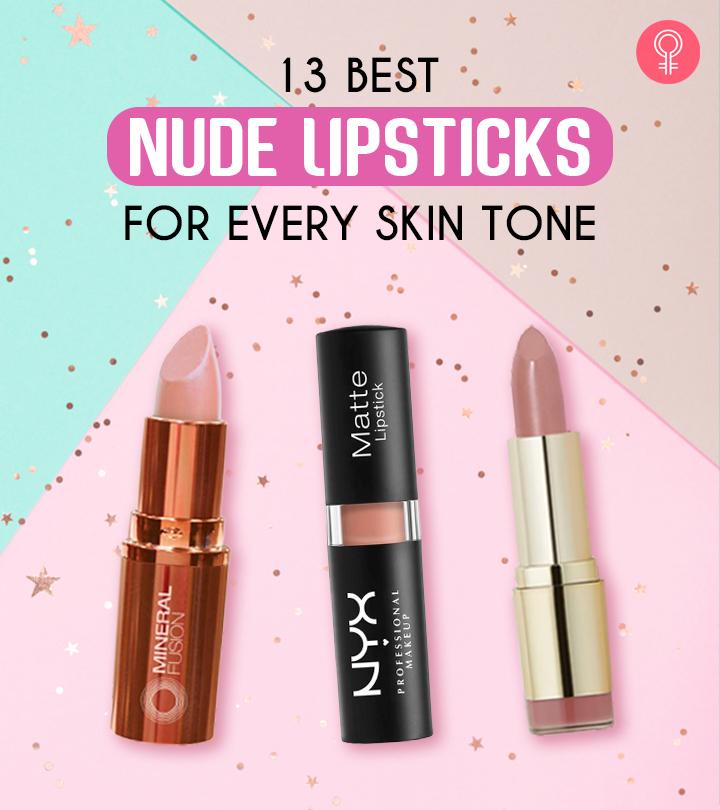 Are you looking for a lipstick that can give you a natural yet glowing look? If yes, the best nude lipstick can do just that. Subtle yet a beast, one swipe of nude lipstick can elevate your look instantly. Be it a no-fuss look or an evening look; this shade can add a little x-factor to your face. Paired best with dewy makeup or smokey eyes, here are our top nude lipsticks to pick from! Scroll down to choose the one you love best!
What Is A Nude Lipstick?
Nude lipsticks are opaque, have a lighter shade, and offer a 'no-makeup' look. They are neutral shades perfect for everyday use and a professional statement when you want to tone down your appearance.
13 Best Nude Lipsticks For Every Skin Tone
This nude lipstick from Nyx Professional has a silky matte finish. It is made from beeswax that makes your lips feel soft and moisturized. The lightweight formula is richly pigmented and glides on your lips easily, leaving a silky sheen. This nude pink shade smoothens and nourishes your lips.
Pros
Long-lasting
Matte finish
Moisturizes the lips
Value for money
Cruelty-free (PETA certified)
Cons
The Milani Color Statement Lipstick has a creamy texture and feels soft on your lips. The long-lasting formula with a matte finish contains vitamins A and C, which hydrate and nourish your lips. This lipstick is richly pigmented and provides full coverage in a single swipe.
Pros
Long-lasting
Softens and nourishes the lips
Matte finish
Cruelty-free (PETA certified)
Cons
None
This lipstick from Mineral Fusion offers a rich color payoff and velvety finish. It is enriched with sunflower oil, castor oil, sesame seed oil, cocoa butter, rosemary, and thyme leaf oil. These ingredients nourish the lips and protect them from harmful sun rays. The aloe vera leaf extract and a special blend of oils keep your lips moisturized for long hours. This product soothes the lips, removing cracks and other imperfections.
Pros
Long-lasting
Smudge-free
Bleed-proof
Hypoallergenic
No artificial fragrance
Paraben-free
Gluten-free
Vegan
Cons
The Gabriel Cosmetics Nude Lipstick has a creamy texture and lasts for up to 5 hours. It is infused with jojoba seed oil, Candelilla wax, sesame seed oil, St John's Wort, and aloe vera. This lipstick is highly nourishing, hydrating, and soothing. It locks in natural moisture and protects your lips from environmental aggressors. This transfer-resistant lipstick is suitable for all skin types.
Pros
Long-lasting
Pleasant fragrance
Transfer-resistant
Non-toxic
Paraben-free
Cruelty-free
Gluten-free
Vegan
Cons
None
This herbal lipstick from Palladio is richly pigmented and does not dry out the lips. It contains aloe vera, chamomile, and ginseng. The anti-inflammatory properties of aloe vera heal cracked lips, while ginseng and chamomile reduce fine lines and nourish chapped lips. This lipstick glides smoothly on the lips and provides high coverage with just one swipe. The bleed-proof formula keeps the lips moisturized and supple.
Pros
Matte finish
Provides full coverage
Bleed-proof
Mild fragrance
Non-drying
Cruelty-free
Paraben-free
Cons
The Niceface Qibest Nude Lipstick is non-sticky, offers a velvety finish, and glides smoothly on your lips. It provides full coverage and feels smooth and creamy on your lips. This product is transfer-proof, long-lasting, and flake-free.
Pros
Waterproof
Longwear
Transfer-proof
Velvety finish
Non-sticky
Value for money
Cons
The Gerard Cosmetics Nude Lipstick is richly pigmented and provides high coverage in a single swipe. The brown nude shade looks gorgeous on every skin tone. This lipstick has a matte finish and is suitable for long wear. It is non-transferable, waterproof, and feels comfortable on your lips.
Pros
Provides full coverage
Easy to apply
Long-lasting
Matte finish
Transfer-proof
Waterproof
Beautiful packaging
Cruelty-free
Cons
This lipstick glides on the lips smoothly and provides a velvety matte finish. The smudge-free formula moisturizes the lips and does not transfer onto surfaces. A single swipe of this lipstick provides great coverage that lasts you throughout the day. This lipstick evens out fine lines and creases, making your lips appear fuller. It is perfect for a get-together, brunch or dinner dates, corporate meetings, or interviews.
Pros
Long-lasting
Smudge-free
Provides full coverage
Non-sticky
Paraben-free
No harsh chemicals
Vegan
Cruelty-free
Cons
The Dare To Be Nude shade from Revlon is super lustrous and glides smoothly on your lips with a matte finish. It is enriched with vitamin E and avocado oil, which keep your lips hydrated and free of cracks and dryness. This product is long-lasting, lightweight, and transfer-proof.
Pros
Matte finish
Long-lasting
Transfer-proof
Lightweight
Value for money
Cons
None
This set of six nude liquid lipsticks features a super fine brush for smooth, precise application. It is opaque, non-drying, and highly moisturizing. These lipsticks are long-lasting and provide full coverage. A single swipe covers your lips with a matte velvety finish. The richly- pigmented formula does not crack or crease. This lipstick set is easy to apply, waterproof, and fade-resistant.
Pros
Long-lasting
Waterproof
Sweat-proof
Leak-proof
Fade-resistant
Does not crease or crack
Cons
None
This neutral nude shade from M.A.C. nourishes your lips and offers a satin finish. The creamy formula contains castor seed oil that hydrates the lips and keeps them supple. This lipstick is richly pigmented, lasts for long hours, and complements your natural makeup look. It glides easily on your lips with a single swipe to provide a rich color payoff.
Pros
Creamy formula
Richly pigmented
Buildable coverage
Smooth application
Cons
None
This nude lipstick from By The Clique helps create a perfect pout with a satin finish. The creamy formula blends easily, does not weigh down your lips, or cause stickiness. This lipstick glides smoothly, hydrates your lips, and offers full coverage. It is lightweight, long-lasting, and suitable for daily use.
Pros
Lightweight
Blends easily
Provides full coverage
Long-lasting
Velvety finish
Non-sticky
Gluten-free
Cruelty-free
Vegan
Cons
• Expensive
The Doutzen's Pink from L'Oreal Paris is made with hydrogenated vegetable oils that nourish your lips. This subtle nude shade helps create an ideal 'no-makeup' look and flatters all skin tones. The hydrating formula provides full coverage and offers a flawless matte finish in a single swipe. This product lasts long and keeps your lips soft and smooth.
Pros
Hydrating formula
Offers full coverage
Matte finish
Long-lasting
Cons
None
These are the 13 best nude lipsticks that you can buy online. Are you confused about which one to buy? Here's a guide to help you choose the ideal nude shade.
How To Choose A Nude Lipstick
Choose a shade that is a bit darker and warmer than your actual skin tone. Do not wear a foundation – this will help identify your natural shade. A darker shade brings about a balance between the shade of the lipstick and your skin.
Match With Your Skin Tone
If you have a lighter skin tone, go for pink or peachy nude shades. It adds a natural pink tint to your lips. Even a slightly brighter nude lipstick will be in contrast with your complexion. However, if you are looking for an almost invisible one, go for a nude lipstick that blends with your lip color.
Now let us find out how to use nude lipstick to achieve the desired results.
How To Use Nude Lipsticks
Exfoliate Your Lips – Exfoliate your lips with a good lip scrub or exfoliator to remove dry and dead skin cells, clearing the canvas for a smooth application.
Apply A Moisturizer – Swipe a chapstick or moisturizing balm over your lips. It makes your lips hydrated, supple, soft, and fuller.
Cover Up With A Concealer – Use a concealer before applying nude lipstick to even out your natural lip color. This helps achieve the perfect 'no makeup' makeup look.
Add A Layer Of Glossy Sheen – Just a nude shade on your lips can make it appear dull and flat. Swipe on some lip gloss to make your lips shine with a pop.
A nude shade adds to your elegance and defines your lips without being over the top. Nude lipsticks also help you achieve the 'no makeup' makeup look. They impart a natural look, keeping your lip color close to your skin tone. The nude shades work great for occasions when you want to enhance your eyes and go subtle on the lips. Choose your favorite product from our list of the 13 best nude lipsticks and brighten up your smile.
Why Trust StyleCraze?
Baishali Bhattacharya, the author of this article, is certified in makeup artistry. She believes that nude lipsticks provide you with a great look, especially when keeping your makeup simple and natural. So, she browsed various online forums and checked out various nude lipsticks to provide you with this list of her top picks. The lipsticks in the article can brighten up your smile and keep your lips smooth and attractive.
Frequently Asked Questions
How do you get the perfect nude lips?
You can choose a nude lipstick one or two shades darker than your actual skin tone. Start by lining your lips with a darker lip liner and fill in with a nude shade to get defined nude lips.
Do nude lipsticks expire?
Yes, nude lipsticks, just like any other lipstick, expire. Most nude lipsticks have a shelf life of 2-3 years.
What shades are considered nude lipstick?
Nude lipsticks are the ones with mostly warm undertones. They can range from pale to deeper shades. Peach, beige, light browns, and berries all are nude shades. The nude shade is not the same for every person; it depends on the natural skin color of each person.
Why do people use nude lipstick?
People opt for nude lipsticks because it gives a natural look to your makeup. It is great for a no-makeup makeup look. It gives you a minimal, yet sophisticated appearance.
Recommended Articles
Best Nude Lipsticks For Dark Skin Tones That Last Long
Best MAC Nude Lipsticks For Every Skin Tone
Best Nude Lipsticks For Olive Skin
Best Drugstore Nude Lipsticks You Can Wear Everyday