14 Best Numbing Creams For Laser Hair Removal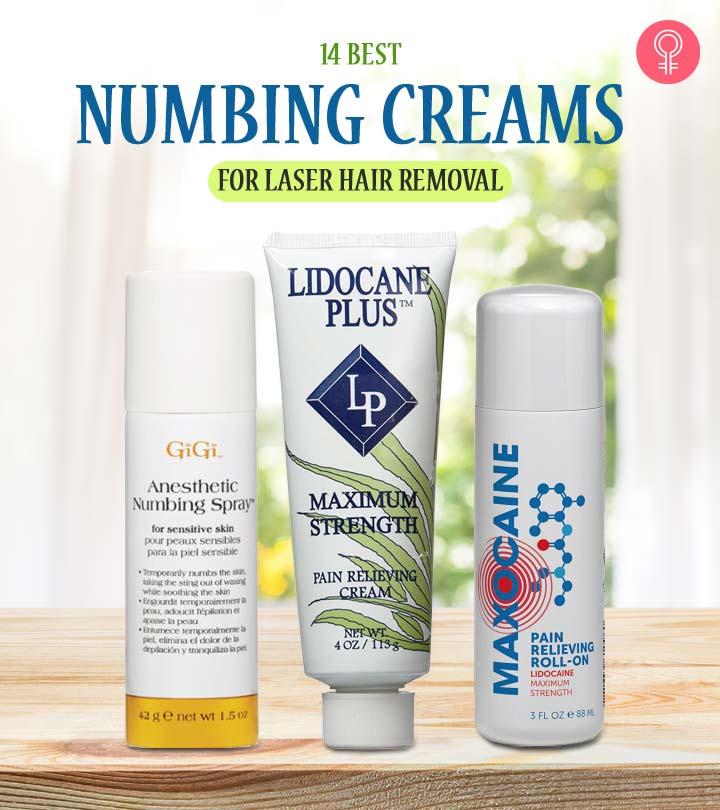 Laser hair removal is one of the most popular cosmetic procedures in the world. It uses highly concentrated light to destroy the hair follicles at the root and eliminate body hair. This usually takes 4-7 laser sessions.
While this procedure provides excellent results, it can be quite painful. But, hey! The bright side of this procedure is no more shaving, waxing, or tweezing unwanted hair. You can have completely bare and fuzz-free skin for years.
If you are worried about the pain, we have got you covered with numbing creams. These creams reduce the pain and discomfort caused by the laser removal procedure by temporarily numbing the skin's surface. They are formulated to stop your body's pain receptors from sending pain signals to the brain. The effect lasts for a few hours. If you are looking for the best numbing creams available right now, you are in the right place. We have curated a list of the 14 best numbing creams on the market. Take a look!
Top 14 Numbing Creams For Laser Hair Removal
Greencaine Blast Topical Anesthetic Gel is the most preferred numbing cream by licensed beauty aestheticians. It is used to numb the pain caused by various procedures like micro-blading, tattooing, micro-needling, scalp micro-pigmentation, tattoo removal, and laser hair removal. With this numbing cream, you may no longer postpone your treatment due to the fear of pain. It uses 4% lidocaine to numb the area immediately, thus reducing the pain and anxiety associated with such procedures.
Pros
Trusted brand
High-quality ingredients
FDA-approved
100% refund policy
30-day money-back guarantee
Just a little product required for maximum effectiveness
Easy to apply
Non-sticky
Cons
Similar Products:
Dr. Numb Maximum Strength Pain Reliever is an over-the-counter topical anesthetic cream. It contains 5% lidocaine, which produces induces numbness on the skin and its surrounding tissues. It can be used to reduce the pain associated with skin procedures such as dermal fillers, electrolysis, laser hair removal, micro-blading, and biopsy. It is completely reversible and does not have any residual effect on the nerve fibers. The rapid onset of action is nearly 10-15 minutes, and the effect lasts up to 4 hours. You can re-apply it to prolong the numbness as necessary. It does not irritate the tissues and nerves. The formula contains vitamin E for quicker skin recovery.
Pros
Hypoallergenic
Fast-acting formula
Non-greasy
Safe for all skin types
Cons
None
Similar Products:
Ebanel Numb520 Topical Anesthetic Cream is one of the most popular numbing creams on the market. It acts in 20 minutes and provides temporary relief from the pain caused by skin and hair cosmetic procedures. Its formula contains a unique blend of botanicals, including aloe, that help reduce skin inflammation and redness. The cream is mainly made from lidocaine and other active ingredients that work effectively to prevent your nerves from transmitting pain signals to the brain.
Pros
Manufactured in an FDA-registered facility
ISO-certified
Easy to apply
Non-oily formula
Safe to use on sensitive skin
Child-proof packaging
Cons
Similar Products:
This fast-acting topical anaesthetic cream contains lidocaine, which is designed for use in microdermabrasion, tattoo removal, and laser hair removal. It is also suitable for temporary relief from minor burns, scrapes, sunburns, and so on. It takes 5 minutes to induce the numbing effect, which lasts for about 2 hours.
Pros
Non-oily
Contains safe ingredients
Cruelty-free
Manufactured in an FDA-registered facility
cGMP-certified
Child-proof packaging
Cons
Reports of not very potent numbing action
Similar Products:
No products found.
Uber Numb Topical Anesthetic Cream is formulated with 5% lidocaine that goes penetrates deep into your skin to numb the nerve endings and block the pain signals. It gets absorbed quickly and reaches full effect in 20-25 minutes. Its effect lasts for up to 2 hours. The formula also contains vitamin E to fight inflammation and hydrate your skin.
Pros
FDA-approved
Non-oily
Water-based formula
Soothes irritated skin
Cons
None
Similar Products:
Advanced Numb Topical Anesthetic Creamgets absorbed into your skin within seconds, and reaches its full numbing ability within 20-25 minutes. It provides high tolerance toward the pain caused by laser hair removal. It also soothes inflamed skin and prevents redness or rashes from the procedure. The effect of this numbing cream lasts for about 2 hours.
Pros
Relieves painful swelling
Prevents itching
Easy to apply
Safe for sensitive skin
Cons
Everyday Medical Numbing Cream contains lidocaine and a blend of natural herbal extracts that are anti-inflammatory. They promote a soothing effect on the skin that allows you to go through a painful procedure without anxiety. They also help accelerate recovery after the laser procedure. Its formula contains active ingredients like licorice, which protects your skin from free radicals and soothes sore skin. It reduces pain and burning during and after laser hair removal. It is extremely effective on all skin types.
Pros
Contains soothing enzymes
Prevents rashes and redness
Moisturizes the skin
Promotes healing
No side effects
Suitable for sensitive skin
Cons
None
Topicaine Topical Anesthetic Gel contains 4% lidocaine and is useful in preventing pain caused during tattooing, laser hair removal, electrolysis, permanent makeup, and so on. It allows you to concentrate on getting great results without letting you feel the pain. It numbs the skin with a rapid onset time of 30 minutes and lasts for 1 hour. Its formula also contains aloe vera and jojoba oil that leave your skin feeling smooth, soft, and moisturized after the procedure.
Pros
Non-oily formula
Contains soothing ingredients
Easy to apply
Reduces inflammation
Includes detailed instruction manual
Suitable for all skin types
Cons
Requires many layers of application for lasting numbness
Availability issues
Salonpas Lidocaine Plus Pain Relieving Cream contains maximum-strength lidocaine that numbs the aggravated nerves quickly and blocks the pain signals in your body temporarily. It also contains benzyl alcohol, which provides targeted relief and calms the nerves for hours. It also soothes irritated skin and prevents redness.
Pros
l Easy to apply
l Recommended for any kind of pain relief
l Provides stable numbness for 1 hour
l Affordable
l Safe for sensitive skin
Cons
None
This over-the-counter topical numbing cream contains 4% lidocaine, which works wonders for relieving pain, itching, skin rashes, and burns. It reaches its maximum numbing level in about 25 minutes and lasts for 1-2 hours. Its formula also contains pure aloe vera, which helps hydrate, nourish, and soothe inflamed skin. It is the perfect cream for promoting quick healing.
Pros
Free from alcohol, camphor, and steroids
Prevents redness
Soothes the skin
Water-soluble formula
Suitable for sensitive skin
Cons
None
LMX4 Topical Anesthetic Cream is a clinically effective numbing cream. It is recommended by dermatologists, doctors, and other healthcare professionals. It is a fast-acting numbing cream that alleviates the pain and discomfort associated with many skin ailments. Its numbing effect lasts for 2 hours. It contains 4% lidocaine, which is ideal for painful cosmetic procedures such as tattoo removal, body piercing, and laser hair removal. It prevents skin irritation and allows you to relax without feeling any pain.
Pros
Clinically tested
Provides stable numbness
Prevents tingling sensation
Suitable for sensitive skin
Cons
None
GiGi Anesthetic Numbing Spray desensitizes the skin gently with 4% lidocaine. You can simply spray it on the area, and the solution penetrates the surface of the skin within minutes to numb the nerves. It relieves redness and soothes your skin, taking the sting out of laser hair removal and hair waxing.
Pros
l Easy to apply
l Also effective for bikini waxing
l Soothes the skin
l Suitable for sensitive skin
Cons
Numb 100 Topical Anesthetic Cream is one of the most effective numbing creams available on the market. It contains 5% liposomal lidocaine, which kicks in as fast as 3-5 minutes. Apply the cream and leave it on for 25 minutes for maximum effect. It penetrates the dermal layers of the skin and blocks the pain receptors. This effect lasts for about 2 hours. This cream also relieves itching, redness, and other side effects.
Pros
FDA-approved
Dermatologist-recommended
Long-lasting effect
Suitable for all skin types
Cons
Maxocaine Pain Relieving Roll-On is a powerful analgesic topical cream that works as a multipurpose pain reliever. It penetrates the nerves and targets the receptors that cause pain to alleviate discomfort while undergoing painful cosmetic procedures. It is a clinically-proven product that is available over the counter without a prescription.
Pros
FDA-approved
Easy to use
No side effects
Odor-free
Mess-free application
Safe for all skin types
Cons
If you want to avoid pain caused by laser hair removal, these numbing creams are your best bet! Check out how to apply them in the next section.
How To Apply A Numbing Cream Before Laser Hair Removal
Wash The Area: Wash the area and scrub it clean before applying the cream to remove dirt or oil. This makes the numbing more effective as your skin will be able to absorb the cream fully.
Wear Waterproof Gloves: Put on latex gloves that can block the cream from seeping in as this can cause your hands and fingertips to go numb.
Apply The Cream: Read the instructions provided and use only the recommended amount of cream.
Cover The Area With Plastic Wrap: Not all numbing creams ask for the area to be covered. However, a plastic wrap is used because the heat generated this way activates the cream and speeds up the numbing process.
Remove The Wrap: Leave the plastic wrap on for 30-40 minutes, until the area is fully numb. Then, remove it.
Now, let's answer the most important question.
DoNumbing CreamsReally Work?
Numbing creams that contain specific ingredients like lidocaine, tetracaine, benzocaine, and prilocaine in the required amount do work. The main purpose of these ingredients is to block the nerve signals in your body so that you don't feel the pain. Another important thing to do is to read the instructions carefully or use the cream under medical supervision to avoid any side effects.
That was our list of the best numbing creams for hair removal available right now. Pick one up before you head out to your next laser hair removal appointment for a pain-free session!
Recommended Articles