The 7 Best Shoes for Nurses With Flat Feet (2023): Our Top Picks
Get rid of issues related to your feet structure and receive enough support to walk well.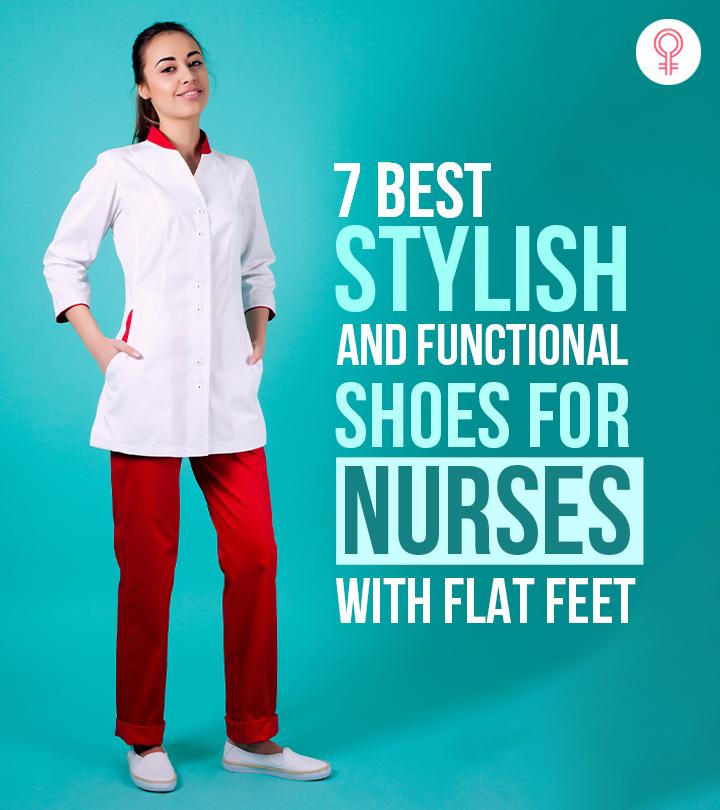 Having sleepless nights, long shifts, and standing for long hours a day makes a nurse's job much more difficult and painful. Besides the all-day physical stress and continuous mental exhaustion, there might be discomfort due to fallen arches or flat feet. In such cases, you need the best nurse shoes for flat feet to alleviate this unnecessary pain.
A flat foot is a condition in which your entire foot touches the ground while standing or walking. It can cause severe swelling and pain in the lower parts of your body. Therefore, you need to pick the right footwear that elevates the arches and relieves pain in the heel area. We have listed the 11 best nursing shoes for flat feet to make your search easy. Keep scrolling!
Best Shoes For Nurses With Flat Feet
Stepping out with just any shoes is quite painful for flat feet people. But don't worry, the cushiony shoes from Yhoon have got you covered. These superior-quality walking shoes come with a custom air cushion and MD platform sole that works as a shock absorber to support your gait. It provides a buffer between feet and ground to reduce the impact while walking or standing for long hours. Moreover, the breathable and lightweight air-fly woven upper keeps your feet warm during cold weather. Thanks to its easy slip-on design that makes putting on and off effortless for an all-time busy nurse.
Pros
Breathable upper
Wide toe box
Durable
Lightweight
Easy slip-on design
Suitable for plantar fasciitis
Cons
Price at the time of publication: $28.99
Experience a perfect blend of style and comfort with this unique footwear from Dankso. These clogs come with unbeatable arch support for all-day wear. Plus, the padded instep collar and rocker bottom reduce the chances of fatigue. And breathable foam footbed maintains keeps the feet cool. Moreover, the 100% leather-made sneaker boasts wiggle room for your tie protection and provides great stability due to its wide heel strike. Besides its functional quality, its unique style looks chic and makes these sneakers wearable for any occasion.
Pros
Breathable footbed
Lightweight shoes
Wide toe box
Durable shoes
Stylish
Good shock absorption
True size
Cons
Price at the time of publication: $126.76
Try out these super soft and comfortable nursing walking shoes for flat feet from CC-Los. These chic and fashionable sneakers boast soft fabric lining and a padded collar with breathable air mesh that provides great comfort for all-day wear. The soft memory foam insole with honeycomb lining and shock-absorbing high rebound phylon midsole supports your feet and prevents inward roll-on, reducing the chances of fatigue. Plus, these sneakers come with air cushioning that compresses during ground contact, distributing body pressure evenly to prevent impact to the knee or joints.
Pros
Breathable upper
Comfortable
Flexible sole
Soft upper fabric
Lightweight shoes
Shock absorbing cushioning
Removable insole
Stylish
Cons
Difficult to put on or off
Price at the time of publication: $29.99
Being in the medical profession means going through a hectic schedule. And this footwear from Croc makes your workdays a little easy. The clogs are made from 100% croslite foam cushioning and feature synthetic rubber soles specially designed for people in health care services. The foam cushioning provides all-day comfort while ensuring durability. Its roomy interiors do not squish the toes, while the heel strap ensures a secure fit. The crocs are ASTM F2913-11 tested and CE Certified that validates their slip resistance capacity. Plus, these shoes are easy to clean and maintain.
Pros
Slip-resistant threading
Easy-to-clean
Odor resistant
Waterproof
Lightweight
Contoured foot bed
CE certified
Cons
Price at the time of publication: $44.99
These shoes from Brinkenstock are your flat feet's best friend. A 0.76-inch heel and contoured cock on the innersole support your feet while promoting rolling motion. The cork-latex footbed and the smooth leather upper cover make it super cozy and comfortable for flat-footed people. The EVA midsole cushion with an EN ISO 20347:2012-certified non-slip grip provides unbeatable traction to avoid slipping and falling. Moreover, the roomie interior provides enough space that avoids bending, and its leather body offers easy cleaning.
Pros
Anatomically shaped footbed
Oil and grease resistant
Non-slip soles
Lightweight shoes
Durable
Easy to wear
Easy-to-clean
Cons
Price at the time of publication: $104.9
Hawkwell nursing shoe with removable memory foam insole is a great fit for long shifts, especially for people with flat feet. The memory foam supports the foot during landing, while the special footbed evenly distributes the weight to reduce pressure. Plus, the neutral arch support minimizes the impact. And its neutral arch support reduces the impact on your feet, and its slip-resistant design ensures perfect grip. Plus, this soft vegan leather is easy to clean, effortless to maintain, and highly durable.
Pros
Lightweight
Slip-resistant
Easy-to-clean
Waterproof
Superior grip
Stylish
Easy slip-on
Cons
Foam insole squeezes after initial use
Price at the time of publication: $42.99
As the name suggests, these shoes are specially designed for nurses. These are stylish yet professional-looking and provide good traction due to their slip-proof sole. The lace-up design ensures perfect fit by customizing tightness. The memory foam Pillowtop insole ensures cushiony support that softens the landing, while the padded collar braces the ankles during the gait cycle. Besides, the full-grain leather material and arched support provide easy cleaning and great comfort for all-day wear.
Pros
Stain-resistant
Padded collar
Comfortable
Breathable
Odor-resistant
True size
Cons
Price at the time of publication: $99.95
Nurses – or anyone in the health care industry – are mostly on their feet all day. So they need the right footwear that supports the low arches and provides stability for overpronation. Sounds too complicated? Don't worry. This buying guide will help you find the right shoe for your job.
Things To Consider Before Buying Shoes For Flat Feet?
Arch And Heel Support: Look for shoes with heel and arched support for steady gait. The heels should be tough enough to provide good shock absorption and moderately flexible for better movement.
Cushioning Insert: As individuals from the medical profession spend the entire day standing for long hours, cushiony comfort is a must for their shoes. The cushions create a soft landing for the feet, preventing unwanted jerks around hips, knees, or ankles. Look for one that is made of EVA foam, gel-based, or memory foam for great comfort.
Safety: As a nurse's life is full of running and walking, one must pick up shoes with excellent traction and slid-free soles to prevent accidents.
Comfort: This is a vital factor to look for while picking up shoes for flat feet. Shoes must have proper ventilation and be soft enough to relieve you from discomfort caused due to sweat.
Width: Opt for wider shoes as people with flat feet tend to have wider feet than others. Hence, regular shoes may feel tight and uncomfortable. Wider shoes allow you to wiggle your toes freely and provide enough space in the heel portion.
Why Trust StyleCraze?
The author of this article, Baishali Bhattacharya, is a fashion enthusiast. She loves to help her readers pick the most amazing fashion items. To this end, she read several customer reviews and product details to curate a list of the best nurse shoes for flat feet. These items in the list can elevate the arch and relieve you from pain.
Frequently Asked Questions
What type of shoes should a nurse wear?
Slip- and water-resistant shoes are ideal for nurses. Also, look out for shoes that have good cushioning.
Are crocs good to wear as a nurse?
Yes. Crocs are suitable for nurses as they are slip-resistant and waterproof. Also, they are easy to clean and durable.
Why do arch supports hurt my flat feet?
Incorrectly sized or too-hard arch support restricts your foot movements and compels your feet to adjust to the stiff position. This imposes extra pressure on your midsole and pains your flat feet.
How long does it take to fix flat feet?
Structural improvement of flat feet may take 3 to 18 months.
What relieves flat feet pain?
Arch supports, physical therapy, and stretching exercises effectively reduce flat feet pain. Also, adequate rest and weight loss can relieve pain.
Are flat feet genetic?
Yes. Some people inherit flat feet as an isolated characteristic from their parents. But many develop flat feet over time due to wearing the wrong shoes.
Which type of nurse shoe is the best for flat feet?
Nurse shoes with firmly cushioned insoles are the best for flat feet. These flexible insoles offer support to your feet and balance your movements.
Recommended Articles