20 Best Kylie Jenner Outfits That Are Trendy And Stylish
Get inspiration from our list and make your style statement with these trendy outfits.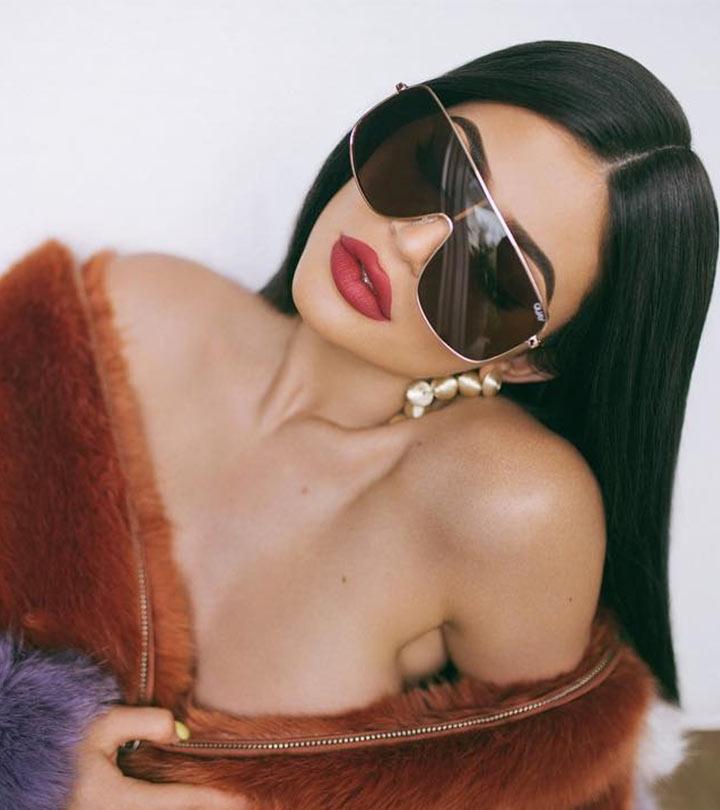 Kendall and Kylie grew up before any of us realized what was happening, suddenly making us realize our age. And, before you knew it, the Jenner sisters were taking over the fashion world. While Kendall has taken over the runways, Kylie has moved up the ladder in the makeup industry. She comes a close second to her sister Kim with a fan base of 101 million on just Instagram. Kylie has managed to put herself on the pedestal with her style statements, and of course, her cosmetic line – Kylie Cosmetics. It is now one of the most sought after makeup brands. Let's take a look at some of the best Kylie Jenner outfits and see if we can get some fashion inspo.
Best Of Kylie Jenner Outfits
1. Knee High Lavender Boots
Wait, what? We can't think of anyone else who would look as good as her in lavender colored boots! Can you? Thanks Kylie for opening a world in itself for boots and feeding our boots inspiration.

2. Checkered Suit
We all do blazers and suits, but it's nothing close to what the little Jenner had in mind. She got out wearing a checkered blazer and matching shorts, and made us all rethink our fashion choices.
3. Oversized T-Shirt And Shorts
And, when you think that her statements are out of reach, she walks out of the house for coffee in an oversized Tee, denim shorts, and converse shoes. Maybe she is one of us after all.

4. Camo Hoodie
Hoodies are a hot favorite of the Jenner sisters. They are often spotted wearing them. They love sporting oversized Tees and hoodies as much as they enjoy wearing their bodycon dresses.
5. Black Bodycon Dress
Kylie is known for radically changing her style statements, especially sporting dramatic hair colors and drastic cuts. We loved her asymmetrical bob and the black bodycon dress.
6. Faux-Fur Jacket
Kylie looks like a dream in this faux-fur jacket that is camouflaging her body-hugging dress; and her candy pink hair is stealing the show. We honestly cannot get over this look, can you?

Did You Know?
Kylie and Kendall Jenner also collaborated on the release of vegan and faux fur jackets as part of their apparel company called Kendall + Kylie.
7. Sequin Dress
Kylie looks nothing like she used to. She seems quite comfortable in her new avatar – a sequin dress, shrug, and long jet black hair. We couldn't help but fall in love with her all over again.
8. Monochromatic Look
Who does not love monochromes? And, thanks to Kylie for raising the monochromatic bar. Love how her kimono and boots are completing the look; not to forget those cute little braided pigtails.
9. Shirt Dress
Kylie's Instagram posts are about casual outfits like these just as much as they are about those runway gowns. This blue vertical striped shirt dress and straight blonde hair make her look like the girl next door.

10. Crop Top Love
We all love crop tops, and so does Kylie, except she leaves her signature with every outfit she wears. The strip palazzos, white shoes, body bag, and pigtails are her idea of street style clothing.
11. Red Tracksuits
She apparently loves spending her days in sweats and tracksuits, which is most of us. Thanks Kylie for taking one for the team.
12. Pant Suit
Just when you thought she was all about pigtails and sweatpants, she makes an appearance looking like a woman who has it all sorted and on point. Well, she does, clearly!
13. Jogger Pants
Joggers and sidetrack pants are taking over the clothing lines, but it was Kylie and the Kardashian sisters who started this trend, and the world happily followed. We couldn't help it, could we? Look how hot Kylie looks in these casual jogger tracks, crop top, and six-inch heels.

14. Black Noodle Strap Dress
Here's another look of Kylie that is youthful yet ladylike, trendy yet classy, and definitely chic and elegant – all at the same time. She has it all in her and owns up to everything like a boss.
15. Gold Versace Outfit
Kylie told the media that it was a dream come true for her to be in an outfit that Versace had personally designed for her. Well, we are glad that her dream came true, but mostly, she looked like one herself.

Trivia
Kylie Jenner wore this outfit at the 2017 Met Gala red carpet. According to reports, this outfit alone required roughly 350 hours of labor.
16. Yeezus Outfit And Jacket
Nobody wears Yeezus outfits like the Kardashian sisters. Kylie Jenner looked effortless in a full body Yeezus suit. She completed the outfit with a huge camel colored jacket. Kylie manages to stand out in an outfit that can otherwise seem too consuming.

17. White Satin Dress
A white satin dress and no accessories. That's all it takes for Kylie to take over everyday's life hustle. And just look at how captivating she is in her element.
18. Bikini Bomb
Nobody does bikinis better than the Kardashian clan, period. They take the internet by storm with every bikini look of theirs, just like this.
19. Juicy Couture Tracksuits
Nobody can skip the Juicy tracksuits, and clearly, Kylie has given in too. I secretly found my validation, did you?
20. Black Sparkly Jumpsuit
Kylie looked smoking hot in a sparkly jumpsuit, long hair, and a no-makeup look. She looks great in every outfit she wears and makes us swoon over her style. No wonder she's made her way up within a short span of time.
Infographic: How To Dress Like Kylie Jenner
There is no denying that Kylie Jenner is a fashion icon, especially for the younger generation. Women and girls alike look up to her for fashion tips, and the reasons are apparent. She's just way too cool, and we can't get enough of her styles.
Considering this, we have created an infographic with basic fashion tips that would let you bring out your inner Kylie Jenner. Check it out.

Kylie Jenner's outfits and sense of style never ceases to amaze us. From experimenting with different hair colors to sporting stylish fashion outfits, you can easily incorporate some of her tips and tricks into your everyday look. On the days you feel lazy but still want to look your best, you can wear your comfortable oversized t-shirt with shorts and converse. If you have piles of clothes sitting in your wardrobe and don't know what to do them with, take a look at Kylie's Instagram feed for ideas.
Frequently Asked Questions
What are some of Kylie Jenner's favorite clothing brands?
The brand Balmain, of which she has worn a lot, and her own apparel brand Kendall + Kylie appear to be Kylie's favorite clothing brands.
What is the most daring outfit Kylie Jenner has ever worn?
Jenner wore a custom see-through gold Versace dress to the 2017 Met Gala. It is one of the most daring outfits she has yet worn.
Banner Image Credits: Instagram
The following two tabs change content below.