12 Best Office Chairs Available In India + Buying Guide
Say goodbye to back stiffness and stay comfortably productive all day long!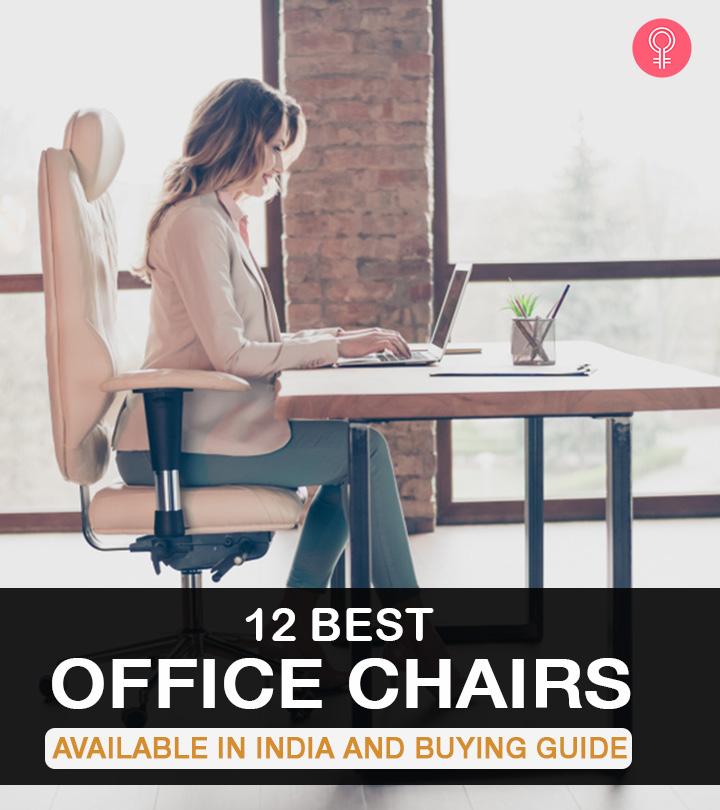 Ever tried sitting on a dining or garden chair for 8 long hours? Even the thought might make your back hurt! That's precisely why a comfortable office chair is important. Since a significant proportion of our population is involved in sitting or desk jobs, it becomes imperative to choose the right kind of chair that will allow one to sit for long durations without causing discomfort in the sciatic area.
Office chairs are designed keeping long periods of sitting in mind, and therefore, they are crafted to focus on supporting the spine and head to maintain a proper posture. Their ergonomic design caters to the user's needs and offers features and adjustments like lumbar support, headrest, heavy load-bearing capacity, adjustable armrests, breathable mesh design, and locking mechanism to keep you at ease. If you are planning to buy an office chair for your home office or work setting, browse through these 12 best office chairs in India. Keep scrolling to learn more.
12 Best Office Chairs Available In India
The Amazon Basics Full Back Executive Chair has a padded and 360-degree swivel seat to provide great comfort and support and get you through a long day. Its sleek and professional style features adjustable settings, a butterfly seat plate, and curvy contours to support to your back comfortably.
This executive chair allows the user to adjust it to the desired height, control the tilt of the chair, etc., with ease. It is made of PVC and bonded black leather and has a smooth upholstery with seat cushioning for added comfort. The chair offers an excellent range of motion, while its sturdy nylon casters provide seamless mobility.
Specifications
Dimensions: 9 x 66.5 x 115.6 cm
Cover Material: Leather
Maximum Weight Capacity:7 kg
Pros
Fully adjustable
Smooth mobility
Sturdy
Comfortable
Easy to assemble
Cons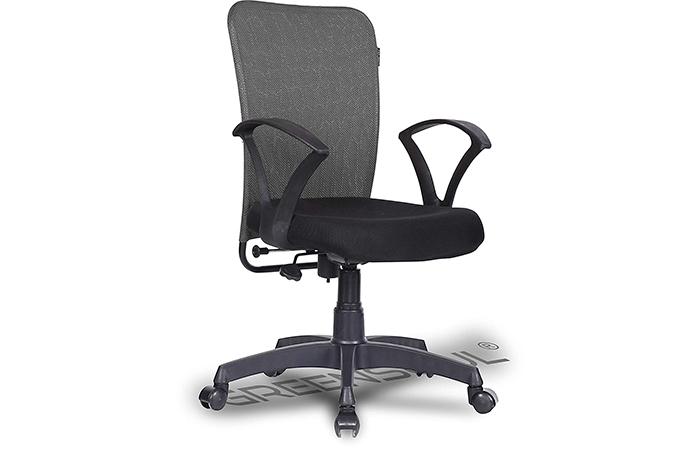 The Seoul Mid Back Office Chair from Green Soul has a simple yet innovative design to offer full support to sit and work for long hours. Its breathable mesh design prevents heat to keep you cool while you lean on it. This chair has a heavy-duty nylon base to offer excellent support and stability.
The armrests are made of fiber and help you maintain proper posture while relaxing the arms. The comfortable seat is made of foam and fabric and ensures sweat-free sitting. This chair allows you to adjust the height as per your requirement using a quality hydraulic piston, and the 50mm caster with smooth rolling works great on carpets and hard floors to ensure optimum mobility. This chair also features a torsion knob placed under the seat that can help you adjust the angle from 90º to 105º using a lever.
Specifications
Dimensions: 86 x 45 x 47 cm
Cover Material: Molded foam and fabric
Maximum Weight Capacity:90 kg
Pros
Various tilt modes
Ergonomic
Easy to assemble
Value for money
Cons
Uncomfortable mesh for the back.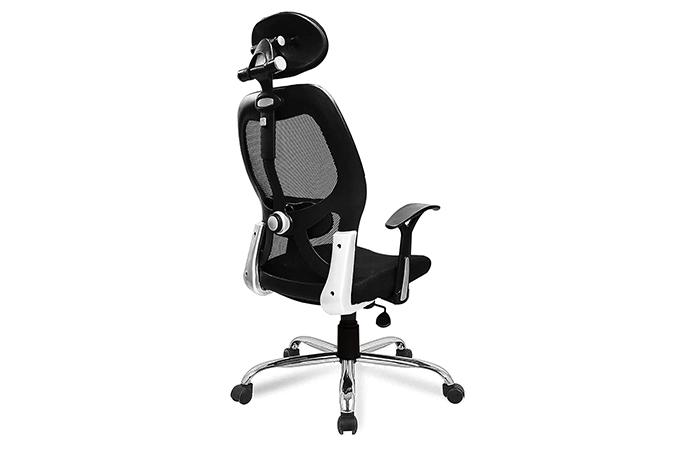 The Savya Home Office Chair has a breathable contoured back mesh for comfortable and healthy sitting. Its synchro-tilt mechanism features a tilt lock to offer support to your body's natural posture. The chair's height and swivel can be easily adjusted using a pneumatic gas lift located beneath the seat. This versatile and revolving office chair has different motion ranges and five casters for better mobility. Its durable and sturdy design distributes the body weight uniformly to ensure comfortable sitting every time.
Specifications
Dimensions: 5 x 15.24 x 121cm
Cover Material: Molded foam and fabric
Maximum Weight Capacity: 100 kg
Pros
Chrome-plated base
Strong armrests
Easy to assemble
Adjustable headrest
Cons
Flimsy design
Not scratch-proof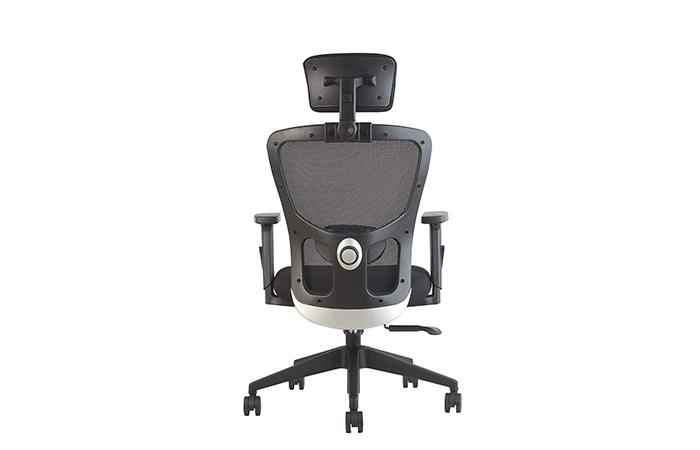 The Jazz High Back Mesh Office Chair from INNOWIN has an ergonomic design with 2D lumbar support to keep your back properly aligned and prevent aches and pains. This stylish and comfortable chair has adjustable arms that allow the users to adjust the armrest height as per their preference. The nylon base offers commendable strength to the chair. It also features five 60mm nylon casters to reduce friction and provide easy mobility.
Specifications
Dimensions: 66 x 48 x 120cm
Cover Material: Molded foam and fabric
Maximum Weight Capacity: 120 kg
Pros
Adjustable headrest
Easy mobility
Comfortable cushioning
Ergonomic design
Easy to assemble
Cons
Suitable for those below 5'8".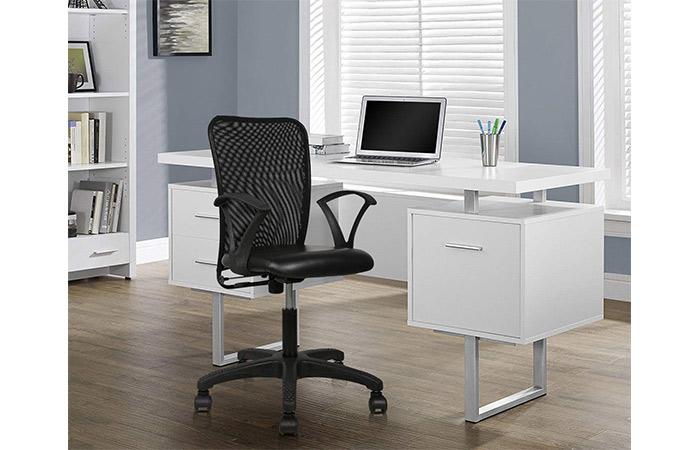 The Ergonomic Mesh Chair from TIMBER CHEESE is sleek-looking and smartly designed. It features a contoured mesh back, sturdy plastic armrests, a heavy-duty umbrella-shaped base, and a comfortable padded seat with pneumatic height adjustments. This perfectly crafted chair allows the users to sit comfortably for long hours without discomfort.
Specifications
Dimensions:55 x 60.96 x 88.9cm
Cover Material: Leather
Maximum Weight Capacity:100 kg
Pros
Sturdy
Value for money
Easy to assemble
Cons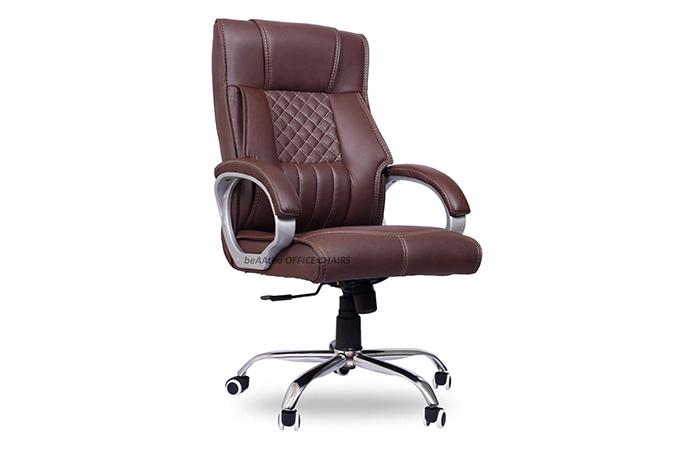 The beAAtho JS-29 Executive Office Revolving Chair has an elegant yet durable design to offer utmost comfort during long periods of sitting. Its heavy-duty caster wheels are made from quality material.
This sturdy chair has a strong metal frame that prevents unforeseen damages. The adjustable hydraulics let you easily adjust the height of the chair as per your comfort level. This revolving office chair is equipped with push and pull locks that can be adjusted from 90 degrees to 105 degrees to set a desirable tilt. It is made of premium-quality material with a smooth and elegant finish and thick cushioning.
Specifications
Dimensions:85 x 53 x 53 cm
Cover Material: Leather
Maximum Weight Capacity:150 kg
Pros
Lightweight
Easy to clean
Swirl and lock mechanism
Easy to assemble
Comfortable
Cons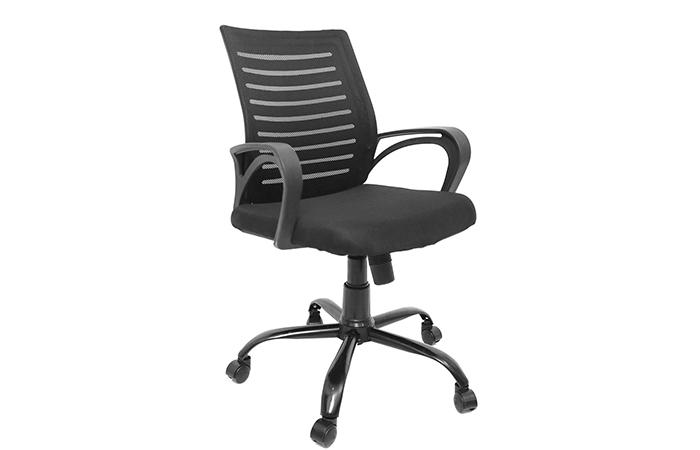 The CELLBELL C104 Office Chair offers long-term comfort due to its ergonomic design. This affordable office chair has a breathable textile covering that maintains a comfortable skin temperature by letting the water vapor, body heat, and air pass easily.
Its silent and sturdy wheel casters are PU encased and provide 360-degree rotation without scratching the floor surface. The breathable mesh back design offers excellent lumbar support while keeping your body cool. The intelligent design prevents back pain by ensuring comfort and reducing pressure.
Specifications
Dimensions:8 x 48.26 x 91.44cm
Cover Material: Molded foam and fabric
Maximum Weight Capacity:105 kg
Pros
Breathable back mesh
Convenient design
Long-lasting
Easy to assemble
Cons
Screws may get loose after prolonged use.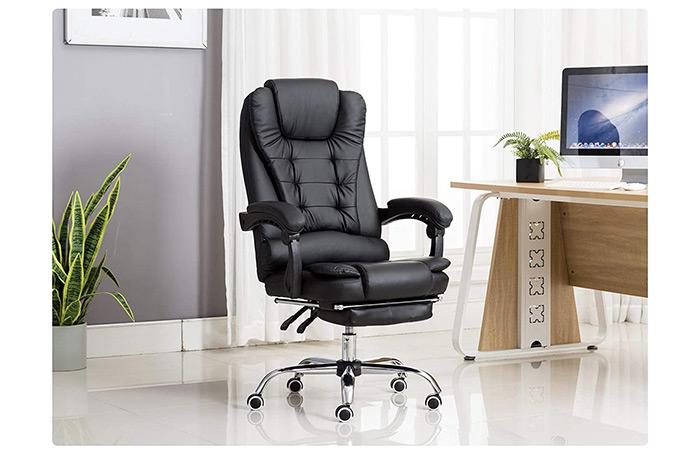 The Kepler Brooks Italia Office Chair provides lasting durability due to its light yet strong nylon polymer frame and certified class 4 piston. It features an ergonomic design to prevent straining the muscles.
This reclinable office chair is suitable for those with back pain and maintains proper body posture. The neck rest is supported with a cushioning to prevent aches. The sturdy leg rest allows you to relax and stretch by reclining and locking the back support. The backrest is equipped with two layers of cushioning to provide additional support. The padded and flexible armrests prevent fatigue in your arms.
Specifications
Dimensions:55 x 53 x 111cm
Cover Material: Leatherette
Maximum Weight Capacity:350 kg
Pros
Soft foam seating
Padded armrests
Adjustable recliner
Retractable footrest
Easy to assemble
Cons
Limited height adjustment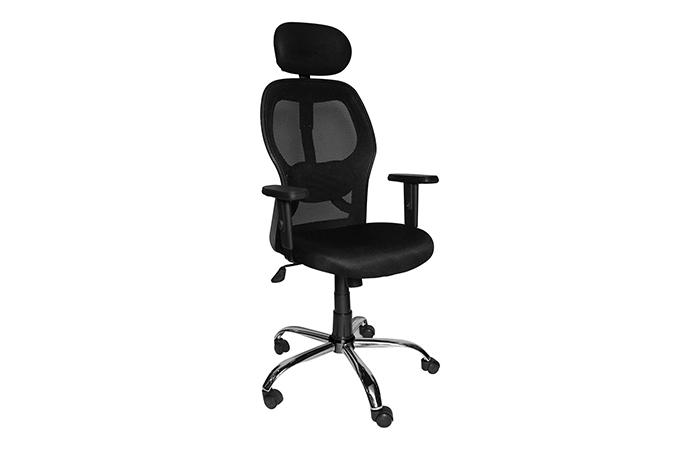 The CELLBELL C100 Office Chair has a ventilated mesh back to prevent the back from getting stiff and soft cushioning to maintain proper back posture for long durations. The ergonomically designed arm and backrests keep your back relaxed, and the adjusting levels let you adjust and set height as per your convenience. The chair's base features a tension adjusting knob to let you tilt it and relax.
Specifications
Dimensions: 72x 48.26 x 119.38cm
Cover Material: Molded foam and fabric
Maximum Weight Capacity: 105 kg
Pros
Strong armrests
Comfortable
Sturdy
Ergonomic design
Easy to assemble
Cons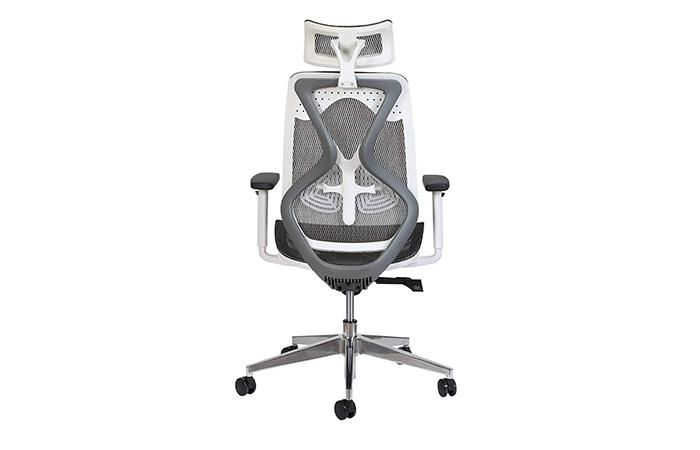 This Imported Xenon High Back Ergonomic Chair from Misuraa has seven adjustable features to set your comfort level. It lets you adjust the armrest height, lumbar support height, seat depth, seat height, backrest tilt, tilt tension, and headrest angle and height.
It features a breathable mesh fabric to allow the air to pass while keeping your thighs and back sweat-free. This office chair comes with adjustable lumbar support and a reclining feature to allow you to tilt and stretch. It has an aluminum base with caster wheels to make it move through hard floors and carpets easily.
Specifications
Dimensions: 68 x 71 x 120 cm
Cover Material: Nylon
Maximum Weight Capacity: 140 kg
Pros
Multiple adjustable functions
Ventilated mesh
Excellent mobility
Easy to assemble
Ergonomic
Comfortable
Cons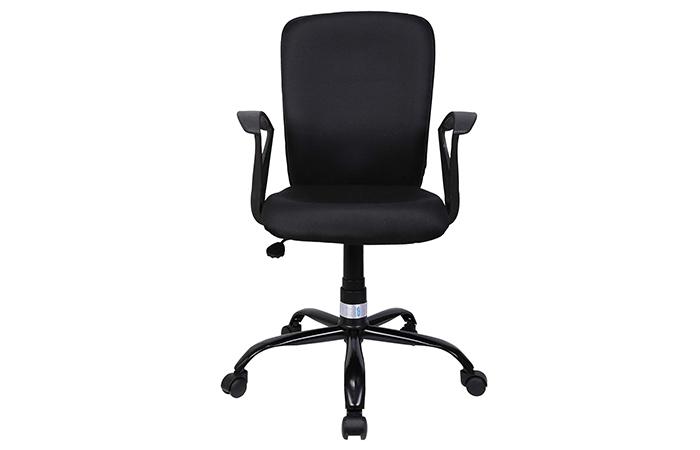 The Furnicon Chair Executive Office Chair provides enough support to your back and shoulders to get through a long day of work. Its ergonomic design features a cushioned seat and padded arm rests for comfort.
This office chair is made of superior-quality soft foam with fabric upholstery and prevents heat and moisture buildup while keeping your entire body cool and sweat-free. Its tilt mode lets you recline and relax by pulling the lever outwards and pushing it again inwards to stop and lock at 90 degrees. The fiber armrests provide support to the arms, and the 50mm wheels with 360-degree swivel offer sufficient mobility. 
Specifications
Dimensions: 44 x 59 x 92 cm
Cover Material: Molded foam and fabric
Maximum Weight Capacity:100 kg
Pros
Durable
Comfortable
Sturdy
90-degree reclining
Easy to assemble
Cons
Single tilt angle
Noisy hydraulic knob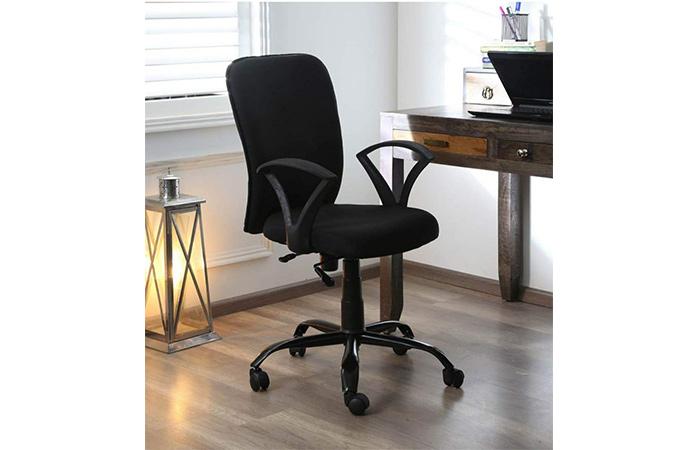 This comfortable executive chair from AB DESIGNS features various adjustments to ensure maximum comfort during long hours of sitting. It is equipped with a foam padded seat and back for full-day comfort and durable fiber armrests for full support.
The office chair is fitted with pneumatic controls to allow you to adjust seat height and tilt the backrest for added comfort. It also includes adjustable back support and a padded cushion. The chair is made from top-quality material to offer mobility, support, and comfort. It has a heavy metal base with powder coating to provide more stability and strength and twin nylon castor wheels for ease of mobility.
Specifications
Dimensions: 7 x 45.7 x 86.4cm
Cover Material: Padded foam and fabric
Maximum Weight Capacity: 90 kg
Pros
Softback support
Durable
Excellent mobility
Easy to assemble
Cons
After browsing through the best home office chairs, it's time to look at the essential points to keep in mind and make a worthy purchase.
How To Choose The Best Office Chairs
Look for the following features while buying an office chair:
Go for an office chair with an adjustable height option so that you can set it according to your preference and comfort.
An office chair with an adjustable backrest lets you relax and provides proper posture support.
An office chair with a contoured backrest to properly align the back and maintain its posture is recommended. It also supports the lower back by reducing pressure and preventing aches.
A chair that lets you adjust the armrests to an adequate level helps provide optimum support and comfort to your arms.
A chair made of ventilated or breathable material not only offers comfortable sitting but also lets the air pass properly to prevent moisture and sweating.
An ergonomically designed office chair will help you work comfortably without worrying about pain and discomfort. The products mentioned in this article are our best picks for office chairs. Find a suitable one for you and bid adieu to back and neck pain.

Recommended Articles