Top 10 OGX Conditioners In India (2023) – Reviews And Buying Guide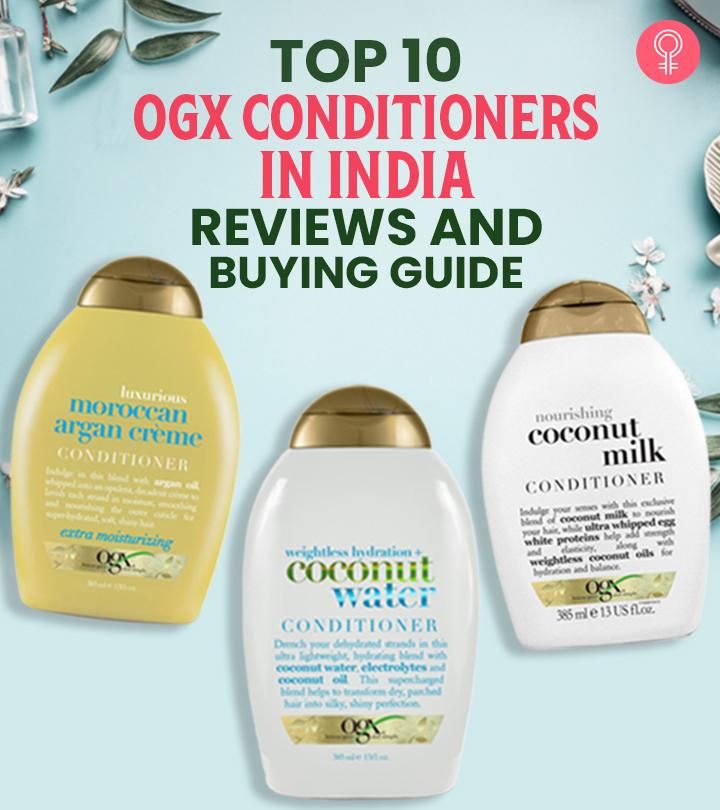 You are thorough when buying a shampoo that is perfect for your hair. You check if it suits your hair type, tames frizz, and repairs hair damage. But, not everyone focuses much on the conditioner they invest in, considering that it is an equally important part of the hair routine. Adding a conditioner to your hair care regimen is essential as it hydrates your hair and locks in the moisture to retain and maintain its natural shine. When talking about conditioners, the one brand that tops the charts is OGX. OGX conditioners are known for their exotic ingredients, their quirky and colorful packaging, and their amazing results at a pocket-friendly price! No matter what your hair type, you will find an OGX conditioner that will nourish and repair your hair and leave it feeling smooth and silky. Check out the best OGX conditioners available right now along with a helpful buying guide at the end of this article.
Top 10 OGX Conditioners in India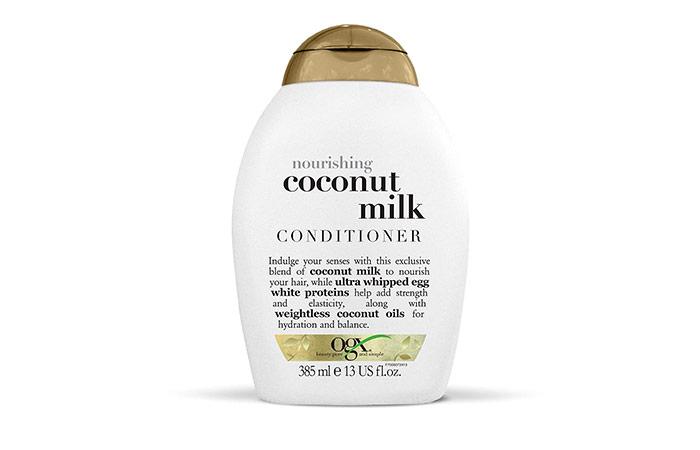 OGX Nourishing Coconut Milk Conditioner has the goodness and moisturizing element of coconut. It has a deliciously creamy texture that is sure to nourish, hydrate, and give your tresses much-needed strengthening. The coconut fragrance lingers on your hair all through the day, giving it a soft and tropical vibe. The coconut milk, coconut oil, and egg white protein in it add bounce and volume to your curls.
Pros
Nourishes and strengthens the hair
Moisturizes the hair
Adds shine and smoothness
Suitable for curly hair
Suitable for colored and chemically treated hair
Affordable
Pleasant tropical fragrance
Cons
Not suitable for oily hair
Price at the time of publication: ₹759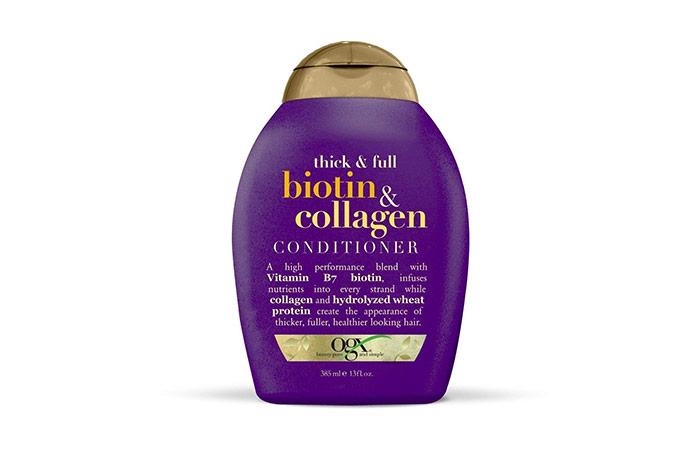 OGX Thick & Full Biotin & Collagen Conditioner is infused with vitamin B7 biotin and collagen that boost the health of your hair. This combination of biotin and collagen makes your hair thicker, more voluminous, and healthier. Also, it helps in improving the texture of your hair by leaving it looking shiny, smooth, and hydrated. With ingredients like biotin, collagen, and hydrolyzed wheat protein, your hair is sure to thank you.
Pros
Paraben-free
Sulfate-free
Nourishes the hair
Adds volume
Promotes healthy hair
Improves the hair texture
Makes hair smooth, shiny, and soft
Pleasant jasmine and vanilla fragrance
Cons
May leave your hair dry and frizzy
May feel itchy on a sensitive scalp
Price at the time of publication: ₹853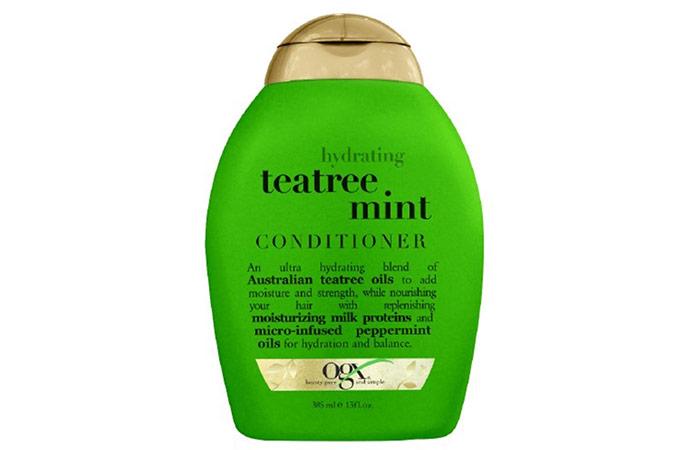 The goodness of ultra-hydrating Australian tea tree oils in this conditioner adds moisture and nourishment while strengthening your hair. This OGX conditioner is a luxurious blend of tea tree oil, milk protein, and micro-infused peppermint oil that replenish the moisture of your hair. It leaves your hair feeling refreshed, moisturized, and nourished. It works wonders on fine, damaged, oily, and frizzy hair that needs an extra boost of moisturizing nourishment. This conditioner promises to rejuvenate and detangle your damaged hair in the gentlest way.
Pros
Sulfate-free
Paraben-free
Cruelty-free
Reduces split ends
Suitable for frizzy, fine, damaged hair
Safe for chemically treated and colored hair
Strengthens and moisturizes the hair
Affordable
Cons
Strong minty fragrance
Might cause hair fall
Price at the time of publication: ₹5.59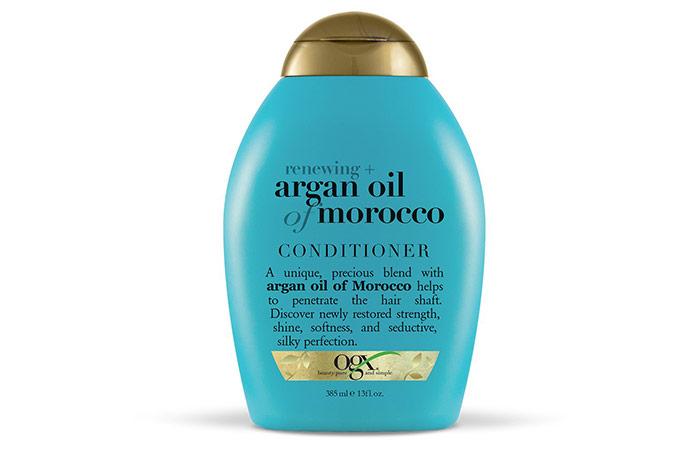 OGX Renewing + Argan Oil Of Morocco Conditioner has all the richness of argan oil that penetrates the hair shaft to retain and restore strength and protect your hair from any damage caused by heat styling or UV rays. It also adds shine, softness, smoothness, and a silky finish to your hair. It will give you lustrous tresses that you can't keep your hands off.
Pros
Sulfate-free
Suitable for curly hair
Reduces roughness
Reduces frizz
Strengthens the hair
Prevents heat damage
Cons
Slightly expensive
Fragrance might be too strong for some
Makes scalp greasy
Not suitable for oily hair
Price at the time of publication: ₹6.48
OGX Rejuvenating + Cherry Blossom Ginseng Conditioner contains the widely famous Japanese cherry blossom and ginseng root extracts. It is known to help in rejuvenating the scalp while adding shine to your hair. It also nourishes your hair with ultimate hydration and smoothens it out. This OGX conditioner boosts and stimulates the hair follicles for hair growth while providing hydration and moisture.
Pros
Moisturizes the hair
Boosts shine
Smoothens the hair
Boosts hair growth
Leaves hair tangle-free
Paraben-free
Sulfate-free
Sweet fragrance
Cons
Expensive
Weighs down your hair
Oily formula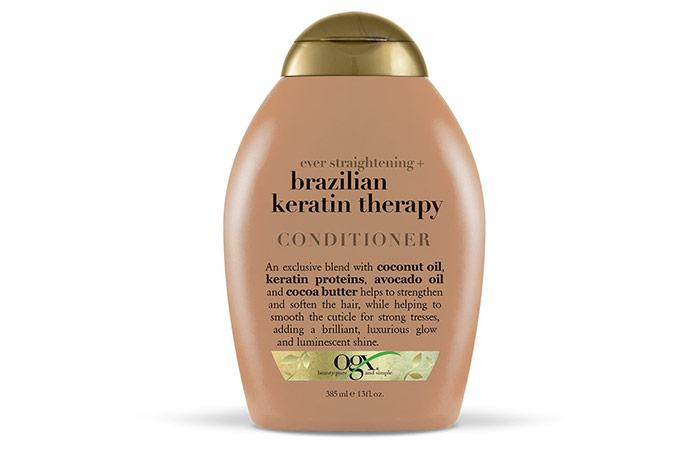 OGX Ever Straightening + Brazilian Keratin Therapy Conditioner is an enthralling blend of antioxidants, the richness of coconut oil, and lush keratin proteins that are full of goodness. It not only strengthens the hair but also softens it to give you a salon-like finish. The avocado oil and cocoa butter in this OGX conditioner help in smoothening the hair cuticles to ensure you have straight, lustrous, and shiny hair.
Pros
Sulfate-free
Straightens curly and wavy hair
Smoothens the hair
Makes hair shiny
Moisturizes the hair
Reduces frizz
Subtle lingering fragrance
Cons
Slightly expensive
Not suitable for oily hair
May leave your hair heavy and limp
Price at the time of publication: ₹860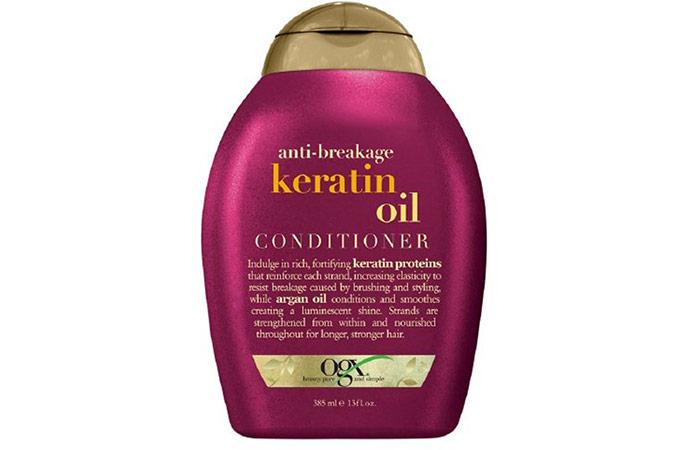 OGX Anti-Breakage Keratin Oil Conditioner contains rich and revitalizing keratin proteins that help in reinforcing every strand of hair to increase its elasticity and resist breaking. This OGX conditioner contains argan oil that conditions your hair and prevents hair breakage or damage caused due to styling or brushing. It strengthens your hair from within and makes it easy to manage even when you leave it open.
Pros
Moisturizes the hair
Softens the hair
Long-lasting and pleasant fragrance
Reduces dryness and frizz
Makes hair more manageable
Imparts shine
Sulfate-free
Paraben-free
Cons
Does not repair split ends.
Not long-lasting effects
Price at the time of publication: ₹756
OGX Weightless Hydration + Coconut Water Conditioner rejuvenates your dehydrated hair strands and nourishes it right from the roots. Its tropical fragrance is what makes the conditioning experience even more magical. This weightless formula is full of hydrating ingredients that make your hair look shiny and smooth. If your hair is damaged or excessively treated and frizzy, this is the best OGX conditioner for you as it rejuvenates and hydrates your hair.
Pros
Moisturizes the scalp
Imparts a lustrous shine
Strengthens the hair
Suitable for all hair types
Pleasant tropical fragrance
Sulfate-free
Cons
Might irritate the scalp
Does add volume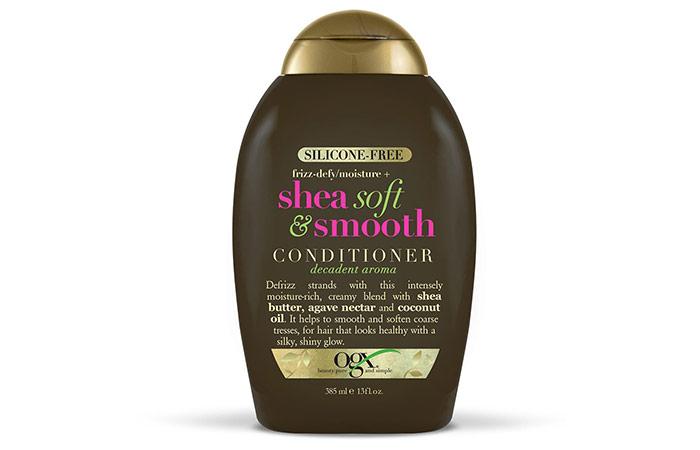 OGX Frizz-Defy/Moisture + Shea Soft and Smooth Conditioner will make you fall in love with its creamy texture and divine fragrance. It helps in de-frizzing your hair and keeping it knot-free by inducing it with moisture from shea butter, agave nectar, and coconut oil. It locks in moisture and prevents your hair from becoming dry, coarse, and untamable. It helps make your hair look healthy with a silky and shiny glow.
Pros
Enhances curls and wavy hair
Keeps hair tangle-free
Moisturizes coarse hair
Reduces frizz
Makes hair look healthy and shiny
Pleasant fragrance
Cons
Expensive
Weighs down straight hair
Contains parabens and sulfates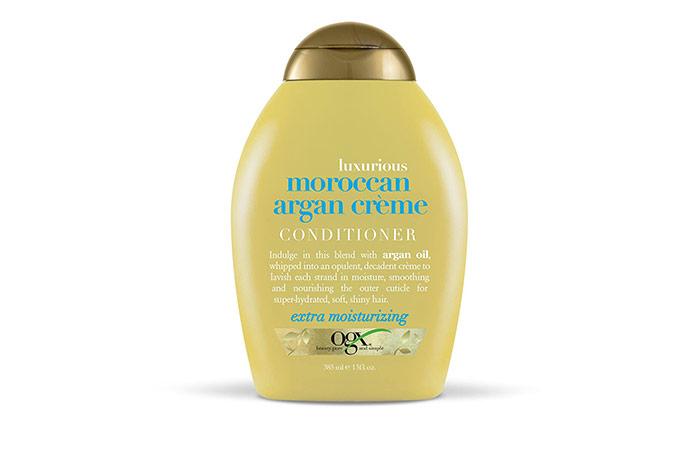 OGX Luxurious Moroccan Argan Crème is packed with the natural healing power of argan oil. Its rich and thick formula helps in nourishing highly damaged, stressed, and coarse hair from within, all the way down to the split ends. It hydrates it thoroughly and makes sure that you are left with nothing but super lustrous, smooth, and shiny hair.
Pros
Suitable for thin and damaged hair
Detangles the hair
Makes hair smooth and shiny
Reduces frizz
Hydrates the hair
Cons
Strong fragrance
Not suitable for oily hair
Leaves behind an oily residue
Buying the best OGX conditioner to tame and nourish your beloved tresses requires some research. Check out the next section for the factors that you need to consider when buying one.
How To Choose The Best OGX Conditioner
Specifics: When it comes down to picking the best OGX conditioner to suit your hair, you need to consider your hair type. If your hair is dry or frizzy, opt for an ultra-moisturizing OGX conditioner. It induces hydration into your coarse hair with ingredients like shea butter, argan oil, coconut oil, or almond oil. Similarly for damaged hair, opt for keratin or crème-based OGX conditioners. For color-treated hair, look for OGX conditioners that are designed to protect your hair from heat damage or UV damage.
Formula And Ingredients: Most brands offer 8 to 10 formulas, but OGX offers 20 to 30 conditioner formulas. Also, check the label and study the ingredients present in the conditioner. Make sure that they are natural, chemical-free, and suitable for your hair and scalp.
Suitability: Many people have delicate hair, while others have a sensitive scalp. Check the ingredients and formula to see if there is anything that might not work for your hair. Also, some conditioners are specifically made for curly or dry hair with extra moisture, so you might as well need to see your hair type to pick an OGX conditioner that suits you the best.
Fragrance: You don't want to be stuck with a strong fragrance lingering all day long from your conditioner as it might cause you a headache. Check the ingredients to analyze the fragrance and ensure it is mild and subtle.
Product Pairing: Most products from OGX work best when paired together. For best results, the brand urges you to use the corresponding OGX shampoo with the OGX conditioner to get the maximum benefits from each product's formula.
Reviews: We urge you to go through the reviews before you buy an OGX conditioner so that you can find what conditioner works best for your hair type. Usually, the tried and tested reviews help you in picking the right product.
A healthy hair routine is incomplete without a conditioner. And, OGX conditioners are known for their nourishing goodness. Listed below are some benefits of OGX conditioners that you might want to check out.
Benefits Of OGX Conditioners
All About Natural Ingredients: The best thing about OGX conditioners is that they are packed with the goodness of all-natural and chemical-free ingredients. Thus, they reduce the risk of damaging your hair. They are also cruelty-free, and their bottles are recyclable.
Wide Range: OGX conditioners come in a wide range and variety! Regardless of your hair type or hair problem, you will find an OGX conditioner that will come to your rescue.
Guaranteed Results: OGX is a brand that ensures you get what you are looking for from their product. They deliver the expected results no matter which OGX conditioner you pick. Also, the amazingly raving reviews on the internet furthermore prove why OGX conditioners are the best ones.
Pocket-Friendly: Despite all the natural ingredients and goodness packed in a bottle, OGX conditioners are quite affordable! Though they are a cult-favorite brand, you don't have to burn a hole in your pocket to buy one.
There's no doubt that a good hair day starts in the shower with a good conditioner that leaves your hair smelling amazing and feeling soft. OGX conditioners are best at what they do! They bring out the best form and texture in your hair. Be it nourishing your curly hair, protecting its color, or repairing all the damage caused by styling or pollution – OGX conditioner's wide range has you covered. You can definitely trust the 10 best OGX conditioners mentioned above to do their job perfectly! No matter which bottle from the OGX conditioner range you pick, you will love its results. 
Frequently Asked Questions
Are OGX conditioners heavily fragranced?
No, almost all OGX conditioners have a tropical, mild, or pleasant fragrance as the brand ensures not to use too many scents to maintain clean and non-irritating formulas.
Is OGX a cruelty-free brand?
Yes, OGX is a completely cruelty-free brand which also ensures that they work only with suppliers who provide materials that are in no way tested on animals.
Do OGX conditioners have silicones?
No, OGX conditioners do not contain silicones or any other chemicals.
Do OGX conditioners contain sulfates?
Some, but not all, OGX conditioners contain sulfates.
Is OGX safe for color-treated hair?
Yes, OGX is completely safe for color-treated hair.
Recommended Articles
The following two tabs change content below.