13 Best Soaps For Oily Skin In 2022
Because the secret to great skin is lowering sebum production without dehydrating it.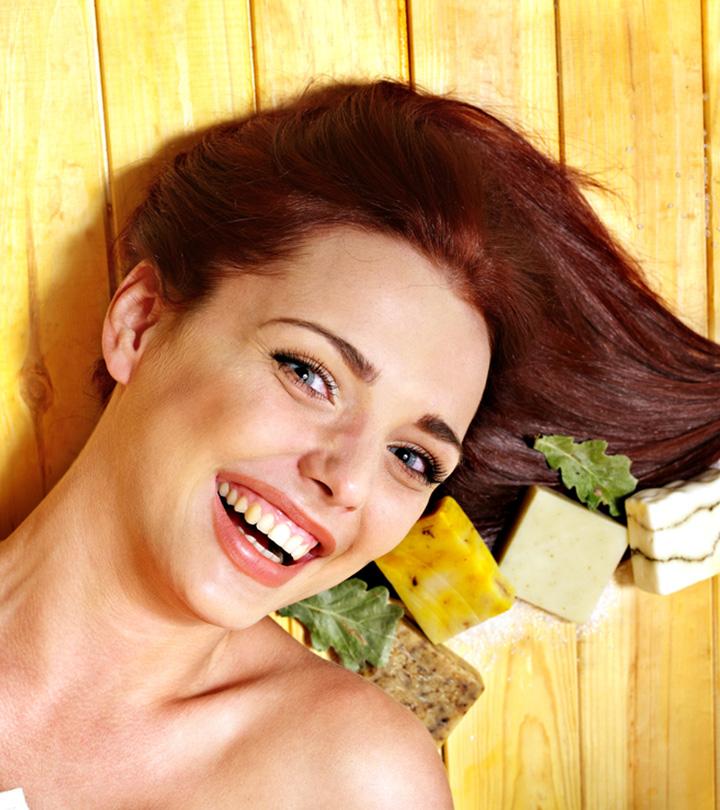 Oily skin has its league of problems, be it greasy skin at all times or sebum-clogged pores. Fortunately, there is a wide range of products to tackle the woes of oily skin beauties. For example, soaps for oily skins are doing rounds in the market as they cleanse gently without drying the skin and adding moisture for suppleness.
Soaps that contain organic ingredients and don't cause irritation are the best kind for oily skin. Ingredients like hyaluronic acid, coconut oil, aloe vera, tea tree oil help in gentle skin cleansing. They also help exfoliate dead skin cells, eliminating sebum while thoroughly hydrating the skin. The best part is they don't rip off the natural moisture from the skin or cause further flare-ups. However, choosing the best can be challenging with so many soaps available. Hence, we have the best oily soaps to help you take care of your oily skin. Check them out!
Top 13 Best Soaps For Oily Skin In 2022
Formulated with organic shea butter for richness and moisture, this soap is designed to cleanse, hydrate, and calm problematic skin. Also included are ingredients like aloe vera, oat, and rosemary which help to balance oily skin for a clearer complexion. Charcoal aids in detoxifying and gives this black soap for oily skin its distinctive black color. Tamarind extract acts as a natural astringent to help exfoliate the skin, while tea tree oil helps to soothe skin and prevent breakouts. Ethically traded and sustainably produced, this soap ensures skin that is thoroughly cleansed and deeply nourished. It is also considered a good soap for pimples and oily skin. Here is the clear demo of SheaMoisture African Black Soap.
Pros
Designed for problematic skin
Contains natural and organic ingredients
Free of parabens, phthalates, and sulfates
Free of mineral oil
Cruelty-free
Cons
Some might find the fragrance of this soap a bit overpowering.
Developed with dermatologists, this cleansing bar gently removes dirt, oil, and makeup without disrupting the skin's natural barrier. This cleanser soap is formulated with three essential ceramides which restore and maintain skin's moisture, and hyaluronic acid which provides deep hydration to the skin. The product also contains 5% moisturizing cream to release a steady stream of hydration throughout the day and night. Non-comedogenic and fragrance-free, this soap is suitable for acne-prone and sensitive skin and for those suffering from eczema.
Pros
Non-comedogenic and non-irritating
Suitable for use by those with eczema or sensitive skin conditions
Acne soap for oily skin
Fragrance-free
Free of parabens
Cons
Might not be suitable for dry skin.
This aromatic cleansing bar is infused with kojic acid and papaya to help exfoliate skin for a brighter and younger-looking complexion. Formulated with only natural ingredients, this face soap for oily skin safely brightens the complexion while reducing the appearance of dark spots, freckles, and acne scars. This product also contains hyaluronic acid which deeply nourishes the skin, improves elasticity, and softens skin. Hypoallergenic and dermatologist-tested, the soap is suitable for all skin types. Look at this video for a clear review of No. 7 Instant Illusion Wrinkle Filler.
Pros
Contains natural ingredients
Free of parabens and SLS
Hypoallergenic and dermatologist-tested
Cruelty-free
Cons
Might not be suitable for sensitive skin.
This luxury 6-piece soap bar set is presented in a recyclable gift box, and each soap bar has unique healing benefits. Each triple-milled soap bar is made of 100% natural and organic ingredients and contains sustainably sourced palm oil. The African black soap has high antioxidant content to combat free radicals, whereas the black coffee scrub bar contains 21 minerals to moisturize and nourish tired, damaged skin. The black tea and tea tree soap relieves dryness and irritation, and the Dead Sea mud and green clay soap draws excess oil and other toxins from the skin's surface, making it an ideal soap for oily skin. Also included in the pack are a charcoal soap which has intensive, restorative powers for purifying, smoothing, and soothing, and Dead Sea mud and salt soap which exfoliates dead and damaged skin and improves circulation.
Pros
Contains all natural and organic ingredients
Cold-pressed and triple-milled
Contains sustainably sourced palm oil
Free of parabens and sulfates
Vegan and cruelty-free
Cons
Might not be suitable for dry skin.
This 100% pure vegetarian soap contains almond and walnut shell particles that gently exfoliate the skin, deeply cleanse pores, and remove dirt, renewing the skin. It also soothes inflammation and redness on the skin and tightens the pores for smooth skin. It tones your complexion evenly. In addition, it has anti-bacterial properties.
Pros
Improves skin tone
Smoothes the skin
Exfoliates the skin
100% vegetarian soap
Gives clean, healthy skin
Cons
This nourishing soap is made of a blend of 5 essential oils to help rebalance and replenish sensitive skin. Also included are oil-absorbing activated charcoal and bentonite clay which work together to pull sebum and other impurities out of the pores and onto the surface of the skin to be washed away. Formulated without artificial fragrances, this soap is scented with just enough therapeutic-grade tea tree and peppermint essential oil to benefit the skin without irritating the eyes. This charcoal soap can be used as a face soap, body wash, or shaving soap, and works great as a skin detox or a natural treatment for troubled, sensitive skin as it is free of harsh chemicals.
Pros
Handmade soap
Contains natural ingredients
Contains no artificial fragrances
Non-GMO and chemical-free
100% vegan soap
Cons
Some might find that this soap dissolves a bit fast.
Formulated with natural charcoal and jojoba beads, this cleansing bar works to draw out deep impurities and gently exfoliate the skin, making this an ideal soap for oily skin. Infused with peppermint oil, this unique formula thoroughly cleans the skin, leaving skin feeling fresh and smooth. Suitable for use up to twice daily, this charcoal bar can be used as both a face soap and a body wash for skin that is healthy, bright, and hydrated. This soap is non-comedogenic, making it ideal for those prone to acne and breakouts. Check this video for a detailed review to have a clear understanding about the product.
Pros
Contains natural ingredients
Non-comedogenic formula
Designed for daily use
Suitable for all skin types
Cons
Might not be suitable for sensitive skin.
Formulated and developed by dermatologists using 10% natural volcanic sulfur and 0.25% salicylic acid, this soap is ideal for those with skin that is prone to acne and breakouts. The micronized sulfur works to penetrate deep into the pores killing all bacteria and fungus on contact, reducing inflammation, and releasing trapped sebum, dirt, and oil to the surface. Salicylic acid gently removes dead skin cells for complexion that is healthy and brighter, making this a suitable soap. This soap also helps treat those with rosacea, tinea versicolor, body acne, dermatitis, fungus, and clogged pores.
Pros
Suitable for sensitive skin
Designed for daily use
Alcohol-free
Dermatologist tested
Cons
Some might find the fragrance of this soap a bit overpowering.
Made of natural, organic ingredients, this body bar contains turmeric powder and turmeric essential oil which brightens skin, clears pores, and reduces acne, scarring, and wrinkles, while minimizing the signs of aging. Clove essential oil rejuvenates skin, while antioxidant-rich cocoa butter moisturizes and smoothens skin. Rosemary extract and rosemary essential oil support healthy collagen and improve skin tone for skin that is fresh, healthy, and nourished. Handcrafted in small artisanal batches, this soap is ideal for daily use as a face soap and a body wash.
Pros
Contains organic ingredients
Handmade in small batches
Free of parabens, alcohols, sulfates, and petroleum
Free of animal fats, synthetic fragrances, and dyes
Non-GMO and non-toxic
Cruelty-free and vegan
Cons
Might not be suitable for dry skin and those with skin irritations.
Formulated with 10% sulfur and 3% salicylic acid, this soap is formulated especially for those with oily and sensitive skin. Designed for daily use, the soap works by purifying pores of oil, dirt, and grime. Salicylic acid gently exfoliates dead cells for skin that is nourished, hydrated, and rejuvenated. This soap can be used as a face soap and a body wash, and is ideal for those prone to acne, breakouts, and other common skin issues.
Pros
Designed for daily use
Suitable for all skin types
Effective against rosacea and dermatitis
Dermatologist-tested
Cons
Some might find the sulfur smell of this product unpleasant.
Designed for the treatment of acne, this sulfur soap helps clear up blemishes and pimples. It contains lanolin which provides deep moisturizing to the skin, leaving skin feeling hydrated and nourished. The antimicrobial and antibacterial properties of this product make it suitable to treat sensitive skin problems. Effective against flea bites, severe acne, flaky skin, and rosacea, this soap helps skin feel squeaky clean without causing dryness, making it suitable for all skin types.
Pros
Antimicrobial and antibacterial
Suitable for sensitive skin
Designed for daily use
Effective against rosacea, dermatitis, and flea bites
Cons
Some might find the scent of this soap a bit unpleasant.
Clinique Facial Soap is specially formulated for daily use to control the oil on your skin. It gently removes dirt, impurities, and rinses off easily. This facial soap makes your skin look younger and brighter. It protects the skin's natural moisture balance without making it dry. It goes a long way and comes with a travel dish.
Pros
Mild
Moisturizing
Travel-friendly
Cons
None
Looking to achieve radiant skin? Try this soap. With a natural and refreshing fragrance, this soap is rich in vitamins and antioxidants that invigorates, brightens, and purifies the skin. Infused with pure olive oil, which provides deep and thorough cleansing, this product also has essential oils which enhance the skin's moisture balance. Suitable for all skin types, this natural and herbal soap protects the skin from drying out and is effective against eczema, psoriasis, and acne.
Pros
Contains organic and natural ingredients
Suitable for all skin types
Free of parabens
Non-GMO
Vegan and cruelty-free
Cons
Some might find the scent of this soap too mild
Now that we have looked at our pick of the top 13 best soaps for oily skin in 2022, let us look at some things to consider when picking a soap best suited for your unique requirements.
What Are The Main Causes Of Oily Skin?
To put it simply, oily skin is caused by an overproduction of sebum from sebaceous glands. This sebum mixes with dead cells and gets stuck in your pores, causing acne and breakouts. This overproduction of sebum can be caused by a number of reasons, including genetic, environmental, and lifestyle factors. People tend to have oily, sensitive skin in hot, humid climates. Age can cause enlarged pores, which in turn produce more oil, leading to greasy skin. Using the wrong skincare products for your skin type can also cause the skin to get clogged and acne-prone. Oily skin will benefit from a bar soap made of ingredients like salicylic acid, aloe vera, and tea tree oil. 
How Do I Choose The Best Soaps For Oily Skin?
A quick look at the ingredient list will help you choose the best soap for oily skin. Pick a gentle, natural soap that does not dry out the skin. Ingredients like salicylic acid help to clear out clogged pores reducing the occurrence of acne. Citrus essential oils like aloe vera, lemon, tea tree, and lavender oil help balance skin oils. Pick a product that is labeled as non-comedogenic as it will not clog your pores, and always go for those with natural ingredients that will not irritate the skin. 
Why Trust Stylecraze?
Vaishnavi Kothuri, the author of this article, has a deep interest in all things beauty, makeup, and skin care. She carefully researched several products keeping in mind her readers' perspective to curate this list of the best soaps for oily. The buying guide helps you narrow down the best options on the market by keeping parameters like ingredients and dermatological testing in mind. The shortlisted soaps are gentle on your skin, non-comedogenic, and help eliminate excess sebum effectively.
Frequently Asked Questions
Does face soap dry out the skin?
Like with any skin product, it is best to choose a face soap based on your skin type. Soaps designed specially for the face will generally not dry out the skin, and will instead hydrate and moisturize. If your skin tends to be dry, pick a face soap with hyaluronic acid, aloe vera, coconut oil, or lavender essential oil, all of which intensely moisturize skin.
Does face soap help acne?
A good face wash for oily skin will help clear out pores and rid the skin of oil, dirt, makeup, and sweat, all of which cause breakouts and acne. Pick a face soap with non-comedogenic ingredients like salicylic acid, charcoal, and shea butter to help cleanse and exfoliate the skin while not drying it out.
Can face soap be used every day?
Face soaps can safely be used daily, both morning and night. Using more than twice a day might dry out the skin and is not advisable. Face soaps are an essential step in your skincare regime for skin that is healthy, fresh, and bright.
How can I treat oily skin?
If you have oily skin, it is recommended to wash your face twice daily. Use a lightweight toner and serum to refresh your skin. Gently moisturize your face with an oil-free cream and keep your skin nourished.
Is glycerin soap best for oily skin?
Yes, glycerin soap is great for oily skin. It keeps your skin hydrated without making it too greasy.
Recommended Articles