11 Best Oil-Filled Space Heaters Of 2020 With A Buying Guide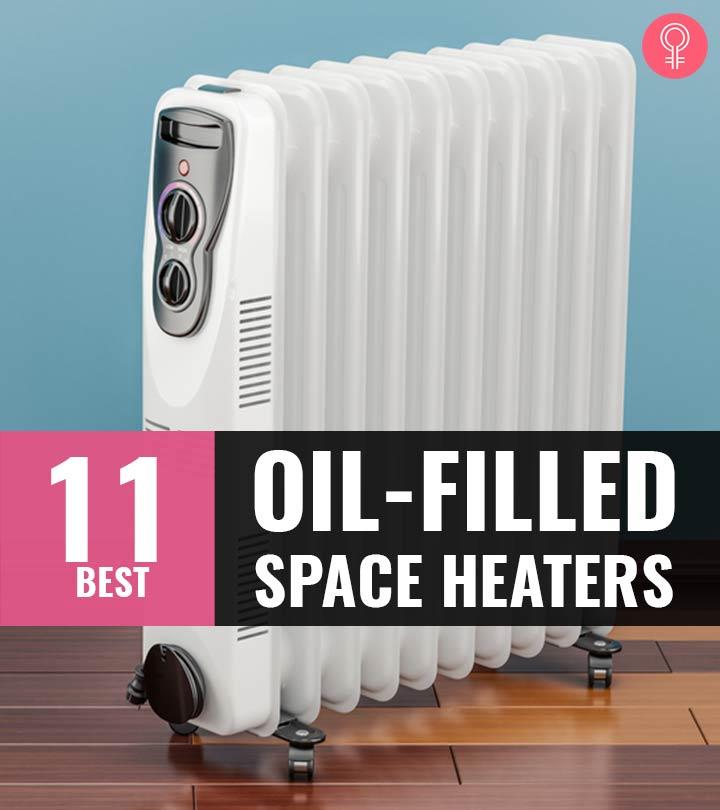 Are you looking for a high-quality heater to keep your room warm and cozy? Check out our list of 11 best oil filled space heaters for your home/office right here.
Are you looking for a quiet and efficient way to heat your home or office during the colder months? Well, an oil-filled space heater may just be what you need.
An oil-filled electric space heater is an affordable and highly functional alternative to the regular electric heaters. It uses thermal convection and radiant heating to keep the room warm and toasty. If you are looking for an energy-efficient and affordable oil-filled space heater, we have compiled a list of the 11 best options to explore. Take a look.
11 Best Oil-Filled Space Heaters Of 2020
No products found.
The Lasko Ceramic Tower Space Heater is highly energy-efficient and features a self-regulating ceramic element. It offers automatic overheat protection and comes with conveniently placed panel controls and an LED display. The colored LEDs show the temperature and length of time that the built-in timer has been set for. The heater also has an indicator for low and high heat. It comes with a wireless remote that has six buttons to control the heat, temperature, oscillation, and power. This space heater occupies minimal space while providing maximum warmth.
Features
Dimensions: 7.25 x 7.4 x 23 inches
Weight: 7.5 pounds
Wattage: 1500 W
Heat Settings: 2
Pros
Widespread oscillation
Wireless remote control
Built-in carry handle
Automatic overheat protection
Compact
Easy to use
Cons
The remote is not durable.
The biggest benefit of using an oil-filled space heater is that it lowers energy bills, and the DeLonghi space heater promises to do precisely that. This portable heater automatically maintains the optimal power settings and temperature to save on electricity bills and provide the needed warmth in the room. The control panel is user-friendly and offers three heat settings and an adjustable thermostat to set the heating at the desired level.
The heater features an anti-freeze setting that automatically turns it on when the temperature drops below 44o F. The heater is made of rust-resistant and durable metal and features a thermal cut-off function that turns the device off if it starts to overheat. It comes with patented SmartSnap pre-assembled wheels that help in moving it around.
Features
Dimensions: 5.9 x 13.78 x 24.9 inches
Weight: 23.2 pounds
Wattage: 1500 W
Heat Settings: 3
Pros
Thermal shutoff
Comes with Comfort Temp technology
Maintenance-free
Durable
Rust-resistant
Cons
The Pelonis Portable Heater is one of the best picks for winters. With its three heating modes (High, Low, and Economy) and five temperature settings (from 65oF to 85oF), the heater provides personalized warmth and saves energy bills. It features a digital thermostat and a 10-hour timer and remote control to operate the heater without getting up from your couch. The fan does not make any noise and prevents any disturbance while you are sleeping or working. The sturdy handle and the 360-degree swivel caster wheels make it easy to move the device around. It also has built-in overheat protection and tip-over safety switch to turn the heater off if it is accidentally knocked over. The bottom of the heater has cord rewind for easy transportation and storage.
Features
Dimensions: 15.16 x 6.38 x 26.06 inches
Weight: 16.1 pounds
Wattage: 1500 W
Heat Settings: 3
Pros
Ideal for large rooms
Prevents skin from drying out
Overheat protection
Stylish design
Portable
Cons
The thermostat may be inaccurate.
If you are looking for an elegantly designed and affordable personal oil-filled space heater, the Optimus Mini is an ideal pick. This mini heater offers 700 watts of heat output, along with thermostat control and power indicator light. It is permanently sealed with diathermic oil, so you don't have to refill or assemble it. It is ideal for small and compact spaces and can be used deskside or to warm the feet while sitting or working.
Features
Dimensions: 16 x 6 x 15 inches
Weight: 1 pound
Wattage: 700 W
Heat Settings: 2
Pros
Lightweight
Space-saving
Suitable for small spaces
Cons
The Soleil Oil Filled Electric Heater has a large but elegant control panel with easy-to-use and soft-touch buttons. It also features a big and clear display with icons necessary to offer a comfortable and customized heating experience. The heater provides three heating options – 600W, 900W, and 1500 W and temperature settings ranging from 40oF to 95oF. The smart ECO mode adjusts the room temperature and heat settings automatically. The heater also offers overheating and tip-over protection to eliminate the risk of accidents.
Features
Dimensions: 6.4 x 17.2 x 27.7 inches
Weight: 20.8 pounds
Wattage: 1500 W
Heat Settings: 3
Pros
Refill-free
Overheat and tip-over protection
Remote control
Has a child lock function
Comes with wheels
Cons
Does not work for large rooms.
The Aikoper Space Heater is one of the most budget-friendly and portable oil-filled heaters. It provides three heat settings and an ECO mode and is suitable for small and large rooms. The large LED display makes it easy to operate the heater at night in the dark. Its unique design improves heat flow without making any annoying noise and keeps the room warm. It features a 24 hours auto on/off timer and remote control that make it easy to adjust the heating mode without leaving the bed or couch. The heater offers auto-shutoff safety, which includes overheating protection and tip-over protection. It also has an anti-free setting to prevent freezing pipes. It comes with caster wheels for easy portability.
Features
Dimensions: 15.39 x 6.38 x 26.06 inches
Weight: 19.81 pounds
Wattage: 1500 W
Heat Settings: 3
Pros
Wireless remote control
Comes with a 24-hour timer
Energy efficient
Portable
Overheat protection
Child lock function
Cons
If you are looking for a compact oil-filled heater for your small rooms, the Air Choice with 700W heat power is a perfect choice. This is a quiet heater that locks in the operation noise. Its small size makes it suitable for extremely narrow spaces. The heater comes with a knob to adjust the heating power and temperature. It is made of solid steel and is capable of working in harsh environments. It features overheat shutoff that turns the heater off if the temperature exceeds 105oF. This oil-filled portable heater is maintenance-free – you do not have to replace or refill the oil – and claims to last for at least 5 years.
Features
Dimensions: 17.1 x 13.9 x 5.5 inches
Weight: 8.73 pounds
Wattage: 700 W
Heat Settings: 2
Pros
Quiet operation
Overheat protection
No oil replacement
Durable
Maintenance-free
Cons
The best thing about the NewAir Space Heater has a flat panel design that easily fits under desks and in narrow spaces. This mini heater can be used as a personal heater for domestic and office purposes. The low-watt heater is also highly energy-efficient and keeps the energy bills low. It comes with a fan-free design and is noiseless. It features a built-in thermostat and a single heat setting to maintain steady room temperature. It comes with a tip-over switch and automatic shutoff in case of overheating.
Features
Dimensions: 1 x 5 x 16.5 inches
Weight: 6.45 pounds
Wattage: 400 W
Heat Settings: 1
Pros
Quiet operation
Lightweight
Compact
Portable
Easy to use
Cons
The Honeywell Whole Room Heater features EnergySmart technology for powerful and energy-efficient performance. It comes with digital Easyset controls with adjustable thermostat, three heat settings, and a 1-12-hour timer function. The heater has a 360° tip-over switch and offers overheat protection. It has easy-pull handles and rotating wheels for better maneuverability and comfort.
Features
Dimensions: 13.7 x 9 x 24.4 inches
Weight: 19.7 pounds
Wattage: 1500 W
Heat Settings: 3
Pros
Thermally insulated wiring
Lightweight
Noise-free operation
Portable
Offers overheat protection
Has a 360o tip-over switch
Cons
The Costway Oil Filled Heater offers efficient and fast heating for medium and large rooms. It is engineered with permanent sealing oil to prevent leaks and spills, so you don't have to add extra oil in the radiator. It has three heat settings – low, medium, and high – and an adjustable thermostat to provide constant heat. This oil filled space heater also offers tip-over and overheating protection. The machine will automatically disconnect if it is tilted to the ground at a certain angle or the temperature is too high. It is lightweight, compact, and easy to store. It comes with four universal casters and a front carry handle for easy transportation. You can wrap the power cord around the storage, which makes it convenient to store.
Features
Dimensions: 9.5 x 14 x 25 inches
Weight: 19.3 pounds
Wattage: 1500 W
Heat Settings: 3
Pros
Noiseless operation
Easy to store
Easy to carry
Compact
Maintenance-free
Offers tip-over and overheat protection
Cons
The Tangluka Electric Oil heater features seven oil-filled thermal slots filled with 4.2 lbs oil for quick and effective heating. It is designed for medium and large-sized rooms and provides energy-efficient heating. It comes with three heat settings – 600 W, 900 W, and 1500 W. The best thing about this heater is that it automatically shuts off when it gets overheated. It has four heavy-duty caster wheels that make it easy to move around from one room to another. The power cord wraps around for easy storage.
Features
Dimensions: 14 x 5.7 x 23 inches
Weight: 20 pounds
Wattage: 1500 W
Heat Settings: 3
Pros
Silent operation
No oil refills
Easy storage
Portable
Cons
Takes a long time to warm up.
Now that you have explored our top 11 picks for oil-filled space heaters, let's understand how these devices work.
How Does An Oil-Filled Heater Work?
Oil-filled heaters are electrically charged and use electricity for heating rooms. The electrical element in the heater is fully submerged in the thermal oil reservoir. When the heating element heats up, warmth is created and transferred to the radiator body. This warmth is further transferred to the surroundings and warms the room. This device efficiently warms up the room without drying up the ambient air present inside it.
How are oil-filled heaters different from ceramic heaters? Find out below.
Oil-Filled Vs. Ceramic Heaters
Oil-filled heaters warm up the rooms by the air created from a hot surface. The oil in the reservoir is heated through electric heating elements and transferred to the surroundings. Oil-filled heaters retain heat excellently and keep the heater warm for hours, consuming less energy. On the other hand, in ceramic heaters, convection heat is produced when the element is charged with electricity. Ceramic heaters also have a fan that blows heat through the element to spread adequate heat across the room.
There are several differences between oil-filled and ceramic heaters:
Oil-filled heaters operate silently as there are no fans, unlike the ceramic heaters.
As oil-filled heaters have oil that remains hot for extended periods, they offer long-lasting heat compared to ceramic heaters.
Oil-filled heaters are ideal for large-sized rooms as the continually rising heat can keep large rooms heated for a while.
Ceramic heaters offer instant heat due to the fan element, unlike the oil-filled heaters that take more time to heat up.
Oil-filled heaters offer many benefits compared to conventional heaters.
Benefits Of Oil Heaters
Oil-filled space heaters have low wattage and generate maximum heat. These models are easy to store and can easily fit under a desk or in a narrow space.
These heaters are allergen-free because of the fan-free design. The fan does not blow air, and heat is evenly distributed throughout the room. No more sneezing or allergies!
Oil-filled space heaters are highly energy-efficient. They come with adjustable temperature knobs and thermostat, which means saving on electricity bills.
Most oil-filled heaters are portable and come with 360-degree rotating wheels that make it easy to transfer them from one room to another.
As the oil-filled heaters do not have a fan, these models offer silent operation. They do not require noisy fans to distribute heat. Hence, you can use these heaters while sleeping, studying, or working.
The oil-filled space heaters feature a flat panel design, which makes them easy to store and space-savvy. The lightweight models can be stored under desks and in small cabinets.
Oil-filled heaters use oil for heating, and the oil remains hot for hours after shutting off the heating element. Thus, your room will remain hot for hours once you use the heater.
Most of the oil-filled heaters come with a user-friendly control panel and digital controls. The most common features are thermostat function, timer function, auto safety features, and temperature settings. This makes the oil-filled heaters easy to use.
The oil-filled heaters are maintenance-free and generally backed by manufacturer warranty. As these heaters don't burn or require refills, they last long.
Here are the things you should keep in mind while choosing an oil-filled space heater.
Things To Consider Before Buying An Oil-Filled Space Heater – Buying Guide
Oil-filled space heaters are designed to be energy-efficient. Hence, power consumption is the first factor to consider. Most of the small heaters consume 700 W, while the bigger heaters consume 1500 W of power. Heaters with low power consumption and better heating are highly energy-efficient.
Most oil-filled heaters come with a full-fledged display and control panel that offers various functions like timer control, temperature control, heat settings, power indicators, etc. These controls promote convenient and comfortable use.
Advanced oil-filled heaters come with built-in safety features, such as trip-over switch and auto-shutoff features. Whenever the device overheats, the heating element shuts off immediately, preventing any accidents. Some oil-filled heaters also come with child lock safety features.
Most oil-filled space heaters are fully assembled and do not need any oil refill. These models have closed grills and vents and also offer protection from leaks and spills. The best model is an oil-filled heater with permanently sealed diathermic oil.
Here are some precautions to follow while using an oil-filled heater.
What Are The Precautions To Be Taken While Using An Oil-Filled Heater?
Keep the heater away from flammable devices or elements.
Before using an oil-filled electric heater, make sure that the heater does not have faulty wiring.
Do not leave an oil-filled heater unattended. Some heaters may cause leaks and melting. Hence, always keep an eye on the
heater and plug off the device before leaving the room.
Keep the heater away from high traffic areas and plastic or wooden surfaces.
Make sure that the heater is not plugged in the same socket with another heavy electrical appliance.
Use the heater only for heating the room and not for heating clothes or other purposes.
Although most heaters come with pet and child safety features, keep them away from the heater for added safety.
Make sure that the plugs or wires are not wet when you switch on the heater.
Oil-filled space heaters are not only functional but also require minimal maintenance. These energy-efficient devices can create a cozy environment. If you are looking for an affordable and excellent heating device for your home, pick any of the oil-filled space heaters listed above.
Expert's Answers For Readers' Questions
Do oil-filled heaters use a lot of electricity?
Oil-filled heaters are generally energy-efficient, which means that these devices use very little energy. Most mini oil-filled heaters have a power rating of 700 watts, and large ones have a power rating of 1500 watts.
Are oil-filled heaters cheap to run?
The portable oil-filled heaters heat up quickly, consume less energy, and provide warmth for hours after shutting down the heating element. Thus, they are cheap and economical.
Can you sleep with an oil heater on?
An oil-filled heater offers noise-free operation because of its fan-free design. Hence, you can sleep without any disturbance with an oil heater on.
How long do oil-filled heaters last?
Oil-filled heaters are durable, maintenance-free, and long-lasting. An oil-filled heater from a good brand will last up to 16-20 years without any damage. Make sure to clean the heater regularly to increase its longevity.
Are oil heaters better than electric ones?
Compared to electric heaters, oil-filled heaters are more energy-efficient, cheaper, quicker, noise-free, safer, and durable. Electric heaters are designed for small rooms and lose heat very easily. On the other hand, oil-filled heaters are ideal for small, medium, and large-sized rooms. Plus, they retain heat and keep the room warm for hours after switching them off.
Do oil heaters explode?
Some oil-filled heaters are known to explode when the thermal fuses don't shut the device. This may cause smoke, fire, or odor. Accidental oil leaks or fire element catching heat can also result in fire. Always make sure that there are no faulty parts in the heater and keep it away from combustible items and surfaces.
Recommended Articles
The following two tabs change content below.

Latest posts by Harini Natarajan (see all)

Harini Natarajan
As Chief Editor, Harini sets the tone and editorial direction for StyleCraze to deliver engaging, interesting, and authentic content revolving around women's health, wellness, and beauty. She has over 14 years of experience in content writing and editing for online media. She specializes in the areas of Beauty, Lifestyle, and Health & Wellness and is proficient in Medical Sciences (Biology, Human Anatomy and Physiology, and Biochemistry). Her background in Biomedical Engineering helps her decode and interpret the finer nuances of scientific research for her team. Harini is a certified bibliophile and a closet poet. She also loves dancing and traveling to offbeat destinations.