9 Best Hair Oils For Fine And Thin Hair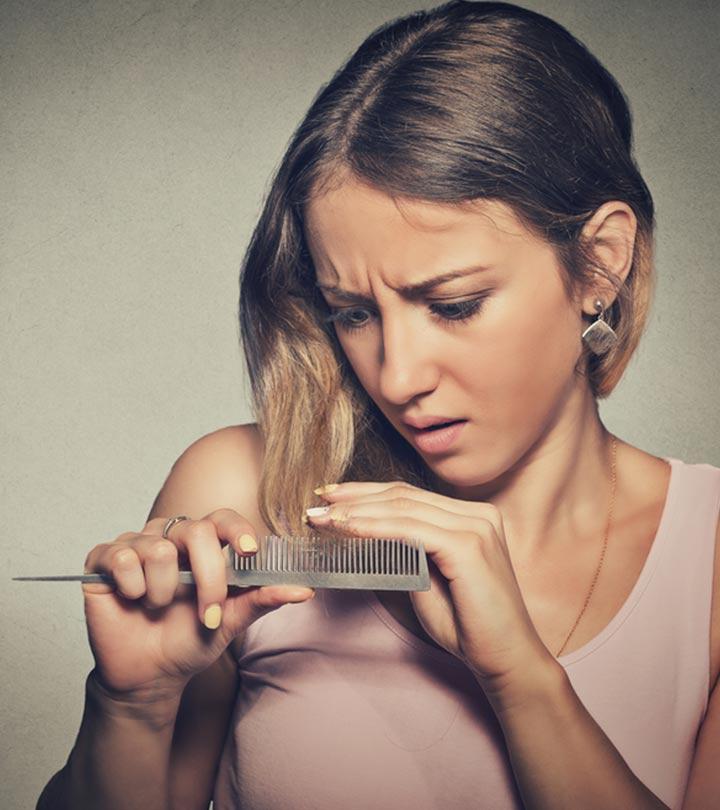 We all know that mini panic attack you get after seeing a bunch of hair strands on your towel or comb. And if you have thin hair, then it only means things are about to get worse! We don't mean to scare you, but treating it at the right time may reverse the condition and help in the regrowth of hair in those spots. The age-old practice of massaging your scalp with oil to prevent hair loss is the most effective therapy, even today. Considering that there are millions of brands in the market that promise speedy hair growth, you must select the right one, so you don't end up causing more harm than good.
Hence, to make things easier for you, we have rounded up a list of 9 best hair oils for thinning hair that will make you fall in love with your tresses all over again. Read on to know more!
9 Best Hair Oils For Thin Hair
Nothing beats Moroccan oils when it comes to hair care! So naturally, when it comes to fine or scanty hair, you can blindly trust this Moroccan Oil Treatment to revive your hair. This oil is infused with the goodness of argan oil and shine-boosting vitamins that detangle hair, calm frizzy strands and impart a natural shine. And if you are someone who is into frequent hair styling, then you're going to love this oil as it protects hair against heat damage and shortens drying time too. 
Pros:
Protects against heat damage
Shortens drying time
Contains argan oil and shine-boosting vitamins
Calms frizzy hair, detangles and adds shine
Provide intense moisture to hair 
Cons:
Less volume of oil in this package
Is hair thinning driving you up the wall? Before you pull out a few more strands in frustration, give PURA D'OR Hair Thinning Therapy Energizing Scalp Serum a try. Clinically-tested, it makes the scalp healthier and strengthens the hair from the roots. It can be used to repair split ends, improve volume, thickness, and restore the natural shine. The oil is made using 15 key active ingredients like argan oil, niacin, biotin, etc. that purify the scalp and boost hair growth. So quit stressing on hair loss, and indulge in this hair therapy today! 
Pros:
Clinically-tested formula with 15 key active ingredients
Strengthens hair from the roots
Purifies and detoxifies the scalp
Eliminates split ends and dryness
Increases volume and hair growth 
Cons:
Hair growth process is gradual
If receding hairline and hair loss are not treated at the right moment, it can slow down the overall growth of your hair. This intense Hair Thickness Maximizer Oil is the ultimate therapy for your hair as it is composed of wild black castor oil, jojoba, and argan oils. A relaxing massage session revitalizes your scalp and promotes the growth of stronger and thicker hair. Yep all this, in one bottle of serum! 
Pros:
Revitalizes and restores hair
Strengthens and protects hair
Long-lasting results
Free chemicals and toxins 
Cons:
Fragrance can be overpowering
Most hair oils leave a greasy feeling post-application, while this one almost vanishes! The VERB Ghost oil quickly absorbs into the roots and revitalizes the hair. The enriching blend of moringa oil, bamboo extract, vitamin F, and hydrolyzed soy protein seep into the shaft making the hair frizz-free, stronger, and shinier than before! Few drops on towel-dried hair can form a shield to protect hair during styling or from any other heat damage. The serum is a must-have for those who dislike greasy oils. 
Pros:
Non-greasy
Revitalizes from roots to ends
Combats frizz and dryness
Protects from heat damage
Free from paraben, sulfate, and gluten 
Cons:
Oriental Botanics Bhringraj & Amla Cold-Pressed Oil is ideal for regular use as it contains several nourishing ingredients that make your hair healthy from root to tip. Bhringraj adds volume and shine to your hair, controls premature graying, and fights dandruff and scalp dryness. Amla is rich in phytonutrients, minerals, and vitamins that improve blood circulation in the scalp and encourage healthy growth.
Pros
Encourages healthy hair growth
Conditions hair and scalp
Helps fight dandruff
No artificial fragrance
No synthetic colors
Cons
Expensive
Infused with natural oils extracted from the baobab tree, this oil is a lightweight, leave-in treatment for your fine hair. It adds thickness and texture to your limp, flat hair and restores it to its ideal form for blowouts. This styling hair oil treatment makes your hair ultra-soft and smooth. Just apply a little of this fluent oil on shampooed hair, and you are ready to roll for your desired style.
Pros
 Adds texture to hair
 A little bit goes a long way
 Controls flyways and safe on bleached hair
 Preps hair for blow outs and styling
 Lightweight
Cons
None
Hair loss is no joke. To see more strands of hair on a comb than on your head is a serious concern. To prevent hair breakage and loss, you must try Organic Saw Palmetto Oil by Hair Thickness Maximizer. An enriching blend of saw palmetto, pumpkin seed, moringa, baobab, blackberry seed, and flaxseed oils, helps boost the overall health of your scalp. Recommended for receding hairline, weak hair, and balding, this topical tonic helps enhance natural hair growth as well as strengthens and protects it. Guaranteeing a long-lasting effect, there's no reason why you should not give this serum a try! 
Pros:
A blend of enriching essential oils
Promotes hair thickness
Improves the health of scalp and hair
Guarantees long-lasting effect 
Cons:
It has a strong fragrance
Why sleep on your hair loss problems, when you can reactivate the dormant hair follicle germ tissue on the scalp! Bless your hair with the goodness of Votala Hair Growth Treatment Hair Serum that is composed using organic ingredients along with bio-active nutrients that enable rapid hair growth. It is lightweight and suitable for oily scalp and hair. Get denser and healthier hair within weeks and regain your confidence once again. 
Pros:
Reactivates dormant hair follicle germ tissue
Suitable for all types of hair
Contains bio-active nutrients
Eliminates split ends
Brings back the luster and shine 
Cons:
The serum contains ginger, so a patch test is recommended for those with sensitive skin.
Hair fall is a clear sign of weak roots. Sometimes, our diet fails to supply the nutrients that our hair needs to grow. To make up for this loss, Truu Me Hair Serum is 100% herbal natural oil that can strengthen hair and roots. Making thin hair stronger and healthier, it repairs hair follicles and balances oil secretion too. So quit worrying about hair breakage, thinning, and itchy scalp by adding this herbal hair loss serum to your hair care routine. 
Pros:
Makes hair stronger and thicker
Stabilizes hair roots
Balances oil secretion
Eliminates scalp itchiness
Speeds up hair growth
Cons:
[ Also Try – Juene Hair Oil ]
There you have it; those are 8 best hair oils in the market today that users can't stop raving about. These oils can help stimulate dormant hair tissues, strengthen, and add volume to your hair. So wait no more, pick the right hair oil, and fall in love with your hair! Have we missed out on a brand? Or do you have feedback regarding this post? Write to us in the comments below!
Recommended Articles: