11 Best Selling Oil-Free Eyeliners Of 2022
A dramatic flick at the end of a gorgeous cat eye, these eyeliners can do it all.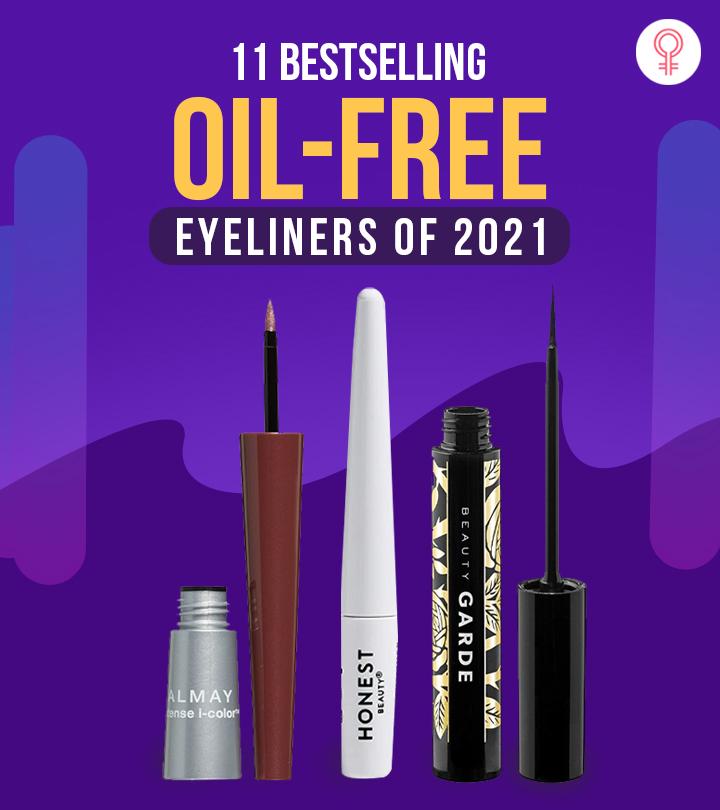 Frequently using eyeliners and false lashes can cause issues to your skin and lashes. To avoid that, switch it out for the best oil-free eyeliner. Oil-free eyeliners are a God-send to all us ladies. Since the oil in the eyeliner can break down the glue in the lashes, oil-free eyeliners are a quick-stop solution to your lash disaster. These eyeliners are smudge-proof and provide you with a wide range of looks from simple to glamorous. Here is a curated list of oil-free eyeliners that can help you achieve your perfect look!
11 Bestselling Oil-Free Eyeliners Of 2022
The Maybelline New York Lasting Drama Gel Eye Liner has a long-lasting, oil-free, and gel-based formula, which is resistant to sebum, tears, sweat, and water. This intense formula lasts up to 36 hours. It is ophthalmologist-tested, safe to wear with contact lenses, and gentle for daily application. The exclusive liner brush is shaped precisely to give an expert finish. The smooth and creamy texture of this gel formula glides along your eyelids with ease and stays intact for long hours. Here's an honest review of the product.
Pros
Quick-drying formula
Waterproof
Long-lasting
Smooth application
Easy removal
Ophthalmologist-tested
Cons
This award-winning eyeliner by Kat Von D is a must-have in your vanity. It comes with a thin felt tip that gives you utmost precision and razor-sharp lines. This liner delivers impeccable pigmentation and stays put for a long time. The richly pigmented formula glides on easily, is smudge-proof, and does not fade throughout the day. Here's a video featuring a detailed review of the product.
Pros
Richly pigmented
Smudge-proof
Water-resistant
Long-lasting
Easy to apply and remove
Non-irritating
Cruelty-free
Cons
None
This premium eyeliner by Honest Beauty is fortified with essential plant-derived ingredients. The oil-free formula is super smooth and glides seamlessly onto your eyelids, and gives a satin-smooth finish. The liquid liner comes with a flexible wand that gives you precise control over the application. Its jet-black color stays put for up to 8 long hours without flaking and transferring. This hypoallergenic formula is suitable for all skin types. This video will help you understand the product better.
Pros
Natural ingredients
Longwear formula
Flake-free
Transfer-resistant
Ophthalmologist-tested
Hypoallergenic
Flexible tip
PEG-free
Paraben-free
Petrochemicals-free
Carbon-free
Silicone-free
Cruelty-free
Cons
Add intensity and drama to your eyes with the Almay Intense i-Colour. The easy-to-apply hypoallergenic liquid eyeliner is enriched with vitamin E that nourishes the delicate skin around the eyelids. The smooth formula glides easily, and the mess-free applicator ensures that your eyeliner game is to the point! The oil-free formula is smudge-proof and water-resistant. This eyeliner is available in four different colors – black amethyst, the black pearl, black lesson, and black topaz.
Pros
Longwear formula
Hypoallergenic
Water-resistant
Easy application
Fragrance-free
Value for money
Ophthalmologist-tested
Cruelty-free
Cons
This oil-free kohl liner by Smashbox is richly pigmented and gives an intense black matte finish on application. It has a unique cap that sharpens the tip automatically with every twist to maintain the precise tip. This helps create well-defined strokes that accentuate your eyes. The creamy formula dries up instantly and is waterproof and smudge-proof.
Pros
Water-resistant
Longwear formula
Flake-proof
Richly pigmented
Easy application
Value for money
Smudge-proof
Easy to remove
Cons
The Too Faced Better Than Sex Liquid Eyeliner comes with a dual-fiber brush that creates a fluid, sharp, and smudge-proof line with every stroke. The water-resistant formula is infused with ultra-rich deep, black pigments for a bold look and stays put for up to 24 hours.
Pros
Smooth application
Longwear formula
Quick-drying
Flake-proof
Waterproof
Smudge-proof
Smooth texture
Easy removal
Cons
This premium quality Mia Adora Overcomer Eyeliner has a high precision felt tip applicator for nailing any eyeliner look. The formula glides seamlessly onto your eyelids and does not crease or budge during application. It is waterproof and stays for at least 12 hours. This richly pigmented, quick-drying formula accentuates the eye and is oil and glycerin-free.
Pros
Richly pigmented
Waterproof
Quick-drying formula
Long-lasting
Easy application
Paraben-free
Cruelty-free
Cons
Be it a dramatic winged look or a subtle eyeliner look-the bareMinerals Lash Domination Ink Liner gives you utmost precision with just a single sweep. The well-designed felt tip allows you to create a thin, medium, or thick line with ease. The formula is smudge-free, waterproof, non-feathering, and transfer-proof. The non-drying formula accentuates the eye and is easy to apply and remove.
Pros
Non-drying formula
Longwear
Smooth texture
Easy-glide
Easy removal
Smudge-free
Waterproof
Transfer-resistant
Value for money
Cons
None
The Vasanti Kajal Extreme Intense Eyeliner has a creamy formula, and has a built-in sharpener and smudger to help you create different eye makeup looks. It is waterproof, fast-drying, and stays for up to 8 hours. The formula offers high-definition color in a single swipe and dries into a velvety, matte finish. The color sets after 30 seconds allowing you ample time to smudge it and create a smokey effect. This kajal is available in two different shades –  charcoal brown and intense black.
Pros
Long-lasting
Waterproof
Smudge-proof
Creamy formula
Matte-finish
Dermatologist approved
Vegan
GMO-free
Triclosan-free
Paraben-free
Mineral oil-free
Cons
May irritate sensitive eyes
This Beauty Garde Oil-Free Liquid Eyeliner has a unique flocked tip applicator that gives you professional precision. The eyeliner is smudge-proof, water-resistant, delivers a richly pigmented color, and stays put all day. The easy-to-apply formula lets you nail different eyeliner looks in a jiffy. It is non-irritating, safe for sensitive skin, and easy to remove.
Pros
Richly-pigmented
Long-lasting
Waterproof
Smudge-proof
Easy to apply
Non-irritating
Paraben-free
Carmine-free
Carbonate-free
Cruelty-free
Cons
Feels sticky on extensions
Be it a natural look, a dramatic smokey eye, or a classic cat-eye, the Defining Liner by Revitalash Cosmetics helps you achieve it all perfectly! The creamy formula is richly pigmented and stays true to color. It is smudge-proof, moisture-locking, and super long-lasting. The formula contains vitamin E, a natural antioxidant that conditions and nourishes delicate skin. This hypoallergenic formula is easy to apply and is safe for sensitive eyes.
Pros
Non-irritating
Smudge-proof
Long-lasting
Creamy formula
Hypoallergenic
Easy to apply
Smooth application
Vegan
Paraben-free
Phthalate-free
Fragrance-free
Cruelty-free
Cons
None
Oil-free eyeliners are good for nailing that perfect eye makeup every time, especially if you're wearing lash extensions. But, before getting your hands on any of the eyeliners mentioned in the above list, read the section given below to make the correct choice.
The Things To Consider Before Buying An Oil-Free Eyeliner
Here are a few factors to consider when investing in an oil-free eyeliner:
1. Texture
Whether you choose a liquid, gel, or pencil eyeliner, make sure your oil-free formulation goes on smoothly and does not tug on your lashes or eyelids. If they do, your eyelashes can end up falling out!
2. Ingredients
The skin around your eyes is more sensitive than any other part of your body. Thus, when choosing an oil-free eyeliner, always look for a gentle formula that doesn't irritate your eyes. Avoid products with synthetic preservatives, essential oils, and alcohol. They may irritate the skin around the eyes. Instead, go for products with natural extracts.
3. Longevity
If the eyeliner does not stay for long and smudges, it will ruin your whole look. So always check if the products are smudge-proof, waterproof, flake-proof, and stay for at least 8-hours.
4. Type Of Applicator
All eyeliners come with felt-tip applicators, except the kohl eyeliner pencils. The applicators that come with gel eyeliners are usually a bit thick, while the ones with liquid eyeliners are thin and are meant for precision application. You may also buy pen-like eyeliners for better grip and easy application. Choose any of these depending on your ease of use.
5. Price
Make sure you select a product that is superior in quality and justifies the price. If you end up going for cheaper options, you might be stuck with an ineffective formula.
6. Color
The final yet most important thing that you want to decide is the color of eyeliner you want. You can choose the good ol' black liner for everyday use. But, if you want your eyes to stand out, especially on special occasions, go for different colors.
Why Trust Stylecraze?
The author of this article, Baishali Bhattacharya, is certified in makeup artistry. She knows that some products, like eyeliners, are made with oil bases that can ruin your fake lashes. She went online and studied many products, their ingredients, and reviews on different forums to bring you this exclusive list of oil-free eyeliners. These come with benefits such as smooth application, easy removal, high color payoff, and more.
Frequently Asked Questions
How do you know if an eyeliner is oil-free?
Most eyeliners mention it on the packaging if their formulas are oil-free. But always check if your eyeliner is easy to remove with a little warm water. If yes, your eyeliner has an oil-free formula.
Why are oil-free eyeliners great to use with false lashes?
Oil-free eyeliners are great to use with false lashes and extensions as they have no oil to break down the glue in the falsies. This helps your extensions and falsies stay in place for longer hours.
Which type of oil-free eyeliner is the best choice for beginners?
Look for easy-to-use, beginner-friendly formulas that glide effortlessly on the lids. For example, the bareMinerals Lash Domination Ink Liner.
How do you apply an oil-free eyeliner?
Follow the given steps to get that perfect eyeliner looks every time.
Step 1: Get close to a mirror with enough light and position yourself to get steady.
Step 2: Draw out the outer edges of the eyes to match them in length and width.
Step 3: Trace a line from the outer corner of your eyes to the inner corners to complete the look. Stay as close to the root as possible. You can thicken the line with successive layering.
Pro Tip: Curl your toes to prevent your hands from getting shaky.
Can we put eyeliner on the bottom lid?
Yes, you can put eyeliner on the bottom lid, but ensure to keep it thin as a thick liner on the bottom lids makes your eyes look smaller and heavy set.
Can I use oil-free eyeliner everyday?
Yes, you can use an oil-free eyeliner every day. Make sure that the product is lightweight, non-toxic, and easy to remove.
Recommended Articles