8 Best Oil-Free Mascaras For Eyelash Extensions To Try In 2023
Get your lashes the goodness of water-based mascaras because you want to look perfect.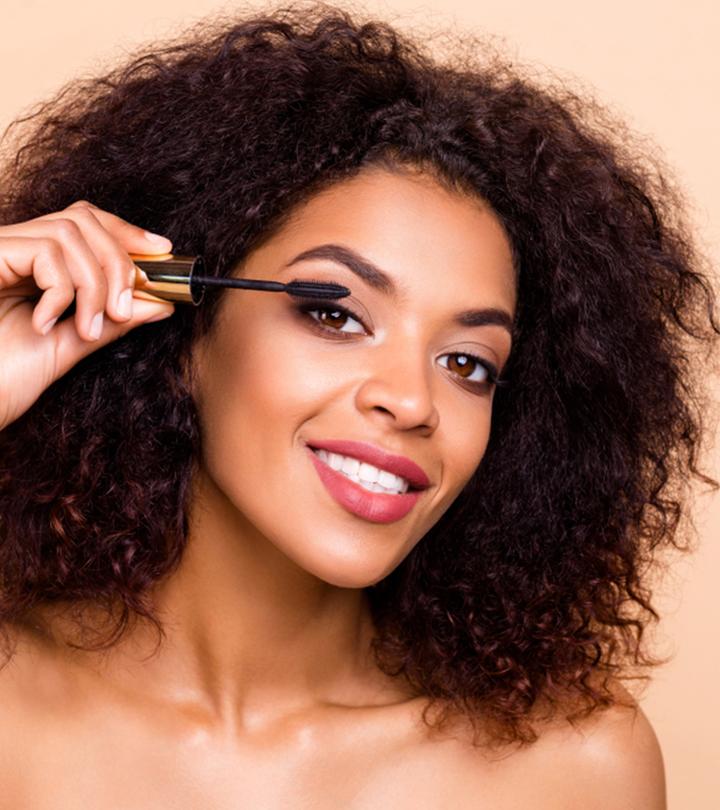 If wide and Bambi eyes are your thing, then you probably often invite the trouble of grabbing eyelash extensions every month. You might want to add more mystery and drama to the luscious and super thick lashes of yours. In this case, you need an oil-free mascara that can help you achieve the alluring and confident look by holding the extensions for longer and preventing them from falling out before time.
These lightweight mascaras are water-based, and they come with a large variety of strengthening and nourishing ingredients. This implies that you can apply makeup and not harm your natural lashes. These oil-free mascaras just do the double work of taking good care of the eye lashes' health and conditioning them as required. What is more, they add more intensity as well as impact to the falsies. Oh, and you are yet to hear the best part. They are very easy to remove without applying any kind of harsh makeup removers. Therefore, knowing their significance, we have prepared a list of the eight most amazing oil-free mascaras in this article that you must consider right away. What are you waiting for then? Go ahead and give your lashes that necessary boost, let them pop and help you steal the show.
What Is Oil-Free Mascara?
As the name suggests, oil-free mascaras are made without oil and are generally water-based. They're the ideal choice for those with eyelash extensions, as oil-based eye makeup can dissolve the glue and bonding that hold your falsies in place and make them clump together or fall out entirely. A good oil-free mascara adds length and volume to your extensions without damaging them, and the gentle formula ensures the mascara comes off easily without too much tugging and pulling. If you love flaunting big, beautiful eyes and organize your calendar around your monthly extension appointment, make sure to invest in a good oil-free mascara and eyeliner to elevate your look further.
Try The 8 Best Oil-Free Mascaras For Eyelash Extensions Today!
Bid goodbye to smudged panda eyes and say hello to thick, luscious lashes with this gorgeous oil-free mascara which delivers volume and definition without the mess. Water-resistant and long-lasting, this formula goes on smoothly without any flaking, clumping, or fading so that you look your absolute best as you go about your day with more beautiful, thicker lashes. And there's more! This mascara is easy to remove without harsh makeup removers. All you need is some warm water and some gentle pressure to slide the product off, making this the ideal mascara for lash extensions. This video review will help you understand more about the product.
Pros
Long-lasting smudge-proof formula
Fragrance-free and oil-free
Contains no parabens, acetone, or alcohol
Vegan and cruelty-free
Cons
Some might find the texture of this mascara a bit thick.
Price at the time of publication: $4.99
Add drama and intensity to your look with this oil-free mascara for eyelash extensions, and get ready to sport eyes that are well-defined and bursting with oomph. The anti-static volumizing brush head ensures the mascara goes on smoothly without clumps for fuller lashes that look great day and night. Suitable for sensitive eyes, this mascara is easy to apply and requires only water and diluted soap to remove effortlessly. A bonus – this product is free of artificial fragrances, making it ideal for those sensitive to scents and prone to allergies.
Pros
Waterproof mascara
Long-lasting formula
Clump-free and smudge-resistant
Ophthalmologist-tested and fragrance-free
Allergy-tested
Cons
Some might find the texture of this mascara a bit sticky.
Price at the time of publication: $10.95
Designed to accentuate both your natural lashes and classic lash extensions, this water-based mascara for eyelash extensions helps give your eyes the pop they deserve. Infused with beeswax, chamomile, and witch hazel, this clump-resistant mascara adds intense volume and unbelievable length with a beautifully soft finish to your lashes. Easy to apply, this long-lasting, oil-free mascara is a hot favorite with professional lash artists and is widely recommended by lash studios everywhere.
Pros
Lengthening mascara
Water-based, oil-free mascara
Glossy, full finish
Suitable for sensitive eyes and contact lens wearers
Tested and approved by lash artists
Cons
Some might find this mascara a bit difficult to remove.
Get ready to bat those thick, bountiful eyelashes with this vegan oil-free mascara which promises to add a ton of intensity and drama to your eyelash extensions. This mascara features a dual brush wand which consists of a thick brush to create a lush and full look and a brush comb to separate and define each lash. This gorgeous mascara can either be used to add intensity to any eyelash extensions, be it strip, single, or cluster, or to beautify your bare eyelashes on the go. So what are you waiting for? Add this must-have beauty product to your makeup bag, and get ready to see the difference.
Pros
Smooth, smudge-free finish
Long-lasting formula
Safe for sensitive eyes
Vegan and cruelty-free
Hypoallergenic, oil-free mascara
Cons
Some might find the scent of this mascara a bit strong.
Price at the time of publication: $16.31
Clean beauty never looked this good! Here's an oil-free mascara that adds intense volume and length to your eyelashes for a look that is mesmerizing and stunning. This non-toxic formula lasts all day without flaking and provides a smudge-free finish that is sure to turn heads. Hypoallergenic and safe for sensitive eyes, this mascara has a moisturizing formula that helps strengthen and condition lashes. Perfect to pack into your handbag for quick touch-ups on the go, this mascara will see you through your early morning meeting to evening cocktails with your girlfriends.
Pros
Creamy, moisturizing mascara
Hypoallergenic, oil-free formula
Safe for lash extensions and faux lashes
Non-toxic and cruelty-free
Cons
Some might find the texture of this mascara a bit clumpy.
If you're looking to accentuate the beauty of your eyes and add that extra oomph factor to your look, you're in the right place. Recommended and approved by lash artists, this oil-free mascara adds extra drama and definition to your lashes for a finish that is unbelievably thick and luscious. This mascara makes the perfect gift for the makeup lover in your life as it is not only easy to apply and remove, it comes in a cute, compact package that makes it the perfect addition to a fashionista's makeup bag.
Pros
Specially formulated for eyelash extensions
Easy to apply and remove
Designed for daily use
Suitable for sensitive eyes
Cons
Some might find the application brush of this mascara a bit thick.
Price at the time of publication: $14.99
Add instant Hollywood glamour to your look and get ready to turn heads with this eyelash extension safe mascara which helps build dramatic volume and define each lash for a bolder and fuller finish. This water-based formula is enriched with keratin and botanical extracts to strengthen and restore natural lashes while preventing breakage and damage. Easy to apply and a breeze to remove, this buildable mascara goes on smoothly without leaving clumps or residue along the lash line, making it the ideal product for everyday use.
Pros
• Safe to use on lash extensions
• Strengthens natural lashes
• Infused with keratin and botanical extracts
• Easy to remove with warm water
Cons
• Some might find that this mascara is prone to a bit of smudging.
Price at the time of publication: $13
Whether you're looking for subtle, natural-looking lashes, or an over-the-top smokey eye, this versatile mascara will do the job for you. Enriched with royal jelly and herbal extracts, this nourishing formula helps strengthen and condition lashes while providing unbelievable length and volume. This mascara goes on smoothly for a gorgeous finish and is easy to remove with just a bit of warm water. So pair this amazing mascara with a peachy pink lip gloss, and get ready to step out with confidence and style.
Pros
Nourishing oil-free formula
Water-soluble and environmentally-friendly
Enriched with natural ingredients
Easy removal
Suitable for both eyelash extensions and natural lashes
Cons
Some might find the texture of this mascara a bit sticky.
Price at the time of publication: $16.95
How To Choose An Oil-Free Mascara
Whether you're looking to add volume to your lashes for a thick, full finish, or you desire length and definition, there is an oil-free mascara designed especially for your needs. A lengthening oil-free mascara is ideal for a daytime, professional look when you want a neutral, subdued finish. In contrast, volumizing mascara is better suited to match your cocktail dress when you're looking for a finish that is dramatic and over-the-top.
Not all oil-free mascaras are created equal when it comes to their texture. Pick a mascara that goes on smoothly without clumps for a finish that lasts all day long without fading or smudging. If you're wearing your mascara out for a long day out in the sun, pick a water-resistant one to avoid your mascara from running with sweat.
While most oil-free mascaras are generally water-based, it is vital to quickly look at the rest of the ingredients to make sure your mascara nourishes your lashes without damaging them. If you're looking for a mascara that doubles up as a lash conditioner, pick one which is enriched with moisturizing ingredients like coconut oil, keratin, and botanical extracts. As always, steer clear of potentially harmful ingredients like parabens, phthalates, and sulfates, which might cause your lashes to get brittle and more prone to breakage.
Why Trust StyleCraze?
Srijita De is a makeup and beauty aficionado who is also an experienced product reviewer. She has compiled this list of the best oil-free mascaras that give you thicker and voluminous eyelashes without the hassle of eyelash extensions. After reviewing thousands of user feedback, she has listed these top-rated products to help her readers make the best purchase.
Frequently Asked Questions
Can you use an oil-free mascara on eyelash extensions?
Absolutely! Oil-free mascaras are the perfect choice for eyelash extensions as they help add intensity and impact without damaging your lashes. The gentle, water-based formula is ideal to ensure that your lashes don't clump together or fall out, allowing you to sport your falsies for longer.
Is Too Faced mascara oil-free?
Too Faced Better Than Sex Volumizing mascara is a water-based, oil-free product designed specially for eyelash extensions. Make sure to check the labelling before buying any mascara to ensure it is oil-free and safe for eyelash extensions.
Does mascara damage your eyelashes?
Mascara can only damage eyelashes if you don't use proper care in applying and removing your eye makeup. Ensure you use a good eye makeup remover to clean your eyelashes before going to bed, and use a good non-irritating lash conditioner to keep your lashes strong and healthy.
Does mascara have an effect on eyelash growth?
Certain mascaras are enriched with lash-conditioning and strengthening ingredients like keratin and serums to help lengthen your lashes. Mascaras certainly don't inhibit growth, so you can rest easy knowing that mascaras won't restrict eyelash growth.
Can I wear mascara on my lower lashes while using eyelash extensions?
Absolutely! We say the more the better! Just make sure to use an oil-free mascara so that the formula doesn't interfere with the glue or binding of your eyelash extensions.
How many times a week should I wear oil-free mascara?
You can wear oil-free mascara daily, but avoid heavy coats. Also, make sure to remove your eye makeup before going to bed. Try to take a five to seven-day break from your mascara every two weeks. This will provide time for your natural lashes to grow and stay healthy.
Does wearing oil mascara every day prevent lash growth?
Yes, wearing oil mascara every day can prevent lash growth as the product dries out the lashes and affects your delicate eyes. However, you can keep the eyelashes hydrated and healthy by moisturizing them with jojoba oil, vaseline, or coconut oil. Also, try to be careful and gentle during mascara application and removal to reduce lash breakage. Remember, wearing mascara daily is not bad and will not damage your lashes if you remove the product properly.
How do I know if my mascara is oil-free?
Oil-free mascaras are made without oil and are generally water-based. They come with natural hydrogen PG levels, which are suitable for people with sensitive or oily skin. The chemical-free formula is easy to remove and dries up faster than its oil- or silicone-based counterparts. Oil-free mascara also contains vitamin B5, hyaluronic acid, or aloe vera, which keeps your lashes hydrated and healthy in the long run. Therefore, check the ingredients thoroughly before purchasing an oil-free mascara or water-based makeup product.
Recommended Articles