15 Best Facial Oils For Oily Skin Of 2023 (Updated!)
These oils moisturize and nourish your oily skin, keeping the shine under control.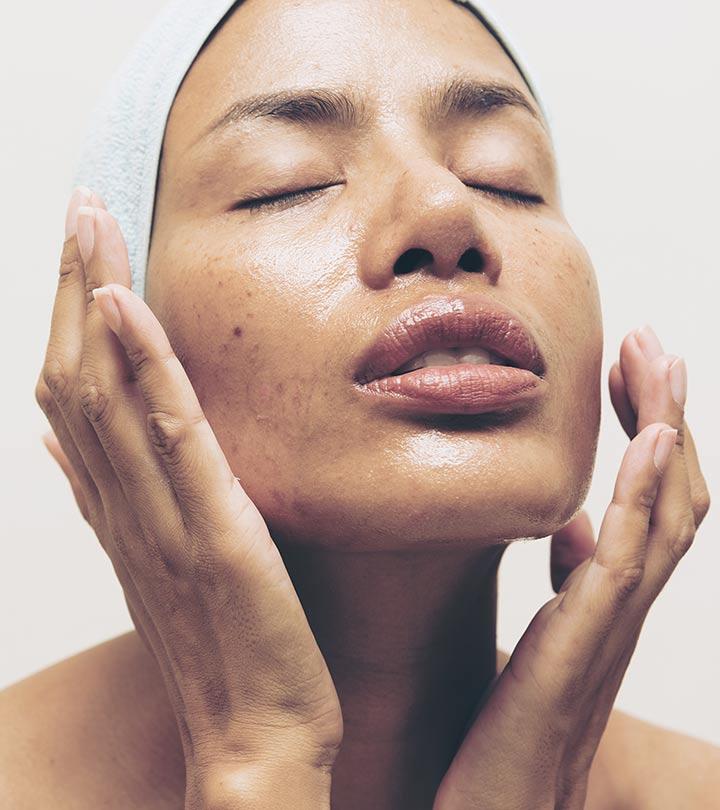 The best facial oils for oily skin are enriched with antioxidant properties and amino acids that heal your aggravated skin. These oils help balance your skin's moisture levels and protect it from external aggressors. The recent formulas are made keeping in mind the needs of oily skin.
A good quality facial oil for oily skin is lightweight and non-comedogenic. It does not suffocate your skin and also helps get rid of breakouts, redness, and other issues related to oily skin. Long gone are the days when it was considered blasphemy to oil your naturally oily skin. So, go ahead and check out our list of some great facial oils for oily skin and add them to your skincare routine!
The Benefits Of Facial Oils For Oily Skin
Facial oils
Help balance your skin's moisture levels.
Protect your skin from sun damage, pollution, and environment aggressors.
Can be used as makeup removers and lip balms.
Provide quicker results than face creams.
Can be used as an under-eye cream
Thicken and nourish the eyelashes
Hillary Clark, a Medical Esthetician, suggests, "Oils are the best to decongest and calm angry breakouts. Oil breaks down the oils trapped in pores while their anti-inflammatory and anti-microbial benefits help to clear up breakouts and blackheads."
15 Best Facial Oils For Oily Skin
The annmarie Herbal Facial Oil improves the appearance of enlarged pores and balances the excess oil on your skin. It contains pure botanicals, willow bark, neem, cumin seed oil, hazelnut oil, and delicate herbal blends that unclog the pores. The lightweight formula has a grapeseed oil base that brightens your skin. This facial oil is cruelty-free, lightweight, and does not contain parabens, artificial fragrances, and colorants. Several Amazon reviews suggest that the product works amazingly well and helps calm and heal irritated skin.
Pros
Lightweight
Cruelty-free
Paraben-free
No artificial fragrances and colorants
Cons
None

Price at the time of publication: $45
BUY ON AMAZON | $29.99
The Beauty By Earth Balance & Restore Luxury Face Oil nourishes, moisturizes, and soothes your skin. It helps you get rid of unwanted skin conditions like redness, breakouts, and rosacea. It is a blend of oils like jojoba seed oil, olive leaf extract, argan oil, rosehip seed extract, and essential oils. Sea buckthorn hydrates the skin and treats acne, while calendula extract stimulates new skin cell formation. If you are looking for an oil that delivers visible results quickly, then this is the one for you. Reviewers suggest that this product works really well for those who struggle with an extremely oily face.
Pros
Cons
None
Price at the time of publication: $29.99
The EVAS Aromatic Face Oil is quickly absorbed into your skin to hydrate and soothe it. The formula contains Ecocert certified organic argan oil that balances the natural oils of your skin. It is long-lasting, hypoallergenic, and lightweight. This product does not leave a greasy residue post-application. Conduct a patch test to make sure that it suits your skin to avoid reactions.
Pros
Absorbed quickly
Lightweight
Long-lasting
Hypoallergenic
Cons
None

Price at the time of publication: $8
The Sundari Essential Oil is enriched with natural antioxidants that purify and clarify your skin. It is infused with stimulating peppermint and astringent rosemary oils that tone the skin with a radiant finish. Carrier oils like safflower seed and sweet almond oils make your skin soft and supple. This skin tone-balancing facial oil is also rich in vitamins A and E, which helps reduce fine lines and wrinkles. It controls oil secretion and eliminates toxins from clogged pores. This product is dermatologist-tested and fragrance-free.
Pros
No synthetic fragrances
No additional colorants
Dermatologist-tested
Cons
None
Price at the time of publication: $69
The Ultra-Clarifying Face Oil by Sunday Riley is loaded with powerful, clinically proven ingredients that prevent breakouts and deliver visible results. With 1.5% salicylic acid, this medicated oil clears acne and the congestion caused by clogged pores, removes blackhead build-up, and leaves you with evenly toned and blemish-free skin. It contains other nourishing, antibacterial, and moisturizing ingredients like milk thistle, cumin, tea tree oil, hexylresorcinol, and licorice that brighten your skin. Click on the video to find a detailed review of the Sunday Riley U.F.O. Ultra-Clarifying Face Oil.
Price at the time of publication: $40.0
Trilogy Certified Organic Rosehip Oil is a one-stop shop oil to nourish and repair your skin and optimize its overall health. The potent natural actives in this oil help you take care of a host of issues like blemishes, scars, and uneven skin tone. A few drops of this dermatologist-tested oil during the day and before you go to sleep can do wonders for your skin. Check the YouTube video to find out benefits of the Trilogy Certified Organic Rosehip Oil.
Price at the time of publication: $8.5
This facial oil is a blend of Moroccan argan oil, golden jojoba oil, extra virgin olive oil, squalane, and other essential oils. Test this oil to experience its intensely hydrating properties that help restore the natural glow of dry and damaged skin. It restores the natural oil balance of your skin and reduces the appearance of lines and wrinkles without clogging the skin pores. It is an antioxidant-rich oil that helps to keep your skin firm.

Price at the time of publication: $21.6
Kiehl's Midnight Recovery Botanical Concentrate Oil works wonders on oily skin by controlling excess oil production. It is lightweight and absorbs quickly into the skin without making it greasy. It has ingredients that help in skin texture refinement and keeping it moisturized. The oil has healing properties that fight against wrinkles, fine lines, and other aging issues to deliver visible results.
Pros
Pleasant fragrance
Value for money
Lightweight
Anti-aging properties
Non-greasy
Cons
Not suitable for excessively oily skin
Price at the time of publication: $47.6
Jojoba oil is extremely light and has the closest molecular structure to our skin. This makes it the most suitable oil for oily skin. You can also use it on your hair and nails. Viva Naturals Organic Jojoba Oil is all-natural, and it has been extracted without using heat to preserve its goodness. It contains essential skin-nourishing fatty acids. It can be used by itself or mixed with other carrier or essential oils. Many reviewers recommend this oil for its versatility.
Price at the time of publication: $9.99
Burt's Bees Anti-Aging Oil is a potent blend of all the oils that are perfect for oily skin – jojoba, rosehip, and evening primrose. It nourishes and hydrates your skin, leaving it feeling supple all day long. It battles visible signs of aging like wrinkles and fine lines and brightens dull skin with the help of its fatty acids and antioxidants. Dab a few drops of this dermatologist-tested oil before your morning skin care regimen and 4-5 drops at night. Massage your skin gently with your fingertips, and let it all get absorbed.
Price at the time of publication: $15.68
Tea tree oil is a blessing in disguise as it is one of the most powerful essential oils. It works like a magic potion for oily skin because of its antibacterial and antifungal properties. Acne is caused by infection, pus, or pores that are not thoroughly cleaned up. You need tea tree oil – and a potent one at that – to keep it at bay. Apply a few drops of this oil over the affected areas before you proceed with your usual skincare routine. It can be used on oily or combination skin. Conduct a patch test before use.
Hillary Clark, a Medical Esthetician, suggests, "Proceed with caution, sensitive skin can react poorly and in too high of concentration it can burn the skin. Never use on an open breakout."
Price at the time of publication: $19.0
This facial oil from Mad Hippie is loaded with hydrating and antioxidant-rich ingredients that protect you from photodamage, free radicals, and the effects of anti-aging. The 18 Actives in this oil include argan oil, goji, camu camu, pomegranate, hemp seeds, and many more potent extracts that are high in fatty acids and vitamins that fortify and smoothen your skin – all of this while getting absorbed easily. You can easily incorporate this oil into your skincare routine for visible results.
Price at the time of publication: $20.79
African Botanics Neroli Infused Marula Oil plumps, brightens, and hydrates your skin, reduces redness and fine lines, and clears and tightens the pores. This sheer and lightweight formula seeps deep into your skin easily to unclog pores, tighten your skin, and calm your skin thoroughly. It uses rich marula oil that is fully absorbed into your skin.

Price at the time of publication: $120
For skin hydration and all the things good, you need this rejuvenating sage and lavender oil blend that contains essential fatty acids. It also contains jojoba oil, coconut oil, and vitamin E that not only fortify your skin but also work on issues like pigmentation, dark spots, discoloration, and scars caused by acne. Amazon reviews highly recommend this product for its moisturizing and its anti-aging benefits.
Price at the time of publication: $31.93
Lapis Facial Oil is made from 100% natural plant extracts. It hydrates your skin without clogging pores, controls excess oil production, and maintains the moisture balance of your skin. The oil gets absorbed into your skin quickly and delivers the vitamins, fatty acids, and antioxidants. It does not contain any fillers, chemicals, or artificial fragrances.

Price at the time of publication: $14.0
When it comes to finding the best facial oil for oily skin, you should keep a few things in mind. Here is a buying guide to help you find the perfect product.
Things to Look For In The Best Facial Oil For Oily Skin
When choosing facial oils for oily skin, you must check through the ingredient list to maximize the benefits. First, look for a facial oil containing vitamins E and C beneficial for oily skin. They are antioxidants that protect the skin, boost collagen production, improve skin firmness and reduce acne formation.
You can also choose facial oil that contains tea tree oil that helps reduce inflammation and redness and keep breakouts at bay. Niacinamide is another excellent ingredient that helps control oil production.
If you have oily skin, it's important to choose a facial oil that won't clog your pores. Non-comedogenic and pore-minimizing oils are light in texture and won't weigh down your skin. They're also great for excess sebum control, which can help keep your skin looking matte.
Avoid using a facial oil with a heavy-duty texture, as it can clog your skin. It forms a layer on the skin and eventually leads to breakouts. Instead, opt for a face oil that is lightweight and can penetrate the skin without feeling greasy.
Avoid facial oils containing artificial fragrances, mineral oils, parabens, sulfates, and dyes. These can be irritating to the skin and can make your skin produce even more oil. Instead, stick to oils that are naturally fragrant or have no fragrance at all.
Here are some ingredients and features that you can look out while buying a facial oil for oily skin.
What Ingredients To Look For In Facial Oils?
Facial oils for oily skin should be lightweight, non-greasy, and quick-absorbing. Look for the following ingredients:
Jojoba, Tea Tree, Squalane, And Marula Oils – These balancing oils have a light texture and balance the sebum levels without making the skin greasy.
Argan, Sea Buckthorn, Kukui, Grapeseed, And Rosehip Oils – These soothing oils are low-comedogenic and contain minerals and antioxidants that nourish and protect the skin from external aggressors.
Hemp, Ylang-ylang, Lavender, And Evening Primrose Oils – They are rich in omega-3 fatty acids that nourish and repair your skin.
Let's now look at a few ingredients in face oils that might harm the skin.
What To Avoid In Facial Oils?
Mineral oils and wheat germ oil are comedogenic and might clog the pores, causing breakouts.
Avoid facial oils that contain coconut, avocado, and olive oils. These oils are too heavy for oily skin and may congest the pores, leading to breakouts and acne.
Do not use oils that contain synthetic fragrances or artificial colors as they might irritate the skin.
Here are a few tips on using facial oils the correct way.
How To Use Facial Oils
A Few Drops Are All You Need: One to three drops of facial oil are enough to cover your face and address your skin needs.
Pat The Oil On Your Face: Unlike moisturizers, facial oils should not be rubbed on your skin. Take a few drops of facial oil on your palms and pat gently on your face. Do not go overboard while applying the oil to your face.
Consider The Timing Of Application: Applying facial oil in the morning is not ideal. Apply it at night before going to bed. This is because your skin produces less sebum during the night, which makes it the best time for application.
Why Trust StyleCraze?
The author, Oyendrila Kanjilal, is a certified skin care coach who loves experimenting with different products on her skin. Her list of the best facial oils for oily skin features products that are must-haves for those dealing with redness and breakouts. She has thoroughly researched the products and reviewed user feedback to shortlist the best products for herreaders. The oils included in the list have a lightweight formula, are non-comedogenic, and perfect for oily skin.
Frequently Asked Questions
What happens if you put oil on oily skin?
Using any oil on oily skin will boost the production of sebum, increase sebum buildup, and clog the pores. However, certain anti-inflammatory oils like rose oil and tea tree oil have oil-regulating properties which can control the excess oil.
Which oil should you avoid for oily skin?
Avoid coconut oil, avocado oil, and castor oil if you have oily skin. They have a thick texture and get trapped easily in your pores.
Which oil is good for oily skin type?
Tea tree oil, eucalyptus oil, jojoba oil, and marula oil are ideal for oily skin. They are lightweight and non-greasy oils. They replenish the moisture barrier of the oily skin without settling in the pores.
Do face oils work for oily skin?
Yes. A non-comedogenic face oil replenishes the moisture barrier of oily skin, helps in skin rejuvenation, boosts skin elasticity, and protects it from free environmental radicals. They do not leave the skin greasy or sticky.
Does oil absorb into the skin?
Yes. Skin is impermeable and oils that have small molecular structures get easily absorbed into the skin.
Are oils good for acne-prone skin?
Yes. Oils, namely linoleic acid oil, jojoba oil, and tea-tree oil, have anti-inflammatory properties. They control the excess oil and cleanse the dirt away from the clogged pores. These oils are good for acne-prone skin.
Recommended Articles