The 7 Best Olaplex Products Of 2023 For Healthier-Looking Hair
Repair, protect, and strengthen your hair with affordable hair care products.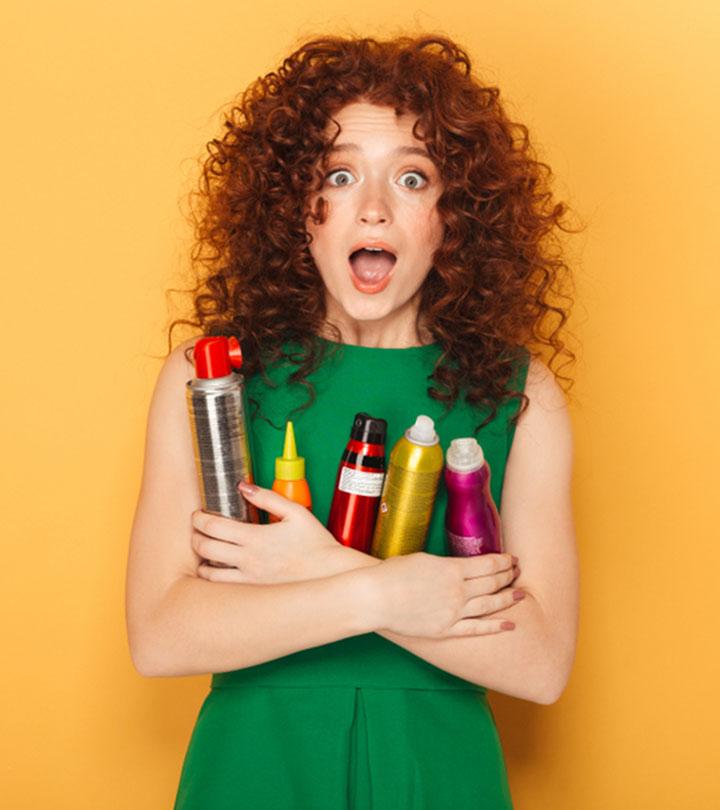 Does your hair get frizzy, damaged, and unruly due to excessive humidity? In such a case, finding the right hair product that works for your particular hair type and requirements might be tricky. However, the best Olaplex products can be your best bet to get gorgeous and shiny-looking hair. Be it shampoos, conditioners, serums, or hair masks; many brands have developed a range of varieties. And Olaplex hair products are a savior for those who often face a bad hair day. It tames unruly tresses and makes your hair softer, stronger, and healthier. These products are even recommended and trusted by professional hairstylists. They effectively address concerns like frizzy hair, dullness, and dryness. Cosmetologist Laura Dale says "I always recommend using Olaplex in the salon with color services, as well as to use at home for my clients. It fixes damage from color and hot tools, and makes the hair feel brand new."
Olaplex formulas have bond-building ingredients that fix damage from within. In addition, every formula is made to work on different hair types and textures. If you have not tried Olaplex products before, we have curated a list of their best offerings to help you out. Let's take a look at some of the best Olaplex products that will restore hair shine and vitality. Keep scrolling!
What Does Olaplex Do?
Do we need an introduction to one of the best hair-care brands out there? Olaplex has become a household name as it is well-known to restore our damaged hair. It works on a molecular level to repair bonds that make up our hair. The star element in their products is bis-aminopropyl diglycol dimaleate (hard to understand, right?). It helps to actively restore damaged or broken bonds. When it restores the bonds, our hair becomes healthier and stronger so we are ready to beat the summer heat. Their technology is beneficial for anyone who has bleached or colored hair. It can reverse the damage that has been done from chemical processes, heat styling, or any experiment gone wrong! Olaplex products can protect the hair follicle from further breakage so they work from the base to the top.
7 Best Olaplex Products That Live Up To The Hype
Pros
Helps restore hair strength
Long-lasting results
It applies to all hair types.
It is vegan and pH-balanced.
Cons
It may not be easy to apply.
Price at the time of publication: $30
Pros
Reduces breakage and strengthens hair
Works for all hair types
Free of DEA, aldehydes, and formaldehyde
Vegan, paraben-free, and cruelty-free
Gluten-free and sulfate-free
Cons
Price at the time of publication: $30
Pros
Offers color protection
Reduces breakage and strengthens all types of hair
Repairs and maintain bonds within the hair
Eliminates frizz
Helps soften hair
Nut-free
Sulfate-free
Gluten-free
Paraben-free
Cons
Price at the time of publication: $30.0
Pros
Color-safe
Works for all types of hair
Free from DEA, aldehydes, and formaldehyde
Repairs, restores, and hydrates hair
Eliminates frizz
Cons
The product may not last long.
Price at the time of publication: $30.0
Pros
Works for all hair types
Safe for colored and chemically-treated hair
Cruelty-free and vegan
Eliminates frizz and flyaways
Acts as a complete hair repair system
Cons
May make your hair greasy
Price at the time of publication: $30.0
Pros
Shine enhancer
Eliminates frizz
Repairs damaged hair
Restores hair appearance
Cruelty-free and vegan
Cons
Price at the time of publication: $30.0
Pros
Restores hydration in hair
Helps with breakage
Brings volume to hair and shine to curls
Leaves hair soft and healthy
Cons
Does not help with split ends.
Price at the time of publication: $90
If you have had your hair colored, highlighted, or even permed, in short, have exposed your hair to damaging chemical treatments, Olaplex needs to be included in your hair care regime. This hair care brand is a must-have for hair that just needs some extra TLC. Find out about some of the factors to keep in mind while choosing the best Olaplex products for your hair care.
How To Choose The Best Olaplex Products
There is an Olaplex product for each of your hair concerns. The first step is to identify your hair health concerns. For frizzy hair that needs to be tamed, choose a bond maintenance shampoo and a bond smoother. If your hair is extremely dry and damaged, the hair perfector mask is the product to reach for. The bonding oil works wonders for brittle hair that is prone to breakage. Most of these vegan products are pH-balanced as well, which is an added bonus.
You need to consider the time commitment you can make to your hair care routine. Some products like the oil and moisture mask require more time. If you are in a hurry, choose the bond maintenance shampoo and conditioner that are easy to fit into your existing hair care routine.
It is very important to choose the right Olaplex number for you. Do read up on what exactly each number offers, with everything from shampoo and conditioner to treatments in the collection, there's something to suit every hair type and concern. The ultimate bond repair kit products fit three categories – treatments, maintenance, and protection. In the treatment section which is all about moisturizing and repairing, there are No.0, No.3 and No.8 perfect to revive dead hair and deliver a glossy finish. For maintenance seek out No.4, No.4P and No.5, these focus on the day-to-day routine of shampooing and conditioning. To protect your hair and reverse damage choose No.6, No.7 and No.9.
Choose Olaplex products that are free from parabens, gluten, sulfates, DEA, aldehydes, and formaldehyde to get the best results.
Frequently Asked Questions
Are Olaplex products gluten and sulphate free?
Every Olaplex product is gluten-free, sulfate-free, and paraben-free. While you might find these in most shampoos and hair products, Olaplex is definitely free of these agents.
Are Olaplex products safe during pregnancy?
Olaplex is non-toxic but it is not advised by the brand to use the products by pregnant women or nursing mothers. They recommend consulting a physician before using these products.
Can we use Olaplex products with other products?
There is no definite proof if we can but it is recommended to use products from the same brand for better results.
Do Olaplex products work on curly hair?
Yes, the products are vital for curls to help bring them back to life. It could be heat, breakages, or chemical processes, and the products work great for curly hair.
What exactly does Olaplex do?
Olaplex treatment permanently rebuilds the damaged structure and integrity of your hair caused by chemical processes and bleaching, and resets your locks,.
Which Olaplex is best for hair growth?
The Olaplex No. 3 Hair Perfector Repairing Treatment is the best product for hair growth. It repairs each hair strand and helps treat hair loss, thinning hair, and promotes new growth. Moreover, it keeps your hair healthy and strong and prevents breakage.
How quickly does Olaplex work?
Ideally, it takes 10 minutes to show visible results. But for some people it may take two or three treatment settings for best results. The longer it is left the better the results are. However, this treatment should not be used more than once weekly as too much product may cause frizziness.
Do hairdressers use Olaplex?
Yes. Hairdressers prescribe Olaplex based on the severity of your hair damage. The treatment with Olaplex No. 3 is done every one or two weeks for moderate to severely damaged hair for a month.
Recommended Articles: