7 Best Olaplex Products To Give You A Good Hair Day Every Day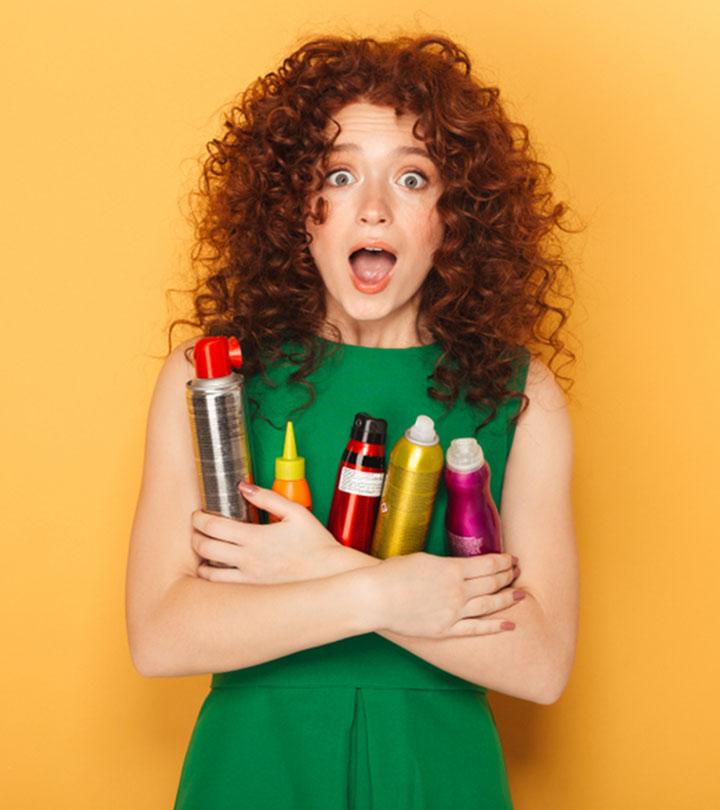 Are you having an excruciating day dealing with your frizzy hair as it gets humid? It can be difficult to find the right hair products that would actually work for you. Be it shampoos, conditioners, or hair masks— we come across so many that we lose track. It can be daunting to follow a hair care regimen during the summer. Since some of us may be working from home, it has become a task to jazz up for video calls. The best hair-care products can make you look from 'meh' to 'amazing' in seconds. Olaplex products are loved by everyone and can be your savior from a stressful hair day! Unlike many other hair-care products, they work to make our hair healthier, stronger, and softer. Recommended by every hairstylist, these products are to die for!
With that said, we have curated a list of the 7 best Olaplex products just for you! We hope you pick one and show your hair some love it needs.
What Does Olaplex Do?
Do we need an introduction to one of the best hair-care brands out there? Olaplex has become a household name as it is well-known to restore our damaged hair. It works on a molecular level to repair bonds that make up our hair. The star element in their products is bis-aminopropyl diglycol dimaleate (hard to understand, right?). It helps to actively restore damaged or broken bonds. When it restores the bonds, our hair becomes healthier and stronger so we are ready to beat the summer heat. Their technology is beneficial for anyone who has bleached or colored hair. It can reverse the damage that has been done from chemical processes, heat styling, or any experiment gone wrong! Olaplex products can protect the hair follicle from further breakage so they work from the base to the top.
7 Best Olaplex Products That Live Up To The Hype
This Olaplex hair product is concocted to restore and repair lifeless, dead hair. If you have frizzy hair, the product desires to glue together the broken bonds in hair with the Olaplex technology, remediating split ends. It primes hair for maximum repair so we don't need to go to a salon for it, we can do it at home. It is designed to rebuild your hair bonds as it has been proven to fix hair so it becomes 3 times stronger. The formula is of the highest concentration of Olaplex's patented bis-aminopropyl diglycol dimaleate and it deeply strengthens your hair. It works best with the No.3 Olaplex product for effective results and it takes 20 minutes only, sounds like a good hair day is in our cards?
Pros
Helps restore hair strength
Long-lasting results
It applies to all hair types.
It is vegan and pH-balanced.
Cons
It may not be easy to apply.
The Olaplex Hair Perfector is a must-have if you don't find the time to go to the salon and desire the glossy hair you are looking for at the comfort of your home. It is a hair mask that you put on when your hair is dry or damp and leave it for a period of time to repair and restore dead strands. It gives you the professional-quality treatment that could make your locks look velvety all day! It is infused with organic ingredients such as jojoba seed oil, vitamin C, sweet almond oil, and aloe leaf juice. If you have bleached your hair and worry about it looking straw-like, this hair perfector fixes the broken bonds in an instant. This best-seller product gives you the healthy, silky, soft hair you are looking for!
Pros
Reduces breakage and strengthens hair
Works for all hair types
Free of DEA, aldehydes, and formaldehyde
Vegan, paraben-free, and cruelty-free
Gluten-free and sulfate-free
Cons
The Olaplex Bond Maintenance Shampoo is just what we need to protect our hair from looking frizzy. It relinks broken bonds which leads to our hair looking shinier, healthier, and stronger with each use. To add more to its goodness, it is a highly moisturizing and reparative shampoo. It is infused with natural ingredients such as sinensis seed oil, punica granatum extract, euterpe oleracea fruit extract, and citrifolia fruit extract out of many to nourish the hair. Say bye to worrying about humidity ruining your hair anymore. It perfectly complements the No. 3 Hair Perfector as it revives your hair, making it look smooth and shiny. This is the perfect remedy to our hair agony, especially for those with color-treated hair!
Pros
Color-safe
Reduces breakage and strengthens all types of hair
Repairs and maintain bonds within the hair
Eliminates frizz
Helps soften hair
Nut-free
Sulfate-free
Gluten-free
Paraben-free
Cons
If you are trying to revamp your hair routine, the Olaplex Bond Maintenance Hair Conditioner is one of the must-haves. It will give your hair a salon-finish finesse for a longer time at the comfort of your home. The conditioner repairs damaged hair by relinking the split ends, frizz, and broken bonds. You can observe less breakage and less fizz after a few uses, isn't this everything we need? It smells like a delight you can't deny. It is enriched with natural ingredients such as punica granatum extract, euterpe oleracea fruit extract, avocado oil, and grape oil out of many. It is recommended to use along with the shampoo so your hair gets the overall healthy, strong, and shiner look you deserve.
Pros
Color-safe
Works for all types of hair
Free from DEA, aldehydes, and formaldehyde
Repairs, restores, and hydrates hair
Eliminates frizz
Cons
The product may not last long.
The Olaplex No.6 Bond Smoother is a leave-in cream that works as a heat protector and acts as a styling cream. If you are worried about your hair becoming greasy, this product has got your hair and back. It strengthens, moisturizes hair, and the best part is that it speeds up the blow-dry process. It is enriched with natural ingredients such as sunflower seed oil, grape seed oil, aloe leaf juice, and carrageenan extract. It can tame frizz, hydrate, and moisturize your hair with its concentrated formula and so it does. It acts as a treatment, live-in conditioner, and hair primer in one. It has a mild and fresh citrus scent that makes you want to use it time and again!
Pros
Works for all hair types
Safe for colored and chemically-treated hair
Cruelty-free and vegan
Eliminates frizz and flyaways
Cons
May make your hair greasy
The Olaplex No.7 Bonding Oil is for you if you have dry and brittle hair. It is first-of-its-kind as it is a highly concentrated, ultra-lightweight, reparative styling oil. The bonding oil is the saving grace you need as it makes your hair shiny and without making it greasy. It contains the repairing technology that can strengthen and protect your hair against breakage. The luscious oil is enriched with sunflower seed oil, fermented green tea oil extract, and morinda citrifolia fruit powder. One of the noteworthy ingredients is dimethicone that acts as a conditioning agent to minimize frizz. Say goodbye to dull hair when this beautiful glossy enhancing hair oil is here.
Pros
Increases shine
Eliminates frizz
Repairs damaged hair
Restores hair appearance
Cruelty-free and vegan
Cons
This moisture mask is infused with bond-building technology to boost our hair, making it look shinier and healthier. It works on all hair types and the prominent ingredient is the bio-aminopropyl diglycol dimaleate. It has been proven to add twice the shine, 4 times the hydration, and 6 times more smoothness just after one use. The protein used in the mask repairs damage to the hair by relinking the broken bonds from bleach or color. It also provides intense moisture to treat the damaged hair and it is recommended to leave it for a couple of hours for effective results.
Pros
Restores hydration in hair
Helps with breakage
Brings volume to hair and shine to curls
Leaves hair soft and healthy
Cons
Does not help with split ends.
Olaplex products for hair treatment are universally-loved as they act as an insurance to keep your hair safe and healthy. These products are highly recommended when it comes to proper hair care right at home. Thanks to their advanced technology that infuses shine and restores hair health. It even helps out with breakage and compromised hair. Stress can be a huge factor in breakage but Olaplex is here to bring out the glossiness in your hair. Every day is a good hair day when you have these products up on your list!
Expert's Answers For Readers' Questions
Are Olaplex products gluten and sulphate free?
Every Olaplex product is gluten-free, sulfate-free, and paraben-free. While you might find these in most shampoos and hair products, Olaplex is definitely free of these agents.
Are Olaplex products safe during pregnancy?
Olaplex is non-toxic but it is not advised by the brand to use the products by pregnant women or nursing mothers. They recommend consulting a physician before using these products.
Can we use Olaplex products with other products?
There is no definite proof if we can but it is recommended to use products from the same brand for better results.
Do Olaplex products work on curly hair?
Yes, the products are vital for curls to help bring them back to life. It could be heat, breakages, or chemical processes, and the products work great for curly hair.