12 Best Onion Shampoos Available In India In 2023
Lock in the goodness of this natural elixir for hair without its pesky smell.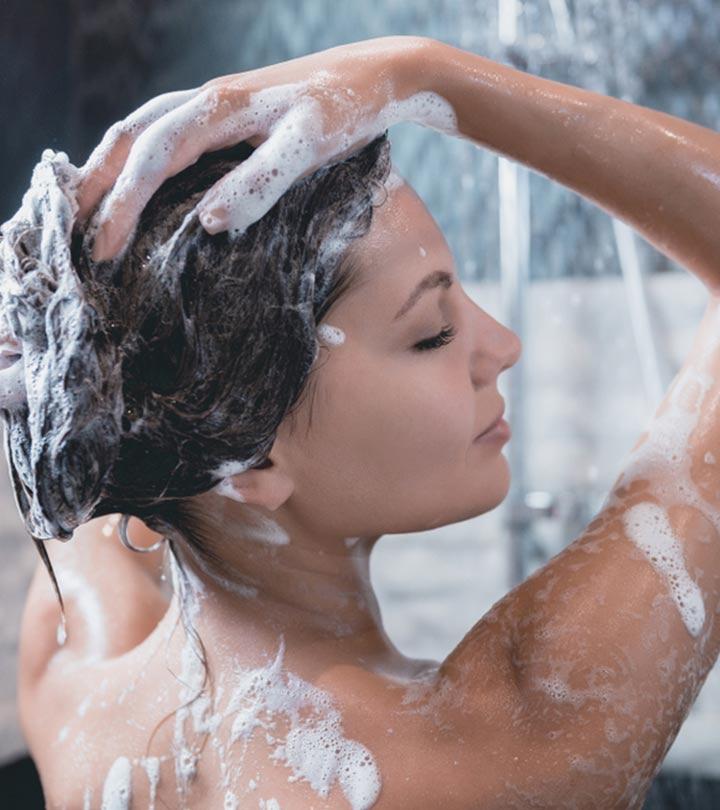 Ever wondered why your mom always asked you to rub raw onion on your hair? Well, we did too. Almost all home remedies stem out of preventive or boosting measures for your health. Onion juice is a popular remedy to promote hair growth and health. It has been used for decades, and the knowledge has been passed on from generations over.
And if you were one of those diligent ones, who obeyed everything your mom asked you to, then you would know that rubbing raw onion juice on your hair was never pleasing. Right from peeling it to how bad it stunk to how messy the bathroom got after you took a hair bath, everything about it was off-putting. While it does wonders to your hair, the whole process is a pain and hence, people now have switched to onion shampoos instead. These shampoos combine benefits of the onion juice, without the drama. Here's a look at the 12 best onion shampoos available in India in 2023.
12 Best Onion Shampoos Available In India In 2023
Strengthen your hair follicles and return shine to your hair, with WOW Skin Science Red Onion Black Seed Oil Shampoo. Formulated with red onion extract, black seed oil, and pro-vitamin B5, this shampoo relies heavily on science and nature to give you shiny and healthy locks. The black seed oil has anti-inflammatory properties and helps reduce dandruff as well.
Pros
Rejuvenates scalp
Moisturizes limp hair
Rich in antioxidants and vitamin E
No parabens, sulfates, color, or silicones
Cons
May not wash off hair oil completely
Powered with extracts of plant keratin, this Mamaearth Onion Shampoo not only cleanses your hair and scalp but also prevents dryness, leaving hair soft and smooth after a rinse. The onion seed oil in the shampoo promotes blood circulation in the scalp and tends to the overall conditioning of your hair. It is suitable for all hair types, as it is made from 100% natural ingredients.
Pros
Promotes hair regrowth
Frizz-free hair after wash
Safe for chemically treated hair
Free of sulfates, parabens, silicones, mineral oil, and dyes
Cons
May not be suitable for people with an oily scalp
The Indie Earth Red Onion Hair Shampoo encourages healthy hair growth, prevents hair thinning and breakage. Aloe vera gel, infused in the shampoo, calms the itchy scalp, deep cleans oily hair, and makes the hair look healthier, softer, and shinny. The key ingredient, Red Onion Juice, is effective for hair growth and controls hair fall. Almond oil, present in the hair shampoo, is effective in controlling hair loss and split ends. Nutgrass extract is known to cleanse dust, dandruff, and dirt.
Pros
Cruelty-free
Paraben-free
Sulfate-free
Cons
Some felt the hair as dry
Looking for that lovely smooth and shine in your hair? Well, here's an organic shampoo, powered with silk protein that does just that. Enriched with 27 vital botanical extracts, this Oriental Botanics Red Onion Hair Shampoo has the goodness of caffeine, biotin, onion oil, wheat protein, silk protein, and oats. The olive and jojoba oils in the shampoo conditions and nourishes your hair, ensuring your locks look visibly healthy. While the shampoo cleanses your hair, it doesn't deprive your scalp of its natural oils.
Pros
Offers bouncy hair
Softens rough hair
Hydrating formula
Made of organic ingredients
Cons
May cause a zingy astringent sensation when you initially apply
Looking for a natural mix of organic extracts that doesn't rob your hair of its natural nutrients? Well, you will find your match here. This Trycone Onion Shampoo comprises extracts of red onions, hibiscus, amla, and curry leaves. Rich in vitamin E, this shampoo improves blood circulation in your scalp and helps in preventing hair loss. Amla helps get rid of dry flakes on the scalp and washes off grease and dirt from follicles. The combination of castor oil, argan oil, and onion extracts promotes cell production, thus helping new hair growth. This shampoo conditions your hair and can also be used to rinse off dandruff.
Pros
Anti-dandruff
Paraben-free
Mineral oil-free
Sulfate-free
Cons
Enriched with black pepper, castor oil, rosemary, and almond, a rinse with this WishCare Onion Garlic Shampoo leaves you with soft and silky hair. It offers intensive conditioning, and the formula energizes hair follicles, controlling hair fall. It washes away dirt but retains moisture in your hair. The onion-ginger formula in the shampoo detoxifies your scalp and encourages new hair growth.
Pros
Gluten-free
Mineral oil-free
No sulfates or parabens
Safe for chemically treated hair
Cons
The bio-active formula of this Morpheme Remedies Bhringraj, Onion, And Black Seed Shampoo adds luster to your hair while also making it cleaner and keeping it well-nourished. This shampoo contains extracts of some of the most vital plants in Ayurveda, such as bhringraj, neem, amla, shikakai, tea tree oil, rosemary, black seed, almond, coconut, castor, and shea butter. Regular washing with this shampoo reduces frizz, improves hair resilience, smoothens your locks, and makes them more manageable.
Pros
No silicones
Cruelty-free
Mild shampoo
No mineral oils
No sulfates and parabens
Suitable for all hair types
Cons
May not rinse hair oil completely
Tired of scrubbing onion juice on your scalp? This shampoo is everything you need right now. The high level of antioxidants in this Newish Red Onion Shampoo helps fight free radicals, regenerate hair growth, and render shiny, flowy, and bouncy hair. Formulated with onion, reetha, amla, aloe vera, shikakai, and hibiscus, this formula naturally conditions your hair and restores oil. This shampoo is great for a gentle regular wash and does not deprive your hair of moisture. It gives life to your damaged hair and renews its lost shine.
Pros
Free of toxins
100% natural ingredients
Anti-dandruff properties
Suitable for sensitive scalp
Cons
May take longer to get rid of dandruff
This Organo Gold Red Onion Shampoo cleanses hair and scalp thoroughly. It removes any build-up on the scalp formed from oil or hairspray or any other product that you may be externally applying. The formula is a rich blend of argan oil, castor oil, almond oil, curry leaf, aloe vera, amla, Brahmi, bhringraj, hibiscus, methi, ginger, reetha, shikakai, and nutgrass. This formula helps repair hair damage and prevents your hair from losing its softness due to the effects of heat and styling.
Pros
Sulfate-free
Paraben-free
Made of natural ingredients
Ideal for everyday wash
Cons
May not wash off hair oil completely
Made with the wholesome goodness of onion, The Blessing Tree Onion Shampoo prevents hair loss and promotes growth. It is infused with 100% natural ingredients that nourish your hair and leave it with a soft and bouncy feel following a good rinse. Unlike other shampoos in the market, it will not rob your hair off its natural oils.
Pros
Salt-free
No dyes
Free of harsh chemicals
No sulphates or parabens
Cons
If you have a sensitive scalp that tends to itch when you use certain shampoos available in the market, then this Khadi Natural Herbal Onion Shampoo is your bet. Infused with the goodness of onion, this shampoo keeps your scalp healthy and free of infection, in turn promoting hair growth. All you have to do is wet your hair, apply it gently, and massage it all over for a few minutes to improve blood circulation. Rinse off the shampoo with clean water and dry your hair naturally for the best results.
Pros
Nourishes hair
Leaves hair shinier
Reduces split ends
Helps control dandruff
Cons
May take multiple washes for proper results
This Urban Essence Onion Shampoo leaves you with smooth, nourished, and voluminous hair. It fights dryness, hair fall, and frizzy hair with its natural ingredients and rejuvenates your hair from root to tip. It moisturizes, hydrates, and conditions your hair and helps restore lost nutrients to the scalp. It is great for a gentle everyday wash and can be used on sensitive scalp as well.
Pros
Free of toxins
Smells good
Anti-dandruff
Safe for chemically treated hair
Cons
May not wash dandruff off completely at first
Here are a few things that will help you learn how healthy onion is for your hair and how to pick a shampoo among the several brands at offer.
Why Is Onion Shampoo Good For Hair
It strengthens hair, prevents dandruff, and in some cases, is also known to delay graying of hair.
It scrubs away any build up on your scalp, be it dead skin cells or dirt. This, in turn, ensures your hair follicles have a healthy environment, strengthening your hair strands further.
It also acts as a natural conditioner and nourishes your hair.
How To Choose The Best Onion Shampoo For Hair
This depends on what you are looking for. Here are a few parameters you can look at while picking the one.
Suitability: There are now different types of onion shampoos for curly and straight hair as well. You can either pick a specialized one for your hair texture or go for an all-purpose shampoo that suits all hair types.
Free of chemicals: An ideal one has minimal chemicals and is free of the most harmful chemicals found in regular shampoos — sulfates and parabens.
Conditioning: While most onion shampoos are nourishing, it helps to check if it has ingredients that will condition your hair as well. If you wash your hair with a natural shampoo and then end up using a conditioner that is heavy on chemicals, then it defeats the purpose.
Au Naturale: You must be thinking, well, it's an onion shampoo, so it should be made of natural ingredients. But that may not be entirely true. It may still contain a few chemicals, so it is always better to check the contents before purchasing.
Not only is onion effective in reducing hair fall, but it also restores luster and shine. Onion is high in dietary sulfur. When applied on the scalp, the sulfur promotes collagen production and promotes healthy skin and hair growth. If you have made up your mind by now to switch to an onion shampoo, it is also advisable to follow a protein-rich healthy diet to reduce hair fall. Proteins are the building blocks of your hair, and a good diet will help boost your hair's texture. We hope our list of the 12 best onion shampoos available in India served you well in your journey towards healthy, silky, and smooth hair.
Frequently Asked Questions
Can onion shampoos help in thickening the hair?
Yes, onion shampoos are enriched with antioxidants and other potent ingredients that help add volume and thickness, reduce hair loss, and boost natural hair growth.
Are there any side effects to using onion shampoos?
There are no significant side effects of using onion shampoos. However, if you are allergic to onions, it is better to avoid such products. Also, if you notice any adverse reactions like redness or irritation, stop using the product as this indicates that it doesn't suit your hair and scalp. Always perform a patch test before using a product to check for any irritation.
Are onion shampoos suitable for all hair types?
Check the product label to see what hair type a particular shampoo was made for. While some onion shampoos can work on all hair types, others might be made for a specific hair type and its general concerns.
Are there any specific nutrients in onions that benefit the hair?
Onions are rich in sulfur that aids hair loss prevention. Sulfur helps regenerate hair follicles, stimulating hair growth. Onions also contain catalase, an antioxidant enzyme, that may help optimize the hair growth cycle. The antioxidants in onions may help prevent graying of hair. This vegetable also has antibacterial properties that protects scalp health and prevents infections.
Are there any precautions or tips to follow when using onion shampoos?
Some precautions or tips to follow when using onion shampoos include-
If you have a sensitive scalp, do not leave it overnight or too long on the hair as it can cause itching or redness. Check if the product is mild and suitable for sensitive scalps before buying it.
If you have any hair or scalp issues, please consult a doctor before using it.
Wash your hair thoroughly after applying the shampoo to avoid an itchy scalp.
Conduct a patch test first. If the product doesn't suit your scalp, stop using it.