30 Dating Profile Examples For Women To Use On Any App
Showcase your best persona online by keeping your bio and pictures simple and authentic. Since you are looking for decent dating profile examples, you have probably learned that it is not simple to create an impressive one. But don't be concerned! We can help with your profile creation!
Lots of single people sign up for online dating sites in the hopes of meeting love. However, only a select handful are capable of creating attention-getting profiles on dating apps. A very well-written profile is distinctive and sticks out on a dating site. On the other hand, most profiles are tedious since everyone says something stupid. Furthermore, a poorly written profile will receive few likes, making you even more upset with your single status.
Because your words are all you have to excite people, you will have to know how to be extremely intelligent, humorous, and daring as possible. Take a look at the various types of profiles available online and some samples of well-written ones. Keep scrolling.
Examples Of Dating Profiles
A. Descriptive Profiles
There are many ways to write your bio on a dating profile, but one surefire way to express your true self is to write proper descriptions. That could mean writing about who you are, what you like, or what you do. Or, all of them!
1. Shayna, 27
If you asked my best buddies who I am, they would give you three words – thoughtful, hilarious, and adventurous.
2. Lilly, 30
I have a big heart. As a third-grade teacher, I have used that big heart and created a universe of love and compassion around me.
3. Preeti, 29
I am a kind, passionate, and loving nurse who believes in social justice and taking two days off every week.
4. Diane, 29
I am funny, kind, gorgeous, grateful, and humble. Okay, maybe not the last one! These are just a few of the adjectives that represent who I aim to be.
5. Lucy, 21
I may be super young, but I am wise beyond my years. Growing up, I was surrounded by three older siblings, who have taught me to be responsible, genuine, and a little feisty.

Quick Tip

Keep your dating profile up to date. Make an effort to renew it with relevant information about yourself regularly.

B. The "Favorites" Profile
If you don't want to describe yourself through words, there are many other ways to express who you are in a dating profile. If you are not comfortable getting too personal on the profile, you may want to take the "favorites" path.
6. Karen, 32
My favorite movies are Harry Potter and the Prisoner of Azkaban, When Harry Met Sally, The Godfather, and Toy Story. The wide range of movies that I like shows that there is more to me than meets the eye.
7. Bonnie, 24
The first book I ever cried reading was Harry Potter and the Half-Blood Prince. It has all been downhill from there. All my favorite books evoke emotion in me. I would love to talk about works of literature over a cup of tea.
8. Debbie, 23
'Allah Ke Bande Has De' is my favorite song of all-time. Tell me about yours.
9. Anna, 25
If you need a recommendation for the best pizza in town, I am your girl. Looking for the best tea place recommendation to match my expertise.

Quick Tip

Be honest and specific when talking because lying does not get you anywhere in the dating world.

C. Factual Profiles
It's hard to pick a favorite, but it's not hard to pick a fact. If you are the kind of person who is more comfortable speaking about yourself than about your favorite things, there's no harm in building your dating profile around that.
10. Indu, 28
I am the oldest of four siblings, and I am close to each and every one of them. Being a big sister has helped me shape who I am as a person. (I agree that I may be a little bit bossy.)
11. Christi, 26
There is nothing in the world I love more than hot cocoa. I also like to hike and take photos of butterflies.
12. Shauna, 30
I work as a chef in a posh restaurant. But, I still go home and make Maggi from time to time.
13. Keerti, 22
I have a scar on my forehead. Oh, I am definitely not Harry Potter… or am I?
D. Leading Question Profiles
There is a beautiful middle ground between favorites and facts, and that usually comes out in the form of a leading question. Do you know what you are curious about? Just ask.
14. Laila, 25
I have traveled to every single state in India. I have lived in 6 of them. I am currently working on my next adventure. Where have you been?
15. Riley, 29
I love football. Ask me anything.
16. Gertrude, 35
I saw the movie Queen in theaters four times. Tell me about your movie obsession.
17. Ruby, 26
I have my own vlog and would love to know if you have ever seen it. Tell me what you are currently watching… maybe it's me. 😉
18. Pooja, 30
I just finished my fifth marathon. Do you swim, bike, run, or hike? I won't judge you anyway, but I may brag about my medals. What do you like?
E. Short Profiles
Some profiles are rich with content and intrigue, long and descriptive, which is amazing. But, some people are put off by lengthy profiles. If you are more of a funny, dorky person, be true to that.
19. Trisha, 32
Who shot JR?
20. Len, 25
Whatever happened to predictability? Does anyone have a paperboy, a milkman, or the evening TV news on anymore?
21. Reese, 33
Do you think Inception was just a dream? I think a lot about that.
22. Helen, 29
Oh, no. Don't lose the opportunity to date me.
23. Chandrika, 22
"Gucci gang, Gucci gang, Gucci gang, Gucci gang." These are the lyrics that haunt me at night.
F. Identification Profiles
Most people like someone who has a strong sense of their identity, and we are not talking about your ID. Are you into music, literature, or astrology? These are great things to add to your online dating profile.
24. Radha, 26
SEO consultant, comedian, Gryffindor, big sister. (Ok, the second one is not true.)
25. June, 22
I am an introvert who highly associates as an introvert. I love extroverts though.
26. Maya, 35
I am a Saggi with a Gemini moon rising, which means I have a lot of opinions.
27. Annie, 27
Ravenclaw, funny, and I even know my numerology, if you want to get into that.
28. Tahita, 33
Naah, I don't believe in astrology, but I am a Gemini. Ughh, maybe I do.
G. Long Profiles
Long profiles show that you are invested in online dating and people will not waste their time by hitting you up.
29. Rita, 23
I don't like most guys, but… those few individuals that I do connect with are all the more special. I am analytical, restless, and opinionated. I am never offended by dirty jokes and can dish out a few of my own. I am obsessively independent, but not a feminist. Sarcasm is the spice of life, so bring it on! What's your story?
30. Sherry, 31
I want to date someone who will introduce me to new things. I hope you can put up with my wacky moods and keep me in check. I am not looking for a man who's online dating profile includes a shirtless photo – not my type. I am looking for a man who is confident, who likes to play but can keep it classy. Not a dirty player. I would love to date a man who can surprise me. A person who will support me, tell me upfront if I am wrong, and will want me to do the same for him.
Infographic: Tips For Creating A Good Dating Profile
As you venture into the online dating world, you are exposed to people from all walks of life. So, it is really important to follow some dating tips and relationship advice that can land you your perfect match or at least start a conversation with someone compatible with you. You never know, you might find your soulmate in this space!
So, check out the infographic below to learn about the dos and don'ts of online dating profiles.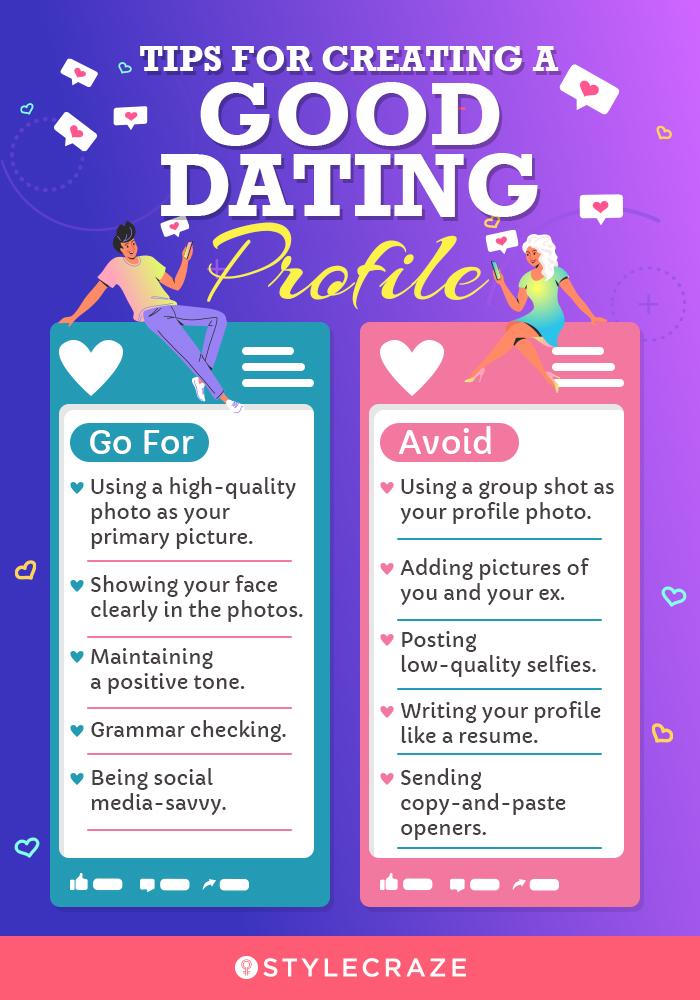 An interesting, honest, witty, and attention-seeking profile is the first thing you need to ace the online dating game. Unfortunately, most people do not even get a fair chance to interact with potential dates as their profiles are too tedious or uninspired. So, if you want your profile to attract someone you like, focus on polishing your profile. For example, you can include a leading question in your profile to help kick-start conversations or mention your favorite movies, books, or songs to attract people with similar tastes. After all, your profile is a window into your life and personality.
Frequently Asked Questions
What should I not put on my dating profile?
You should not put your financial information on your dating profile. Don't put your address or phone number either, as you can share those once you get to know the person a bit more. Avoid sounding too generic or overly sarcastic. And do not lie on your profile as no one likes being catfished.
What kind of pictures should I put on my dating profile?
Clear photos of yourself are the best. They should not be too formal either. Pick ones where you are smiling, having a good time, or perfectly encapsulate your personality. Also, don't put up pictures of you from years ago. Put up the ones you took recently.
Are selfies good for dating apps?
Yes, you can add a selfie as a profile pic on your dating profile.
Key Takeaways
Your online dating profile should grab attention and spark conversations with potential matches.
Your words should excite people and make them interested in knowing more about you.
You can make your profile descriptive and interesting or short and funny.
You can also post open-ended questions in your profile that potential matches can answer.

Sick of swiping left on dating apps? Then, take a look at this video to get tips to make your profile stand out and attract the right matches.