10 Best Organic Anti-Aging Creams To Reclaim Your Youth
Don't let the signs of aging creep up on you, try these essentials instead.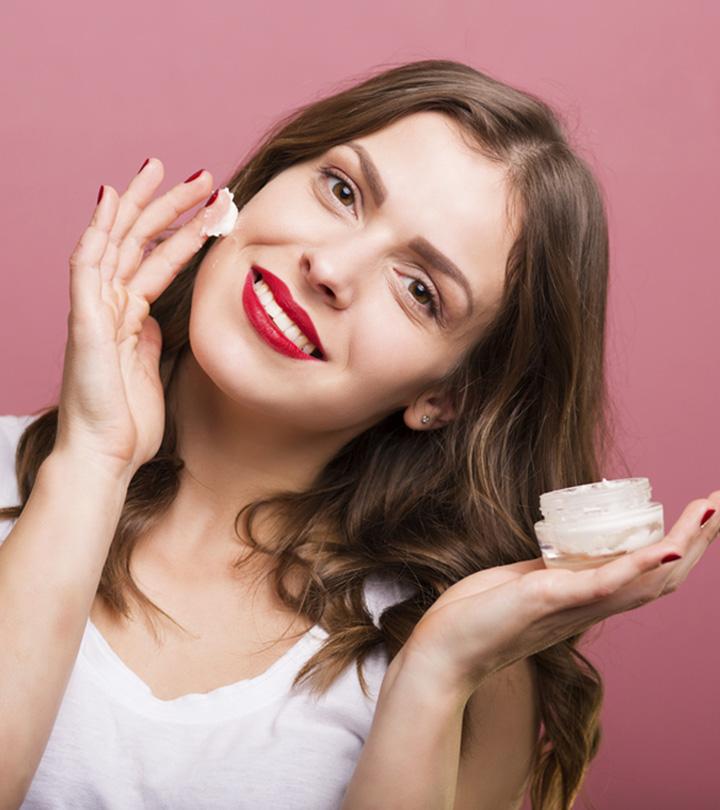 Keeping your age a secret is easy with the right products. You can rewind the clock and have others guessing your age with the best organic anti-aging cream. These creams don't just protect your skin as it grows older; they also offer other benefits. For example, you can maintain your youthful appearance with their help by reducing fine lines and wrinkles. In addition, anti-aging creams also help boost collagen production and improve your skin's health by protecting it from the sun and free radical damage. Essentially, you are rejuvenating your skin, improving its elasticity, and achieving a youthful glow all at once!
You may want to start using anti-aging creams when you are still in your twenties. Age spots are better dealt with proactively rather than reactively. The organic ingredients in these anti-aging creams ensure that you achieve the maximum anti-aging effects. Choosing the right organic cream can be a challenging task. The market offers many excellent products. With this article, we have compiled some of the best products available. Happy shopping!
Top 10 Organic Anti-Aging Creams To Rejuvenate Your Skin
Naturopathica Argan & Peptide Advanced Wrinkle Remedy Water Cream improves the appearance of fine lines, provides youthful complexion, diminishes wrinkles, and firms the skin. This moisturizer is formulated in a combination of peptides & plant stem cells to offer young-looking skin. Argan infused in the cream tones the skin, and the cream is effective in hydrating dry skin.
Pros
Suitable for all skin types
Smooth and lightweight
pH-balanced formula
Cons
Skin breaks out easily
Price at the time of publication: $46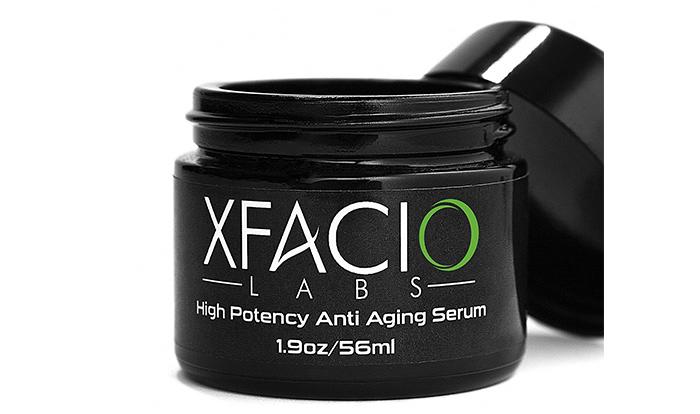 In skincare products, the right mix of ingredients matters the most, and it makes all the difference in the world. So, choose this organic anti-aging cream that works exceptionally well not just for dry skin but also sensitive skin types. Its special, gentle, and non-greasy formula includes aloe, matrixyl 3000, retinol, plant stem cells, rosehip seed oil, cucumber hydrosol, jojoba oil, botanical hyaluronic acid, argan oil, vitamins E and B12, and gotu kola. The lightweight recipe improves appearance of fine lines, wrinkles, and reduces hyperpigmentation, roughness, and sun damage. All you need to do is apply this anti-wrinkle serum on your face, neck, and around your eyes during the day or night at your convenience for a smooth and refreshed skin. Flaunt your beautifully moisturized skin afterwards.
Pros
Fast absorption
Moisturizes
Lightweight
Non-greasy
Improves skin texture
Cons
Retinol may increase your skin's sensitivity to the sun.
Price at the time of publication: $39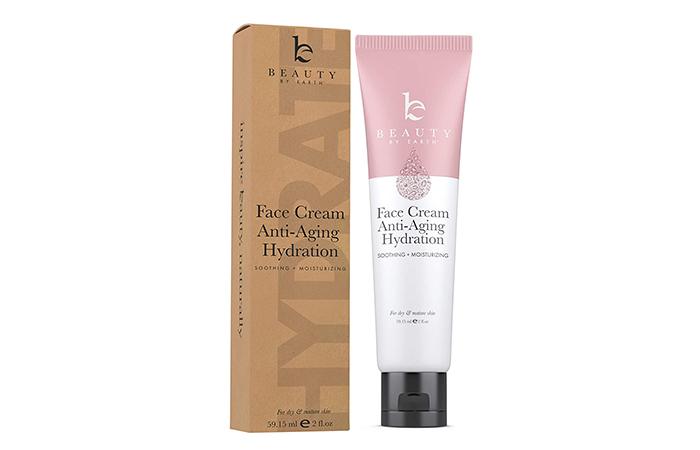 Though you cannot turn back the clock, you can definitely do something to rejuvenate your skin to reduce the signs of aging and look radiant and youthful. This organic anti-aging face cream protects and restores your skin irrespective of its age. Its natural ingredients that include aloe vera leaf juice, willow bark extract, jojoba seed oil, cucumber fruit extract, coconut oil, argan oil, Japanese green tea, witch hazel, and vitamin C offer deep moisturization to your dry, oily, or combination skin and gives it smooth and supple look and feel. Rich in antioxidants and age-defying sources, it makes your skin healthy by minimizing fine lines, wrinkles, and improves its elasticity. Go through this video to learn more about Beauty By Earth Face Cream Anti-Aging Hydration.
Pros
Provides deep moisturization
Restores your skin's health
Reduces fine lines and wrinkles
Rich in antioxidants
Offers bright and youthful skin
Cons
Some may not like the fragrance.
Price at the time of publication: $25.99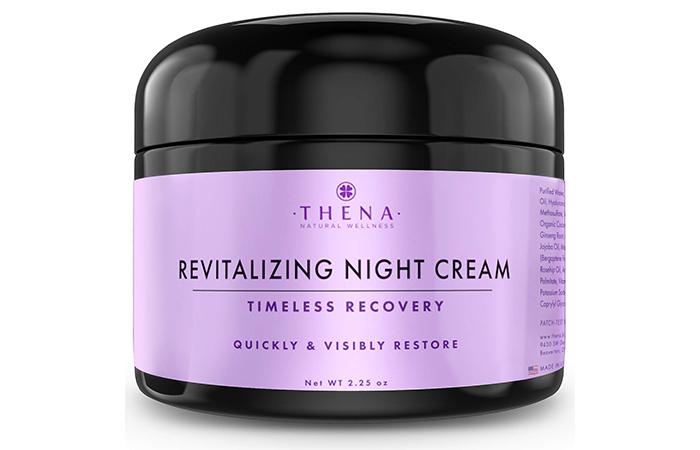 Feel and look forever young with this organic anti-aging night cream. The skin recovery facial cream plumps up your skin by providing deep moisturization and locking it in for longer hours. Its age-defying elements include hyaluronic acid, CoQ10, argan oil, rosehip oil, vitamins E, C and A, aloe vera juice, shea butter, safflower oil, and avocado oil. It boosts collagen production and improves elasticity of skin. Its antioxidants give a bright and youthful skin by treating dark spots, dull complexion, large pores, and minimizing wrinkles, fine lines, and crow's feet. Say hello to soft, smooth, and even skin tone with this organic anti-aging cream. Check this video to watch the demo of using the THENA Natural Wellness Revitalizing Night Cream.
Pros
Promotes healthy skin
Boosts collagen production
Improves elasticity
Balances out skin complexion
Fights free radical damage
Non-greasy and non-comedogenic
Cruelty-free and vegan
Cons
Some may find the consistency greasy.
Price at the time of publication: $72.0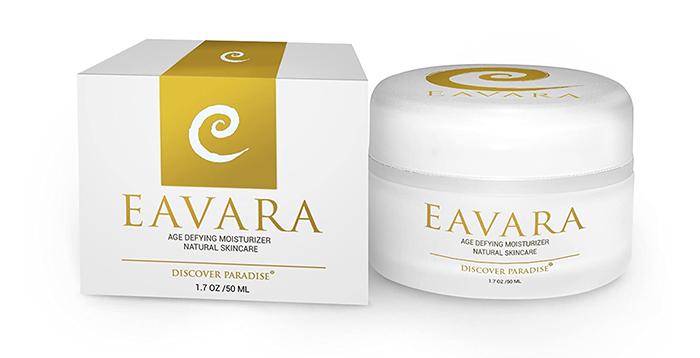 Wow your friends and family by looking a few years younger with this organic anti-aging face cream. This award-winning age-defying cream sources its plant-based ingredients that include mango butter, avocado oil, plumeria, and hibiscus flower extract from local organic growers in Hawaii. Rich in antioxidants and nutrients, this anti-wrinkle moisturizer reduces fine lines and wrinkles to give a healthy and radiant, soft and smooth younger-looking skin. Its deep moisturization leaves your skin refreshed and nourished. Try this brand with a proven record in offering anti-aging solutions for mature skin with its free of chemicals and cruelty-free natural products.
Pros
Paraben and sulphate-free
Cruelty and fragrance-free
Protects and restores skin's health
Improves texture of skin
Smooths fine lines and wrinkles
Offers soft and smooth skin
Loaded with antioxidants
Cons
May not be suitable for extremely sensitive skin
Price at the time of publication: $35.9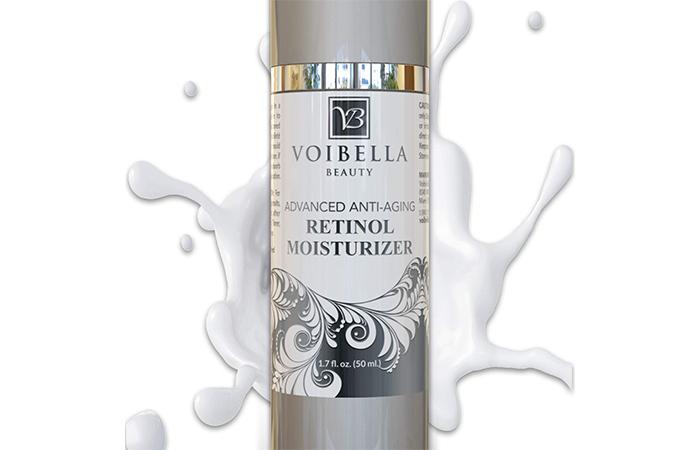 If looking at the mirror inevitably draws your focus to your wrinkles, age spots, and other aging signs, it is high time that you invest in one of the best organic anti-aging creams like this one. This advanced retinol treatment hydrates your skin and fights wrinkles without flaking, drying, peeling, or irritating your skin. The hydrating formula is free of harmful ingredients and contains organic ingredients like aloe vera, green tea, shea butter, botanical hyaluronic acid, vitamins E and B5, propolis & jojoba oil that help fade fine lines, wrinkles, blemishes, pores, and premature aging. It protects your skin from damage, speeds up the skin cell renewal process, and improves its elasticity. Perfect for use during the day and night, it does not leave your skin feeling shiny or oily.
Pros
Color and scent-free
Cruelty-free and vegan
Paraben and sulphate-free
Promotes faster skin renewal
Repairs skin texture
Doesn't make skin oily or shiny
Reduces rough patches
Cons
Price at the time of publication: $24.97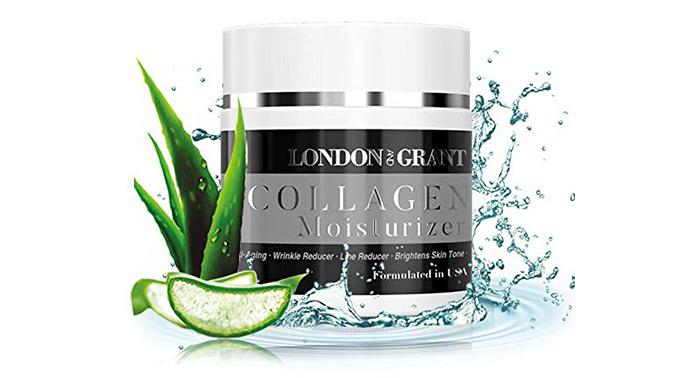 Rethink aging with this organic anti-aging cream. This collagen therapy helps restore healthy skin by bidding goodbye to wrinkles, fine lines, and replenishes your skin's moisture balance by boosting hydration. It repairs and balances your skin tone quicker with its natural ingredients that include aloe vera, glycerin collagen, and extracts of nutrient-rich anthemis nobilis flower and camellia sinensis leaf. The natural formulation free of toxic ingredients helps to tighten skin and prevent sagging to give it a younger appearance. Safe to use by women with any skin type, the cream lifts up your face with a brighter and smoother complexion.
Pros
Non-GMO
Cruelty-free and vegan
Releases facial stress
Improves skin texture
Reduces puffiness and dark circles
Cons
Price at the time of publication: $11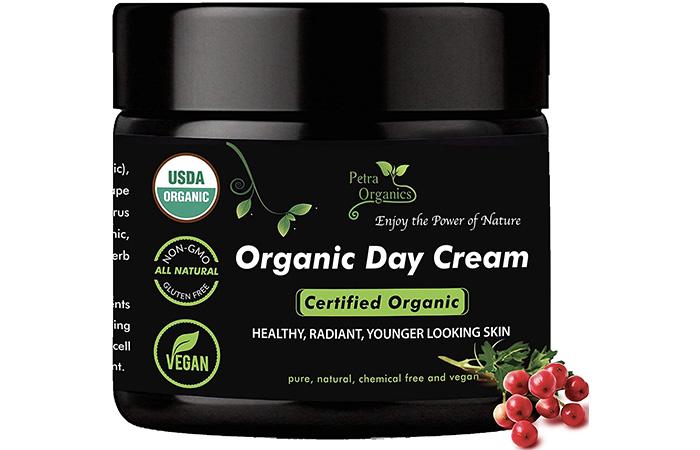 Finding fine lines and wrinkles around your skin will no longer be easy, even with the Da Vinci code. This organic anti-aging cream contains healthy ingredients that are proven to promote healthier and youthful skin. Hawthorn berry, bilberry leaf herb, geranium rose essential oil, and grape seed oil help renew, repair, and hydrate your skin to give you smooth and rejuvenated skin. The anti-aging cream reduces fine lines and wrinkles while promoting renewal of skin cells. Its organic formula protects your skin from damage due to free radicals and improves its elasticity. Although it is formulated keeping in mind all skin types, it is recommended mainly for dry and sensitive skin.
Pros
Cruelty-free and vegetarian
No parabens and preservatives
Boosts collagen production
Regenerates skin cells
Hydrates and soothes skin
Improves elasticity
Protects skin from damage
Brightens skin complexion
Cons
May not be suitable for extremely oily skin
Price at the time of publication: $28.99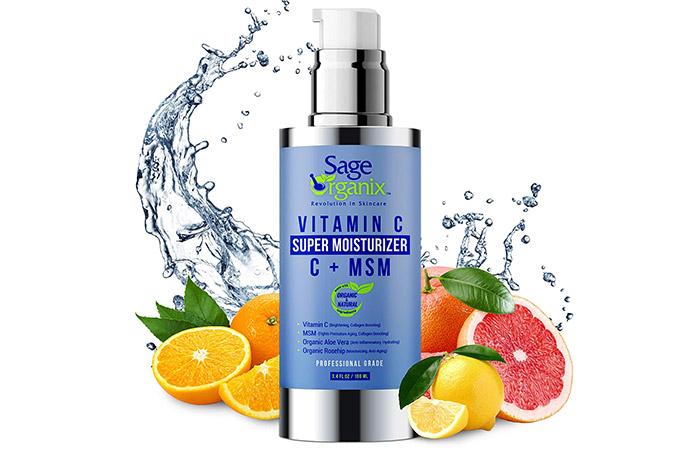 This organic anti-aging cream with its powerful blend of 70% organic and natural ingredients promotes production of collagen to help fade wrinkles and fine lines. The vitamins C and B5, organic aloe vera, sunflower oil, coconut oil, cocoa butter, jojoba oil, macademia seed oil, rosehip seed oil, gotu kola, and lavender extract help rejuvenate your skin with deep moisturization to tighten and tone your skin. The gentle and non-sticky anti-aging cream reduces the appearance of sun spots and discoloration. It improves skin's elasticity and texture, and gives a brighter and youthful look irrespective of your skin type. So, what are you waiting for? Include this body and face cream in your daily skincare routine and flaunt your ageless skin.
Pros
Hypoallergenic
Paraben and sulphate-free
Gluten and cruelty-free
Can be used under makeup
Fades hyperpigmentation
Tightens and tones skin
Repairs skin texture
Gentle and non-sticky
Cons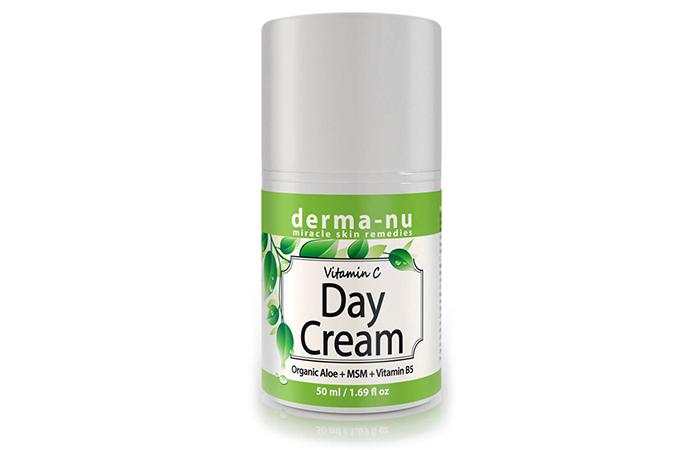 Age is just a number, let it not reflect on your skin. Get a younger-looking skin with this organic anti-aging cream. The lightweight formula prepared with organic aloe, sunflower oil, coconut oil, cocoa butter, jojoba oil, flaxseed oil, gotu kola, lavender extract, and vitamin C and B5 helps keep signs of aging like fine lines and wrinkles away. The cream moisturizes your skin to keep it refreshed and healthy all day long. The chemical-free formula loaded with antioxidant properties helps reduce dark spots, blemishes, and damage due to the sun, improving skin's texture and overall appearance. It is non-irritating and non-drying which makes it the perfect skincare solution for all skin types.
Pros
Reduces dark spots and blemishes
Fades fine lines and wrinkles
Non-irritating and non-drying
Keeps skin hydrated and healthy
Cons
Some may find it slightly greasy.
Price at the time of publication: $10.97
The best anti-aging cream should be absorbed easily and help repair skin damage. So, consider these factors before buying an anti-aging product. Use the following guide to pick the right product according to your skin type and concerns.
Things To Consider While Buying Organic Anti-Aging Creams
Skin Type And Concerns: Aging can bring multiple skin issues like pigmentation, fine lines, and sagginess. Using multiple products for the skin might damage it in the long run. So, go for a single organic cream that combats multiple signs of aging. Also, consider your skin type before purchasing a product. Look for a cream with sunscreen or coenzyme Q10 that reduces wrinkles and protects your skin from UV rays.
Ingredients: Check the label and pick a product with retinol which hydrates the skin and eliminates wrinkles. Organic ingredients like aloe vera, green tea, shea butter, vitamins E and B5, propolis, and jojoba oil help fade fine lines, wrinkles, blemishes, enlarged pores, and premature aging. They protect your skin from oxidative damage, speed up skin cell renewal, and improve its elasticity. Opt out from creams that contain methanol, ethyl alcohol, benzyl alcohol, and isopropyl alcohol, as these elements can dry out and irritate the skin.
Other Benefits: Ensure your anti-aging product is hypoallergenic and safe for sensitive skin. Antioxidants, vitamins, and polypeptides work wonders on mature skin while nourishing and enhancing elasticity. Also, pick a non-comedogenic product that does not clog pores. A gentle, lightweight formula with active botanical ingredients will leave your skin soft and supple.
Why Trust StyleCraze?
The author, Kirtana Divakar, is a skin care enthusiast who loves trying out different beauty products. For this list, she has researched budget-friendly and organic anti-aging creams for her readers who are keen on maintaining their youthful appearances. Kirtana has carefully browsed through online reviews and listed products that deliver instant results while rejuvenating and improving your skin in the process.
Frequently Asked Questions
Do organic aging creams actually work?
Yes. Organic anti-aging creams maintain the youthful appearance of your skin while protecting it from environmental and radical aggressors. Also, they boost collagen production and enhance skin elasticity.
Is serum or anti-aging cream better?
Serums are better than anti-aging creams. Although both have similar benefits, serums are highly concentrated and easily absorbed into the skin.
What is the secret to anti-aging?
• Use a good SPF daily to protect the skin from UV rays. Wear sunglasses when out in the sun to reduce lines under and around the eyes.
• Quit smoking to prevent wrinkles.
• Eat a healthy, balanced diet containing plenty of fruits and vegetables.
• Cleanse your skin twice daily with a gentle formula. Also, wash your face after sweating.
• Apply a lightweight moisturizer every day.
• Alcohol dehydrates the skin. So, drink less.
Why is my face aging so fast?
Daily exposure to the sun without adequate protection speeds up the process of aging. Therefore, wear sunblock even when at home during the daytime.
Does coffee age your face?
Yes. Caffeine dehydrates the body and results in the loss of collagen. This may lead to redness and inflammation. Caffeine slows down the healing process and contributes to the aging of your skin.
What is the most powerful anti-aging ingredient?
Retinol is the most powerful anti-aging ingredient. It increases skin turnover and boosts collagen production. Also, retinol tightens the skin and adds a youthful glow to it.
Is vitamin C cream good for anti-aging?
Yes. Vitamin C is a potent ingredient to treat and reduce the appearance of wrinkles. Vitamin C improves the overall texture of the skin and is a great anti-aging agent.
Recommended Articles