13 Best Organic And Natural Body Scrubs (2023) – Reviews & Guide
Exfoliate and rejuvenate your skin to look radiant and feel confident every day.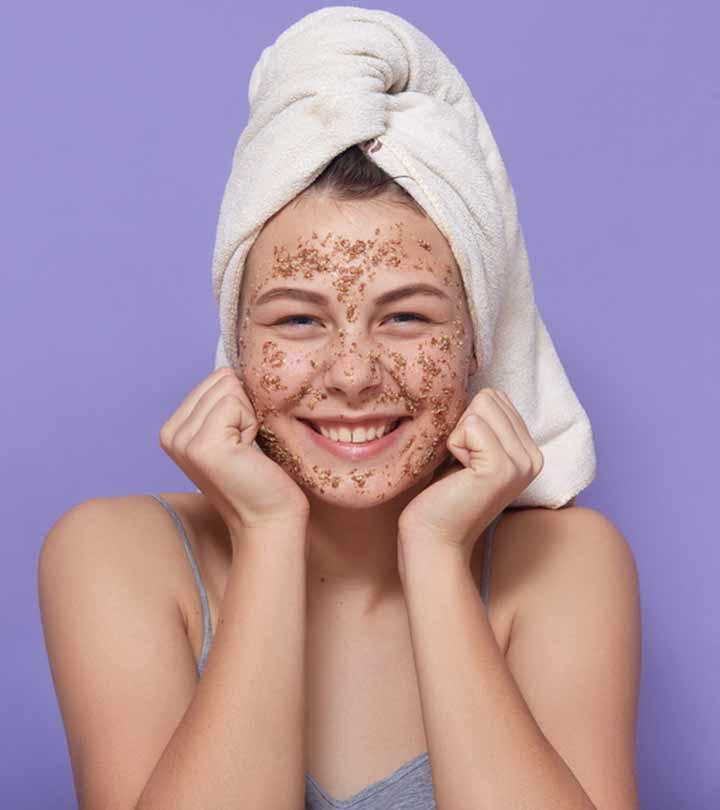 Going for organic products is no longer a trend but has become necessary now. It applies to skin care, cosmetics, and body care products like body scrubs, washes, etc. The best organic body scrub is especially effective when you have large pores, cellulite, and marks that you need to get rid of. It should be a part of everybody's weekly bathing regimen to ensure that the pollutants, dirt, dead skin cells, and oil are washed away without hampering the skin's natural pH and moisture. The end result is soft and satisfying skin. A good organic body scrub contains natural ingredients like sugar, coconut extract, and oatmeal. These body scrubs have several benefits, it contains ingredients that help keep the skin moisturized and provide deep cleansing benefits.
Natural body scrubs do not cause any side effects and are safe to use. Here is a list of the 13 best organic body scrubs with reviews and a buying guide. Scroll down.
Top 13 Best Organic Body Scrubs To Improve Your Skin Health
This all-natural Himalayan pink salt body and face scrub is all you need when you want to cleanse your skin deeply. It is loaded with lychee fruit and sweet almond oil that nourish the skin. The product is also infused with collagen and stem cells which are immensely useful for the skin. You can reduce the appearance of blackheads, cellulite,  scars, and stretch marks if you use this scrub regularly. It works gently on your skin and draws out unwanted toxins, bacteria, and dirt. It also restores the texture of the skin and makes it smooth, receiving highly positive reviews online.
Pros
Hydrates skin
Rejuvenates skin
Helps fight acne
Natural body care composition
Cons
With the best quality organic coffee, coconut oil, shea butter, and dead sea salt, this coffee body scrub is perfect for glowing skin. It is moisturizing in nature and gently exfoliates the skin. This natural body scrub for dry skin also helps in the reduction of the appearance of cellulite. It has a lot of antioxidants and helps reduce the appearance of wrinkles, fine lines, and sunspots. This most popular scrub improves blood circulation and lends a younger fresher look. Check this video to learn more about the First Botany Cosmeceuticals Arabica Coffee Scrub.
Pros
Sulfate-free
Pure and natural
Easy-to-use
Mild on skin
Cons
Here is the best organic body scrub for dull and dry skin. This one from Era Organics works amazingly well for removing stubborn blackheads, minimizing pores, and adding moisture to your skin with every single wash. This microdermabrasion sugar scrub is great at cleansing and exfoliating the skin and is loved by online reviewers. It makes skin softer and youthful in just no time. This natural body scrub for dry skin also reduces build up that makes your skin look radiant again. Composed with walnut shell powder, aloe vera leaf juice, manuka honey, cehami extract, organic orange oil, this scrub gives you the feel of luxurious facial treatment and regularizes your skin tone. You can also take care of your fine lines, wrinkles, and dark spots with this scrub. Take a look at this video of the Era Organics Microdermabrasion Manuka Honey & Walnut Scrub to know the tester's experience and understand the product better.
Pros
Revives skin
Cleans skin
Minimizes pores
Softens skin
Cons
Fragrance might be slightly unpleasant
This unique 4-in-1 face scrub works immensely well. It exfoliates, cleanses, nourishes, and moisturizes at the same time. This essential oil-infused scrub contains fine exfoliating grains such as dead sea salt that help improve your skin texture. It also helps in reducing the appearance of dark spots, stretch marks, cellulite & acne scars, garnering positive reviews online. From making your skin soft to clean, exfoliating elbows and knees, this scrub does it all. This organic salt body scrub comes with an eco-friendly beauty tool or wooden spoon for stirring the scrub, an exfoliating loofah, and oatmeal organic bar soap made with shea butter, honey, and ground nuts.
Pros
Cleanses skin
Chemical-free
Cruelty-free
Handcrafted product
Comes with 3 bonus accessories
Cons
Slightly overpowering aroma
This natural body scrub for glowing skin is made of dead sea salt and is great for legs and body scrubbing. It also contains Coffee Arabica that regulates circulation and helps in reducing the appearance of cellulite. The scrub is ultra exfoliating and helps you get rid of the dead skin and build up from the skin, with visible results noted by reviewers online. It keeps the pores clean and is surely one of the best organic body scrubs. Organic ingredients like coconut oil, vitamin E, and sea buckthorn oil in this scrub can help you with eczema.
Pros
Hydrates skin
Boosts collagen
Promotes elasticity
Evens skin tone
Cons
This organic coffee and sugar body scrub is your all-time rescue from dry skin problems. It is loaded with antioxidants that eradicate the appearance of signs of aging like dark spots, wrinkles, and fine lines. You can even use it to minimize the appearance of puffy eyes. It also helps in lightening the dark under-eye areas. Made with the best quality of organic coffee grounds and coconut oil, this organic coffee body scrub is intensely moisturizing and exfoliating. The product can also be used to tackle the appearance of cellulite. Mild exfoliation helps in improving blood circulation and removing dirt effectively, Hence it is the best organic face scrub!
Pros
Lightens skin color
Natural ingredients
Smoothes skin
Reduces skin aging
Cons
Might not help acne prone skin
An all natural body scrub is all you need to keep your body clean and healthy. This Himalayan salt scrub from Brooklyn Botany gently exfoliates the skin, and removes dead skin cells for fresh younger-looking skin. Other than cleansing, this body scrub improves skin texture, tones, and helps reduce the appearance of cellulite. Induced with Himalayan Pink Salt, jojoba oil, argan oil, sweet almond oil, this scrub is great for flaky dry parts like the foot. In case, you want a rejuvenating bath that keeps your skin soft and your mind relaxed, opt for this body scrub. It is also immensely hydrating for the body.
Pros
Paraben-free
GMO-free
Gluten-free
Improves skin texture
Cons
Eliminate the dead skin with the Beauty by Earth Vanilla Coconut Body Scrub. This scrub effectively removes the dull skin keeping your skin hydrated and leaves you with a radiant complexion. In addition, this scrub improves the appearance of your skin by minimizing the appearance of stretch marks and cellulite. The cream is infused with organic ingredients that help to nourish your skin and its skin-softening effect is highly praised by online reviewers.
Pros
Non-sticky formula
Non-drying
Nourish your skin
Cons
None
A pure arabica coffee scrub that perfectly helps with skin exfoliation and skin moisturization is this one from Handcraft Blends. It is loaded with coffee grounds, salt, oils, sugar, shea butter, and natural organic oils. Coffee grounds work on the blood flow and helps in reducing cellulite, thus making your skin firmer. It also relaxes the body and nourishes the skin. This unique natural scrub for glowing skin eliminates all the dirt and buildup from the skin, making it squeaky clean. 
Pros
For both men and women
Makes skin healthy
Contains moisturizing ingredients
Leaves skin silky smooth
Cons
Slightly melting composition
This all natural organic scrub is loaded with nourishing ingredients like argan oil, jojoba oil, aloe vera, and avocado oil. It makes the skin soft and less dry, itchy, and rough. This ultra-fine sea salt is excessively rich in nutrients and gently exfoliates away dirt, sebum, dead skin cells, oils, and other impurities. Another great feature of this natural body scrub is that it moisturizes the skin without any greasy feeling. It is of utmost premium quality and makes skin beautifully glowing, with visible results noted by online reviewers.
Pros
Gentle exfoliation
Deeply hydrating
High quality ingredients
Organic moisturizer
Cons
Comes in a heavy, easily breakable glass jar
Majestic Pure Matcha Green Tea Scrub is organic and sensitive skin-friendly. The product works great at reducing excess oil build up. It also absorbs sebum and reduces the appearance of acne and blackheads. Infused with minerals and nutrients, this scrub does wonders to exfoliation. It has amazing energizing properties to promote soft and smooth skin. Use a small amount of this vegan body scrub on your skin and massage gently. Polish the skin with this scrub and rinse thoroughly. Pat dry after use to experience fresh and glowing skin.
Pros
Simple to use
Cruelty-free
Unisex product
Vegan-friendly
Cons
Slightly thick consistency
Natural Riches Himalayan Salt Scrub is the ideal choice for detoxifying skin and rejuvenating skin. It removes dead skin cells and promotes better looking, healthy skin. Induced with pink salt, lychee, bergamot, and raspberry essential oils, this organic exfoliating body scrub is a storehouse of antioxidants. This formula is not tested on animals and is enriched with clinically-verified shea butter improves the texture, appearance and hydrates the skin. The high nutrient formula makes the skin look fresh and healthy. You can even take control of puffy eyes and dark circles.
Pros
Antioxidant-rich scrub
Improves skin texture
Deep cleans skin
Leaves skin lightly-scented
Combats dryness
Cons
A product that makes your skin baby soft is here for you. This organic sugar body scrub helps hydrate the skin and bring down all the impurities embedded in your skin. It ends up making your skin soft and supple. It can be used as a regular face scrub and exfoliating body scrub. The product also helps in countering aging issues with clinically-tested organic ingredients like kukui nut oil, almond oil, and grapeseed oil. You can make the skin blemish-free and youthful along with improved elasticity and reduced appearance of fine lines.
Pros
Silicon-free
No parabens
No chemicals
Natural ingredients
Cons
Slightly harsh for the skin
So these are the top organic, refreshing, and invigorating scrubs that you can try in 2023. The list is exclusive and all these products are super nourishing. Have a look at the next section where you can find tips on choosing the best natural body scrub for yourself.
How Do I Choose An Organic Body Scrub?
Check out the points before choosing an organic body scrub.
If you have dry skin, always choose an organic body scrub with moisturizing ingredients like shea butter, oils, and aloe vera.
In case you have oily skin, try to choose a body scrub with simple non-oily ingredients like Himalayan pink salt, sugar, and grounded coffee.
Look out for ingredients like parabens, coal tar dyes, triclosan, and sulfates as these ingredients can be really harsh for the skin.
How To Use Organic Body Scrub?
Before using an organic body scrub, always do a patch test. Using scrubs is very simple. Cleanse your skin with a face cleanser. Now use a significant amount of body scrub all over the harsh areas and massage gently. Do it for a few minutes and then rinse with water. Pat dry. Repeat after a few days for best results. Matthew Rundle, a renowned esthetician, says, " Body scrubs are great for smoothing and revitalising your skin and a good quality body scrub will give you a spa experience in your own home. Find a scrub with an uplifting fragrance for a morning shower ar a soothing fragrance for an evening bath. Body scrubs are also a very useful too for helping to avoid ingrown hairs and are great for lifting and softening hairs prior to shaving. Ensure you use a good quality sunscreen if using a body scrub prior to sun exposure."
Why Trust StyleCraze?
Kirtana Divakar, the author of this article, is a skin and hair care enthusiast. She believes it is necessary to switch to organic and natural beauty products for achieving the best results. Her extensive research and strong knowledge in this field have made her prepare a list of the best organic and natural body scrubs. The natural ingredients present in these scrubs help keep the skin moisturized and provide deep cleansing.
Frequently Asked Questions
Do You Use Body Scrub Before Or After Soap?
A body scrub should be used after a soap. In this way, your skin is clean and primed before using a body scrub. Also, when you apply the body scrub in the end, the skin ends up absorbing the nourishing ingredients of the scrub.
How Often Should You Use A Body Scrub?
A body scrub should be used once a week when you are in the starting stage. Once your skin gets used to scrubbing, you can try it twice or thrice a week.
Can Body Scrub Remove Dark Spots?
Body scrubs contain exfoliating elements that help in removing the dead skin cells which ultimately help in removing dark spots. If the spots are due to dead skin, you can fade them away with a body scrub gradually.
Are Body Scrubs Good For Your Skin?
Body scrubs are good for your skin. Any product when used beyond moderation becomes bad for the skin. So, if you are using body scrubs in moderation, it is good for you.
What is an organic body scrub?
Organic body scrubs are derived from natural ingredients and provide benefits like deep cleansing, exfoliation, and nourishment to dull skin.
Is salt or sugar better for a body scrub?
Choosing between salt or sugar for a body scrub depends upon your skin's unique needs. Sugar granules are smaller than salt, offering gentle exfoliation, and suitable for sensitive skin types. On the other hand, a salt scrub is more abrasive, easily exfoliates dead skin, and smoothens rough patches with sharper edges. Opt for a salt scrub if you want to experience skin detoxifying benefits.
Do you need a body scrub?
Yes. You need to use a body scrub to get rid of dead skin on your body.
Can I use a body scrub on my armpit?
Yes. You can use a body scrub on your armpits to clean the dirt and dead skin.
Does scrubbing darken the skin?
No. However, vigorously scrubbing a region can darken the skin due to inflammation and hyperpigmentation.
Recommended Articles